All Twenty-Tuesday: Bucs' Struggling O-Line
The Bucs offensive line was not what it needed to be last game against the Cleveland Browns, and that's not a good sign. Not only was that the game in which we saw the first-team offensive line play their most snaps together, it was also the last time before Week 1 of the regular season, as they are not going to play in the final game in Dallas in order to avoid any kind of injury.
The Bucs' offensive line woes started early, and unfortunately it wasn't just from one spot.
The Bad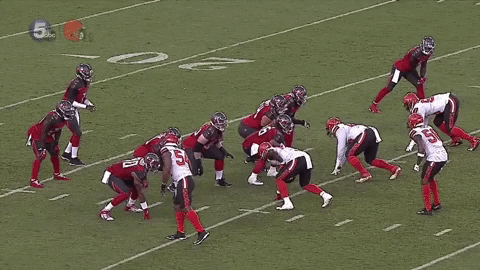 This was the famous play that made its round across Twitter and other social media platforms, highlighting Bucs offensive tackles Donovan Smith and Demar Dotson getting absolutely worked on the outside – Smith by Myles Garrett and Dotson by Olivier Vernon.
There wasn't any kind of scheme mishap here. It was just a good ol' fashion win by the edge players. In the first angle, you can see that the Bucs' 33-year-old right tackle Dotson was simply out-ran to the spot, which caused his footwork to be compromised, and then overpowered, as the bull rush left him with his butt on the grass while his quarterback went down. On Smith's side, it's almost hard to even blame him here because Garrett is just one of the toughest match-ups in the NFL to take one-on-one. Smith vertically dropped into his pass set, and the angle he took was fine. But Garrett's attack of Smith's outside shoulder, his rip up into Smith's chest, and the angle at which he could turn the corner were too much.
Smith has had his reps before where he should have won them, but in a one-on-one like this against one of the best in the game, it's hard not to just tip your cap to Garrett and go onto the next rep.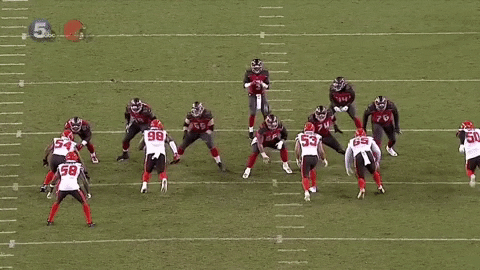 Beyond the two offensive tackles getting beat to the bone on a play in which they went up against two of the best in the NFL, the more worrisome performance was that of right guard Alex Cappa.
The Bucs have been a revolving door at right guard for two years now. Kevin Pamphile, Evan Smith and Caleb Benenoch have all had their shot to take the starting guard spot over the years, but none have been able to hold it down.
In comes Cappa, who in his second year has been having a good training camp. He's been running with the first-team offensive line for the last month, and he really hasn't had too many glaring mistakes. That gave us confidence in that we would see a cohesive unit with him as the right guard going into the third preseason game.
Watching it live, it looked like Cappa had a terrible game. He gave up two sacks and at best two more pressures. On the broadcast, it looked like he was just lost. But after watching it again, I wouldn't say that he was "lost," he just wasn't ready.
In the play above, Cappa got beat with an inside stunt that he just did not process in time. It's not that Cappa doesn't have the ability to make the block (that would be a bigger issue). In the play above, he just took too long following his initial man instead of smoothly sliding to protect the new players stunting from outside to inside.
A mistake that has to be fixed, but one that could theoretically be fixed with time and more experience as a starter – you hope.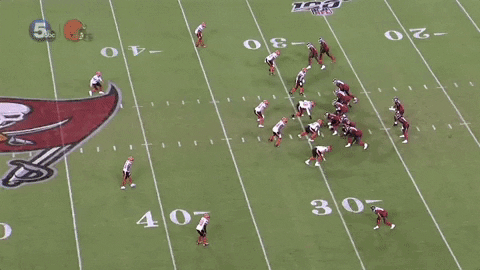 This second blunder by Cappa was again just a lack of experience. Cappa was not ready for that slick little inside spin move at all – he was probably wondering when Dwight Freeney came out of retirement as he chased the defender to the back of the pocket. It wasn't exactly encouraging seeing Smith get beat by a similar spin move on the other side, since he does have experience, but we've documented Smith's deficiencies before. He just needs to be better.
Again, Cappa was just caught off guard. He doesn't get overpowered much. When he loses, he loses because he is outsmarted on things that he likely hasn't seen much of at real-game speed. Not to try to give false hope here, but this is all stuff that could come to strengthen in time – and the reason I say that is in the section below.
The Bounce Back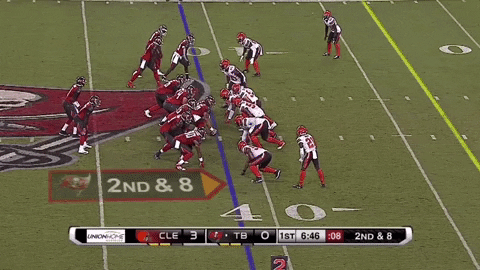 It's easy to rag on offensive linemen. Why? Because of the 50-60 snaps they play in a game, they can preform most of them right, but those few that they don't are glaring. Hence the very first play we looked at going viral.
But what the viral tweets won't show you are the bounce back plays, in which there were a handful for the Bucs offensive tackles Smith and Dotson.
In the play above, for example, Dotson was once again going up against Vernon. But, on that play, he was ready for him. He remembered how Vernon got the better of him the first time, adjusted, and timed his strike perfectly to ride Vernon all the way back to the bottom of the pocket, staying in front of him and even knocking him down.
That's the kind of stuff that won't get shown on replay but something the Bucs' starting offensive tackles are capable of.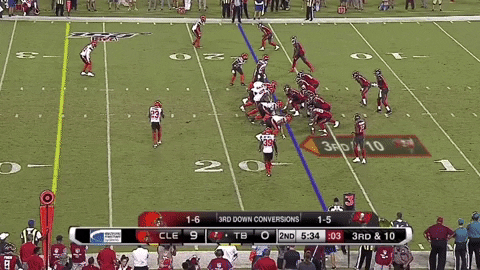 The same can be said for Cappa. As stated before, Cappa doesn't often get overpowered or outmatched in his assignments. For the most part, he has learned to really get his hands in the right positions to lock up interior defensive linemen, and he has the sand in his pants (a scouting term meaning he knows how to sink his heels and stop a guy in his tracks) to anchor and not let a player breach the pocket.
Just because Tampa Bay's offensive linemen can and often do have those bounce back plays does not mean it totally excuses the handful of questionable reps they've also shown. Make no mistake, percentage of good plays aside, if they play against the 49ers and the Panthers like they did against the Browns, the Buccaneers will lose – and it will be their fault. They have top get better as a unit. However, I don't think this offensive line is in a "hopeless" situation yet.
The Bucs offensive line may not be filled with All-Pros outside of Ali Marpet, but they are guys who can get it done.
They still need to prove they can. And we'll know very quickly if they can't.