After studying the tape, production and athletic testing for over 20 edge defenders in the 2021 NFL Draft, here are my pre-draft rankings of the Top 15. It is a class without many high-end prospects, but with plenty of athletic talent in desperate need of development at the NFL level. Time will tell if many in the group are able to reach their sky-high ceiling over the next several years.
To each edge defender's evaluation section I've added their Year 1 and Year 3 outlook, not necessarily saying what I think will happen, but what is a realistic best-case scenario for each prospect as they progress in their NFL careers. Tons of factors will be at work in determining if these projections actually come true, including scheme, coaching, character, health, and more, but based on what I can know at this time, I made reasonable, high-end guesses as to where each player's career could be headed under ideal circumstances.
My grading scale, in layman's terms of value, is similar to how NFL teams tier their prospects. The round grade represents a value, not necessarily where I would select a player.
For example, I might only have 13 or 14 Round 1 grades in a class, but if my team is picking at 24 and all of those players are gone, it doesn't necessarily mean I would want out of the pick. It just means that, in my evaluation anyway, the player I might select there that has a second-round grade might not have the same ceiling to be an elite player like some of the prospects drafted ahead of him. They still might be a quality player that you are thrilled to get at No. 24 overall.
Here's my grading scale:
Special = Elite of the elite
First Round = High Quality starter
Second Round = Very good-to-good starter
Third Round = Good-solid starter
Fourth Round = Spot starter-good depth player
Fifth Round = Depth player/Special teams
Prospects Still To Watch/Complete:
Elerson Smith, Northern Iowa
Chauncey Golston, Iowa
Chris Rumph, Duke
Charles Snowden, Virginia
Janarius Robinson, Florida State
Daelin Hayes, Notre Dame
Shaka Toney, Penn State
Jonathan Cooper, Ohio State
Malcolm Koonce, Buffalo
---
15. Patrick Jones, Pittsburgh (6-4, 260, N/A)
If you were one of the analysts still clinging to those top 50 projections for Jones from a few months ago, you were probably hoping for a better pro day than this:
Pitt pro-day numbers con't:

Rashad Weaver
HT: 6043
WT: 259
Hand: 9 3/4
Arm: 33 1/2
Wing: 82
VJ: 32.0
BJ: 9-6
40: 4.83/4.89
SS: 4.30
3C: 6.98 👀
BP: 20

Patrick Jones
6042
261
10
32 7/8
79 1/8
31.5
8-11
40: inj.
22 reps

— Jim Nagy (@JimNagy_SB) March 17, 2021
Jones was already going to be a project in the NFL, but now he's a project without great upside. On tape he looks explosive off the ball and exceptionally physical, but that's about where his positive traits end. Jones doesn't have the power to be a great bull rusher despite his strong desire to win that way, and he's far too stiff to be a big-time cornering threat in the NFL.
I still like him as a Day 3 pick, who will play hard and could have potential as an inside rusher someday if his hands improve. But the ceiling is low and those measurables should push him well down the board considering his lack of quality tape.
Year 1 Outlook: Depth/Special Teams
Year 3 Outlook: No. 4 EDGE W/ Interior Rush Ability
Grade: Late Fourth Round (Solid Depth/Special Teams)
14. Jordan Smith, UAB (6-7, 255, N/A)
UAB's pro day is on the last day of college pro days – April 9 – and it will be a huge day for one of the more exciting Day 3 edge prospects in the draft in Smith. There's one or two freaky long edge rushers in every class, but not many that also have Smith's fluidity and coordination. The level of competition is obviously weak, but Smith has some of the sickest rushes of the year on tape.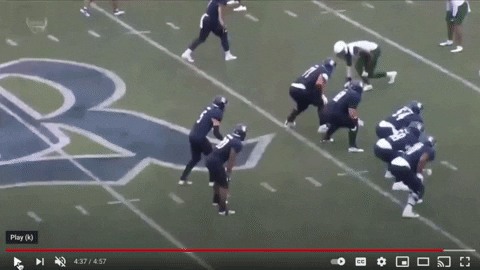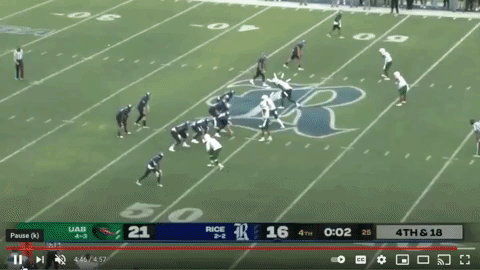 Those flashes are few and far between, but they hint at how high the ceiling might be for Smith, if he's able to weigh-in and test well at his pro day. Testing is critical for small school players, and there are also concerns about how much weight Smith is carrying on his long, slender frame. He plays off the side of blocks and around opponents more than he bodies blockers up at the point of attack, but he's quick enough and good enough with his hands to keep himself clean more often than you think.
Now in the NFL, that's going to be a lot harder when the competition gets bigger, stronger and more technical. Smith's lack of power won't put him in many starting lineups right away, and he's not a technically sound enough rusher to vie for major snaps right away. But I do think Smith has a great set of tools and plays with tremendous energy, which make him one of the Day 3 edge rushers I would target if I believed in my defensive line coach's ability to teach and develop. Tampa Bay had a player of similar stature years ago in reserve Will Clarke.
Year 1 Outlook: Developmental/Special Teams
Year 3 Outlook: Pass Rush Specialist
Grade: Mid Fourth Round (Solid Depth/Special Teams)
13. Ronnie Perkins, Oklahoma (6-2, 254, 4.78)
Heading into his pro day, the one thing I was sure I saw from Perkins tape was that he could bend, at least in the hips. But his pro day couldn't even confirm that after he opted out of the 3-cone drill, and the rest of the Oklahoma defensive end's workout just cast more doubt on his pro projection.
The poor workout numbers basically confirm Perkins' lack of even average athleticism for his position, which was already a concern based off of tape. Perkins' lacks explosiveness to a degree that is hard to compensate for in the NFL. If you watch his tape closely, the only times he won the edge was when the opposing tackle was slow out of his stance or messed up his pass set entirely. You're just not going to get those advantages very often in the NFL.
Perkins flashes speed-to-power, but his rush repertoire as a whole isn't deep enough to compensate for his lack of athleticism. To make it in the NFL he's going to have to work on his get-off and become immaculate with his hands, perhaps even bulking up to provide an impact as an interior rusher. Right now, I'm just not sure what Perkins offers to be considered in the range many have him ranked.
Year 1 Outlook: Developmental/Depth
Year 3 Outlook: No. 3/4 EDGE
Grade: Mid Fourth Round (Developmental Player/Depth)
12. Gregory Rousseau, Miami (6-6, 266, 4.72)
Some will compare Rousseau to Jason Pierre-Paul, and the two players are similar in that they don't win with their first step or with their speed up the arc. Both players can bend for big, long guys, but because they lack the burst to win the edge, the only time you get to see their flexibility is when they get to attack a bad pass set. So there are some athletic similarities in their games.
But where the comparison falls apart is where the two players win, particularly Pierre-Paul. The Bucs outside linebacker is ultra-physical and can win cleanly with his hands, while Rousseau is more of a finesse player that had to be given match-ups where he could out-athlete his opponent in order to get home. That meant kicking him inside to play over college guards or getting him clean looks as an inside crasher or looper on stunts. Much of Rousseau's 15.5-sack 2019 season was schemed production, and he won't get those same favorable looks in the NFL.
The harsh reality of playing edge rusher in the NFL: if you aren't explosive out of your stance and you don't threaten with speed up the arc, everything just got harder for you. You can still be successful, but you need to be highly physical and adept with your hands to create the angles for victory that your lack of burst does not give you. That's where projecting Rousseau as a Round 1 or even Round 2 prospect just falls apart. The lack of juice is evident on tape, and his pro day testing (30-inch vertical jump, 9-7 broad jump) confirmed the concern. For a guy as raw as Rousseau, there really isn't a clear path to success in the NFL.
Right now, Rousseau needs time to develop as a player, technically, mentally and perhaps physically. With a little added weight, Rousseau has physical tools to be a David Irving-type of player at his peak, which is a strong rotational presence to bring off the bench. That's a far cry from a first-round, Top 15-type of prospect however, especially when Rousseau is currently more Michael Johnson than any of the rushers he's typically compared to.
Year 1 Outlook: Developmental/Depth
Year 3 Outlook: No. 3/4 EDGE W/Interior Rush Ability
Grade: Mid Fourth Round (Developmental Player/Good Depth)
11. Carlos "Boogie" Basham, Wake Forest (6-3, 274, 4.64)
I'm impressed that Basham was able to trim down and test as well as he did at Wake Forest's pro day, revealing adequate explosiveness in his jumps and strong agility on his 3-cone and short shuttle. A finesse player on tape despite his size and thick frame, Basham wins far more with quickness and length than he does with explosiveness or power, and it'll be fascinating to see if he can translate that style of play as a pass rusher in the NFL.
Typically defenders who win like Basham are more explosive and bendy as pass rushers, but the Wake Forest senior's ability to keep himself clean with stabs, swipes, spins and especially his go-to club-swim combo allowed him to make consistent dents as a pass rusher in college. The problem is that a technique-based approach, even with athletic limitations, typically needs more physicality behind it than Basham offers. He's just not an overpowering rusher, preferring to dance around opponents rather than dictate his will on them.
In some ways, Basham reminds me of Boise State's Curtis Weaver from last year's draft, although the Demon Deacon standout is definitely a more advanced rusher than Weaver was. Big guys with questionable builds/power who relied on shiftiness and agility over explosiveness and power at the college level, and left a lot to be desired as run defenders at the point of attack and in space. Basham is better with his hands, which will definitely help him hold onto a roster spot longer than Weaver did, but finding a full-time role in the NFL will be tricky.
Is Basham impactful enough as a rusher to earn snaps over more explosive options when you take into account his lack of technique and awareness in the run game? How will teams see the handful of snaps on tape where Basham seems to just run out of juice entirely? Is his lack of physicality just his collegiate playing style, or can Basham transform into more of a grinder at the pro level? Too many questions remain unanswered for a 23-year-old rookie, who will be 24 before his first season ends.
Year 1 Outlook: Depth/Interior Rush Ability
Year 3 Outlook: Spot Starter/Interior Rush Ability
Grade: Early Fourth Round (Spot Starter/Good Depth)
10. Joe Tryon, Washington (6-5, 259, 4.67)
I've seen Tryon mocked in first rounds since January, so it's safe to say I don't understand the love for his game out there. Yes, Tryon is a physical edge defender with a pro-ready body, but there is very little production or refined skill to hang your evaluation on with the Washington redshirt junior. Tryon's decision to not play in 2020 makes his evaluation a little trickier, but rewinding back to 2019 does not reveal a prospect ready to be selected in the first three rounds.
The most important traits for an edge defender to possess are explosiveness off the ball, speed up the arc, flexibility/bend to corner and the ability to change directions quickly to cross the face of the blocker. Tryon isn't blessed with any of these things in great abundance, and his lack of skilled handwork or a detailed plan of attack as a pass rusher is painfully obvious on tape. Watch Tryon against Washington State in 2019 and tell me that is a man with a plan. Heck, watch his highlight reel and you'll see very few one-on-one wins against even semi-quality pass sets. Tryon's nine college sacks came primarily due to his relentless motor and the protection woes across from him more than any skill or trait that he brought to the table as a pass rusher. It's a major concern in his NFL projection.
Tryon's strength and physicality will help him stick around in the NFL, and he may even get a chance to start early on because of his point-of-attack run defense, hot motor and pro-ready build. But his limited pass rush athleticism will keep him from a desirable ceiling as a pass rusher and even as a run defender when asked to play in space. Tryon's best role will come as a sub-package rotational lineman, who might be able to eventually kick inside for some rush reps if he can continue to grow in his technique as a pass rusher.
Year 1 Outlook: Rotational EDGE/Spot Starter
Year 3 Outlook: No. 3 EDGE W/Interior Rush Ability
Grade: Early Fourth Round (Spot Starter/Good Depth)
9. Quincy Roche, Miami (6-3, 243, 4.68)
As I've written before, Roche reminds me a lot of Noah Spence in that both were a little undersized as edge defenders and didn't quite have the athleticism to make their style of play work in the NFL. Roche could be a much more effective prospect if he was more explosive or fast, but his lack of play speed for his size is a concern when projecting him to the next level.
For a guy that wins primarily on the outside hip of the offensive tackle and lacks any sort of a power game, Roche really needs to be more of a threat off the snap than he currently is. To his credit, he does find ways to occasionally reduce his surface area at the top of the arc, slithering by opponents, but if you are missing explosiveness to the degree he is as a pass rusher, you usually need a trump card in your skill set. Roche is crafty and can surprise once or twice a game, but he's probably more of a low-end starter or career backup in the NFL than a desirable starter.
Year 1 Outlook: Depth/No. 3 Rusher
Year 3 Outlook: Solid Starter/No. 3 Rusher
Grade: Late Third Round (Solid Starter)
8. Rashad Weaver, Pitt (6-4, 259, 4.88)
Their body types are different, but Weaver has some of the same concerns as Perkins and Roche in that all three players just lack explosiveness to a debilitating degree. Weaver makes up for it to a degree with his football IQ, pass rush savvy and sound run defense, making him more of a high floor prospect than his colleagues, even if his ceiling is pretty low.
What I like about Weaver is that there is always a plan, as he keeps himself clean as a rusher with his length and well-timed rush moves. He knows how to win despite his limitations, and he's surprisingly agile for how little twitch he possesses. Weaver's overall awareness as a football player is excellent, and he has the right tools in his belt to overcome some of his weaknesses and perhaps even be an effective starter in the NFL.
I wouldn't roll the dice on Weaver's profile as early as some have him projected, especially given the fact that he's one of the oldest edge defenders in the class, but his consistency makes him a "safe" pick. On a team that covets run defense, technique and football intelligence above athleticism, Weaver will be an ideal mid-round pick.
Year 1 Outlook: Solid Starter/No. 3 EDGE
Year 3 Outlook: Solid Starter/No. 3 EDGE
Grade: Late Third Round (Solid Starter)
7. Cameron Sample, Tulane (6-3, 267, 4.79)
Maybe I'm getting suckered by Sample to a degree, but I just think he was terribly misused at Tulane and his flashes on tape and dominance at the Senior Bowl have me thoroughly intrigued. Yes, Sample's athletic profile is average, but he plays with twitch and leverage, allowing him to work power moves and get back inside of opposing tackles with ease. His playing style, build and athletic profile remind me a lot of Carl Lawson, who has found a go-to process as a pass rusher in the NFL that helps him overcome his lack of flexibility and bend around the edge.
Now, Sample will have to become as consistent and deadly with his hands as Lawson, something he rarely had a chance to do as a pass rusher at Tulane. Sample played a ton of snaps from a head-up 4-technique over the tackle while with the Green Wave, negating some of that speed-to-power that rushers get from a wider alignment. When Sample was allowed to rush from wide and really tee off as a pass rusher, his game exploded in 2020.
The other thing that makes Sample feel like a safe bet to at least be a strong contributor in the NFL? His consistent hand placement and leverage in the run game. Sample constantly locked out and held the point of attack against opposing offensive linemen in the AAC, then went to the Senior Bowl and did the same thing. His power and technique are pro ready in the run game, and that will help NFL defensive coordinators see him as a legitimate candidate to kick inside situationally at the next level. Sample was outstanding as a 3-technique rusher in Mobile, and could get reps there right away in the NFL.
Year 1 Outlook: Key Reserve/No. 3 Rusher
Year 3 Outlook: Solid Starter/Interior Rush Versatility
Grade: Mid Third Round (Solid Starter)
6. Joseph Ossai, Texas (6-4, 256, 4.63)
Ossai might be the ultimate boom-or-bust edge prospect in this class, so like a true coward I've planted my flag right between the polarizing grades on him. Some believe his lack of experience and production as an edge rusher will be impossible to overcome at the next level, and watching him get pulverized by Oklahoma State's Teven Jenkins, it's easy to see why. Ossai is still generally lost as a rusher, playing out of control and off balance, allowing more technical players to make life miserable for him.
But while Ossai has a ton to learn as an edge rusher, his athleticism and effort are truly special. He makes plays in pursuit that most athletes on the field only dream of, offering a rare level of explosiveness and a non-stop motor that should open the door for a full pass rush arsenal down the road. Obviously Ossai's landing spot is critical, as is his desire to become great at his craft. I can't speak to how either of those aspects will go for him as a pro, but at some point the risk is worth it for the potential reward.
In some ways Ossai is like Bud Dupree, who took several years to become a good edge defender in the NFL due to his rawness at Kentucky. Like Dupree, Ossai has elite explosiveness, speed and effort, as well as a terrific frame for the pro level. But both Dupree and Ossai lacked pass rush moves, counters and a great feel as edge rushers coming out of college, and patience will be required with Ossai just like it was with Dupree.
The difference is that Ossai is still fairly new to the position after playing more of a hybrid, off-the-ball role in 2019. He'll be 21 this month, so age is also on the side of Ossai's development. If NFL front offices believe the character and work ethic match the traits, it'll be hard to let Ossai slip too far down the board. Still, expectations should be tempered for a player with this much room to grow before becoming an every down impact player in the NFL.
Year 1 Outlook: Versatile No. 3 Rusher/Sub-Package Contributor
Year 3 Outlook: Ascending Starter
Grade: Early Third Round (Good Starter)
5. Payton Turner, Houston (6-5, 270, N/A)
After watching Turner's tape, I feel like I missed a chance to jump on a good prospect earlier in the draft process. I thought he was impressive at the Senior Bowl, but his tape is even better. Turner plays with a ferocity and physicality that, when paired with his physical tools and flashes of athleticism, should project very nicely to the NFL.
Players as big and long as Turner already have some built-in advantages, but Turner knows how to use his tools as well, showing cross-chops, push-pulls, clubs and bull rushes frequently on tape. Despite his height, weight and length, Turner is really high cut, which typically leads to some coordination issues with athletes his size. I didn't see that on Turner's tape however, as he crossed the face of offensive linemen with ease and knows how to use his hands to clear contact and finish.
Turner is an edge defender who might be able to kick inside situationally on long/late downs to allow teams to get another edge pass rusher on the field. There is no question that Turner is a much more explosive player from a 3-point stance right now, as he never really looks settled when playing from a standup position. False-stepping is frequent, and his explosiveness off the ball is much more muted when he rushes from a 2-point stance. With his hand in the dirt however, Turner is a consistent threat in his first two steps, capable of getting the edge on a questionable pass set or setting himself up for an inside counter.
As a traditional 4-3 defensive end, Turner may never be an elite speed/bend type of rusher, but he has enough flexibility to turn corners that he can trim down with his hands, and his speed-to-power and inside moves give him the rush variety he needs to keep tackles guessing. Combine that with the violence and strength that he plays with, and Turner is going to be a good player in the NFL for a long time.
Year 1 Outlook: Rotational DE/Interior Rush Versatility
Year 3 Outlook: Good Starter/Interior Rush Versatility
Grade: Early Third Round (Good Starter)
4. Kwity Paye, Michigan (6-2, 261, 4.52)
Paye is one of the most frustrating evaluations I've done in eight years of scouting draft prospects. His testing and his flashes tell me he's explosive and bendy, but Paye is also the last guy off the ball at times, his stance can be very unorthodox and he gets controlled far too easily for a player with his tools as a pass rusher. With the kind of athletic gifts, power, work ethic and effort Paye has, where was the dominant tape? Why didn't we see better production from him in college (11.5 sacks in 28 games)?
One of the reasons was Michigan's usage of the burly edge rusher, as Paye played a handful of his college snaps in the A or B-gaps, or head up on the tackle. I think the Wolverines staff saw Paye's size and wanted to use him as an inside slasher, but that forced him to think and fight blocks more, rather than use his best assets – burst, speed, bend – on the perimeter.
It was a deployment I disagreed with, but it wasn't the only reason Paye didn't dominate the college landscape. Right now the freakish athlete just doesn't have enough in his pass rush arsenal. No go-to move, no counters and very little ability to adapt his rush plan based on his opponent's pass set. If Paye can add those things to his arsenal, the sky might be the limit for the short-striding, twitchy edge defender.
But Paye needs a good landing spot that can bring along his development, otherwise his career will fall short of expectations. Like the next two edge defenders on the list, Paye is a big risk, but he really does have all the elite tools to turn into a huge reward down the line. Drafting him in the Top 20-25 would be scary for me, however.
Year 1 Outlook: Rotational/Developing Starter
Year 3 Outlook: Ascending Starter
Grade: Late Second Round (Good Starter)
3. Jayson Oweh, Penn State (6-5, 252, 4.37)
They don't make many humans that look or move like Jayson Oweh, and that's about where his evaluation starts and ends. It takes a LOT to get me to rank an edge defender even this high with seven career sacks and zero sacks in 2020, but Oweh is too talented to not be considered a potential production outlier. His athletic testing was the thing of legends for his position group.
Jayson Oweh is a DE prospect in the 2021 draft class. He scored a 9.96 RAS out of a possible 10.00. This ranked 7 out of 1336 DE from 1987 to 2021.

Splits projected, times unofficial.

Even higher with everything added in, including all time broad.https://t.co/eJFWFuXzmJ #RAS pic.twitter.com/om2OmJljGI

— Kent Lee Platte (@MathBomb) March 25, 2021
Oweh will step onto the field in the NFL at 22 years old as one of the most athletic players in the league at any position, but with very little refined skill as a pass rusher to show for it. There's no go-to move, no counters, no consistent pass rush plan, nothing. Oweh is an explosive, bendy, physical ball of clay, and he's in desperate need of some molding. Still, Oweh grew as a run defender by leaps and bounds in 2020, and the hope will be that pass rush is the next aspect of his game to take a major jump in 2021.
Oweh's abysmal pass rush production indicates he'll need to be an outlier much like Danielle Hunter has been in Minnesota. Hunter is the only edge defender in the NFL to fail to reach at least double-digit sacks in college while playing primarily on the edge, yet still become a premier player at the pro level. The Penn State product has the athleticism you bet on at a key position like pass rusher, but the question will be how fast he can add to his skill set and how willing he is to throw himself into his craft in a quest to be great.
Year 1 Outlook: Rotational/Developing Starter
Year 3 Outlook: Ascending Starter
Grade: Late Second Round (Good Starter)
2. Azeez Ojulari, Georgia (6-2, 249, 4.63)
Evaluating Ojulari off of tape wasn't difficult. He's a classic speed/bend edge rusher who has to win on an outside track to the pocket in order to be successful, which is the most important plane to win on as a young prospect. On his best rushes, Ojulari's burst off the ball and speed up the arc is obvious, and he's already established a go-to move to trim the edge to the pocket with his violent cross chop. His game needs to become more robust, but on tape Ojulari has the most important traits you want in an edge rusher, and the right play temperament to go along with it.
So imagine my disappointment when Ojulari's pro day numbers came back average-to-below-average at his position, especially when you account for the fact that he's just 249 pounds after playing at Georgia at 240. A bad 3-cone at his size and a 30-inch vertical jump put into doubt the explosiveness and bend you saw in flashes on tape, making me wonder if Ojulari has the athleticism needed for his game to translate to the NFL.
My final conclusion was this: regardless of his testing, Ojulari is unquestionably explosive off the ball and fast up the arc on tape. Even if he isn't an elite bender, his hand work will help him create more favorable angles around the edge, and his physicality will eventually become a huge asset as he adds speed-to-power to his pass rush arsenal. Once he can learn to create space with his length and counter, Ojulari's speed is going to open up more rush paths for him as his career progresses. After all, the redshirt sophomore won't be 21 until June!
The popular comp for Ojulari is Yannick Ngakoue, and it's a good one, but Ojulari is a more physical player with some impressive run defense in his 2021 tape. I think he can eventually win on more paths to the pocket than Ngakoue (who is primarily an outside speed rusher), so I'm banking on Ojulari's game taking the next step in the NFL.
Year 1 Outlook: Starter/Heavy Contributor
Year 3 Outlook: Very Good Starter
Grade: Mid Second Round (Good-Very Good Starter)
1. Jaelan Phillips, Miami (6-5, 270, 4.56)
#Miami DE Jaelan Phillips unofficial Pro Day Numbers

6054, 260 pounds

4.56 40-yard dash (95th percentile)

125 inch broad jump (92nd percentile)

36 inch vertical jump (81st percentile)

4.13 short shuttle (94th percentile)

7.01 3-cone (82nd percentile) pic.twitter.com/e0pVGuGq5z

— Marcus Mosher (@Marcus_Mosher) March 29, 2021
Rarely do we get a prospect as "can't-miss" as Phillips on the field with as murky a projection off the field, too. Coming off of a productive 2020 season that saw Phillips log eight sacks and 15.5 tackles-for-loss in 10 games, after medically retiring in 2019, he is the clear cut top edge defender in the class. The UCLA transfer was unstoppable over the second half of the season, then followed up that performance with a ridiculous pro day that should have him atop every team's edge defender rankings.
Off the field, I won't speculate about where Phillips' character is now, that will be for NFL teams to decide in their scouting process. Phillips' injury history, especially a couple of concussions, is concerning, but team doctors will have to determine his fate there. If he falls in the draft or is unproductive in the NFL, it's going to be because of his character or his health. I'm confident in saying that.
When I watch Phillips on the field, he has everything you want in an edge defender. His burst and bend make him a constant threat to win the edge, which opens up his inside counters and allows him to catch tackles by surprise with the occasional power move. When you can win on all three tracks – outside the tackle, inside the tackle and through the tackle – you're on the path to being a premier NFL player at your position. Phillips has little things like snap timing, overall consistency, leverage and awareness in the run game and recognizing opportunities for quicker counter moves, but all those things can be learned in the NFL, if he's willing to commit that kind of time and energy to his craft.
Year 1 Outlook: Good Starter
Year 3 Outlook: High Quality Starter
Grade: First Round (High Quality Prospect)
Share On Socials