After studying the tape, production and athletic testing for over 20 edge defenders in the 2021 NFL Draft, here are my pre-draft rankings of the Top 15. It is a class without many high-end prospects, but with plenty of athletic talent in desperate need of development at the NFL level. Time will tell if many in the group are able to reach their sky-high ceiling over the next several years.
To each edge defender's evaluation section I've added their Year 1 and Year 3 outlook, not necessarily saying what I think will happen, but what is a realistic best-case scenario for each prospect as they progress in their NFL careers. Tons of factors will be at work in determining if these projections actually come true, including scheme, coaching, character, health, and more, but based on what I can know at this time, I made reasonable, high-end guesses as to where each player's career could be headed under ideal circumstances.
My grading scale, in layman's terms of value, is similar to how NFL teams tier their prospects. The round grade represents a value, not necessarily where I would select a player.
For example, I might only have 13 or 14 Round 1 grades in a class, but if my team is picking at 24 and all of those players are gone, it doesn't necessarily mean I would want out of the pick. It just means that, in my evaluation anyway, the player I might select there that has a second-round grade might not have the same ceiling to be an elite player like some of the prospects drafted ahead of him. They still might be a quality player that you are thrilled to get at No. 24 overall.
Here's my grading scale:
Special = Elite of the elite
First Round = High Quality starter
Second Round = Very good-to-good starter
Third Round = Good-solid starter
Fourth Round = Spot starter-good depth player
Fifth Round = Depth player/Special teams
Prospects Still To Watch/Complete:
Elerson Smith, Northern Iowa
Chauncey Golston, Iowa
Chris Rumph, Duke
Charles Snowden, Virginia
Janarius Robinson, Florida State
Daelin Hayes, Notre Dame
Shaka Toney, Penn State
Jonathan Cooper, Ohio State
Malcolm Koonce, Buffalo
---
15. Patrick Jones, Pittsburgh (6-4, 260, N/A)
If you were one of the analysts still clinging to those top 50 projections for Jones from a few months ago, you were probably hoping for a better pro day than this:
Pitt pro-day numbers con't:

Rashad Weaver
HT: 6043
WT: 259
Hand: 9 3/4
Arm: 33 1/2
Wing: 82
VJ: 32.0
BJ: 9-6
40: 4.83/4.89
SS: 4.30
3C: 6.98 👀
BP: 20

Patrick Jones
6042
261
10
32 7/8
79 1/8
31.5
8-11
40: inj.
22 reps

— Jim Nagy (@JimNagy_SB) March 17, 2021
Jones was already going to be a project in the NFL, but now he's a project without great upside. On tape he looks explosive off the ball and exceptionally physical, but that's about where his positive traits end. Jones doesn't have the power to be a great bull rusher despite his strong desire to win that way, and he's far too stiff to be a big-time cornering threat in the NFL.
I still like him as a Day 3 pick, who will play hard and could have potential as an inside rusher someday if his hands improve. But the ceiling is low and those measurables should push him well down the board considering his lack of quality tape.
Year 1 Outlook: Depth/Special Teams
Year 3 Outlook: No. 4 EDGE W/ Interior Rush Ability
Grade: Late Fourth Round (Solid Depth/Special Teams)
14. Jordan Smith, UAB (6-7, 255, N/A)
UAB's pro day is on the last day of college pro days – April 9 – and it will be a huge day for one of the more exciting Day 3 edge prospects in the draft in Smith. There's one or two freaky long edge rushers in every class, but not many that also have Smith's fluidity and coordination. The level of competition is obviously weak, but Smith has some of the sickest rushes of the year on tape.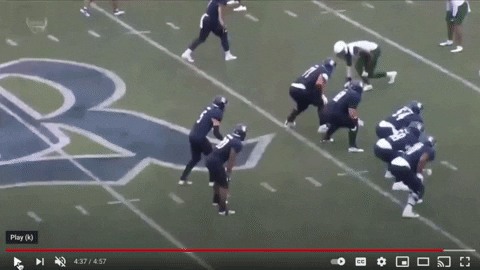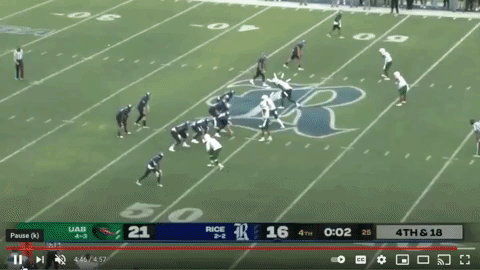 Those flashes are few and far between, but they hint at how high the ceiling might be for Smith, if he's able to weigh-in and test well at his pro day. Testing is critical for small school players, and there are also concerns about how much weight Smith is carrying on his long, slender frame. He plays off the side of blocks and around opponents more than he bodies blockers up at the point of attack, but he's quick enough and good enough with his hands to keep himself clean more often than you think.
Now in the NFL, that's going to be a lot harder when the competition gets bigger, stronger and more technical. Smith's lack of power won't put him in many starting lineups right away, and he's not a technically sound enough rusher to vie for major snaps right away. But I do think Smith has a great set of tools and plays with tremendous energy, which make him one of the Day 3 edge rushers I would target if I believed in my defensive line coach's ability to teach and develop. Tampa Bay had a player of similar stature years ago in reserve Will Clarke.
Year 1 Outlook: Developmental/Special Teams
Year 3 Outlook: Pass Rush Specialist
Grade: Mid Fourth Round (Solid Depth/Special Teams)
13. Ronnie Perkins, Oklahoma (6-2, 254, 4.78)
Heading into his pro day, the one thing I was sure I saw from Perkins tape was that he could bend, at least in the hips. But his pro day couldn't even confirm that after he opted out of the 3-cone drill, and the rest of the Oklahoma defensive end's workout just cast more doubt on his pro projection.
The poor workout numbers basically confirm Perkins' lack of even average athleticism for his position, which was already a concern based off of tape. Perkins' lacks explosiveness to a degree that is hard to compensate for in the NFL. If you watch his tape closely, the only times he won the edge was when the opposing tackle was slow out of his stance or messed up his pass set entirely. You're just not going to get those advantages very often in the NFL.
Perkins flashes speed-to-power, but his rush repertoire as a whole isn't deep enough to compensate for his lack of athleticism. To make it in the NFL he's going to have to work on his get-off and become immaculate with his hands, perhaps even bulking up to provide an impact as an interior rusher. Right now, I'm just not sure what Perkins offers to be considered in the range many have him ranked.
Year 1 Outlook: Developmental/Depth
Year 3 Outlook: No. 3/4 EDGE
Grade: Mid Fourth Round (Developmental Player/Depth)
12. Gregory Rousseau, Miami (6-6, 266, 4.72)
Some will compare Rousseau to Jason Pierre-Paul, and the two players are similar in that they don't win with their first step or with their speed up the arc. Both players can bend for big, long guys, but because they lack the burst to win the edge, the only time you get to see their flexibility is when they get to attack a bad pass set. So there are some athletic similarities in their games.
But where the comparison falls apart is where the two players win, particularly Pierre-Paul. The Bucs outside linebacker is ultra-physical and can win cleanly with his hands, while Rousseau is more of a finesse player that had to be given match-ups where he could out-athlete his opponent in order to get home. That meant kicking him inside to play over college guards or getting him clean looks as an inside crasher or looper on stunts. Much of Rousseau's 15.5-sack 2019 season was schemed production, and he won't get those same favorable looks in the NFL.
The harsh reality of playing edge rusher in the NFL: if you aren't explosive out of your stance and you don't threaten with speed up the arc, everything just got harder for you. You can still be successful, but you need to be highly physical and adept with your hands to create the angles for victory that your lack of burst does not give you. That's where projecting Rousseau as a Round 1 or even Round 2 prospect just falls apart. The lack of juice is evident on tape, and his pro day testing (30-inch vertical jump, 9-7 broad jump) confirmed the concern. For a guy as raw as Rousseau, there really isn't a clear path to success in the NFL.
Right now, Rousseau needs time to develop as a player, technically, mentally and perhaps physically. With a little added weight, Rousseau has physical tools to be a David Irving-type of player at his peak, which is a strong rotational presence to bring off the bench. That's a far cry from a first-round, Top 15-type of prospect however, especially when Rousseau is currently more Michael Johnson than any of the rushers he's typically compared to.
Year 1 Outlook: Developmental/Depth
Year 3 Outlook: No. 3/4 EDGE W/Interior Rush Ability
Grade: Mid Fourth Round (Developmental Player/Good Depth)
11. Carlos "Boogie" Basham, Wake Forest (6-3, 274, 4.64)
I'm impressed that Basham was able to trim down and test as well as he did at Wake Forest's pro day, revealing adequate explosiveness in his jumps and strong agility on his 3-cone and short shuttle. A finesse player on tape despite his size and thick frame, Basham wins far more with quickness and length than he does with explosiveness or power, and it'll be fascinating to see if he can translate that style of play as a pass rusher in the NFL.
Typically defenders who win like Basham are more explosive and bendy as pass rushers, but the Wake Forest senior's ability to keep himself clean with stabs, swipes, spins and especially his go-to club-swim combo allowed him to make consistent dents as a pass rusher in college. The problem is that a technique-based approach, even with athletic limitations, typ