By now we've all heard the common refrain that new Tampa Bay quarterback Tom Brady won't fit in Bruce Arians' offense because he can't or won't throw the deep ball (20+ yards or more). I've already blasted the myth to smithereens based on evidence over the past three seasons (Brady has thrown the deep ball at an above average league rate the past two seasons, and led the league in deep ball throws in 2017), but now we have ample new evidence from Week 1 that the narrative remains absolute bogus.
During Sunday's 34-23 loss against the Saints, Brady threw eight passes of 20 yards or more, three in the first half and five in the second half. Projected over a 16-game season, that would be 128 attempts of 20 yards or more – or 27 more than the 2019 league leader in deep ball attempts, Aaron Rodgers (per Pro Football Focus).
Obviously it is unlikely that Brady continues at that rate, which would be the highest mark in recorded Pro Football Focus history, but it clearly demonstrates a willingness to stretch the field that meshes perfectly with Arians' desire to do the same.
But that isn't even the best news. The best news is that not only is Brady willing, he's also able. Of those eight deep attempts, five were absolutely perfect deep balls from Brady, with two of them going for completions and the other three drawing defensive pass interference penalties.
Deep Ball No. 1: 29 yards to Chris Godwin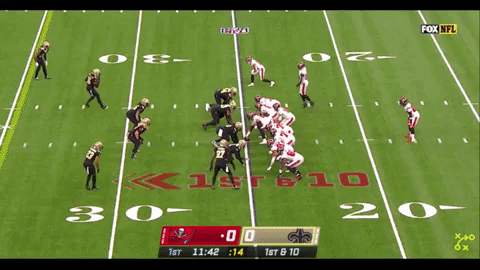 The corner route is one of the toughest throws in football, and Brady put this one right on the money for Godwin. What a gorgeous ball despite good coverage.
Deep Ball No. 2: 22-yard DPI on Marshon Lattimore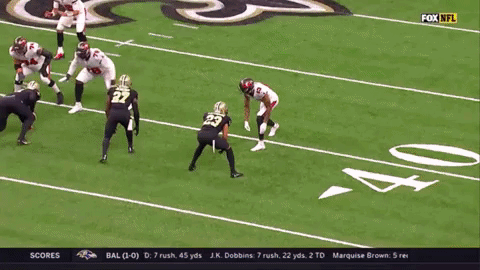 A deep shot 22 yards down the field, Brady dropped a perfect toss right into Mike Evans' arms, one of which was pinned down by Lattimore. Evans can't make the circus grab on a perfect throw, but the defensive pass interference may as well count as a completion.
Deep Ball No. 3: 45-yard DPI on Marcus Williams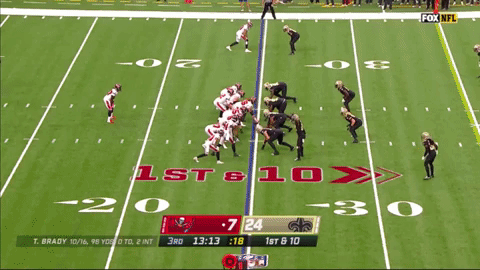 The Saints sent a corner blitz and Brady immediately identified it, laying out a perfect pass to a streaking Evans. Williams, the safety, can't turn and find the football after giving up a step to Evans, and was forced to drag the receiver down to avoid giving up a bigger play. Another should-be completion simply appearing in the box score in the form of a huge penalty.
Deep Ball No. 4: 28-yard DPI on Patrick Robinson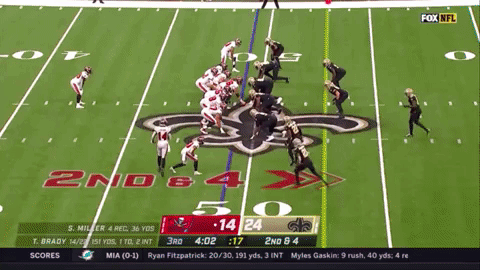 Another perfect deep ball from Brady, this time on the slot fade to Scotty Miller. Robinson was forced to pin Miller's left arm as the ball arrives, resulting in another defensive pass interference. Another 28 yards that should be on Brady's passing total, but won't show up in the box score.
Deep Ball No. 5: 37-yard dime to Scotty Miller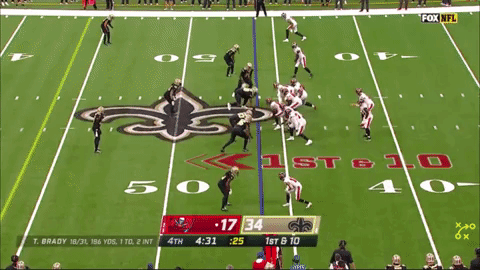 It doesn't get much better than this. Brady stepped up in the pocket and dropped a perfect throw in to Miller, who ran under it for a 37-yard gain. Cornerback Janoris Jenkins was in pretty decent position, but Brady's throw just gave him no shot at the ball. Obviously a terrific play by Miller, too.
Deep Ball No. 6: Interception By Williams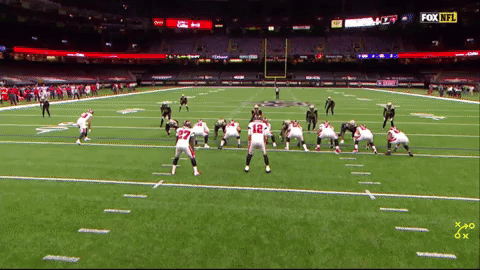 "One (interception) was a miscommunication between he and Mike," Bruce Arians said after the game. "He thought Mike was going down the middle. It was a different coverage and Mike read it right. He should have bent across his face, but Tom just overthrew it."
Arians was wrong, and admitted so on Monday's conference call after he had a chance to review the tape.
"No doubt," Arians said on the day after the game. "It wasn't Cover 2. It was quarters coverage, and Mike should have been splitting, going down the middle and never stopping."
Evans was working from the slot against zone coverage. It's a two-high safety look with the middle of the field open (MOFO), which means Evans needed to take his route across the safety's face to the space between the safeties. It's a simple middle read concept, and Evans simply makes a mistake. He sat down when he should keep going, and to make matters worse, he drifted slowly towards the middle of the field at the top of his route, almost as if he was uncertain as to what to do.
Brady interpreted Evans' body language at the top of his route as running a post (which clearly is what Evans began to do) and threw the ball. He believed Evans would "bend across his (the safety's) face," as Arians was referencing above. Evans broke off his route, and the result was an interception.
Now, was the throw a great one by Brady? It looked like a slight overthrow to me, although these things are hard to tell when the intended target is not where he should be on the play. This was also a throw that needed to be upstairs, over where the linebacker could leap and knock it down and hopefully where Evans could high-point and box out the safety at the catch point.
I might ding Brady a little for a high throw, but the mental mistake was completely on Evans. Anyway, you can argue Brady's throw could have been better, but the mental mistake and the interception were not on him.
Deep Ball No. 7: Incomplete to Rob Gronkowski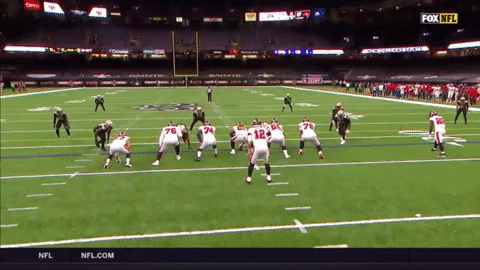 Again, the Saints are in a two-high safety look, with the middle linebacker opening to No. 3 to the field and carrying anything vertical (Tampa 2). Tight end Rob Gronkowski needed to bend this route to the middle of the field and away from the field safety (Malcolm Jenkins), in order to give Brady a throwing window. He should be reading MOFO (middle of the field open) and breaking toward that space at the top of his route. As long as Gronkowski continued in a vertical line, he's capped with the safety over the top and the linebacker trailing underneath.
While being hit, Brady put a well thrown ball right down the middle of the field where Gronkowski should be. But the veteran tight end never breaks off his route, so Brady's pass falls incomplete. Jenkins made a great break on the ball, so even a good route by Gronkowski would have been contested, but the throw is where it should be, even if it was a bit of a risky decision by Brady. The error was on Gronkowski.
Deep Ball No. 8: The Bad Throw!
Brady was trying to throw the out-and-up to O.J. Howard here, but he was covered by a cornerback, and this wasn't Brady's first read on the play either. Still, Brady needed to put more air on this ball, allowing Howard to use his size and leaping ability to go up over Jenkins and make a play. By throwing it on a line drive, Brady took away his receiver's biggest advantage and made it tough for Howard to find the football.
It's not a terrible throw, as Howard still got a hand on it and probably could have fought back harder through the defender for the ball. But it was definitely not an ideal pass, and the only one of Brady's eight deep passes that I thought was clearly on the quarterback.
Bonus Toss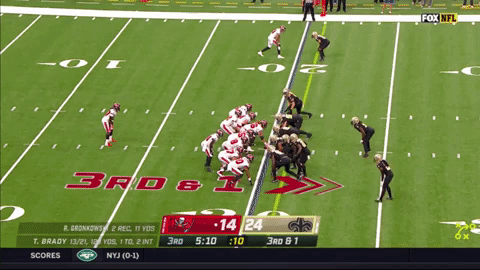 This one didn't quite cover 20 yards in the air, but what a clutch throw by Brady off his back foot with pressure in his face. Right on the money to Godwin for a huge first down. That was a tough throw from a quarterback who does not make a lot of muddy pocket tosses from a compromised base. Beautiful stuff from the GOAT.
It's early, but the one week sample size from Brady in Arians' offense says that not only is the veteran quarterback willing to throw the ball down the field with regularity, he's also extremely capable. His tape from the past couple of years also says that, as do all the numbers. Maybe it's time to put this part of the Brady discussion to bed, and move on to other topics surrounding the Bucs' star quarterback.
Share On Socials