The Bucs made a mistake this offseason.
It was a little mistake, inconsequential in the grand scheme of the season, unless of course they let the issue fester. But it was a mistake, and one that needs to be rectified a quarter of the way through the season.
Despite being a buzzy offseason signing, LeSean McCoy is not helping this football team, and Ke'Shawn Vaughn might be able to.
Let's start with the 32-year old McCoy, who is in his 12th season in the NFL and on his third team in as many seasons. He's cooked, as hard as it is to say.
McCoy's had a great career, but it's evident watching him try to elude defenders, accelerate after the catch, or simply catch the ball at all (two drops on 11 targets this season), that the play-making ability in space that once made him special is gone.
McCoy is averaging a pedestrian six yards per catch on nine grabs this season, and has shown zero reason why this team should prioritize getting him on the field on passing downs, let alone getting the ball in his hands. The veteran's pass protection has been also been abysmal, although the Bucs are currently without a positive contributor in the backfield in that regard.
I'm not saying Vaughn fixes all of that. I wasn't high on him pre-draft and it'll take a pretty high level of play from the rookie for me to be convinced the team didn't reach for their "biggest need" in the third round of the 2020 NFL Draft.
But the pass-catching and pass-protecting woes of the Bucs backfield members extend beyond McCoy's struggles, to the point where it is almost worth seeing if anyone on the roster can provide a consistently sure target. Heck, Kenjon Barner got one snap to show what he could do and he dropped it, albeit after getting obliterated and knocked out of the game with a concussion.
Ronald Jones II is the running back the Bucs would like to lean on in the passing game, but he's already dropped three passes on 17 targets, while picking up just 4.75 yards per catch – 4.75 yards! He's averaging almost that much per rush. That is truly a mind-bogglingly abysmal number.
Leonard Fournette could still be more of an asset than Jones or McCoy in the passing game, but he's dropped one pass on eight targets, while failing to do much of anything with his seven catches. The big back is just barely topping Jones' impact per catch, averaging 4.86 yards per reception in three games.
Fournette deserves more of an opportunity to get going before we judge him too harshly, but the larger sample size from Jacksonville, where he caught 76 passes last season, suggests this is who he is. The former first-round pick averaged under seven yards per catch last season despite ample opportunity to be a difference-maker with the ball in his hands. Fournette may be an upgrade over McCoy and Jones on third down, but he's not stood out in that regard either, and his pass protection has been dreadful pre-Tampa Bay.
Enter Vaughn, who caught 66 passes for 648 yards in college, averaging just under 10 yards per reception. He's got quality vision in the screen game, making plenty of plays in that area for Vanderbilt over the past two years. No, I don't think he'll be a very dynamic player in space either, but could he possibly be worse than the Bucs other options? I really don't think so.
The Bucs have an almost unimaginable dearth of pass-catching talent in their current backfield, to the point that I'd be willing to try anyone on the roster in that role. Non-Vaughn backs have now combined for 28 catches on 40 targets for 146 yards with seven drops – SEVEN. Yikes. Jones and Fournette can carry the load on the ground, but passing makes the world go 'round in today's NFL, and right now the Bucs can't count on anybody in their backfield to catch the ball cleanly, let alone make a defender miss in space or break a tackle.
It's time to see what Vaughn can do for this offense, and I'd be saying that even if he hadn't caught two passes for 22 yards and a touchdown in his NFL offensive debut. Heck, even Vaughn dropped his third target on Sunday, and it took three injuries ahead of him at running back to even get the rookie on the field.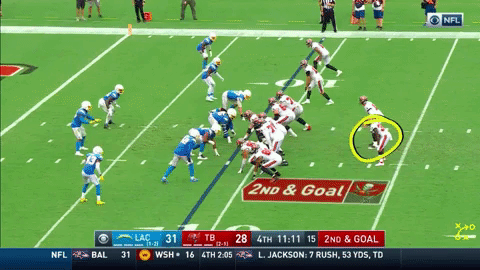 But three drops from Tampa Bay's other backfield targets on Sunday and another listless, albeit brief, McCoy performance has me desperate for some level of competence out of this group in the passing game. Even if Fournette is back on Thursday night at Chicago, Vaughn should get a chance to make an impact on passing downs and in the screen game. It might not help a whole lot, but it sure can't hurt.
Share On Socials