When you lose to a team twice by 11 and 35 points in the same season, it's probably worth going back to the drawing board to figure out what you could and should have done better to achieve victory.
For the Buccaneers and their quest to beat the bully New Orleans Saints, there are certainly plenty of things to choose from.
Outscored 72-26 this season and 137-67 in four meetings with the Saints during the Bruce Arians-Todd Bowles era, Tampa Bay has been thoroughly out-coached and out-played by New Orleans, as the ever-evolving style of Sean Payton consistently exposes the Bucs' out-dated philosophies on offense and defense. Bowles' defense has never held Payton's offense to less than 27 points while twice allowing 31 or more, and the Bucs offense under Arians has never scored more than 24 points, and the time they did hit 24 it was thanks to a garbage-time touchdown with 13 seconds left.
It has been a thoroughly one-sided affair with several reasons for such lopsided margins. Most of them are obvious, like the 10 turnovers Tampa Bay has in their past three meetings with the Saints, compared to just two for New Orleans. I don't think we need a whole article designated to saying "don't turn the ball over if you want to beat the Saints." It's obvious, the Bucs just have to stop doing it.
Some things, however, are not so obvious. In both games against the Saints this season the Bucs have either surrendered too much pressure, turned the ball over, or committed costly penalties. But all of those areas of their team have been greatly improved for weeks now. I have less concern about the player performances than I do the Bucs' coaching, although the staff has made significant strides offensively over the past five games that cannot be ignored. Here are the three most important things I believe the Tampa Bay coaching staff must change in order to be successful against New Orleans on Sunday.
1. More Play-Action Passing
In the first meeting against the Saints, the Bucs called just six play-action passes. In the second meeting, the number fell to three, although to be fair the game situation didn't allow it to be a very effective strategy as the team abandoned the run early, trailing 14-0 in the first quarter. Over the first 13 weeks of the season, Tom Brady's play-action rate ranked 37th out of 40 qualifying quarterbacks per Pro Football Focus, despite averaging 3.4 yards more per play when using play fakes than when not. That mark was third-best in the NFL at the time.
From Week 14 on, Tom Brady is up to 20th in the NFL on percentage of play-action dropbacks since the bye week, and the Bucs are still getting about the same boost per play as they were before, it's just happening more frequently now. Brady's gone from play-action on 18 percent of his dropbacks to 27 percent over the past five games, and the results are paying dividends for the Bucs. Against Washington, Brady ran play fakes on a season-high 33 percent of his dropbacks. That's 14 times! He went 8-of-13 for 182 yards and two touchdowns, averaging almost seven yards better on play-action pass attempts than non-play-action pass attempts.
It's not rocket science. Play-action works, and whether or not you are running the ball successfully doesn't matter.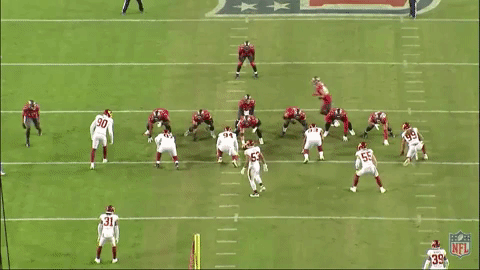 There are very few good coverage linebackers in the NFL, so messing with their drop-back process with play fakes usually puts suspect players in an even more suspect position. You can see Washington LB No. 53 Jon Bostic trigger on this fake, then try to recover, get to his landmark, find the passing options, turn and cover. By the time he's settled in, tight end Cam Brate is already crossing his face unencumbered (LB would like to disrupt him a bit if he could) and in position for a strike from Brady in the zone window.
The Bucs did this all day against Washington, and although New Orleans' linebackers are better at dropping into coverage, play-action is one of the biggest reasons Tampa Bay is so much better at attacking the middle of the field over the past five games. Look at Brady's passing chart from the last time Tampa Bay played New Orleans.
Against Washington's stout defense, thanks to the use of play-action passing and some new-and-improved route concepts, Brady fried up the middle of the field. His charts have been much closer to the one below since the bye week.
It's not an overly complicated premise, but it's of vital importance to the Bucs' chances at victory on Sunday night. Horizontal passing concepts off of play-action can become this team's identity, while still being able to hit the vertical routes when they are there. All the Bucs have done is make themselves more difficult to defend by creating more high percentage looks for their quarterback to keep drives on schedule when teams take away the deep shots. Do that against New Orleans, and their chances of sustaining drives and scoring points go way up.
2. More Press Man Coverage
ESPN's Jenna Laine tweeted out some interesting information that caught my eye on Monday.
Drew Brees' completion percentage drops from 74.6% when both outside cornerbacks are playing 'off coverage' compared to 57.6% when both are pressed. Two-man coverage has also given him the most problems of any defensive coverage. Do with that information what you will.

— JennaLaineESPN (@JennaLaineESPN) January 11, 2021
I hadn't seen actual data on this, but it has made logical sense to me all season. The Saints whole offense is timing and rhythm and quick game stuff. The more physical you are with them at the line of scrimmage and the less space you afford them, the less comfortable Drew Brees and the New Orleans offense will be on Sunday night. Seeing the data confirm this made it even more obvious that Tampa Bay defensive coordinator Todd Bowles must significantly alter his strategy of zone coverage that Brees shredded the last time the two teams met.
In Week 9 against the Saints, the Bucs ran zone coverage on well over 50 percent of their coverage snaps, with the majority of that coming in spot-drop Cover 3. Tampa Bay's outside corners consistently lined up 8-10 yards off the ball and dropped at the snap, allowing Brees to pick them apart on slants, hitches, screens and quick outs. It was death by 1,000 cuts, and the Bucs' shoddy tackling didn't help matters either.
The irony is that in Week 1, the Bucs played more press coverage against New Orleans and essentially shut down the Saints passing attack. Brees threw for 160 yards on 30 attempts in the game, with 46 of those yards going to Jared Cook on a blown coverage late in the game. Carlton Davis III and Sean Murphy-Bunting played as well as they have all season, with Davis matching up great with Michael Thomas, holding him to just three catches for 17 yards on the afternoon.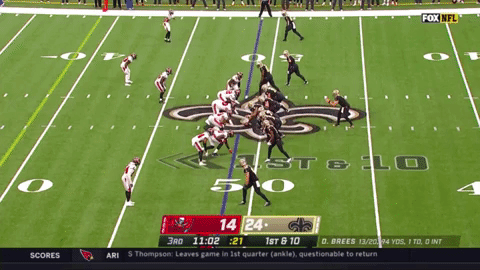 Even in the slot, Davis found ways to stay on top of Thomas from a press alignment. The Saints' star wide receiver is so rarely utilized vertically due to Brees' downfield passing limitations, that it makes no sense to give him free space to work in underneath. The Bucs did an awesome job getting a body on him in the two team's first match-up, but in round two, that tactic was nowhere to be found for much of the game.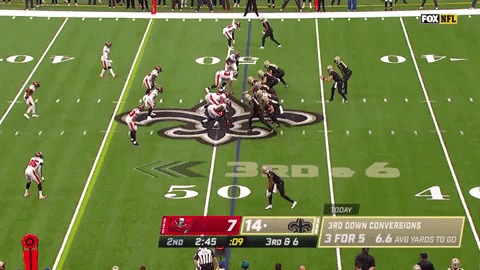 Davis is at the top of the screen here, running Thomas' route for him. Apart from the defensive tactic of press man coverage just making logical sense against the Saints, there's also the fact that it's clearly where Davis shines the most as a player, and the Bucs need an A-plus performance from their best cornerback on Sunday. Why not put him in the alignment that is best suited for his strengths?
Of course, regardless of alignment or technique, Murphy-Bunting and Jamel Dean haven't played well most of the season. There's no cure-all against the Saints offense, but you can't convince me that more press man coverage wouldn't make life more difficult for Brees and Co., and the numbers bear that out.
It's also a mentality thing. the Saints have been the bully against the Bucs for a long time, and the Tampa Bay cornerbacks need the mental edge that comes from being physical with opponents off the snap. If they can find their swagger early, it could change the game.
3. Hit The Saints With New-Look Pressure
Rushing four defensive linemen straight up, or with a couple end/tackle, tackle/end twists isn't going to cut it in this one. Neither is dialing up the occasional crossfire blitz with inside linebackers Devin White and Lavonte David. Those tactics may work once or twice, but the Bucs need to throw something new and unanticipated at Brees and Payton. They are simply too good if you sit back in a traditional look against them.
I've got two pass rush proposals for Bowles outside of blitz packages. Getting pressure with four in this game is crucial, because if Bowles blitzes too often, Brees and the Saints' short passing game will have answers galore for it, and New Orleans' screen game will tear Tampa Bay apart. But the Bucs don't have the talent on their defensive front to get pressure without blitzing heavily, especially against one of the best offensive lines and offensive tackle tandems in football. So what should they do?
First, run the "Bleach" package, which is what I've affectionately dubbed the defensive personnel look I wrote about a few weeks ago. I'm calling it "Bleach," because it revolves around Jordan WHITEhead and Devin WHITE essentially changing roles for a handful of pass-obvious defensive snaps each game. On the defensive line you'd have White, Jason Pierre-Paul, Shaq Barrett and either Ndamukong Suh or Will Gholston, and at linebacker you'd have Whitehead joining David to patrol the middle of the field and blitz as needed. It plays to each player's biggest strengths, and allows White to be a more consistent pass rush force, while giving Barrett and JPP the flexibility to find the most advantageous match-ups up front.
The second idea is simply to move Barrett and Pierre-Paul inside on second- and third-and-long situations, allowing them to get in far better one-on-ones with guards Cesar Ruiz and Andrus Peat than where they were on the outside against Ryan Ramczyk and Terron Armstead. Instead, move Suh and Gholston outside to occupy the Saints' tackles and contain the pocket. Brees isn't elusive enough for the Bucs to worry about him getting outside the pocket consistently enough, and interior pressure is more likely to bother him than edge pressure anyway. Put the Bucs' best rushers inside and hope they can win often enough with speed and quickness up the middle to impact the game.
Maybe these tactics work, maybe they don't. But if Bowles comes out with the same vanilla game plan he has featured too often against the Saints over the past two years, the Bucs will get chewed up and spit back out again. It's time to get creative and aggressive, trying to force the Saints into an uncharacteristic mistake that could cost them a possession or two – and ultimately the game.
Share On Socials