When the Bucs signed wide receiver Antonio Brown around midseason, there were two lenses to evaluate the move through: an ethical one and a football one. I think I've thoroughly and fairly covered his signing from an ethical perspective. I didn't like it. But on the field, there was little question in my mind what he'd bring to the table: positional versatility, talented route-running ability, velcro-like hands and, most importantly, the ability to make plays with the ball in his hands.
Getting to the point where these traits were consistently on display has been a bit of an adventure. It's hard for any player to step into a major role in the middle of a season, especially after missing almost all of last year and playing in an offense that has been changing all season, to a degree. Brown has handled the transition pretty well, but over the first several games of his Bucs tenure, a number of communication issues were evident between he and Tom Brady, especially on vertical passes. Some of those are still there (Brown broke outside instead of inside on a deep route) on Sunday, but Brady and Brown are clearly more on the same page in Week 17 than they were in Weeks 11 and 12, and Tampa Bay has a clearer plan for how the team would like to use Brown in the passing game.
Let's focus on the Bucs' usage of Brown first, as it adds an element to their offense that they really didn't have before the veteran receiver's signing. When Tampa Bay inked Brown to a cheap deal back in November, I said on the Pewter Report Podcast that the one thing the former Steeler really provided the Bucs that they didn't have much of in their receiving corps was top-notch YAC (yards after catch) ability. Brown has always been a dangerous player with the ball in his hands, showing excellent instincts, burst and strength in the open field after the catch. Since the bye week, the Bucs have made significant offensive adjustments to get Brown the ball in situations that allow him to showcase those gifts.
The Bucs' new "throw early" philosophy has resulted in much more impactful first down plays, and one of the reasons for that is high percentage passes that require accounting for less variables than a run play in order to be successful. Take this play for example.
On first down, Brady stands up and fires a quick bubble screen to Brown, putting the receiver in a one-on-one situation in the open field. Mike Evans gets in the way, Brown makes a man miss while bouncing outside, and the result is five yards and a very manageable second-and-5. The play call sets the offense up for more success on the next play than the percentages suggest a run play would, and Brown's quickness and vision with the ball in his hands maximizes what can be gained on this play.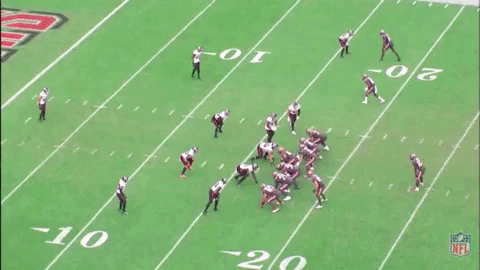 Later in the game, the Bucs pulled out the same bubble screen with Chris Godwin on the outside. Godwin picks up the triggering safety and Brown runs through the arm tackle of rookie cornerback A.J. Terrell, showing his burst and strength to pick up 14 yards on the play. Again, there are just two variables in the offense's path to getting four yards or more (four yards = success rate on first-and-10) – the cornerback and the safety. If you call an inside run, you have far more variables to account for with the Falcons loading up the box here. It is terrific play design and play-calling to get into positive number counts in the passing game, and Brown is the perfect player to utilize in this role.
Before Brown's arrival in Tampa Bay, Godwin was typically the player to target in these situations. The problem is that left Evans or Scotty Miller as blockers, and Miller isn't ideal in that role. With Brown on the roster, Godwin can step into the key blocking role, and Brown can be the creator with the ball in his hands. Best of both worlds for each player.
Sometimes, being the blocker in space on these concepts is hard. Godwin gets blown up on this play, but it's enough to give Brown the one-on-one he needs to pick up 12 yards on second-and-2. Nothing fancy here from Brown, but as soon as the off corner stops his feet to address the receiver, Brown mashes the gas to run by him. He's always had excellent instincts in the open field, rarely cutting or stopping unnecessarily.
The quick screen game has been a huge asset to the offense over the past month, but that's far from the only way Brown has contributed. I've often said that arguably the most important trait for a receiver is the ability to stop-and-start quickly, without wasted motion. I learned this watching Brown for years in Pittsburgh, as he consistently dusted defensive backs in coverage because they could not gear down and address the football out of the break as quickly as Brown could. He's carried that ability over to Tampa Bay flawlessly, even at age 32.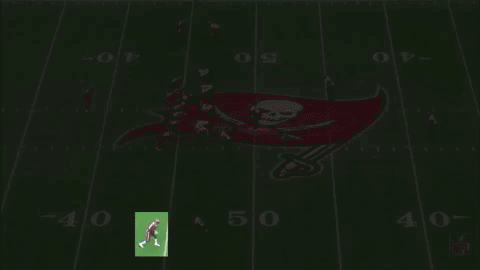 Great vertical push from Brown here, with perfect technique. Head down, arms pumping, completely selling a nine route to the opposing cornerback in man coverage. At 18-20 yards, Brown throws on the brakes, the corner flies by and the receiver works back to the football for a 23-yard gain on the deep curl. Brown has made his living in the NFL off of perfect technique, but his ability to throttle down and gear back up in an instant are the athletic traits that has allowed that technique to blossom, rather than great pure speed, size or leaping ability.
As you can see in the play above and all throughout Brown's tape in the NFL, he's fully capable of playing every single receiver spot because he's so good against press coverage. When Evans went down with an injury in the first quarter, Brown moved to the X-receiver spot for much of the game, playing the power forward role to run off jams at the line of scrimmage and then separate at the top of the route.
And that's the second things that makes Brown valuable to this Bucs team – his ability to play any of the three receiver spots at a Pro Bowl level allows Godwin to stay as a big slot and Scotty Miller to stay as an 'X,' and allows Arians to work multiple personnel packages without changing a thing, even without Evans – his best receiver – in the lineup.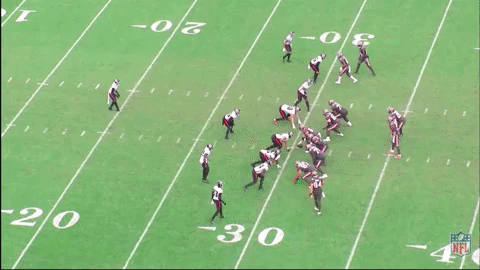 Watch how aggressive Brown is off the line of scrimmage! The press corner wants to set the tone on this rep, but he can't even land a good punch because Brown is all in his space right off the snap. See how Brown dips his shoulder in his release so the corner can't land a good punch? Then he works back square with the corner while still forcing him backward, before opening up the defender with the pivot release for an uncontested catch. Poor Isaiah Oliver. He's left floundering in space, while Brown easily reels in a dart from Brady and heads up the sideline for the touchdown.
Then you have the YAC ability again. Brown's able to keep his balance through contact and finish this play in the end zone, tight-rope walking the sideline for about six yards for the score. I'm not sure that's a play the other receivers in Tampa Bay's offense make, as it shows off so many of Brown's best qualities on one rep.
As the Bucs have moved to a pass-heavy approach on first down, Brown's YAC ability has allowed them to find high percentage pass plays that are more impactful than run plays and force defenses to change how they align or get gashed by quick screens. Combine that with Brown's ability to play as the 'X', 'Z' or slot receiver, and you recognize the value Tampa Bay felt they were getting when they signed him to such a cheap deal back in October.
Would the Bucs be 11-5 and rolling up points on offense if they hadn't signed Brown? Maybe, but the past few weeks have shown us elements of what he can bring to this team that others can't, and Sunday's victory over Atlanta was a perfect example of that. In eight games with the Bucs, Brown has 45 catches for 483 yards and four touchdowns, with all four scores coming in the three most recent games. Against Atlanta on Sunday, Brown had his most productive game with Tampa Bay, catching 11 of 14 targets for 138 yards and two touchdowns.
If the Bucs are forced to play without Mike Evans on Saturday in Washington in the wild card playoff game it will be a significant loss, but the presence of Brown certainly softens the blow. As he showed on Sunday, Brown is still fully capable of handling the heavy workload he shouldered for years in Pittsburgh.
Share On Socials