Bucs Briefing is exclusively sponsored by Locker Room: Tap In, Talk Sports – the official social audio partner of PewterReport.com.
Locker Room is changing the way we talk sports. It's the only place for live audio conversations about the takes, rumors, news, and teams you care about.
Bucs fans, we've had our attention in a thousand different directions over the past few weeks, but now it is time to focus on the next two major events on the NFL schedule: free agency and the NFL Draft at the end of April.
With free agency previews launching today at PewterReport.com and our Bucs' Battle Plans scheduled for next week, Bucs Briefing will be turning its' attention to the draft from now until April 29. Picking up a tradition we started a year ago with this column, I'll be examining three potential prospects for Tampa Bay in each of the first three rounds of the 2021 NFL Draft, not necessarily advocating for the player I have slotted there, but simply recognizing the possibility of that selection whether I like it or not.
First up this week is an edge rusher with a sky-high ceiling, but little to show for it in the way of collegiate production.
Round 1, Pick 32
Penn State EDGE Jayson Oweh

Height: 6-5
Weight: 252
Class: RS Sophomore
D.O.B.: 12/15/98
Statistical Profile: 24 games, 8 starts, 13.5 TFL, 2 forced fumbles, 7 sacks (ZERO sacks or forced fumbles in 7 starts in 2020)
Scouting Oweh: Oweh has accomplished shockingly little on the football field given the physical and athletic gifts he clearly has. By all indications Oweh was a slow developer at Penn State, and his final season of collegiate tape suggests most of that development occurred in areas other than his pass rush.
It's hard for me to get on board with edge rushers who are often late off the ball, but want to be primarily speed-to-power guys. Yeah, in college you'll run yourself into the occasional bull rush pressure or sack against a tackle who can't use his hands or plays on stilts, but there aren't many guys you can consistently body up in the NFL, especially as a 245-250-pound edge defender. Oweh has some heavy-handed flashes as a rusher, but for every dent he makes as a bull rusher, he's getting stood up and locked down twice as many times.
Make no mistake, Oweh has had enough flashes over the past two years to assure us that he has the athletic gifts most great edge rushers need to at least have to some degree: quickness/burst off the ball, speed up the arc, flexibility to turn corners through contact to the quarterback and change-of-direction to cross a tackle's face and win inside.
But the display of these traits on tape is highly inconsistent, sometimes showing up just once a game. There is a clear lack of instinct for Oweh as a rusher, as he has yet to get to the point where he is building any type of rhythm or plan in one-on-one exchanges with opponents. It's rare to see a pass rush move hit, other than the occasional hand swipe or cross chop, and counters aren't in his repertoire at all yet (right defensive end No. 28 in clip below).
But moments like he had against Michigan will keep you hanging around. In other games his get-off was inconsistent at best, but against Michigan, Oweh was teeing off, winning with speed and even showing the ability to get his hips and feet around the edge, pointed to the quarterback. It was just a few reps, but those are the flashes that have a zero-sack redshirt sophomore getting talked about in Round 1. If you wanna win as an edge pass rusher in the NFL, you have to be able to threaten tackles on an outside track, and Oweh can do that. It just has to happen a lot more in real game situations for it to be a weapon for him.
That's going to require a lot of work. Outside of bull rushes, Oweh's hands aren't a large part of his rush arsenal, his timing and rhythm as a rusher can be extremely sporadic and he has no semblance of a counter move once he gets locked up or shut down. Oweh doesn't really read his opponent and react off of their weaknesses as a rusher, so the mental part of his game will need to take another step as well. To have gifts like his and start only eight games and record only seven sacks in college is pretty rare, which is why Oweh will need to be heavily vetted by NFL teams.
One area he shouldn't disappoint is in the run game. Oweh was impressive as a run defender all season long, posting one of the best run defense performances I've ever scouted against Maryland (whose right tackle was miserable, to be fair). The fact that run defense – from playing with leverage, fitting his hands, playing unblocked concepts, pursuing plays down the line of scrimmage from the backside, playing the option game – just clicked for him at a high level in 2020 is extremely encouraging. It shows that Oweh (left defensive end in clip below) is capable of development and improvement, even if it hasn't happened to his pass rush game just yet.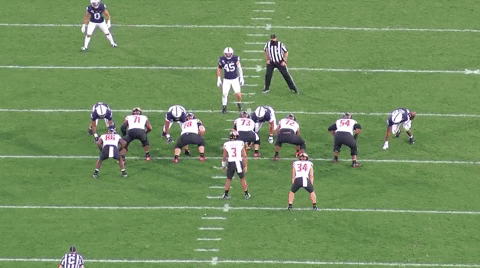 Oweh's run defense also means he'll have a chance to see playing time early in the NFL, which is a good sign that he'll get a chance to grow as a pass rusher out on the field, rather than watching from the sideline. That's a situation raw edge defenders don't always find themselves in, which improves Oweh's chances of hitting in the NFL.
Still … I'm no box score scout, but if you've got zero sacks in seven starts as a 22-year old redshirt sophomore, seven overall sacks in your career, inconsistent tape and only became a rotational starter when you were 21 years old despite elite physical and athletic gifts, you're going to need a lot of things to go right to reach first- or second-round caliber play in the NFL. 
Of all the college edge defenders drafted since 2000, the only one to really hit in the NFL with less than 10 collegiate sacks is Minnesota's Danielle Hunter. The other best case scenarios are players like Olivier Vernon, Ziggy Ansah and Robert Ayers. To put it bluntly, Oweh needs to be a dog, and he needs to throw himself into his craft, or the league will overwhelm him. He has traits other edge defenders just don't have, but he's further away as a pass rusher than most prospects that receive his level of hype, which really concerns me.
Bucs' Fit: For Oweh, landing in Tampa Bay might be a Top 5 fit for him in the entire NFL. Outside of being able to develop behind two studs in Jason Pierre-Paul and Shaq Barrett (if Barrett is back), Oweh would land in an aggressive, blitz heavy defense that would take advantage of his athleticism as an extra rusher that could move around the formation and still be an asset. Little would be asked of him in year one, but Oweh would also play enough to get valuable experience and game reps too, without being asked to be "the guy" despite his first round status.
There's also the fact that outside linebackers coach Larry Foote is one of the best young coaches in the game, and defensive line coach Kacy Rodgers is an underrated gem. In fact, it was Rodgers who developed another raw former Penn State defender with crazy athletic tools and very little pass rush polish about 12 years ago when Cameron Wake entered the NFL with Miami. Five Pro Bowl seasons and over 100 sacks later, the rest is history.
I'm not saying that's in the cards for Oweh. In fact, even though ending up as a Buccaneer would be a home run outcome for Oweh, it's a massively risky pick for the Bucs. Even if Oweh's tape was dominant, his lack of production represents a player profile that simply rarely succeeds at the level of a Round 1 player. We have the numbers and the data for a reason. Oweh might be an outlier; he certainly has the traits to be, and his growth as a run defender is an encouraging sign that he is evolving as a player as he enters the NFL. But it's important to recognize that he would need to be an outlier, and the Bucs need to be comfortable with that inherent risk if they do select Oweh at No. 32.
You not only need to be fully confident in the player, but also in the person. If Oweh is fanatical about being great like Hunter, it might be worth the risk, as the payoff is obviously significant at a critical position. But if you're not comfortable with that aspect of Oweh's evaluation, there are likely to be better options on the board, even at No. 32
---
Round 2, Pick 64
Iowa DT Daviyon Nixon

Height: 6-3
Weight: 305
Class: RS Junior
D.O.B.: 12/13/98
Statistical Profile: 21 games, 9 starts, 74 tackles, 19 TFL, 1 forced fumble, 8.5 sacks, 1 interception
Scouting Nixon: After a year of JUCO ball, Nixon transferred to Iowa where he sat out the 2018 season. Over the next two years Nixon was a force, churning out 19 tackles-for-loss and 8.5 sacks in 21 games (nine starts) to generate some first-round buzz around his name heading into draft season.
It feels like the first-round talk around Nixon has cooled a little since then, but there's still a shot he's the Bucs' pick at No. 32 and not at No. 64. Because Nixon is likely to get drafted somewhere in the 32-to-64 range, I thought I'd include him in our first Bucs Briefing draft series in the second round, with the obvious disclaimer that opinions range all over the place on the Iowa defensive tackle.
Pro Football Focus has a fourth-round grade on the one-year starting defensive tackle. The Draft Network agrees, ranking Nixon 78th overall heading into March. The Athletic's Dane Brugler is on the opposite end of the spectrum, slotting Nixon at No. 39 overall in his last big board update on January 21. NFL.com's Daniel Jeremiah is in the same range, ranking Nixon at No. 35.
After watching a few games, I realized I'm going to have to watch a few more to give a full assessment of Nixon by the time the first round of the NFL Draft rolls around. There is no question the built-in leverage Nixon has as a shorter defensive tackle, as well as the quickest feet and impressive first-step quickness are exciting traits for the next level, but there is so little in the way of on-field consistency that it makes Nixon a tough evaluation.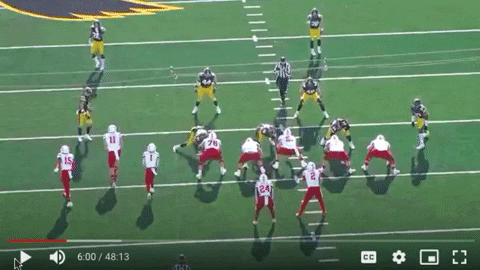 Flashes of extreme lateral quickness, explosiveness off the snap and the range to chase plays down in space suggest a high-profile prospects, but I'm a big believer that a defensive tackle is only as good as his hands, and that's where Nixon's game is sorely lacking. He's a magnet to blockers in the run and pass game, largely because he doesn't find ways to come unglued with his hands. At some point a prospect, who will turn 23 as a rookie, should be physically dictating terms to his opponents, and that really doesn't happen with Nixon.
Here's one example of how completely neutralized Nixon can often be as a pass rusher, even though this one results in a fortuitous bouncing football for a scoop-and-score the other way.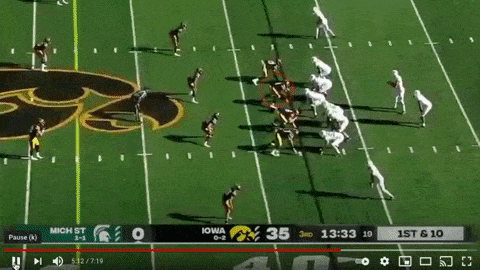 I always look at where a player wins in college and then try to imagine how that will translate to the NFL. What kind of a role will the prospect fill if he never evolves beyond winning in these specific ways. In the couple games I studied, I thought Nixon was most impressive leveraging his play-side gap against zone runs, or when he got through a gap unblocked, usually due to a game or gap exchange call up front. There's room for the quickness and range that Nixon shows in order to stand out in these areas, but it's never a great sign when your defensive tackle is at his best when he's facing minimal contact from the opposition.
Bucs' Fit: Ideally the Bucs would be looking for athletic 3-technique options to replace Ndamukong Suh adjacent to Vita Vea for the next several years, and from that perspective Nixon certainly fits the bill. After drafting Tristan Wirfs in the first round a year ago, the Bucs are certainly familiar with the Iowa coaching staff and can get all the information they need on who Nixon is as a player and as a person, which is comforting.
With good coaching and a strong commitment to his craft, there is a higher ceiling for Nixon, and a role like the one he'd play in Tampa Bay does make sense for him. But if you're the Bucs, you have to ask yourself how many projects you'd want to take on in a season like this one, especially if there are greater talents still on the board.
Nixon and Alabama's Christian Barmore are often portrayed as neck-and-neck to be the first defensive tackle off the board in April, but I'd comfortably take the Crimson Tide product over the former Hawkeye. If Nixon lasts until the end of Round 2, maybe you take a chance at him there, but I'd be more inclined to see if he's on the board in Round 3, and if you miss on him, I don't think you'll regret it too much down the road.
---
Round 3, Pick 96
Quinn Meinerz, IOL, Wisconsin-Whitewater
Height: 6-3
Weight: 320
Class: Senior
D.O.B.: N/A (22 years old)
Scouting Meinerz: Meinerz had very light NFL aspirations as a possible late round pick heading into the 2020 season, then saw his hopes dashed when D-III canceled their season due to COVID-19. Luckily for Meinerz, the Senior Bowl came calling for their January event, allowing the Wisconsin-Whitewater offensive lineman to put on a show that would vault him up draft boards.
Meinerz, who studies Bucs center Ryan Jensen and plays football with the same nasty temperament as his small school counterparts, was sensational in Mobile. Not only did Meinerz show a coachable personality that will make him popular in the locker room, but he was also physically dominant in his first action against top tier college talent. That was critical to see from Meinerz in Mobile, as it showed his transition to the NFL probably won't take several years to peak like it did for someone like Alex Cappa.
Meinerz put a plethora of opponents in the dirt at the Senior Bowl, and played like one of the best players at the event. The problem is that he has no 2020 tape to go off of, so our last glimpse at him in an actual game was in 2019, against D-III competition. How much value can teams afford to put into a sample size as small as the Senior Bowl, especially for a prospect that is already a mathematical long shot hailing from a small school? Entering the 2020 NFL season, just seven D-III players had roster spots for Week 1. Can Meinerz overcome the long odds, and is he worth the risk in the third round?
It will obviously matter who else is on the board, but I'd seriously consider taking a shot on the interior offensive lineman in the third round. Meinerz' college coaches rave about his work ethic, intelligence, toughness and on-field demeanor, and we saw enough in Mobile to know he won't be physically overwhelmed at the next level. Yes, there will likely be some growth needed with technique and adjustment to the speed and consistency of NFL opposing defensive linemen, but that's where positional coaching has to come through. You know Meinerz is going to do all he can to be great, and those are the type of players I'm on board to bet on in the mid-rounds.
Bucs Fit: I'm excited about Meinerz the prospect after watching him at the Senior Bowl, but I'm even more excited about Meinerz the Buccaneer, if it comes to fruition. The scheme is perfect for the Wisconsin-Whitewater product, as the Bucs heavy dosage of vertical blocking and double teams up front will mesh perfectly with Meinerz' desire to fire off the ball as a ferocious down blocking lineman. But he's also fully capable of running some inside zone and even pulling, if the Bucs incorporate more of that into their offense this season.
There's also the fact that Meinerz has experience at guard and center (practice) at Wisconsin-Whitewater, and that versatility makes him even more valuable. He impressed at both spots in Mobile, and will likely continue to cross-train in the NFL. This also gives the Bucs some flexibility after the 2021 season, when center Ryan Jensen and right guard Alex Cappa are both slated to be free agents. It's unlikely both players will be back, so having someone developing in the wings this season is critical for the Bucs.
The transition would also be a smooth one for Meinerz, who could serve as one of the team's top backups and then hopefully step into the starting lineup in 2021. He's clearly the type of player (physical, aggressive, nasty) and person (hard-working, selfless, tough) that the Bucs have prioritized adding to their roster over the past few years, especially in the trenches, and we know the small school label won't scare GM Jason Licht off. This feels like a marriage that needs to happen, despite the risk involved with Meinerz' projection to the pro level.
Share On Socials