I've written about the Bucs' offensive successes and failures in five straight Bucs Briefing columns now, but one thing we haven't touched on is how they have handled pressure as a unit this season. While play under pressure is often seen as a quarterback statistic, or even a rare offensive line statistic, the reality is there are a lot of aspects that have to come together to make an offense consistently successful against extra pressure from opposing defenses.
Against the Chiefs on Sunday, Tom Brady was 4-of-10 (one sack) for 90 yards and two interceptions while under pressure. On the season, Brady is Pro Football Focus' 25th-ranked quarterback (out of 29) in adjusted completion percentage and NFL passer rating (if you're into that stat) while under pressure.
Before you pull your hair out, Aaron Rodgers is ranked 24th, Deshaun Watson is ranked 23rd and Patrick Mahomes is ranked 21st in adjusted completion percentage. Even great quarterbacks struggle under pressure, so the key is creating high percentage situations for them to win when under pressure, especially when mobility doesn't work in the passer's favor.
Most of the Bucs' issues against pressure on Sunday vs the Chiefs came when the Chiefs sent extra blitzers – meaning more than the Bucs could account for in the protection scheme. That's okay, as Brady is one of the sharpest quarterbacks in NFL history with knowing where to go with the ball in extra blitzer situations – he just needs his receivers to be on the same page.
On the Bucs' second possession of the game, they faced a third-and-3 out of empty, before Brady motions Antonio Brown back into the backfield from the slot.
In talking to two different quarterback experts, both agreed that the lack of a hot route against overload pressure forces Brady into a throwaway here. One believed that Brown should be hot out of the backfield on this play, settling into the flat for a quick outlet for Brady. Another told me Gronkowski should be the one adjusting his route when the Chiefs blitz both linebackers, which makes the most sense to me, as his area of the field is vacated by the extra pressure.
Either way, the point is that there is absolutely no chance for Brady to succeed on this play. Everyone is covered, or their routes are too long-developing for Brady to be able to find them against unblocked pressure. Receivers have to identify that stuff pre- and post-snap and be able to adjust their routes to give Brady options in these critical situations. And coaches have to be communicating this stuff all week in practice, especially given how often Steve Spagnuolo's Chiefs defense loves to send pressure.
On the Bucs' third series of the game, they faced a third-and-2 out of empty, which they decided to operate with three tight ends on the field. Why, I have no idea. But that isn't the point here.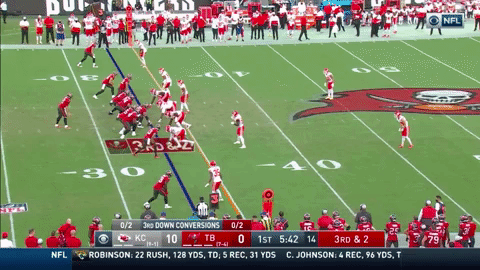 Throwing from empty, Tampa Bay's offensive line is in a four-man slide, with Tristan Wirfs isolated one-on-one on the back side against defensive end Frank Clark. Front side, Brady has his three tight ends running in-breakers to the middle of the field, but all of them seem totally unaware that pressure could be forcing Brady to get rid of the ball early in an empty situation.
Sure enough, the Chiefs send their weakside linebacker and drop their MIKE, leading Brady to throw hot to avoid a sack on third down. But none of the Tampa Bay tight ends are ready to catch the football, with Auclair running a half-speed route and Brate late to get his head around and find the football. The ball whistles through Brate's hands for a huge drop on a third down that would have been crucial early in the game.
Let's also look at the other side of the field, where the linebacker over Mike Evans blitzes against what the Bucs receiver knows is empty protection. Evans should know as soon as that guy blitzes, he has to sit down in that vacated space and give Brady an option. Instead Evans continues vertically up the field, and Brady has no options backside. Now, Evans may not even be coached to do that, and Brady doesn't even look backside for a hot, so these flaws could extend beyond the players to the coaching. In fact, they almost certainly do. But they are flaws nonetheless.
Later in the game, the Bucs again failed to adjust routes against pressure, leading to Brady's second interception of the game.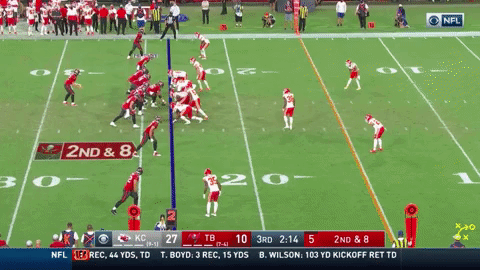 Before the snap, the broadcast showed Brady communicating to Evans that he was hot on the play if the Chiefs sent extra pressure. As soon as the ball is snapped, the blitz is in Brady's face, but that should be okay, because Evans has been alerted that he's hot … right?
Unfortunately, no.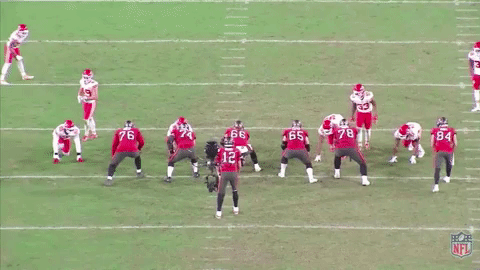 Evans should be seeing that overload pressure to his side of the field and sitting down in the space right behind it, wide open for Brady to hit quickly. Instead Evans continues to the middle of the field, right into the path of the dropping linebacker. Brady is forced to adjust in a fraction of a second when Evans isn't where he's supposed to be, trying to throw through the line quickly in order to hit Evans before the dropping linebacker arrives. With no throwing lane, the pass goes off a helmet and is intercepted on the deflection.
One of the issues with Evans missing hot routes this season has been the fact that wide receivers typically don't run them as often as tight ends, and the fact that he's playing way more in the slot than ever before in his career, which is where hot routes are far more common. Head coach Bruce Arians shed more light on the issue when he spoke to the media on Monday.
"They had a blitz zero package that we didn't handle well the first couple [of times] – who was hot [and] what they were supposed to do," Arians said. "[We] kind of ironed it out on the sideline, [but] it led to another interception late when the ball went off the helmet. It was the same blitz, but we just didn't correctly adjust. Tom [Brady] was perfect on it and we didn't adjust to the right angle of the route for the zero blitz. Other than that, I thought when we adjusted, we played pretty, pretty solid."
Here's what it looks like when the Bucs handled it correctly.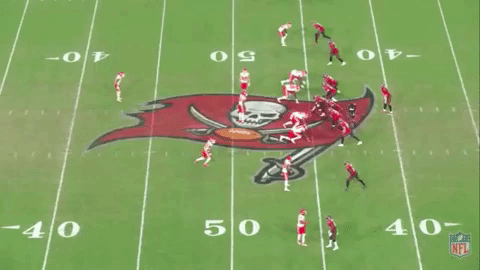 Cam Brate sees the blitz, recognizes he's hot, sits down right behind the pressure and picks up nine easy yards on 1st-and-10. It's a completion nobody remembers, but it's indicative of getting the small details right that keep drives alive. It's what the Bucs offense is missing far too often this season.
A common refrain this season has been miscommunications between Brady and receivers, which has manifested itself on hot routes before. On Sunday, the problems were egregious, and they cost the Bucs offense dearly.
These things should simply not be issues to this degree in Week 12, especially given how often Kansas City has been sending extra pressure and utilizing zero blitzes this season. Coaching had the Bucs offense too under-prepared for success on Sunday, and that was a huge reason why Tampa Bay managed just 24 points on an afternoon where it could have had – and should have had – far more point production.
Share On Socials