Bucs Briefing is exclusively sponsored by Locker Room: Tap In, Talk Sports – the official social audio partner of PewterReport.com.
Locker Room is changing the way we talk sports. It's the only place for live audio conversations about the takes, rumors, news, and teams you care about.
Win or lose, even during the course of a Bucs season for the ages, we have all complained about something with Tampa Bay's offense, as good as it has been. Tom Brady hasn't been elite enough. Bruce Arians has been too stubborn. Byron Leftwich has called too many first down runs and not enough play-action. The offensive line has blown it against elite pass rushes. The Bucs running backs have been unwatchable in the passing game with their drops.
At times, all of these statements have had some truth to them, some more than others (looking at you, Bucs running backs). But the only offensive groups to escape criticism for the vast majority of the year have been the Bucs receivers, from wideouts to tight ends. Probably the most talented collective receiving room in the league when everyone is healthy, Tampa Bay's depth and skill at the receiver position has been raved about all year, and rightfully so.
There have been plenty of moments and even full games that remind us just how much talent the Bucs have at their skill positions. But there is also the uncomfortable truth that this group has not always played to their potential, not against Kansas City in the regular season, and certainly not through three playoff games.
Sure, someone has stepped up in almost every game for the Bucs, and their depth has saved them even when the majority of their receiving room has ranged from mediocre to struggling. Take Mike Evans for example.
While teammate Chris Godwin suffered through five drops in the most miserable game of his NFL career against Washington in the wild card round, Evans was ridiculously good, catching six passes for 119 yards and consistently showing up in big moments.
But as good as Evans was in that game, he's been very quiet since. The Saints schemed to take him away and have always done a good job of it, but Evans hasn't solved Marshon Lattimore one-on-one either, Against Green Bay, he let opportunities slip away in the second half. A Tom Brady deep ball went off his hands down the sideline, and another admittedly high throw over the middle of the field glanced off his mitts for an interception. Over the last two games, Evans has four catches for 54 yards and two touchdowns, 2 catches, 42 yards and one touchdown of which came on the first drive against Green Bay. It wasn't that Evans was bad or even the only one to blame at all, but it certainly wasn't his best performance, either.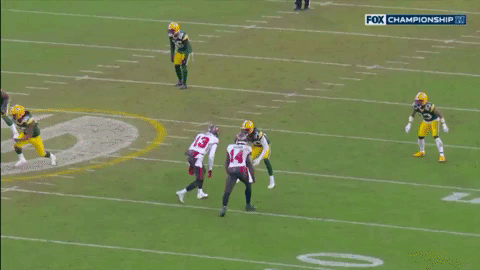 The same can be said of Evans performance against the Chiefs in Week 12. In that game he messed up a couple hot routes, including one that resulted in an interception off of a defender's helmet when he ran his route to the congested middle of the field rather than sitting down directly off the ball for an easy completion behind the blitz. Evans also mis-tracked an early deep ball on a great throw from Brady that could have been a big play to open the game – one of two tough sideline balls in the contest that could have been caught and weren't.
These are not "poor" plays from Evans at all. They are simply missed opportunities to make great plays. For a normal receiver, we might not think twice about them, but for a receiver of Evans' caliber, we expect greatness on a per game basis. If we ask it of Brady, isn't it only fair that we ask it of his weapons, who are among the best at their position in the NFL?
Take Godwin, for example. He's been one of the toughest Bucs to criticize this season, as he's played through injury and been arguably their most consistent pass-catcher in 2020 – until the playoffs. After a great performance against Kansas City in the regular season, Godwin has struggled in the playoffs, with seven recorded drops via Pro Football Focus, a number that doesn't include another couple catches he probably could and should have made.
To his credit, Godwin has produced despite his drops, leading the Bucs in receiving during the postseason with 223 yards on 14 catches. But he's dropped two touchdowns that resulted in field goal drives for Tampa Bay, which is three points they can't settle for against Kansas City in Super Bowl LV.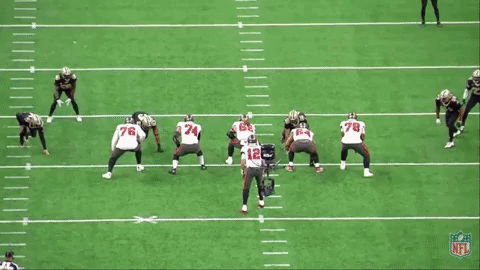 Has Godwin been good despite his drops? Unquestionably, showing the mental toughness to bounce back and make critical plays on a big stage, including a huge, 52-yard contested grab on third down against Green Bay in the NFC Championship Game, setting up a touchdown. But Godwin hasn't consistently been great, and that's what the Bucs will need against Kansas City. They'll need him to make the high degree of difficulty, tight window touchdown catches and shed the drops that have plagued him in the postseason.
Tight end Rob Gronkowski was a big-time difference maker against the Chiefs in the two teams' last meeting, and could be again on Sunday. The big tight end rolled for a season-high six catches for 106 yards against K.C. in Week 12, helping the Bucs rally from a 17-0 deficit to make it interesting at the end. Gronkowski has winnable match-ups across the board against the Chiefs, but he needs to make the tough, combat catches that he's staked a career on in the playoffs – catches he failed to come up with despite a couple opportunities against New Orleans in the divisional round. He's managed just two catches for 43 yards on seven targets in three playoff games. This would have been a highlight-reel grab, but we've seen enough from Gronk this season to know he's still capable of making special plays like this.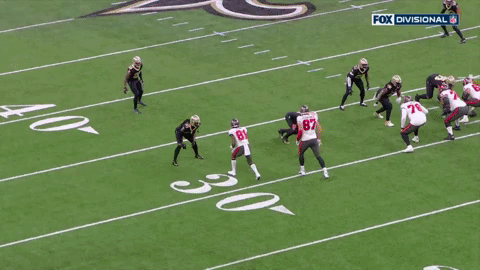 Fellow tight end Cam Brate has joined reserve receivers Scotty Miller and Tyler Johnson in making critical plays for the Bucs in the playoffs while the three previously mentioned stars have been up-and-down, and Antonio Brown has been injured. Tampa Bay's depth has been absolutely critical to victories in all three rounds of the playoffs, but Johnson and Miller were catch-less against Kansas City in the regular season, and Brate dropped a key third down conversion early in the game. If the Chiefs go blitz-heavy as they did against the Bucs in Week 12, Brate will have to be ready to look hot and get his head around quickly at the top of his route. Brate is the Bucs third-leading receiver after Godwin and Evans in these playoffs, with 11 catches (one more than Evans) for 149 yards and a touchdown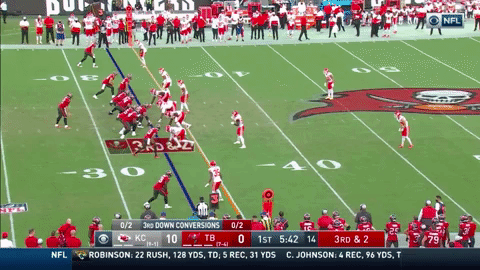 Again, nobody is blaming the Bucs' offensive struggles at any point in the season solely on their receiving room, as the group has obviously been one of the betters units in the league. But in the playoffs, great quarterbacks make great throws, great defenses shut down great offenses, and great coaches dial up great game plans. Isn't it fair to ask great receivers to make great catches in the biggest game of their lives?
The Bucs' pass-catchers haven't consistently played at that level in the playoffs, and they definitely didn't have their best performance in Week 12 against the Chiefs. Per Pro Football Focus they've dropped four throws of 20 yards or more through three games in the playoffs, and that's not counting a couple tough ones they could have had that didn't go down as drops, either. Every other playoff team combined has only dropped five deep balls. Those are explosive pass game opportunities that Tampa Bay has got to cash in on against a team like Kansas City. Between Evans, Godwin, Brown and Gronkowski, they've set a high standard of excellence over the years, and I think it's fair to ask them to live up to it.
Yes, the performance of Brady and the game plan of the Bucs coaches will always be the most important elements to a successful offensive output in the Super Bowl. But the play of the Tampa Bay pass-catchers has been good, but not great in the playoffs.
If this group can find a way to be special – a level of play they are fully capable of – for four quarters on Sunday, the Bucs just might walk away with their second Lombardi Trophy in franchise history. But catchable balls can't hit the ground, route-running mistakes cannot be made and hot routes must recognize game situations and adjust their patterns accordingly. The little things could be the difference between leaving Raymond James Stadium with a head full of confetti or a head full of what-ifs.
Share On Socials