A few weeks ago, much was made of the Tampa Bay Buccaneers startling lack of third down success against the New Orleans Saints, as the team went 1-for-9 on money downs in a humiliating 38-3 loss on Sunday Night Football. But although that mark was awful, the real culprit for the team's lack of success wasn't third down at all. It was first down.
Against New Orleans in Week 9, the Bucs first down plays before being down 28-0 gained the following yardage: 0, 0, 2, 0, 11 and then an interception on the tipped screen pass. It was an atrocious start for an offense that couldn't afford to have an atrocious start given how poorly the Bucs defense played that night.
That lack of first down success has been a constant thorn in the Bucs offensive side all season long. On third downs, the Bucs are actually converting at a respectable 43.6 percent clip, good enough for 13th in the league. Their EPA and success rate numbers are even more impressive. Yes, with their talent they could be better, but in most games the Bucs have had strong success on third down thanks to Tom Brady, despite an offense that consistently puts them in disadvantageous second and third down situations.
After 11 games, the Bucs EPA on first down is -0.040, 24th in the NFL. For those who don't know, EPA (Expected Points Added) is a football statistic that seeks to measure the value of individual plays in terms of points. This is done by calculating the Expected Points (EP) of the down, distance, and field position situation at the start of a play and contrasting it with the situation at the end of the play. With the talent they have, a negative EPA ranking 24th in the NFL is a truly unacceptable mark.
It gets worse. The Bucs are 30th in the NFL with a 38.7 percent first down success rate, meaning that 61.3 percent of the time, they don't pick up even four yards on first-and-ten. Only the Broncos and Chargers are worse on first down.
The biggest culprit is the run game. On first down runs, the Bucs have a 29.7 percent chance of picking up at least four yards, which correlates with a -0.174 EPA. Those marks are terrible enough for 28th and 25th place in the NFL, respectively.
We saw no better evidence of this lack of first down success than on Monday night, when the Bucs rolled up heavy personnel packages and ran right into the strength of the Rams defense between the guards. The yardage gained on first down runs on Monday night: 0, 2, 6, 5, 1, 2 (TD), -1, 2, 1, 2, 6. So out of 11 first down runs, seven failed to net more than two yards. TWO YARDS! Running the ball on first down, especially where the Bucs were running it (inside), became a complete waste on Monday night.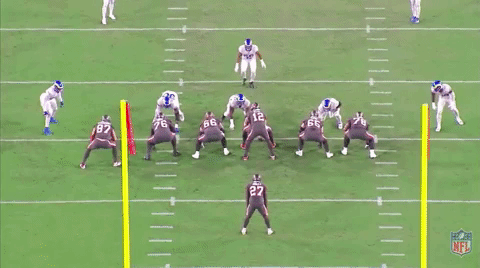 Coming out on the first play of the game running right at the Rams strength was a very interesting call. The Bucs get the shaded nose tackle to shift pre-snap, which is what they wanted, but A.Q. Shipley still can't get down on the MIKE linebacker in time to make a block. That's asking a lot of your backup center. Couple that with Michael Brockers blowing up left guard Ryan Jensen, and you've got a half-yard loss on your first play of the game.
There were curious run calls in this game, but much of the Bucs woes were due to execution and the Rams brilliance against the run. I won't get too deep into the weeds, but even when the Bucs had a good scheme dialed up, the blockers blew it or the Rams made them pay.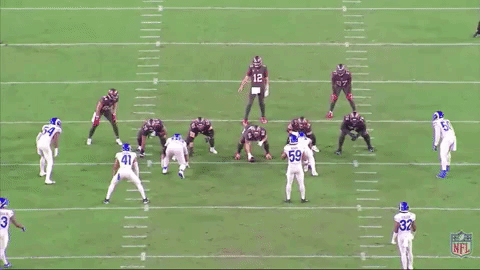 Watch Brockers (No. 90, right defensive tackle) before the snap. He shifts gaps to make Shipley's job of blocking back on him nearly impossible. Basically untouched, Brockers is able to sniff out the play and make the tackle-for-loss. Combine that with Chris Godwin missing his block on the cornerback playside, and the result is ugly.
There were also plays where the Bucs blocked everything well enough to achieve at least success rate (Four yards on first-and-10), and the running backs screwed everything up. Here's two plays of Leonard Fournette playing the running back position blind.
The first run of these two plays is actually on second down, but you get the idea. Fournette has been a mess running the football all season, and was once again a mess on Monday night.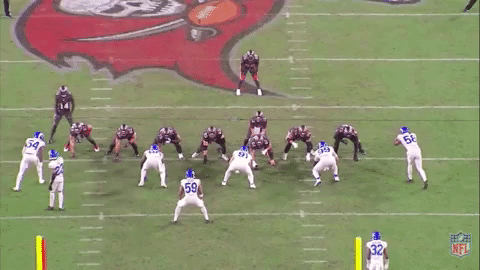 Look at this hole! All Fournette has to do is make the safety miss and it is clear sailing to the end zone. Every running back's dream. He cuts back into the defense and gains only six yards. This was his most successful play! There are three running backs on every team in the NFL that can make this play, and Fournette can't do it. He proves it every week. Start trying other options.
*Deep breathe*
Anyway…
When the Bucs throw the ball on first down, they are markedly more successful than when they run it (true of almost every team), but still not successful enough. The Bucs are only 22nd in dropback success rate (47.8 percent) on first down, and 21st in dropback EPA. There are many reasons for that, but one of the main reasons on Monday night was dropped passes and failed deep shots.
Of the team's nine first down incompletions against the Rams, two were drops by Ronald Jones and Fournette, and four were deep shots that frankly, didn't have a chance. I'm ok with taking deep shots, but the Rams have allowed less air yards and less pass plays of 20 yards or more than any team in the NFL, largely because they play two deep safeties all the time. Going deep on first down a few times a game is a good idea, but when it isn't open, there has to be some shorter options on the play for Brady to come back to in order to keep the drive on schedule.
Byron Leftwich and Bruce Arians were unable to provide that with their calls on Monday night, and the result was a ton of second and third-and-longs. Although they showed some patience early in the game, they ultimately didn't wait out a Rams defense that wants you to throw deep so they can get you in long down-and-distances.
Los Angeles defensive coordinator Brandon Staley counted on Arians getting greedy and leaning too much on the deep ball, and ultimately he was right. Monday wasn't a story of Brady missing the deep ball, although he absolutely threw some ugly passes, it was a story of the deep ball not being there at all, and Brady, Arians and Leftwich still hunting it. The result was two turnovers, one on first down, and an offense that was forced to overcome far too many second and third-and-longs to be successful, especially against a Rams defense designed to take away the chunk play.
Which brings us to our other problem: the Bucs are ALWAYS in 3rd down situations. Their 140 third down attempts this season are the third most in the NFL. By itself that isn't a huge problem, but keep in mind we already know they are one of the most unsuccessful teams in the league on first down. That means they either have to be amazing on second down (they are around league average) or convert third downs at an extremely high clip to be successful on offense. As good as Brady has been on third downs, it's a bad recipe for consistent success when you become that predictable for a defense on two of your three downs, especially a defense as good as the Rams, or the Saints a few weeks ago.
The Bucs were remarkably bad on first down on Monday night, especially in the run game, but it's been a problem area for them all season. If they don't get it solved soon, they'll be looking at a 7-5 record on Sunday night when the world champs come to town. Play design, play-calling, blocking, running backs, receivers and quarterback literally all have to be better, or this offense could end 2020 with a whimper rather than a roar.
All first down stats can be found at the wonderful site www.rbsdm.com
Share On Socials