Bucs Briefing is exclusively sponsored by Locker Room: Tap In, Talk Sports – the official social audio partner of PewterReport.com.
Locker Room is changing the way we talk sports (and talk about the Bucs!). It's the only place for live audio conversations about the takes, rumors, news, and teams you care about.
You knew this was going to happen.
Just when Bucs fans finally felt great about the team's starting quarterback situation, general manager Jason Licht decided to nab the franchise's possible future starter in Florida QB Kyle Trask with the 64th pick in the 2021 NFL Draft. The decision has sent a formerly peaceful and optimistic collection of Bucs fans into a tizzy, with battle lines drawn on both sides of this selection.
But if you can think beyond the low statistical odds that Trask eventually becomes a desirable franchise signal caller, it should be easy to see why the Bucs targeted him in the second round. Despite lacking ideal velocity on the ball as a passer, Trask still has plenty of traits that make him an ideal quarterback in a Bruce Arians/Byron Leftwich offense. Out of all the Trask games I studied from his 2020 tape, I thought his game against Alabama in the SEC Championship Game best represented his highs, lows and everything in between as a passer.
Trask – Fearless, Tough, Hard-Working
One of the most overlooked attributes of an Arians' quarterback is not only toughness, but fearlessness in the pocket. That certainly applies to Trask, who will stand in and take a shot to make a throw if he sees something opening up down the field. This can be a positive and a negative for Trask, as he'll sometimes hold onto the ball too long to make something happen late in the play, even in the face of pending pressure.
But nobody in the locker room nor on the field is going to question his toughness as a passer or as a runner. Trask may not be a great athlete, but his tape showed time and time again that he wants to put his shoulder down and deliver a blow as a runner rather than slide. Those intangibles, combined with Trask's work ethic and leadership, will be critical in his journey to at least high-end backup with the respect of the locker room.
From The Athletic's Dane Brugler's Draft Guide on Trask: "…receives very high character marks for his dedication, work ethic and low-key, yet intense competitive fire…deserves credit for his patience and always preparing like the starter despite spending most of high school and college as the backup…"
Trask – Deep Ball On Point
Velocity on the ball may be lacking with Trask, but his arm strength when throwing for distance is just fine (as it is for almost all NFL quarterbacks). Most importantly, Trask is a willing and impressive thrower of the deep ball, showing the ability to throw with timing and accuracy to beat coverage despite expiring windows downfield. That fearlessness we talked about in Trask's game certainly extends to his style as a passer, as there is very little hesitation to air it out.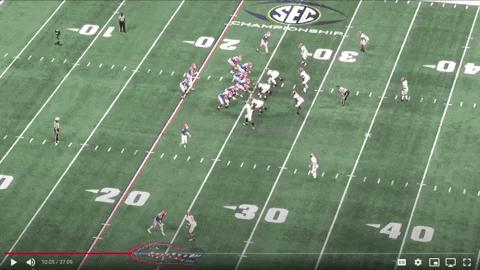 It looks like Trask holds the free safety with his eyes, knowing if he can keep him from rotating hard to the field, he'll have space to fit the seam throw in to Kadarius Toney. The safety takes a good angle and nearly gets there, but Trask's timing on the throw is superior. No, the ball doesn't move with tremendous pace, but Trask has enough arm strength, when combined with proper timing and touch, to play well in a downfield passing attack.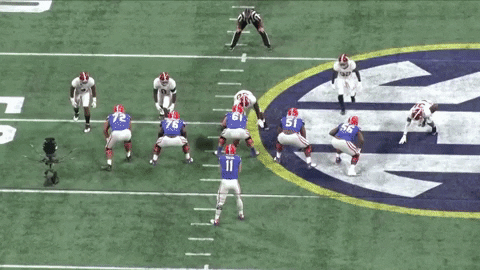 During the 2020 season, Trask threw the deep ball (20+ yards or more in the air) with nearly 60 percent accuracy with 16 touchdowns, per Pro Football Focus. I think he's actually more consistent with his mechanics and timing when airing the ball out as opposed to working in the short-intermediate areas of the field. Trask finished fourth in college football in deep ball yards, obviously aided by the presence of Toney and Kyle Pitts. That's okay. There are some pretty good pass catchers on the Bucs too the last time I checked.
That brings me to one of my favorite things about Trask: his willingness to put the ball up and let his guys go make a play. Trask doesn't play scared or hesitant as passer, readily allowing his talented play-makers to shine by giving them a catchable ball on tougher throws, even if the placement isn't perfect. This touchdown pass to Trevon Grimes epitomizes what I saw so many times on tape.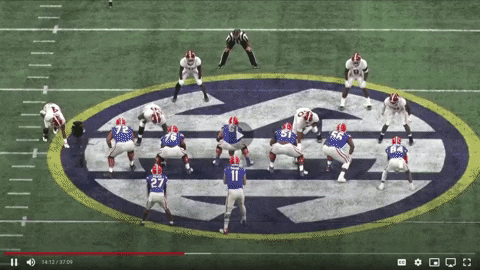 That's a quality cornerback in Patrick Surtain, Jr., who is in great position to make a play. But Trask knows he has a one-on-one on the outside and likes his guy to win the match-up. Trevon Grimes goes up and makes a great contested grab on a high ball, adjusting to the throw better than Surtain can. Trask's willingness to give his receiver a chance despite impressive coverage is a trait that Bruce Arians will get behind. Sometimes receivers aren't open, and you need your quarterback to pick the best match-up and trust your guy to make a play.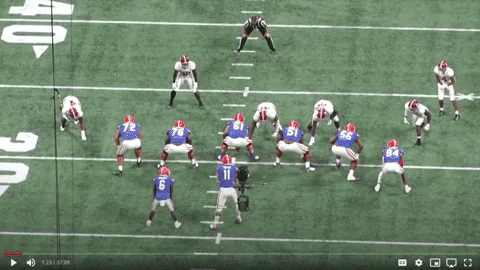 Trask may not have a cannon, but between the numbers he can still put enough sizzle on the ball to test tight windows. If he thinks his arm is weak, he sure doesn't play like it, as evidenced by plenty of throws like this one on tape. The fearlessness of Trask extends to all areas of his game, with the sixth highest percentage of Big Time Throws (high degree of difficulty completions) in all of college football last season, per PFF.
Mental Processing Still Developing
One of the things that threw me off the Bucs-Trask connection for a few days this draft season was when Arians talked about wanting "upside" in whatever quarterback the Bucs drafted in 2021. That didn't seem to describe the Trask archetype, as the Florida signal caller is about as maxed out as it gets physically and athletically. But quarterback is a mental game more than anything else, and Trask showed an incredible amount of growth in that area this season.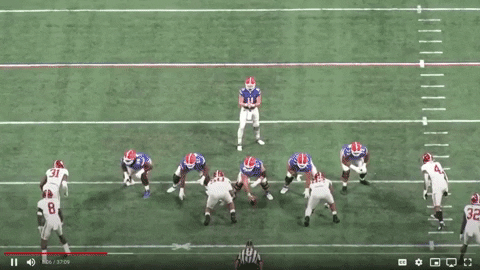 Alabama walks the linebacker up into the B-gap, and Trask knows if the defender comes he's got a 3-on-2 to deal with from his left side. When Dylan Moses triggers on the blitz, Trask gets the ball out to his outlet who makes a play. When Trask can play ahead of schedule from the neck up, he can be a dangerous quarterback. But we all know that is the most difficult aspect of quarterbacking to do well on a game-to-game basis, and Trask's tape is full of inconsistencies in anticipating pressure, responding to pressure and processing coverages.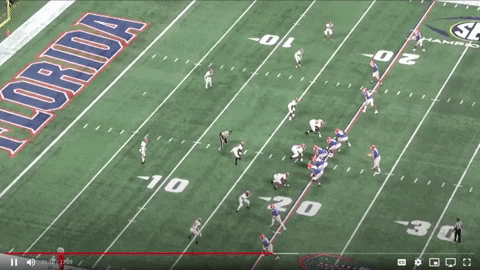 Trask stares down the boundary read here, hoping the vertical to Toney comes open. But the way the cornerback drops off at the snap, combined with not being able to move the safety off the boundary hash, should have told Trask to keep moving in his progression. Instead of working backside where he might be able to fit in the post throw for a TD to No. 2 to the field, Trask double clutches in the pocket and throws the ball away.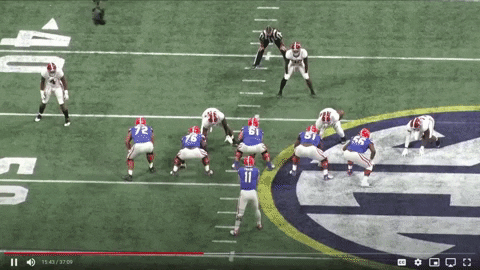 Alabama gave Trask issues with schemed pressures at times, exposing his lack of escapability and athleticism in the pocket. Sometimes his offensive line may have been to blame, or perhaps Trask should have changed protections pre-snap. I don't know enough about the level of responsibility he had at the line of scrimmage during his time in Florida, but I do know that is Trask is going to be the Bucs' future franchise quarterback, he needs to be able to think the game and process at a remarkably high level.
That area of Trask's game is a work-in-progress, but the strides he took this season suggest a quarterback who is growing. Perhaps that is what Arians means when he refers to "upside." It's important to remember that Trask wasn't even a starter in high school, barely seeing game action at any level beyond junior high until his redshirt junior season at Florida in 2019. If Trask can keep making strides in his ability to recognize coverages, throw with anticipation and get his protection right pre-snap, I definitely believe his play can reach another level.
The Limitations Of Trask
Why is it so important for Trask to be ahead of the field when it comes to the mental part of the game? Simply put, it's the one area where he can earn an advantage over the 11 players opposite him. Trask will never be physically or athletically gifted. And things can get ugly fast when he tries to win on tools. If he's not able to play within himself in the NFL, the results won't be pretty.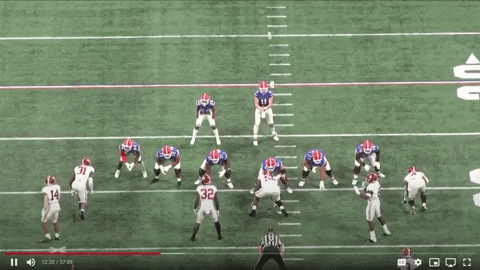 Trask's running back gives him no help here, and the result is an easy sack. There is little Trask could do on this play, especially given how slow-footed he is in the pocket. If he isn't protected, negative plays may abound.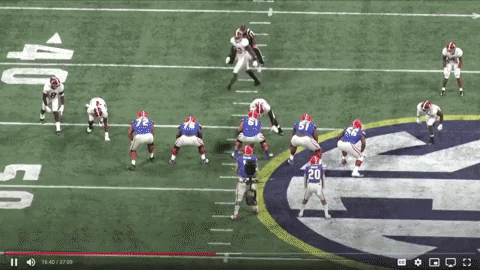 On this play nobody comes open, and Trask tries to channel his inner Mahomes and flip it to his checkdown for a short gain. The improvised shovel pass goes awry and is nearly intercepted. Trask is typically pretty good at understanding his limitations and playing to his strengths, but sometimes he resorted to attempting hero ball moments despite not having any superpowers. This is a clean pocket, keep moving through progressions and don't panic and run yourself into trouble.
As a passer, Trask's limitations were most apparent on his eight interceptions, four of which were pick-sixes (I know, Bucs fans, I know). His first interception against Oklahoma epitomized that lack of velocity on throws outside the numbers. It's just one aspect of playing quarterback, but it represents the limitations Trask will need to overcome as a pro.
Regardless of how mentally sharp Trask becomes, in the 2021 version of the NFL, athleticism and physical tools matter at the quarterback position. You can compare Trask to Brady all you want, but recognize that Brady is one-in-a-million and that his style of quarterbacking is phasing out of the league for a reason. Also, please recognize that Brady has always had a high quality arm for velocity and distance, regardless of what silly narratives may exist.
In order to overcome his lack of tools and become a starter in the NFL, Trask will need to win with his mind above all else. He'll never be an off-schedule or out-of-structure playmaker with his arm or his legs, and those limitations will ultimately define him as a starter if he can't win above the neck. In the NFL movement skills and arm strength matter for the quarterback position, and if a player doesn't have those, he needs a trump card elsewhere.
The Fit Works For Trask
Luckily for Trask, there might not be a more ideal landing spot in the entire NFL for his skill set. As a vertical based passer with plenty of aggressive throws on tape, Trask will be perfectly placed in Arians' downfield passing attack. He'll also have the play-makers to make good on the opportunities he'll give them down the field and after the catch, something he benefited greatly from at Florida. Trask won't neuter the big play ability of Arians' offense despite not having a power arm at the position.
For the next two years, Trask will be surrounded by Arians, Brady, Leftwich, Tom Moore and Clyde Christensen. It's tough to find a better room than that for an NFL quarterback. If he is going to become the Bucs' future at the position, whatever knowledge Trask is going to gain and then apply to the field during the next two years will determine how good he can become. All we can do now is wait to see what that process looks like over the next two preseasons.
Share On Socials