Bucs Briefing is exclusively sponsored by Locker Room: Tap In, Talk Sports – the official social audio partner of PewterReport.com.
Locker Room is changing the way we talk sports (and talk about the Bucs!). It's the only place for live audio conversations about the takes, rumors, news, and teams you care about.
React to sports news as it happens. Gather all your friends in watch parties for the biggest games. Rep your favorite teams and find your community. Better sports talk is just a tap away — download on the Apple App Store and join the conversation!
---
Yes, you read that correctly. We're talking about special teams in this week's Bucs Briefing, and I promise you it's not going to be boring stuff.
Even if it is, you better get used to it. Over the next few months, we'll have a lot of special teams content at PewterReport.com, since that's where most all of the roster battles will take place. I promise you that when Week 1 rolls around, you'll know the positions of all the Bucs special teams regulars on each unit.
The Bucs are going to need their 2021 regulars to be a good bit better than their 2020 special teams starters. There were aspects of the Bucs special teams that were outstanding in 2020, but their punt coverage team struggled with consistency. Part of that was due to a revolving door of bodies on the coverage team, and the significant drop-off in performance when backups were inserted into the lineup.
Backups? Who even started on punt team for the Bucs this past season? I don't blame you for not knowing. I cover the team, and I wouldn't have remembered half the names if you asked me before yesterday. Here's what the unit looked like for most of the season.
Right Gunner – Ryan Smith*
Right Wing – Andrew Adams*
RT – Kevin Minter/Jack Cichy
RG – Anthony Nelson
Long Snapper – Zach Triner
LG – Pat O'Connor
LT – Cam Gill/Quinton Bell
Left Wing – Mike Edwards/Justin Watson
Left Gunner – Jamel Dean/Jaydon Mickens
Upback (Personal Protector) – Justin Watson/Antoine Winfield, Jr./Ross Cockrell
*denotes a player the team lost in free agency
This group had some strong moments, but collectively they allowed teams to average over 10 yards per punt return, the 26th-ranked mark in the league. Not much of that was on Bradley Pinion, who had another strong season as Tampa Bay's punter. So where did the issues lie? Where can the Bucs improve in 2020? I watched almost every punt from last season to find out.
The Gunners
I'm no special teams expert, but I think Ryan Smith will be the hardest special teamer for the Bucs to replace this season. Smith was tied with Justin Watson for the team lead with four special teams tackles in 2020. He's no Matthew Slater, but Smith plays with a frenetic effort, which is critical when working off the blocks of jammers on the outside. Smith was one of the only two Bucs (other than Pinion and Triner) to play every punt coverage snap last season, tying for the team lead with four special teams tackles. He's physical and strong enough for that gunner role, and experienced enough to be reliable, too.
The battle to replace Smith will be led by cornerback Antonio Hamilton, who has extensive experience as a right and left gunner in the NFL. Cornerbacks Ross Cockrell and Herb Miller have also done it a handful of times, so they could be options as well. This is also where cornerbacks Chris Wilcox, Cameron Kinley, Dee Delaney and Nate Brooks will look to make their mark.
As for Dean, he can probably hold onto the left gunner role. There's no obvious challenger for him at that spot, and I thought he did a fine job. He's got the size, length and tackling ability you want as the first guy down the field.
Right Side: Wings/Tackles/Guards
On the right side, Minter locked down the right tackle spot all season until COVID struck in the playoffs. Quietly, his absence almost led to disaster for the Bucs. Minter was replaced by Jack Cichy against the Saints in the divisional round, but the Wisconsin product broke his arm on the first punt of the game. The injury was caused by Andrew Adams allowing his defender to cross his face and knock Cichy to the ground. After that, pure comedy unfolded.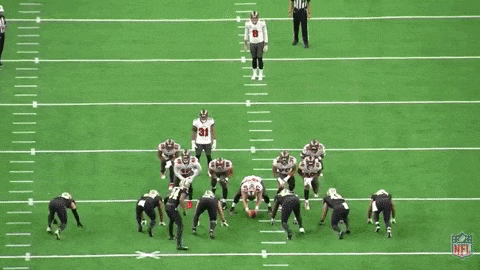 Trying to recover, Adams tripped over a writhing Cichy, basically eliminated the Bucs' entire coverage from the right side. At gunner, Mickens missed the tackle on Deonte Harris, and the speedy return man was off to the races.
Obviously a little unlucky for Tampa Bay, but Adams definitely struggled in protection and was just okay in coverage. He was frequently caught over-setting or lunging at his assignment last year. Adams nearly gave up a blocked punt to Atlanta in Week 15, one of several near blocks he surrendered on the year. The No. 4 safety wasn't as bad as left wing Mike Edwards, but the Bucs can certainly upgrade his spot. Look for Raven Greene or Javon Hagan to get the first crack at right wing in camp.
As for right guard, I wouldn't expect any changes to Minter's running mate. Anthony Nelson isn't athletic enough to be a great coverage guy, but he's an excellent protector, does his job in coverage and has a massive tackle radius to bring down ball carriers. He joined Ryan Smith as the only non-Pinion/Triner players to not miss a snap on punt team. Don't expect Nelson to lose that role if he's active on game days.
Left Side: Wings/Tackles/Guards
Huge shout-out to Cam Gill, who was one of Tampa Bay's best special teamers last year. He's a shockingly good protector who replaced Quinton Bell after Week 5 and really improved the position. Gill has good form and physicality as a blocker, and he can get off blocks to patrol his coverage lane. If he's replaced by Joe Tryon in Week 1, it could be a temporary downgrade for the Bucs at left tackle – unless Tryon is indeed better than him.
At left guard, Pat O'Connor was the most steady and consistent of the Bucs' protectors. I never noticed an issue with a blocking assignment, and O'Connor constantly got off blocks to pursue the returner downfield. He's also a bit more athletic than I thought he was, moving pretty well in space. Unless Khalil Davis balls out in camp, I'd expect O'Connor to keep getting a helmet on game days.
Much like right wing, left wing remains a position the Bucs need to fix on their punt team. Edwards was pitiful this past season. I'm sure he tried his best, but it's a wonder he didn't get Pinion injured during the season. Punt return teams matched him up with some bigger bodies, and Edwards took a beating on the wing last year. In the Super Bowl, his lack of anchor nearly resulted in a blocked punt early in the game.
And in the NFC Championship game, both wingers nearly cost their team. Edwards (No. 32) whiffs on the block, and Adams (No. 26) misses so badly he's forced to hold his opponent. The infraction went uncalled.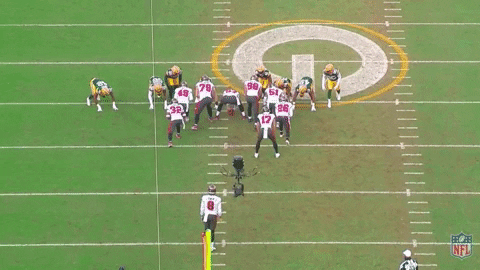 When Watson manned the left wing, the results were much better. He's a bigger, stronger body with more experience and better technique than Edwards. If he's active on game days, Watson should be the left wing starter if he's not an upback. But then the struggle becomes placing Edwards on punt team, because the Bucs need him to make an impact on special teams. I'm just not sure punt team has a great role for Edwards. Jordan Whitehead is actually a better option, but as a defensive starter he played teams sparingly this year.
Upback (Personal Protector)
The Bucs went through a number of upback options in 2020, with varying results. Watson saw 23 reps there, and was easily the best/most consistent. Plus he's an excellent coverage option too, consistently getting in on the tackle downfield. Antoine Winfield, Jr. was inconsistent as a blocker, but mostly a strong coverage player. He takes good angles to the football and finishes well in space for a smaller tackler. I do think Winfield was slightly out of his lane against Detroit, resulting in Jamal Agnew's punt return touchdown late in the game.
Of course, going into next year you'd rather not have to rely on Winfield for special teams work at all. That's probably why the Bucs tried to save him a few snaps in the Super Bowl, putting Ross Cockrell in as the personal protector. Incredibly, the Super Bowl is the first time Cockrell ever played upback in his entire NFL career, per Pro Football Focus. That is a shocking Bucs fun fact that you'll want for trivia night someday.
Putting Cockrell in that brand new position nearly cost the Bucs more than once. On the first punt of the game, Cockrell whiffed on his block and was forced to hold his opponent. Luckily, no flag was thrown.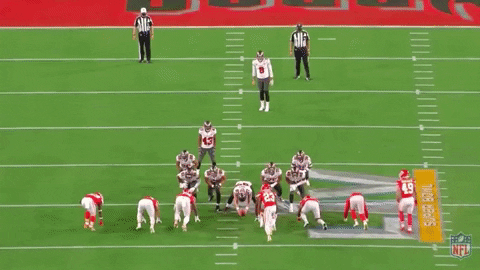 Cockrell wasn't engaged by a rusher on Tampa Bay's second punt of the game. By the time the Bucs punted again, the game was essentially over. But Cockrell actually made a heads up play to avoid giving up a blocked punt, recognizing a late twist by the Chiefs just in time to get a piece of the defender. The light contact was just enough to prevent a disruption for Pinion.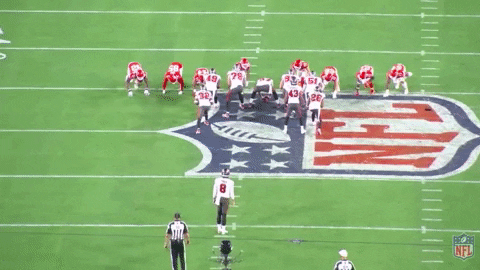 I still cannot believe the Bucs let Cockrell man the upback role for the first time in his career in the Super Bowl, but it ended up not backfiring due to the team's offensive prowess. It's definitely not a role I see Cockrell filling in the future, nor is it likely Winfield's job long term. If Watson is active, he could do it, but the Bucs will probably need he or Tyler Johnson to play left wing and replace Edwards.
The best personal protector on the team is almost certainly Giovani Bernard. Bernard hasn't played a ton of special teams in his NFL career, but he will need to as the No. 3 back in Tampa Bay. Last year Bernard spent 22 punts as the personal protector for Cincinnati. He's one of the best pass-protecting running backs in the league and one of the team's most intelligent players. Bernard also gives the Bucs a capable rushing option at upback for fake punt situations.
The Punt Team Battery
Pinion continued to perform as one of the better and more consistent punters in the game. Hardly ever a disaster moment from the Bucs' stud punter, with plenty of well-placed kicks to pin teams deep. Pinion's protection wasn't consistently great all season, but he still didn't have a punt blocked. In fact, the former 49er has only had one punt blocked in his entire career, back in 2018. The Bucs have a good one in Pinion.
As for Zach Triner … yikes. As a long snapper, no issues at all. Snaps were on line and almost never forced Pinion to adjust for the ball. That's a big reason why the Bucs didn't have a punt blocked last season despite just average protection.
But as a blocker? Triner fights like a madman, but he got pulverized a handful of times last season. I mean, reverse-pancake stuff. He's a speed bump on this play below.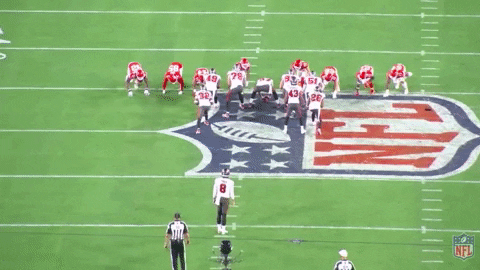 Triner slows the rush enough here, but his anchor is, uh, lacking. He took a beating in protection this past season.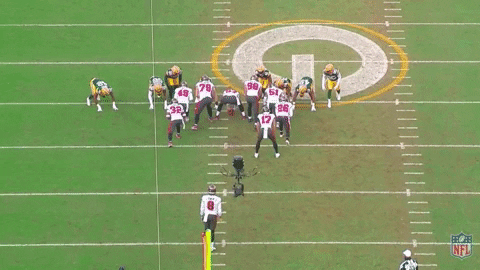 Poor Pinion. He took way more shots than he should have last year. Bucs need to clean it up in 2020.
Triner isn't going anywhere, so the Bucs will have to work around his weakness. He plays as hard as he possibly can and he doesn't mess up snaps. Triner's effort on punt coverage is impressive, even if he is overaggressive as a tackler at times. The veteran long snapper will just have to keep improving as a pass protector in order to keep Pinion upright. Maybe a few sessions with Ryan Jensen would help him out.
Can Bucs Improve Punt Team?
The Bucs had a couple bad reps as a punt coverage unit, but for the most part they did a fine job in that area. None of their players represent major liabilities in coverage. The bigger concern was punt protection, where players like Triner, Edwards, Adams and a revolving door at upback were exposed as weak links.
If the Bucs can upgrade those spots, they'll have a much better chance at a dominant punt coverage unit in 2021. It's probably their most important special teams group, as most kickoffs aren't returned these days thanks to Pinions' touchbacks. And the Bucs don't need a ton from their punt return team to put points on the board. Training camp will bear the results of many battles, but here's my best guess at how Tampa Bay lines up for its first punt in 2021.
Right Gunner – Herb Miller
RW – Javon Hagan
RT – Kevin Minter
RG – Anthony Nelson
LS – Zach Triner
LG – Joe Jones
LT – Joe Tryon
LW – Justin Watson
Left Gunner – Jamel Dean
Upback – Giovani Bernard
Punter – Bradley Pinion
It remains to be seen how Miller, Hagan and Tryon will fare as potential upgrades, with Miller having the biggest shoes to fill. O'Connor was a solid left guard for the team last year, but Jones has played every spot up front on punt team, and will be a much better coverage option. Watson is the best left wing on the team, but it remains to be seen if he will get a hat on game days over Tyler Johnson. If the Bucs keep seven receivers and their corps is healthy, I think Watson could.
Bernard is a big X-factor. If he can step in and stabilize the upback spot, Tampa Bay's protection group will be improved in 2021. I'd also be curious to see Greene in this role, although dressing five safeties on game day is probably only possible if three linebackers are active, and Jones sits. Greene has the size and physicality to be a good personal protector, but he's inexperienced in the role.
Of course, the best remedy to all of this is just not to punt at all! I'm sure Bruce Arians and Co. have thought of that, and don't believe they'll be booting the ball away often this season when their offense is on the field. When they do, however, the Bucs should be fielding a much better unit around Pinion this season.
Share On Socials