Welcome, Bucs fans, to the new look Bucs Briefing! During the season I'll be studying the All-22 tape of each game, and providing you with a comprehensive film breakdown of what went right and what went wrong for the Bucs on Sundays.
The hope is that Bucs Briefing will be live on the site early each Wednesday morning, allowing fans to get a long look at the coaches tape and see the game from more exciting angles. From Leonard Fournette's big day, to the splash plays down the field from Tom Brady and Co. to the defense's opportunistic play, we've got a lot to cover in our Week 2 film breakdown.
Vintage Fournette In Week 2 – The Good And The Bad
Many of you have decided I hate Fournette, and while I certainly think he's been extremely underwhelming during his NFL career, I've always maintained that he still has a useful skill set if used sparingly enough. We were able to see some of those strengths on Sunday, as well as a play as a receiver that I have never seen him make before.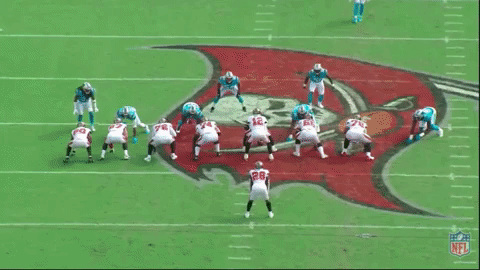 The Panthers linebackers being awful certainly was a big part of why the running game broke out late in the fourth quarter, but this is some crafty running by Fournette, too. With left guard Ali Marpet and left tackle Donovan Smith heavy on the double team and center Ryan Jensen walling off the nose, Fournette has to make linebacker Shaq Thompson miss if the run is going to be successful. Fournette heads for the C gap, then bounces back to the A gap at the last second after moving the linebacker with his footwork.
When Fournette can see things clearly at the first level, that's where he is at his best. If there is backfield penetration or a muddy picture up front at all, his productivity goes way down. Give him defined space and he can even play mind games with second level linebackers, but you've gotta keep the first level clean for him.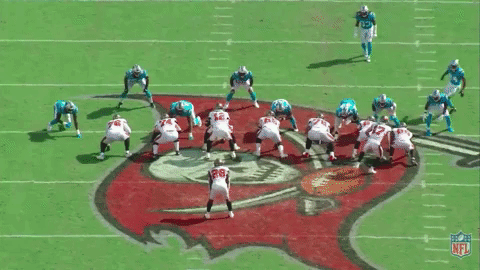 Fournette didn't end up needing to move any linebackers on his 46-yard touchdown run to seal the game, but I love his process here to come straight downhill and keep that MIKE linebacker from cheating into the A gap. He bounces the run at the last second, and right guard Alex Cappa does a great job working off his double with rookie right tackle Tristan Wirfs to get enough of middle linebacker Tahir Whitehead to let Fournette get through the first level unscathed.
It seems extremely odd because Fournette is so big and strong, but he's really not a physical or nasty runner the vast majority of the time at the line of scrimmage. That physicality often occurs at the second level of the defense. As his career has gone on, he's actually run with far more finesse than he has with physicality, and in the above examples that process works for him. But at times, Fournette's unwillingness to get vertical and use his frame as a weapon should drive viewers absolutely nuts.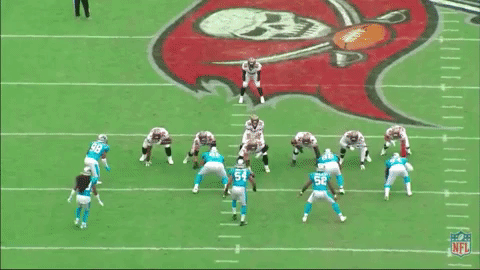 There is a clear path here for Fournette to take on tiny little cornerback Donte Jackson in the open field and absolutely smash him back to Carolina, and instead he stops his feet and tries to bounce outside Scotty Miller's block. You're 228 pounds of pure muscle, dude! Destroy that sub-180-pound cornerback! This is the lack of instincts and finishing ability that Fournette has that is frustrating given his size and speed.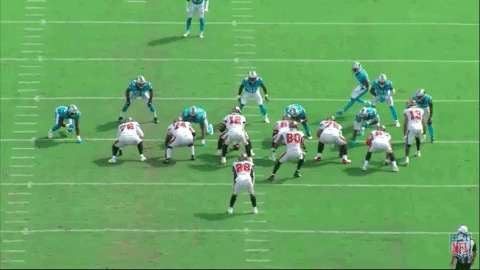 The Bucs run counter trey here to near-perfection, and the result is a solid gain. But why is Fournette stopping his feet in the open field instead of taking on that cornerback? Slowing down only gives the cornerback more courage and an easier target to hit. It also allows the defensive end to chase him down from behind. The result is a gain that isn't as significant as it should have been. Fournette can still do a better job of running through contact.
The reality is that Fournette isn't a big threat in space, and given his pedigree, size and speed, that seems almost impossible for us to comprehend. How is a running back that big and fast so easy to bring down in the open field? Ask Jaguars fans, they'll tell you just how difficult that pill has been to swallow over the years.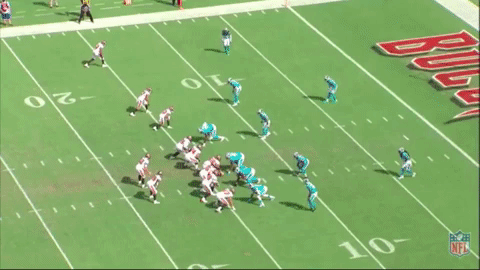 I get that this pass from Brady isn't on Fournette's upfield shoulder, but this isn't a great tackle attempt by the corner either, who doesn't hit Fournette squarely and manages to just snag a foot. Boom – down like a fallen tree. It's a good reminder that when scouting running backs, short and stout is usually better than tall and built. Center of gravity is an important trait for a position that takes more hits than any other.
I can live with Fournette's lack of open field instincts and physicality to a degree, as all that tells me is that he isn't going to be a special running back in the NFL. As long as the Bucs aren't paying him top dollar and asking him to carry their offense, I'm okay with those limitations.
Where Fournette will lose me forever is if his bouts of poor vision from his Jacksonville days creep up again in Tampa Bay. We saw a couple examples in Week 1, and in Week 2 things were a lot better. But Fournette still has a couple wasted carries a game that tank his efficiency numbers.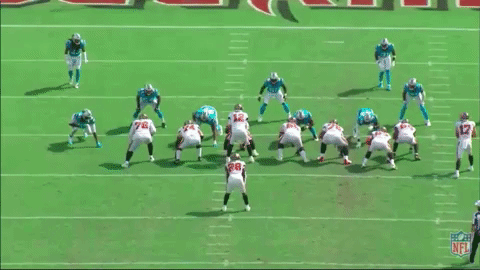 I've paused the GIF so you can clearly see where Fournette should have gone with the ball. Wirfs gets outstanding movement on the three-technique, the middle linebacker takes himself out of the play, and tight end Rob Gronkowski has uprooted the defensive end with a tremendous base block. Tight end O.J. Howard has sealed off the SAM linebacker, and the result should be Fournette blasting through the C gap for a one-on-one with the safety and possibly a touchdown.
Instead, Fournette takes the ball and runs directly between Gronkowski and the defender, running directly into a tackle. This has been a frequent issue on his tape over the years, as Fournette will just wrap the ball up and bull ahead like it's a short-yardage situation when there is space to run to. Those vision lapses can't happen, as it wastes tremendous blocking on a run play like this, which is already hard to come by. If you can't be a difference-maker or a creator with the ball, you have to at least be efficient.
Now, the BEST news with Fournette is that we saw something from him as a receiver on Sunday that I have never seen him do before.
This was one of the most underrated plays of the game, with the Bucs up 7-0 facing a third down deep in Panthers territory. Fournette, who is flanked out wide at the bottom of the screen, runs a return route, breaking back toward the middle of the field after running a quick out. The savvy move created a throwing window for Brady, who laced a perfect pass to Fournette, leading him down to the 1-yard line.
That's really heads up stuff from Fournette, who ran a route typically reserved for wide receivers and separated from coverage to make a huge play. This ball is probably thrown away if Fournette doesn't uncover from the linebacker, leading to a Tampa Bay field goal. The big running back's sure hands and route-running savvy here gave the Bucs at least four points as he finished off the drive with his first touchdown in Tampa Bay.
Oh No, RoJo
A fair evaluation of Fournette gives us some good and bad things to get excited about, as would a fair evaluation of Ronald Jones II. The difference is that with Jones, his mistakes could have been incredibly costly and directly contributed to the team's two turnovers on Sunday. Like it or not, big moment mistakes stick in the minds of fans, media and even coaches.
The most noticeable of Jones' errors was his fumbled exchange with Brady on a draw play with Tampa Bay driving, a blunder that should never happen at the NFL level.
"RoJo [is responsible for the fumble]," Bucs head coach Bruce Arians said to the media on Monday. "It's patience [and] it's a draw play. He saw a big ol' hole, he took off before Tom was ready to hand it and his elbow was down. It's just all patience and it's all on Ronald."
But later in the game, a blown protection by Jones was one aspect of a tide-turning play that helped fuel the Panthers' brief comeback against the Bucs.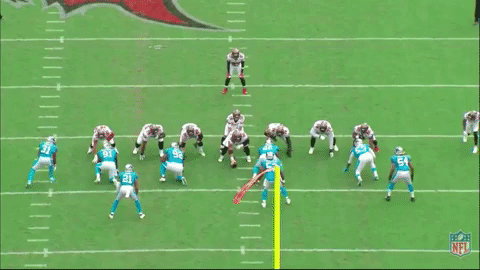 Off the play-action Brady looks to hit Gronk on the over route, but pressure from his right side forces him off his platform and causes the ball to sail a bit. The culprits? First, Jones is supposed to go inside of Marpet's block on the defensive end, blocking the blitzing linebacker off the edge. Luckily for Tampa Bay, that linebacker inexplicably hesitates instead of delivering a kill shot to Brady, but still arrives in time to help pressure the throw.
Cappa also gets semi-beaten by Zach Kerr, but he's expecting more help from Wirfs, as the line steps down on the run fake. Wirfs should be heavy on the three-technique with Cappa, but instead ends up looking at the linebacker who never comes. Also, as I wrote on Tuesday, Brady deserves blame for falling off his base as he releases the throw, causing an inaccurate ball that sails and gets picked off.
These are the mistakes Jones cannot afford to make however, especially with Fournette breathing down his neck for more playing time. Despite the former Jaguar's weaknesses, Jones hasn't done anything through the first two weeks of the season to suggest he's clearly a superior option. When that's the case, the hot hand usually gets to eat.
CLICK ON PAGE 2 TO SEE LEDYARD'S BREAKDOWN OF MIKE EVANS EATIN'
Share On Socials