Bucs TE O.J. Howard – Photo courtesy of the Tampa Bay Buccaneers
Welcome to Bucs Briefing! During the season I'll be studying the All-22 tape of each game, and providing you with a comprehensive film breakdown of what went right and what went wrong for the Bucs on Sundays.
The hope is that Bucs Briefing will be live on the site early each Wednesday morning, allowing fans to get a long look at the coaches tape and see the game from more exciting angles. From the defense's big day, to the splash plays down the field from Tom Brady and Co. to the tight ends sudden involvement in the passing game, we've got a lot to cover in our Week 3 film breakdown.
Bucs Tight Ends Are Alive!
Bruce Arians has mentioned that because the Broncos wanted to double Mike Evans and play two-high safeties the whole game, that was going to leave some advantageous match-ups for the Bucs' tight ends to win 1-on-1 against linebackers on Sunday. Boy, did they ever.
Tom Brady and Rob Gronkowski got going in the short passing game just fine, but it was the bigger stuff they could have hit down the field that caught my eye on Sunday. Gronkowski torched linebacker Josey Jewell twice, once on an overthrown would-be touchdown by Brady, and another time on the backside of a progression that never got to him (rightfully so).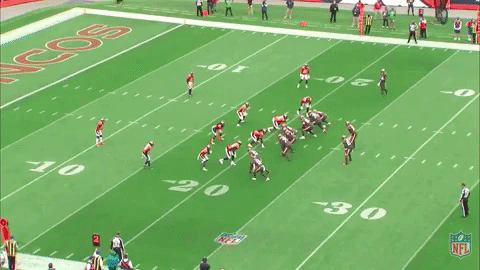 Gronkowski runs through Jewell's jam and leaves the linebacker in the dust, but Brady just misses him in the back of the end zone. Later in the half, Gronkowski again raced by Jewell down the seam, although Brady made the correct throw by trying to hit LeSean McCoy on a quick out for a would-be first down (the ball was tipped at the line of scrimmage).
While Gronkowski looked good catching six passes for 48 yards, O.J. Howard again flashed those special talents that make him such an exciting player. His one-handed snag of a Brady dart for 33 yards over Jewell on Sunday was the catch of the year for the Bucs so far.
That monster play sparked a fourth first half scoring drive, but it was far from Howard's only positive impact. Despite receiving a ridiculously low 13 pass plays, Howard caught three passes for 49 yards, and one of his best plays could have put him near 100 yards for the day if Brady had given him a better ball.
Howard works through the jam by Anthony Chickillo and turns on the burners, flying by the linebacker to create a big throwing window. An unfortunate and rare poorly thrown ball from Brady causes Howard to slow down, and is the only thing that prevents a big play down the field, and possibly a touchdown (the Bucs scored on the drive anyway).
So, why is Howard playing so little still? I truly have no idea. The Bucs offense at full strength has so many weapons that not using him is far from a death knell. But he clearly provides them with mismatch opportunities that not every tight end can provide. The Bucs have to find ways to get him on the field more, even if it is at the expense of Gronkowski. There is no reason in the world Gronkowski should be playing 30 more snaps than Howard like he did on Sunday. Get your more dynamic tight end on the field and add another vertical threat to the offense.
Marpet Is Owning People
I don't have a ton of analysis on this section, I just wanted to make sure I showed some respect to maybe the best guard in football this season in left guard Ali Marpet.
Marpet hammers the 3-technique crossing his face to help out Ryan Jensen, then comes back and picks up the linebacker. Terrific mental processing, hand usage, anchor and agility. He's been totally dominant in pass protection this season, with just one pressure and zero sacks allowed in three games.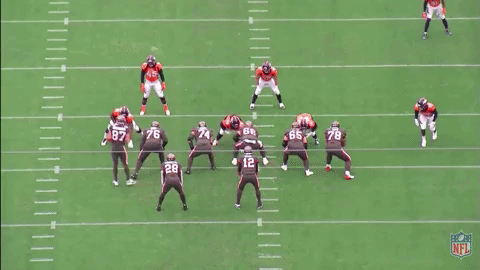 One of the best things about Marpet is that he's as dynamic in space as he is at the line of scrimmage. Look at him get out on this tunnel screen to Chris Godwin. Marpet cuts off the linebacker and allows Godwin to nearly pick up the first down.
Outside zone, again getting down on the linebacker and driving him out of the gap. Broncos LB Alexander Johnson has B-gap responsibilities here and Marpet re-locates him into the D-gap. It's very difficult to latch and drive an opponent in space like that, but Marpet makes it look easy.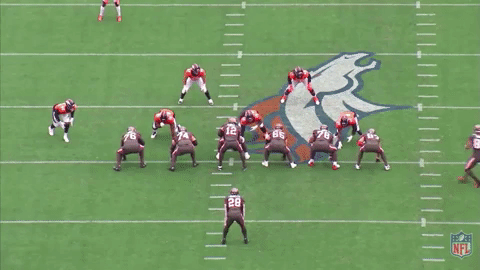 Now, this play was blown up because of a mistake by Marpet, who also happened to make an outstanding block on the play. The Broncos' play-side 3-technique knifes into the A-gap off the snap, catching Marpet and center Ryan Jensen by surprise. Marpet needs to help Jensen secure the defensive tackle on the first level before moving on to his second level target.
Having said that, Marpet's block on Jewell is All-Pro caliber stuff. It's not normal to bully an opponent in space and sustain a block like that while changing directions almost all the way to the sideline. Marpet's hands are like vice grips, the perfect weapons for his bully ball mentality.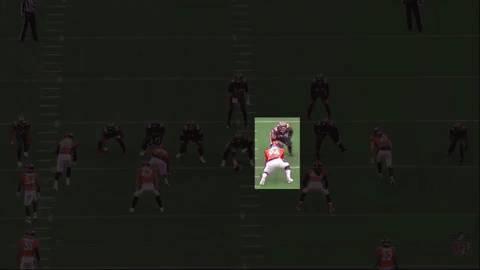 This jump set on Shelby Harris was one of my favorite Marpet plays from Sunday. Harris had some success against Cappa, but Marpet shut him down on the push-pull and the spin counter here. Beautiful stuff from Pro Football Focus' top-ranked guard.
Wirfs' Area Of Concern
Through three games, rookie right tackle Tristan Wirfs has been everything and more that the Bucs hoped he would be when they drafted him back in April. But while his tape has been mostly impressive, an issue that plagued him in college has arisen once again.
The overset.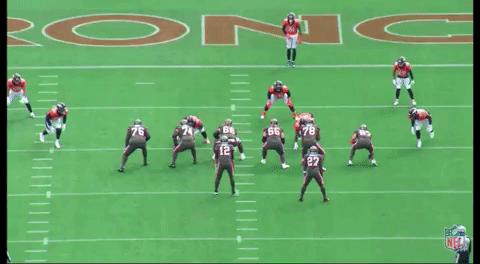 First pass play of the game, right guard Alex Cappa identifies the T/E twist and passes it off cleanly, but Wirfs doesn't see it and fails to remain on the same level as his teammate. Instead, Wirfs oversets up the arc, opening up too much of a gap between he and Cappa when the crashing defensive tackle hits him. There's not much he can do at that point, except watch his quarterback take a shot.
Rule No. 1: If you overset, you're extremely susceptible to T/E twists because the crasher's angle to the pocket just got a lot cleaner.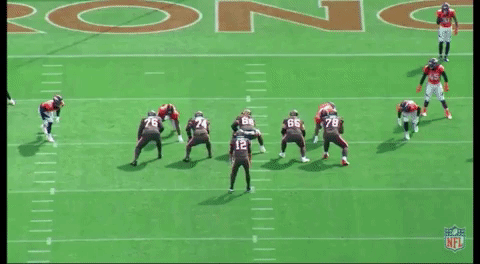 On the very next play, Wirfs sets too deep again, opening up a huge rush lane to the pocket by getting too far up the arc. He also opens his hips too far to the sideline on his punch, leaving himself susceptible to an inside move. As a tackle you want to establish half-man with your outside shoulder running right down the middle of your opponent. Wirfs' overset puts his inside shoulder in line with the edge rusher, and he can't recover as a result.
Rule No. 2: If you overset against speed rushers, most of them will find a way to convert that speed into a cross-face pass rush move through the B-gap, since that path is a more direct one to the quarterback anyway.
Now, those issues are 100 percent correctable and not at all unusual. A much bigger issue would be an offensive tackle that can't anchor and keeps getting bullied (Wirfs has been outstanding in this area), or an offensive tackle without the feet or pass set ability to protect the edge (also phenomenal in this area so far). But these inside moves are worrisome, particularly with Chargers pass rusher Joey Bosa coming to town on Sunday. It should be Wirfs' focus all week in practice.
Missed Call Allowed For Blocked Bucs Extra Point
There was some cause for concern after the Bucs allowed their second blocked in kick in three weeks on Sunday, as linebacker Joseph Jones hurdled the line to get a hand on Ryan Succop's kick and keep the score at 23-3. But the end zone replay review has revealed a clear violation of the rules by the Broncos, which allowed them to get the clean block.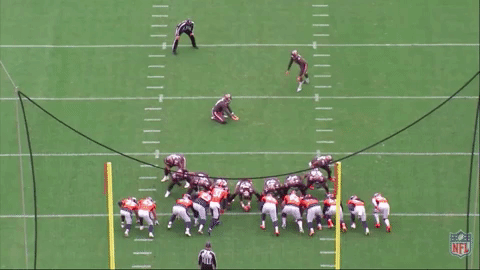 As you can see at the snap, Broncos safety Justin Simmons (No. 31) steps forward and pushes down on the back and neck of Bucs long snapper Zach Triner. A rule stating that players aren't allowed to make contact with long snappers, especially in the head or neck area, has been around for awhile, and the league has doubled their efforts to reinforce it since 2018.
Simmons' infraction kept Triner from raising his head/body after the snap, which would have made it a more difficult leap for Jones. Special teams coach Keith Armstrong talked about this play to the media on Tuesday, but he refused to cast any blame on the officials.
"If you're on the line of scrimmage, it's legal, obviously," Armstrong said. "So, what's supposed to happen is we typically ID the guys who do it because there's probably three [or] four guys per team that are going to do it, so you're looking for that guy. They disguised with No. 43 (ILB Joe Jones) down in a three-point stance. He's still legal though because he's on the line of scrimmage.
"Then what ended up happening is they came off and they pushed our guys down, which is legal. What's supposed to happen is first thing before the snap, we're going to talk about, 'Hey, leap alert. Leap alert.' You can't really put a lot of onus on the snapper doing anything. You try to tell him to bring his head back up, but you better make sure you get the snap squared away. What we've got to do is get an arm up and try to disrupt that guy's leg – try to get him off balance. By the time he lands, if he's off balance, he's not going to get up to block it again. They timed it up well and they got us on that one."
Armstrong mentions that pushing their guys down is legal, but I believe he's talking about the two blockers to the defensive right of Triner, who are clearly pushed down by defensive tackle Shelby Harris. That part is legal. But defenders are not allowed to make contact with the long snapper, and because they did Triner was unable to get his head up and the block was successful. The missed call didn't end up mattering, but it's one the officials would like to have back.
Offensive Notes
• I'm not sure what was going on, but Ryan Jensen had several shotgun snaps veer left on him during the game, although Brady cleanly handled all of them. Something to watch for moving forward.
• I'll write later in the week about the Bucs' run game, the issues that keep them from being consistently successful and how they can make life easier on themselves moving forward. But one thing that is unlikely to change at this point is that their running backs simply are not good enough to overcome anything less than great conditions on a given play. They don't create or make people miss, and they rarely break tackles or show great instincts at manipulating opponents in space. That puts a lot of onus on the offensive line and the scheme to be perfect, which they are definitely not.
• I know he hasn't been listed on the injury report, but Mike Evans still doesn't look 100 percent to me. It's not just the drops, he's not getting in and out of breaks quite like he has in the past. His lack of production in the Denver game doesn't necessarily concern me (two catches for two yards and two touchdowns), but I'll be curious to see how he plays against a zone-heavy defense in Los Angeles this week. Should be plenty of space for Evans to work the deep middle of the field.
• Not having Chris Godwin against Los Angeles will hurt. He's been the most sure-handed Bucs receiver, and he can just do so many things that the Bucs other pass-catchers don't do as well – pick up yards after the catch, separate and work the short-intermediate areas of the field, block. It's hard to replace all of that, but throwing the ball to Howard is a better option than fourth receiver Justin Watson, assuming he returns to action this week from a shoulder injury.
CLICK ON PAGE 2 TO SEE LEDYARD'S BREAKDOWN OF THE BUCS' SHUTDOWN DEFENSIVE PERFORMANCE
Share On Socials