Entering the 2020 NFL season, most were concerned with how the Bucs offense would come together given how little offseason work they had as a group before Week 1. But while Tampa Bay's offense has certainly hit a few bumps in the road to begin the season, those can mostly be traced back to two major areas of self-inflicted concern – penalties and dropped passes.
Couple that with their league-leading 13 drops per Pro Football Focus (I have them with more than 13), and it doesn't take a rocket scientist to figure out what ails the Bucs on offense. To be leading the league in drops and to have committed 14 drive-killing penalties and STILL be ninth in the NFL in scoring is a clear-cut sign of a team that simply needs to get out of their own way to be able to dominate.
Defensively, the Bucs issues are more complex, less self-inflicted and perhaps more cause for some level of long-term concern. Yes, the Tampa Bay has committed the seventh-most defensive penalties in football through five weeks, and has surrendered the second-most yards to opposing offenses as a result, but there are some concerns with this defense that run beyond those mistakes.
Let me be clear, I think the Bucs are clearly a good defense, and have been all-time elite against the run this season (that could admittedly change with Vita Vea out). But is Tampa Bay a great defense? Can the Bucs be a great defense, especially against the pass, which is currently ranked 16th in the league, allowing 239.8 yards per game?
I'm not sure, but they can definitely make some adjustments to improve after the first five weeks of the season. Here are the three biggest issues preventing this secondary from playing their best football.
1. Jordan Whitehead
Let's start with Jordan Whitehead. Excellent player vs the run, a very good blitzer, a strong tackler, hard-working, tough, tone-setter, leader, etc. In coverage, zone or man, he can be a liability. I wish that wasn't the case, because Whitehead has the physical and mental makeup of a player that every team wants on the field. But we have a large sample size of him struggling mightily to make plays in coverage.
After recovering briefly in Weeks 2 and 3 from a poor opener against the Saints, the last two weeks have been rough for Whitehead. He can't cover in deep zone and he's slow to close on anything underneath in front of him, which means a lot of surrendered catches and very few plays on the ball. Occasionally it means getting torched for a big play, too.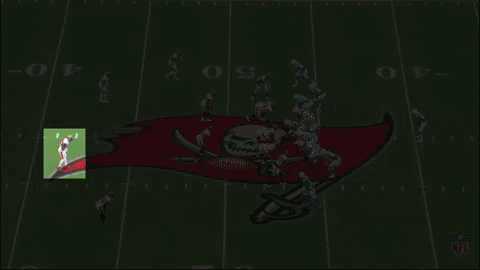 Whitehead has his eyes in the backfield here, failing to identify the depth of the crossing route as the receiver angles his way. Whitehead never gets enough depth off of the snap (check his depth compared to Antoine Winfield's), which allows the receiver to race right past him as he splits the safeties. By the time Whitehead has started to get depth, the receiver is a couple yards past him and gaining ground fast. Even an imperfect throw would beat Whitehead easily on this play, and this Justin Herbert throw was right on the money.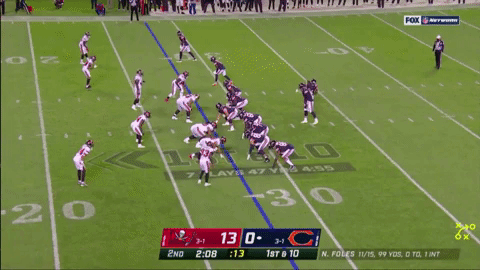 There goes Whitehead, again looking in the backfield and not looking at his assignment in coverage. If he had, he would have seen a receiver releasing on a vertical wheel down the sideline, and would never have stopped his feet in the backfield. No safety should get torched on this play, yet here we are.
Unfortunately, even when his eyes are right, the results aren't great.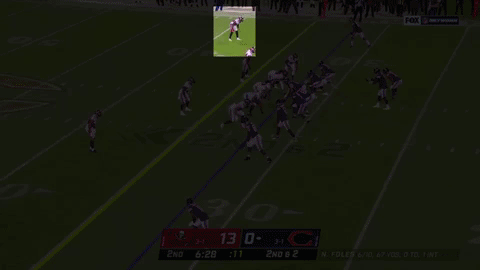 Whitehead identifies the receiver's break and closes quickly on the slant pattern, but because he gave so much ground so quickly off the snap, he can't arrive in time to contest the catch. That's a big problem of Whitehead's when he is in man coverage – he doesn't trust himself to play flat-footed and drive on the ball without giving some more cushion in case of a vertical route.
But this is a tight end! You have to be able to trust yourself to turn and run with a tight end if he stems vertically. Whitehead did the same thing last year in off-man coverage.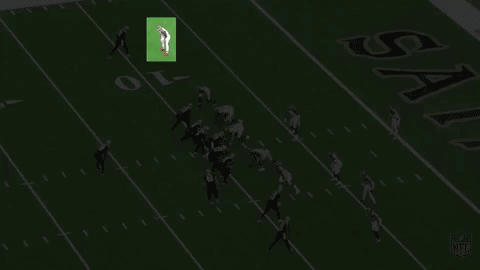 What's the solution for Whitehead's struggles in coverage? I honestly don't know. He's a really strong player in the box and as a blitzer, which would be great if he were a linebacker. But he's not. And at some point, the Bucs might need to consider playing the superior coverage option in Mike Edwards, at least in certain situations.
2. Sean Murphy-Bunting
As for Sean Murphy-Bunting, he's been much better than Whitehead in coverage, but still undone by his fatal flaw: he has a heck of a time trying to find the football vertically. It happened in Week 2 when Murphy-Bunting surrendered a back-shoulder catch to Carolina's D.J. Moore down the right sideline, and it happened again in Week 4 when he couldn't get his head around to contest a 19-yard touchdown pass to Chicago's Donald Parham, Jr.
This has been Murphy-Bunting's biggest flaw for awhile now – struggling to find the ball on vertical routes. It's not as big of a deal in the slot, where you see less deep shots, but on the outside SMB may have an issue that gets exposed consistently against the imposing ball skills of most perimeter NFL receivers.
Enter Jamel Dean.
Quietly, Dean has had a really nice start to the season, even after surrendering a Week 5 first half touchdown to Jimmy Graham. I'm a big believer in analyzing the process over the results, and I think Dean played the fade route to Graham very well. The tight end simply made one heck of a catch.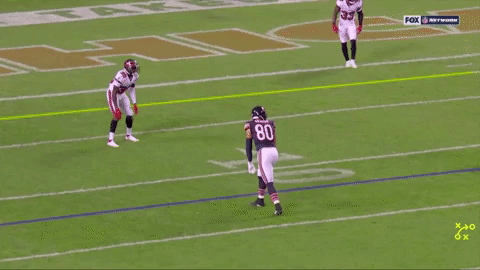 Dean gets his head around, tracks the ball coming in, and attempts to make a play without committing pass interference. He barely misses the ball, and Graham makes a one-armed catch while holding Dean off slightly with his other arm. Nine times out of 10, this is probably an incomplete pass.
Later in the game, Dean continued to show the ball skills that have set him apart since he stepped on the field as a rookie.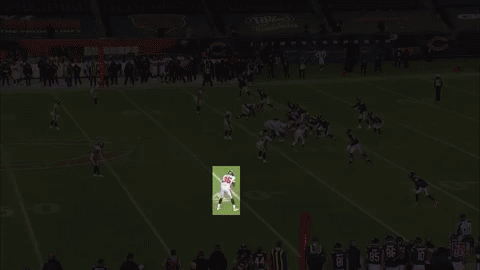 No panic from Dean, as he plays this nine route perfectly and gets up to attack the football. He's the Bucs best corner from off coverage, with the ball skills and length to contest windows down the field, and the quickness to close on the ball underneath as well.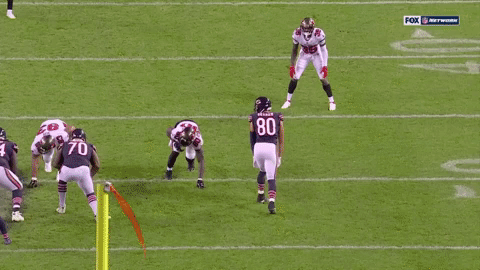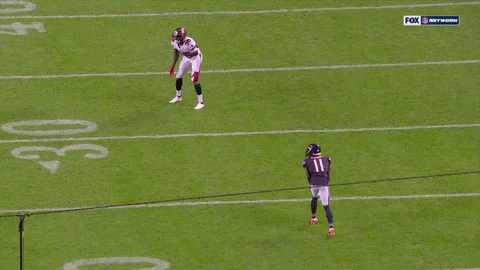 Playing in off-man or zone coverage really isn't a big strength of Carlton Davis or Murphy-Bunting, but Dean's diverse skill set allows him to play at a high level on the outside regardless of alignment. In fact, he's barely been asked to press all season despite having the strength and length to do so well. More on this in a moment.
Giving Dean more snaps isn't really even an indictment of Murphy-Bunting as much as it is a recognition that one of the Bucs best defensive playmakers isn't seeing the field enough. Last season, Dean intercepted two passes and broke up 17, tied for fourth-most in the NFL despite playing a fraction of the snaps compared to the players around him on the list. This year Dean already has five pass breakups, including four over the Bears' final two drives, and nearly ended Thursday night's game with a pick-six.
Secondary play in the NFL today is about preventing splash plays and creating splash plays. Through five weeks and throughout most of last season, Dean was better at that than Murphy-Bunting, while still being a strong run defender and excellent tackler. The Bucs might be a better defense by shifting Murphy-Bunting full-time to the slot and positioning Dean as the regular outside starter across from Davis.
3. Coverage Alignments
I'm not going to belabor this point too much, as it's already been discussed thoroughly since Thursday night's loss to the Chicago Bears. The Bucs are playing too much soft coverage this season, and it's allowing average-to-bad quarterbacks to stay in games against them.
It was an issue against Teddy Bridgewater, it was an issue on a drive right before halftime against Jeff Driskel, and it was an issue against Herbert at times, and it was a massive issue on Thursday night against the Chicago Bears, especially in the second quarter. With Nick Foles struggling out of the gate, especially down the field, the Bucs allowed him to get comfortable on easy, quick-release underneath throws that were entirely uncontested all game long.
Why did the Bucs play so little tight man coverage on a night where they could have dominated with it? It's a great question, and one I hope Todd Bowles has to answer at some point this week. Davis was especially exposed by the strategy, struggling in zone coverage while playing lock down when he was asked to compete in press man.
But ask Davis to play in zone, and the difference, as it has been most of his career, is noticeable.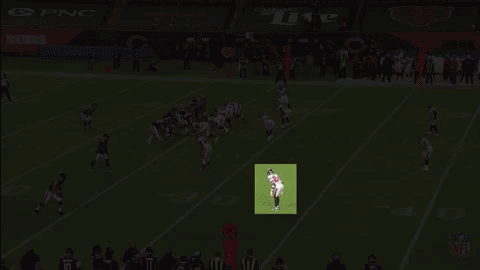 Davis chases the post from No. 1 out of his zone, allowing Allen Robinson to work behind him for a 24-yard gain. Developing better discipline is part of the struggle for Davis, but he's also just more comfortable working in close contact with an opponent rather than in space. That was obvious on this Darnell Mooney post-corner route that should have been a touchdown for Chicago.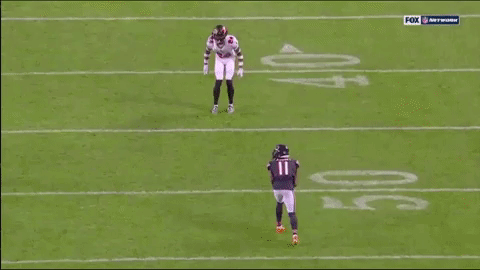 Davis just isn't hip-flip and run corner from off coverage, and he's also not a click-and-close on the ball underneath corner either. He has a very specific set of skills that are best utilized in press man, where he has been excellent all season.
Obviously every corner in today's NFL has to play some of the time in man and in zone to mix things up, but given the Bucs personnel they should be limiting the amount of reps they play zone coverage. This is a physical cornerback room with the intensity, technique and play demeanor to match-up with opponents one-on-one far more often than they are being given opportunities to do so. The Bucs were a man coverage heavy team last year, and they need to return to that in 2020 if they want to get the most out of their cornerbacks, especially Davis.
Can It Be Fixed?
Yes and no. I don't expect Whitehead to come out of the lineup just yet, and I'm uncertain how much of an upgrade Edwards would be anyway. The coaches believe that Whitehead is superior to Edwards right now, and obviously they are the ones at practice and in the meeting rooms making those evaluations – not the media. The Bucs may just have to weather that weakness, as all teams must do somewhere in their lineup.
I wouldn't be surprised to see Dean playing more, but the team is in nickel so often anyway that he's already on the field a good bit. As for Murphy-Bunting's ability to find and make plays on the football, I'm not sure that's going to improve this season. We'll see. Hopefully good coverage discourages enough throws his way that SMB's struggles at the catch point aren't consistently exposed.
But what Bowles can control is playing more press man, putting Davis in position to succeed more often against the No. 1 receivers he's facing each week. If Bowles can make that adjustment and stop dropping his outside linebackers into coverage so often, Tampa Bay's pass defense should be good enough to win plenty of football games when the offense stops beating itself.
Share On Socials