Bucs Briefing is exclusively sponsored by Locker Room: Tap In, Talk Sports – the official social audio partner of PewterReport.com.
Locker Room is changing the way we talk sports (and talk about the Bucs!). It's the only place for live audio conversations about the takes, rumors, news, and teams you care about.
React to sports news as it happens. Gather all your friends in watch parties for the biggest games. Rep your favorite teams and find your community. Better sports talk is just a tap away — download on the Apple App Store and join the conversation!
---
In last week's Bucs Briefing I wrote about the weaknesses on Tampa Bay's 2020 punt coverage unit, and how it almost cost them in the Super Bowl. Improving the Bucs punt team is a priority in 2021, and several players were brought in that should help. Those players will also be tasked with improving other aspects of Tampa Bay's special teams. One of those units will be the Bucs' kickoff team, which made history in 2020 – but not in a good way.
According to research going as far back as 1978, Tampa Bay's 2021 kickoff team was the worst in NFL history on a per return basis. The unit allowed a ridiculous 33.6 yards per return, four yards worse than the next closest team. It was the worst mark in recorded NFL history by more than a full yard, one of only three teams to ever allow more than 30 yards per kickoff return in a season.
The worst? Ever? That bad?
Yes, that bad. It's hard to blame special teams coordinator Keith Armstrong too much, as the 2020 season looks like an outlier for his group. In 2019 Armstrong's unit allowed just nine kickoff returns, the second-lowest mark in the NFL, and allowed just 23 yards per return. That's around the league average.
Now, for some good news. The Bucs only allowed 14 kickoff returns all season long, the third-fewest in the NFL. Only Carolina (seven) and Washington (nine) permitted less. So while the Bucs kick coverage group was completely abysmal in the majority of those 14 situations, we are talking about a very limited set of plays. When you consider every unit to take the field for a team, kickoff coverage or kickoff return are probably the least important.
Bradley Pinion is the biggest strength of the Bucs kickoff team. Of the Bucs 126 kickoffs, Pinion sent 112 into the end zone or out of the field of play. His remarkable consistency helped the coverage team stay afloat, barely exposing them to opposing return units.
Even on the 14 returns the Bucs allowed during the season, hardly any of those opportunities were Pinion's fault. In Weeks 1-4, the Bucs didn't face a single return. In Week 5, former Bears return man Cordarelle Patterson took three kicks back for returns of 40, 47 and 32 yards, but fielded all of them 8-9 yards deep in the end zone.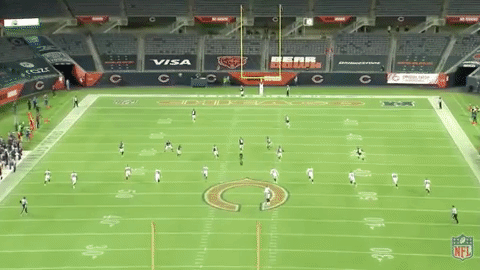 Even with Pinion's significant assists via deep kickoffs, the Bucs return group was unable to corral the impact of one of the league's better return men. Patterson gashed the Bucs all game on kickoff returns, quietly contributing to Tampa Bay's maddening, 20-19 loss. Several specialists struggled for the Bucs, with rookie outside linebacker Cam Gill the most notable weakness in the play above. Also, Pat O'Connor appears to get way out of his gap and can't recover ground.
Over the next two weeks, the long return against the Bucs was a four-yarder on a squib kick in Week 7. But in Week 8 against the Giants the coverage unit struggled again, surrendering returns of 31 and 44 yards.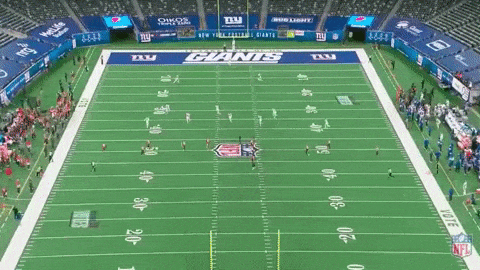 The biggest flaw of the unit throughout the season was their inability to defeat blocks. The Bucs did miss or overrun a few tackles on kick coverage, but their biggest issue was rarely having enough numbers around the ball. Too few defenders showed an ability to evade or stack-and-shed blocks, leaving gaps for returners to run through. I don't question the effort of the coverage group, but they definitely lacked open-field savvy and the physical brashness that often accompanies great special teamers.
When the Panthers' Trenton Cannon brought a kick back 98 yards in Week 10, the Bucs all but gave up on keeping kickoffs in the field of play.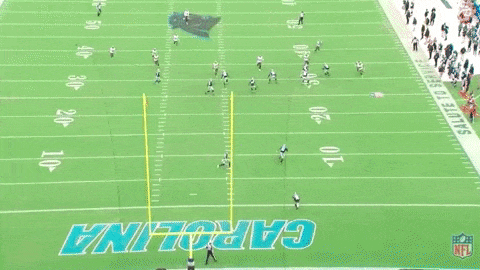 In Weeks 11-17 the Bucs were better, allowing just four returns of 27, 26, 27 and 21 yards. Not great, but better. In the playoffs the team surrendered two more 30+ yard returns, but neither came back to bite them.
It was a season of survive and advance for the Bucs kick coverage unit, who used Pinion's monster leg to avoid exposure in all but 2-3 games all year. That strategy could work again in 2021, but Tampa Bay won't plan on it. Part of the solution will be replacing a number of regulars from last year's unit and adding some more talented special teamers to the roster.
Linebacker Joe Jones, cornerback Antonio Hamilton and safety Raven Greene should be immediate upgrades if they make the final roster. The Bucs are also hopeful that at least one of rookie cornerback Chris Wilcox and linebackers Grant Stuard and K.J. Britt will push for time as well.
But it will still likely be on Pinion to keep this unit stable, at least at the beginning of the season. Tampa Bay could be scrambling to gel a unit with several new faces, especially with Ryan Smith departing for Los Angeles after being one of the group's strongest contributors. If wide receiver Justin Watson doesn't make the final roster or isn't active on game days, the unit will need to replace another impactful player. On the flip side, O'Connor, Gill, Ross Cockrell and the departed Andrew Adams could probably all stand to be upgraded.
Ultimately kickoff coverage will be a small part of what the Bucs accomplish in 2021. But when you allow 13 returns of 25 yards or more on 17 attempts (counting playoffs), you need to take your unit back to the drawing board. Armstrong will need to do some serious soul-searching to help Tampa Bay's kickoff team handle business the few times a year where Pinion isn't putting the ball out of play.
Share On Socials