Post game shouting matches between teammates are more of a symptom of the problem than the problem itself.
In the Bucs locker room Sunday there was a reported skirmish when, per Rick Stroud of the Tampa Bay Times, a few players apparently didn't approve of defensive tackle Chris Baker's jovial demeanor. Coach Dirk Koetter said he didn't have all the facts, as he wasn't in the locker room at the time, but that a little confrontation isn't unusual for a team fresh off a close loss.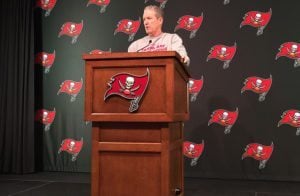 "That's why they call [the minutes after] a cooling off period," Koetter said Tuesday. "Emotions are running hot. We had a lot of nice opportunities to win [but] we couldn't do it. No one's happy about that. I don't think that would be the first or last time [a shouting match has] ever happened."
Smiling that soon after defeat is a bad look for any player, but Baker's reported body-language was particularly damning. It was his offside penalty moments earlier that set the Panthers up with fourth-and-1 from the Bucs 3-yard line, a nearly impossible situation to defend against a 245-pound mobile quarterback. And Baker hasn't exactly earned the credibility for mistakes like that either.
The penalty was just the latest blunder – and possibly the breaking point for a few of his teammates – in an underwhelming season for the 30-year old tackle.
Since signing a three-year deal worth over $15 million in the offseason, the former Redskin has 32 tackles and a half sack in Tampa. He's on pace to play around 300 less snaps than last year in Washington, where he had 47 tackles and three more sacks.

On Wednesday, defensive coordinator Mike Smith also deflected attention away from the heated exchange, instead pointing the frustration to the offside penalty.
"Pre-snap penalties, you just can't have them," Smith said. "It wasn't the only one we had in the game. In terms of that specific play, it was one of a handful of plays that had a big effect on the game. That's the way it is every week.
"In terms of [the post-game confrontation], a locker room is like a family. You're going to have squabbles. Guess what happens when it's over? You kiss and you make up and move on. You move forward. These guys are now focused on moving forward and getting a win against the New Orleans Saints this weekend."
Koetter wouldn't assess Baker's overall performance this season, saying that they'll evaluate every player at the end of the year.
As for Jameis Winston's emotional meltdown at the end of the game, Koetter just relayed what he knew about the player and situation.
"Jameis is a fighter and a great competitor and he felt like he recovered the fumble all the way," Koetter said. "[The refs] went up and waved it Carolina's ball right off the bat, then took a long time to unpile them.
"When they came up from the pile, Jameis and Julius Peppers, Jameis had the football. He told me he had it the whole time. But the fact that he got a penalty on it – the game was over at that point, so it didn't matter. But obviously you don't want unsportsmanlike penalties."
Share On Socials