When the Bucs made Washington OLB Joe Tryon the 32nd overall pick in the 2021 NFL Draft on Thursday night (technically Friday morning), there were mixed reviews from Bucs fans during the Pewter Report Live Draft Show. Tryon, a Pewter Report Bucs' Best Bet, a Bucs 7-Round Mock Draft and a 32-Team Mock Draft choice, was selected over more popular preferences. Some Bucs fans preferred Oklahoma State OL Teven Jenkins, Notre Dame S/LB Jeremiah Owusu-Koramoah, Georgia OLB Azeez Ojulari or Alabama DT Christian Barmore.
Tonight on the Pewter Report Live Draft Show, we'll tell you why these players weren't the pick for the Buccaneers – and why Tryon was.
More than anything, Tampa Bay saw a path to playing time for Tryon, and they were spot on in at least that part of the assessment. Although Tryon is still raw as a pass rusher and coming off an opt-out year at Washington, his 2019 tape revealed a player that should have no problem physically hanging with NFL competition. He's an extremely well-built 6-5, 260-pound edge rusher, who tested at a relatively high level athletically during Washington's pro day.
Taken from Pro Football Focus' Draft Guide. Subscribe and download the PFF guide and read Tryon's full report.
Tryon, a redshirt junior, just turned 22 on Friday. His tape reveals tons of physical talent and very little idea of how to use it right now. To get an idea of where his skill set is at, I watched Tryon's 2019 match-up against fellow first-rounder and Top 10 pick Penei Sewell, Oregon's left tackle. Not every rep of the game is against Sewell obviously, but Oregon had one of the best offensive lines in the country in 2019. So it was a good place to start Tryon's evaluation.
Tryon's Wasted Movement
I'm going to avoid getting too technical or using a hundred examples. But right now Tryon's game is more hung up by little things than it is big things. Big things = lack of burst off the ball, speed, bend, physicality and change-of-direction. Tryon has shown that he possesses all of those things. But right now the details that allow those critical aspects of a pass rusher's skill set to blossom are being implemented very sporadically.
Here's an example: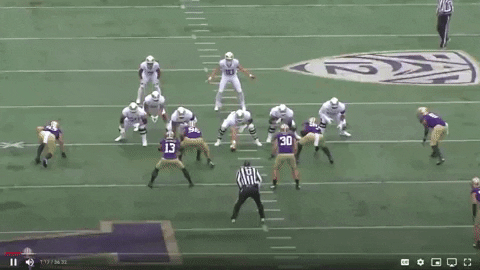 You don't have to be an NFL scout to see that once Tryon starts moving forward. He closes ground pretty quickly to Justin Herbert. The speed is there, but the problem is that he's wasting movement before he starts moving forward, delaying his arrival to the pocket. Watch Tryon's right (front) foot step backward before he starts moving forward. It's a significant false step that shows up in some form consistently on his tape.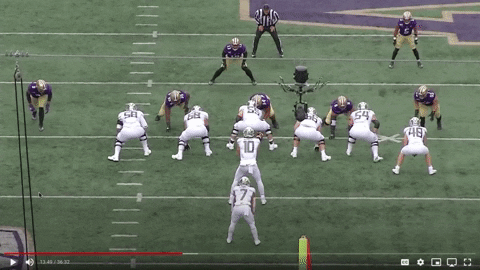 At first glance, this just looks like a great stack-and-shed against a premier college left tackle in the run game. But look closely at Tryon's left (front) foot. He steps sideways off the snap, then gathers himself and fires into Sewell's chest with heavy hands. It's a great rep to be sure, unaffected by his footwork on this play. But Tryon often creates space and angles for blockers while delaying his own up-field progress by stepping sideways or backward off the snap.
He's quick and fast for the position. It just doesn't always show up on tape because his movements are inefficient once the ball is snapped. Rashan Gary had similar struggles out of Michigan.
The NFL is a game of fractions of seconds. Footwork like that mus be cleaned up if he'ss going to close ground or challenge tackles on the outside edge.
Tryon Checks Pass Rush Athleticism Boxes
The good news is that Tryon's footwork is much cleaner from a 3-point stance. This allows him to utilize his quick first step. Tryon needs to do a better job of timing up snap counts to get an effective jump off the ball. But his speed can be an issue when combined with his hands at the top of the arc.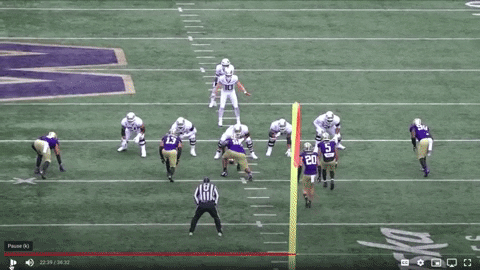 I love the near arm chop. And I love that Tryon keeps his shoulders square up the field until he gets to the top of the arc. You can see the ability to accelerate and turn the corner without losing speed when his get-off is efficient. If the extra steps can be coached out of Tryon's game, his pass rush arsenal could begin to come together.
One thing that may not be fixable for Tryon is his stride length. He's a short-stepper by nature, which could keep him from ever being a great pure speed/bend rusher. That's far from a death knell to him as a pass rusher. However, as Tryon's burst, physicality, and length all suggest, that a monster speed-to-power game is waiting to be unlocked.
Tryon takes awhile to close the ground to Sewell despite a pretty decent get-off. But when he engages the tackle look how low he drops his pads on the long arm move. The Huskies' defender begins to forklift Sewell, but his stab slides off after knocking the tackle backward, and Tryon is unable to execute a counter move.
Again, little things like angling your first steps to the pocket a bit more and hand placement on the long arm will need to be fixed. But a lot of the big stuff is already in place, including Tryon's desire to be physical in all that he does. That's a critical building block for a young, raw pass rusher still discovering who he is as a player. At his foundation, Tryon needs to be a dog in the trenches.
Oregon's tight ends found out the hard way, as Tryon tossed them around all game. This was back in 2019, too. Tryon has only gotten stronger since then. In unblocked situations, Tryon didn't hesitate, stepping down and taking on pullers square or by using this box technique: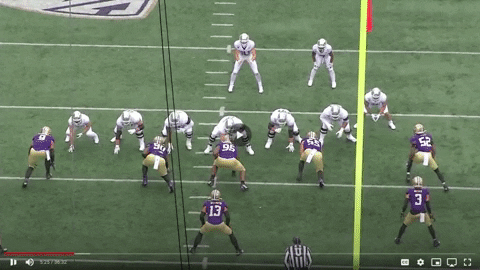 Tryon's desire to be physical typically won out as a junior despite his erratic hand placement and need to get stronger. It appears that has happened over the past year. But technique will be what advances Tryon's game more than anything he does in the weight room.
Tryon Fits Bucs' Play Demeanor
It's no surprise that the Bucs gravitated toward someone with Tryon's physical and athletic traits, but it may have been his demeanor that won them over. Tryon has always played the game with heart and hustle, filling a bunch of roles for the Huskies defense with nothing less than 110 percent effort. He's not mentally or technically ready for a full-time role in the NFL just yet. But his physicality and relentlessness will keep him above water while the rest of his game develops.
In a part-time role right away, Tryon can definitely help the Bucs. He can rush over guards on long-and-late downs. Or he can upgrade Anthony Nelson as a sub-package edge rusher. That would allow Jason Pierre-Paul to situationally kick inside to rush the passer. But can Tryon make a first-round caliber impact when it's time for him to become a full-time player?
There may always be some limitations on Tryon's pass rush athleticism because of his stride length. But he can still clean up his footwork, develop more consistent pass rush moves and learn how to read tackles to set up counters. There is a lot that Tryon can still grow into as a pass rusher. The big things aren't holding him back nearly as much as the small, subtle details. If Larry Foote can help him eliminate bad habits and normalize better practices as a rusher, there is an exciting ceiling that Tryon can reach by year three in the NFL.
Share On Socials