Trying to sort out the universe and make sense of a tragedy is a waste of time. People of faith will tell you it is part of a plan. But when you get a call that your 17-year-old son has been in an accident, and the helicopter is on the way, the last thing you are thinking about is "a plan."
While I am good ol' Southern Baptist who believes in the Good Book, but also a father of a 17-year old myself, when I put myself in Kolton Smith's mother Nicole Duffey's shoes, well, the faith I say I subscribe to would probably go out the window.
June 29th was a typical day in the life of Kolton Smith, an upcoming senior at Durant High School who was an offensive line starter. He had just left his girlfriend's house to head back home and his wheel went off the road. As a young and fairly new driver, he did what many of us have done and overcorrected. His Ford F-150 flipped and Smith was ejected. Surprisingly he didn't have many superficial wounds on his body, but he couldn't move. Conscious, he was able to give a good samaritan his mother's phone number who dialed the phone for him.
"I messed up Mom," Kolton said.
His mother left work frantically and headed to the accident scene where Smith was being loaded into an ambulance. Soon the unmistakable sounds of the rotors of a helicopter was heard in the distance and then soon landed. His mother joined Kolton for the ride to Tampa General as he was being attended to.
"I was really in shock," Duffey said. "But I was listening to everything that was being said all the way there. It was really a couple days later before it all even sunk in of the seriousness of what had happened."
After arriving at Tampa General it was determined that Smith had broken his back. The good news was his spine wasn't severed and there was no traumatic brain injury suffered, which was somewhat of a miracle in itself. After undergoing surgery to stabilize his spine, the waiting game began. Would the spine repair itself? Smith had no feeling below the 12th vertebrae and doctors, even five weeks in the hospital still have no idea what the prognosis long-term will be.
"It can take a year or even two to determine what the outcome will be," Duffey said. "We just don't know. We have hope, and we have faith. But there is an unknown."
Smith's Durant teammates were a mainstay and constantly streamed in to visit Smith while he was in the hospital. Hundreds of people called or texted, and the support from the Durant community was overwhelming. Fundraisers were planned, t-shirts sold and ways to raise money for his long-term care, and even the remodeling of his house have been taking place since that fateful June 29th afternoon.
A couple weeks after the accident, the Buccaneers were made aware of Smith's accident. Being a football player and an obvious fan of the game, the Bucs began sending video messages of encouragement. Long-time radio play-by-play announcer Gene Deckerhoff was the first. FOX Sports and announcer of EA Sports Madden Football game Charles Davis sent one. Bucs players Cam Brate and Chris Conte also recorded videos on the eve of camp. And Bucs general manager Jason Licht recorded a video and invited Smith to come out to a Bucs practice as a guest of he and Buccaneers COO Brian Ford.
On Monday, Smith arrived at One Buccaneer Place. Soon over 25 of Smith's teammates and coaches from Durant began arriving. All wearing their Durant jerseys to support their teammates. One of the coaches brought Smith's No. 62 jersey. He slipped it on despite the warm morning. And once again he was a Durant Cougar.
The Durant players milled around the practice fields, and many, Smith included, had never been to a Buccaneers practice. They toured the new indoor facility, and ran 40-yard dashes. A couple of Smith's teammates grabbed his wheelchair and pushed him for his own 40-yard dash.
As practice was winding down Smith made his way back to where the players come off the field and go back inside One Buc. As the final horn sounded to end practice, Licht and Smith's favorite player Donovan Smith, a fellow left tackle, walked over to him and his teammates. Licht had a gift. It was a No. 62 Bucs jersey with his name on the back. Smith was overwhelmed, his mother fought back tears and his teammates all got goosebumps as he was presented the jersey by Licht and Donovan Smith. One by one Bucs players, coaches and even front office personnel stopped by to shake Smith's hand and offer up words of encouragement and to sign his jersey.
A little later Bucs All-Pro Gerald McCoy pulled up a chair on the patio and spent 20 minutes talking with Smith and taking pics, signing autographs and even recording SnapChat videos with the players. Bucs fans, don't take McCoy for granted. He will be missed one day when he is no longer playing. McCoy is one of the good ones who probably doesn't get the credit he deserves for his love of the fans and the local community.
After McCoy excused himself to head back inside, Smith and the Durant players toured the media room, the press conference auditorium and the main lobby. The day was over at One Buc and Smith and his Durant teammates made their way back to the parking lot.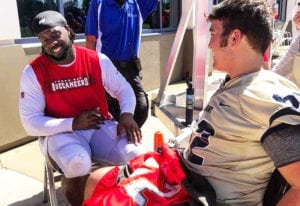 As the players filed out, the emotion of the day came out in tears for Smith's mother.
"I am tired," Duffey said. "We have so much work to do still. But that's my baby, Mark.
"I don't know what the plan is, but I know we rely on our faith and believe something good will come from this. If we didn't have our faith, I don't know what we would do. Now we just rehab and wait. Miracles can happen. We aren't giving up."
To help the family with donations for remodeling of their home and for medical expenses, click this GoFundMe link.
A benefit at Beef O'Brady's in Plant City is also planned for August 30th and donations for raffle prizes are being accepted as well. 
Share On Socials