Three weeks into his second NFL season, and Devin White looks like a player on the rise. He's become one of the best blitzing off-ball linebackers in the game, leading the way with his physicality and ferociousness to take on backs in the A-gaps and push quarterbacks out of the pocket. He's also much better as a tackler this season, consistently finishing stops outside his frame to get runners on the ground.
Although those may be just aspects of White's overall evaluation as a player, they are important ones. Nevertheless, it is his improvement as a run defender that has really caused him to stand out this season, playing faster to key-and-diagnose, while also showing some promising signs in his ability to slip blocks (never his strong suit in college).
White is the emotional leader of the Bucs defense in his second season, playing his heart out every single snap. There is a value to that competitiveness that cannot be quantified by any metric or tape study, but sometimes that same strength can also become his biggest weakness. 16 games into his NFL career, White is improving almost across the board as a player, but the early results from his 2020 season in pass coverage has been concerning for the Bucs defense.
I know, nobody wants to hear that. Come on, Jon, why don't you write about one of the things he is good at?
Here's why: the NFL is a passing league, and the distinction between the top linebackers in the game and guys who have "solid" careers has been, for the past 15 years, how good they are in coverage. Lavonte David, Luke Kuechly, Bobby Wagner, Derrick Johnson, Thomas Davis, Patrick Willis, Brian Urlacher, NaVorro Bowman, Deion Jones, Eric Kendricks, Fred Warner and Darius Leonard all are or were outstanding coverage linebackers who consistently foiled quarterbacks in the middle of the field.
Why has Saints' linebacker Demario Davis suddenly become elite over the past 2-3 years? Look at his coverage tape. It's a night-and-day difference from early in his career, when he was just a decent starter.
Why was Raiders' linebacker Cory Littleton paid this past offseason? Not for his run defense, but for his coverage ability, where he's been one of the best in the league for years now. Bills' linebacker Matt Milano will receive the same type of compensation in free agency this offseason for the same reason.
Coverage matters more than anything else in today's NFL, and it's been a clear area of weakness for White during his brief career. As a top five pick, it's fair to say this is the one obstacle keeping him from living up to his draft expectations as we complete the first quarter of his second season.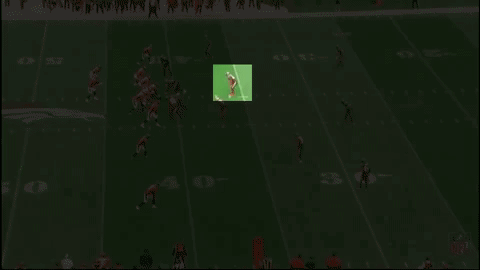 Some of it is just feel for the game in zone coverage, which hopefully comes with experience. White doesn't need to be all over his landmarks in the play above. As soon as the receiver breaks in his direction, be patient. Know where the space exists between you and the next defender. That's where the receiver is likely going to sit down if he stays in your zone. By taking several steps to the sideline, White can't work back overtop of the receiver in time when he sits down in the zone. The result is a big window and an easy completion.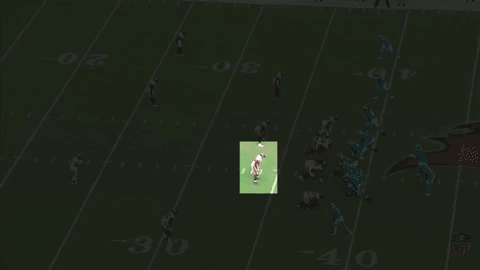 Similar idea here. White isn't a disaster in his drop on the play above, this is simply a matter of still adjusting to the spacing and feel for zones in the NFL. I wouldn't even blame this completion on White alone, but I think he can be sharper to get out of his drop and drive on the ball in these spots. To be a great middle-of-the-field zone coverage linebacker, you have to have eyes in the side of your head. That's what makes David so special.
One of the things that I've consistently noticed on tape is that play-action fakes make White go nuts. He's a little too aggressive on the fake, but I can live with that due to his recovery speed to get into his drops when he realizes it's a pass. Right now, he's erratic at reaching his landmarks when he drops back into coverage.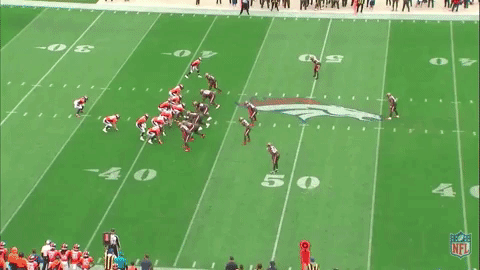 The Broncos run a leak concept off of play-action, which is also a staple of the Bucs' offense. Look how much harder White (right inside linebacker) bites on the play-action than Jordan Whitehead, aligned as a linebacker next to him in the box. As they retreat back into their zones, White isn't anywhere close to his zone, instead getting all the way over onto the opposite hash marks.
White should be on the field hash marks, looking to alter his path from there as a receiver enters his zone. Because he is simply chasing the over route from No. 1 to the field instead of covering his assigned area, Noah Fant is able to leak out for an easy catch on the blown coverage.
Sometimes, White's out-of-control movements leave him at a disadvantage in man coverage as well. In the play above, White will only come on a blitz if his assignment (RB Royce Freeman) stays in to protect. Immediately Freeman releases out of the backfield, but I think White reads it as a potential block and overreacts. At the last second he realizes Freeman is releasing down the field, and falls down trying to recover.
If White played with more patience and control, he could identify Freeman's intentions and smother the inferior athlete to eliminate quarterback Jeff Driskel's options in the face of the blitz. Instead it's a big play against the Bucs defense, albeit ran down beautifully from behind by White.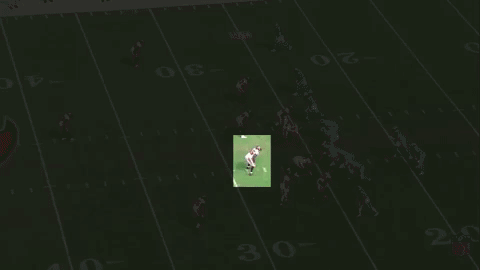 Here's White in man coverage on Panthers' running back Mike Davis in Week 2. As Davis releases out of the backfield, White is too aggressive in his footwork, rather than being patient at the second level to mirror-and-match the running back in his route. White's anxiousness results in a bad angle that puts him behind Davis early in the pattern, resulting in an easy 16-yard completion.
One of the things that makes White's inconsistent technique and footwork in man coverage and poor feel and instincts in zone coverage so frustrating is that he has elite tools to become a monster in this area. White is one of the fastest linebackers in the NFL, allowing him to even track wide receivers on vertical and horizontal routes. If his technique and processing are right, he's a mis-match eliminator for a defense, a very rare and valuable skill set at linebacker.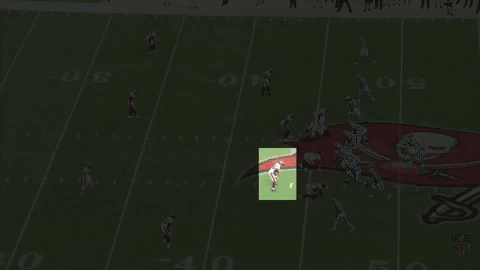 That's Panthers wide receiver D.J. Moore he's matching across the field…whew.
White has elite closing speed and physicality as a zone defender closing on short check-downs over the middle of the field. If he can utilize those same traits when attacking the ball in deeper zone coverage, there is potential for major ball production in his future.
But right now it is all hypothetical, as White has been one of the worst coverage linebackers in the NFL to begin the season. Per Pro Football Focus, quarterbacks are completing just under 80 percent of their passes against White in coverage, for 214 yards and a touchdown. White has already given up more than half the yards in coverage that he gave up all of last season, and he was still very much a work-in-progress in coverage in 2019.
The sky is the limit for White, in all aspects of his game. But if he wants to catch David and be mentioned among the best linebackers in the NFL, living up to his billing as a top five pick, reversing his fortunes as a coverage linebacker is the next step. All the physical and athletic traits are there, but the mental and technical acumen still need to progress if White is to take the next step in 2020.
Share On Socials