PewterReport.com presents the Pewter Nation Podcast, a weekly audio hour of news, analysis and inside scoop on the Tampa Bay Buccaneers delivered with a dose of humor and insight from Bucs beat writers Scott Reynolds, Mark Cook, Taylor Jenkins, Jon Ledyard and Matt Matera, who also serves as the show's producer. Look for the Pewter Nation Podcast each week on PewterReport.com for your listening pleasure during the 2020 season.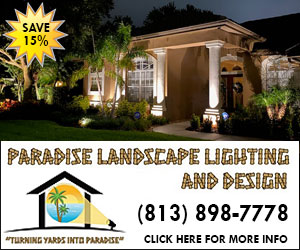 We're getting a fan's point of view in this episode of the Pewter Nation Podcast as we are joined by long time Bucs fan, Brian Joseph. Brian has been a Bucs' season ticket holder for seven years and is a new sponsor on the Pewter Nation Podcast with his company, Paradise Landscape Lighting And Design.
This company  provides installation on all landscape lighting for your home, can also work on any preexisting light setups, gives nighttime demos and offers free quotes for any of your lighting questions. Make sure to look at their Paradise Landscape facebook page and give him a call today!
The NFL has finally started giving out protocols for COVID-19 testing during training camp and other protocols that will come into play. We discuss if it's too much, not enough, and how players will feel about these guidelines. There's also a number of teams that are allowing anywhere from 25 to 50 percent of their fans to be in attendance, while other teams will to have any in the stadium. How will the Bucs decide who gets tickets and who doesn't? We ask Brian what his ticket reps have told him, and if he's comfortable with going into the stadium this year.
With the shortened training camp and potentially no preseason games, there's going to be less hitting than there normally is. While each team is in the same boat, are there more that are going to be impacted by this than others? How can you quickly shake off the rust?
It's only a couple of more days until all the players will report to training camp and the Bucs will start their 2020 season. We look at where we think the team is headed for this season and get Brian's thoughts as a fan on what he's most excited to see, his prediction for the season and his general overview of the team. We also provide context of what specifically the Bucs are going to be better at in year two with Bruce Arians running the ship. Hear that and more in a brand new edition of the Pewter Nation Podcast.
Share On Socials