When the dust settled on free agency and the Super Bowl Champion Bucs had re-signed almost every key piece from their 2020 roster, one burning question remained in my mind: how is this team going to upgrade the running back room? Fast forward to April 12, 2021, and the Bucs have emphatically answered that question with the signing of 29-year old former Bengals running back Giovani Bernard.
In this article, I won't focus on Bernard much as a runner, as that won't be his primary role with the Bucs. He's always been just adequate as a pure rusher, which is the reason Bernard is more of a complementary back than a feature one. That's just fine for the 2021 Bucs, as they have two backs plenty capable of handling the load on the ground when those times come. What the Bucs need from Bernard is going to come when they go to the air, not when they pound it on the ground.
Giovani Bernard, The Wide Receiver
Where Bernard shines is in the passing game, where he's basically made his living over the course of his eight-year career. Bernard has accumulated 342 catches over that time, averaging nearly eight-and-a-half yards per catch and never falling below 30 receptions in a season. The UNC product is sure-handed and versatile as a receiver, capable of picking up yards in the screen game or as a flexed option in the slot or even out wide.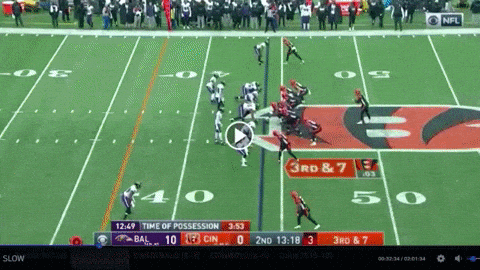 That's Bernard at the bottom of the screen, split out wide, isolated with a linebacker, winning with a double move on a nine route. The ball is late, underthrown and too far outside, but he makes the difficult catch through contact down the sideline, even if his feet have no chance at coming down in bounds.
In case you forgot while reading the last paragraph, Giovani Bernard is a running back.
Over the course of last season, Bernard lined up in the slot or out wide 89 times, per Pro Football Focus. Only four running backs in the league took more snaps in the slot, and only three took more snaps while split out wide. Bernard's versatility will conjure memories of David Johnson's impact as an offensive weapon in Bruce Arians' offense, most notably that incredible 2016 season where Johnson caught 80 passes for 879 yards and four touchdowns in addition to his 1,200-yard, 16-touchdown campaign on the ground.
Those numbers are not in the cards for Bernard, but in this Bucs offense, they don't need to be. What Bernard brings as a versatile weapon in the passing game will not only finally give Tampa Bay a reliable pass-catcher out of the backfield, but also allow them to replace elements of Antonio Brown's post-catch and quick passing game impact. Bernard is a legitimately nasty route runner who can create separation from linebackers and even cornerbacks when split out wide, opening up opportunities for YAC.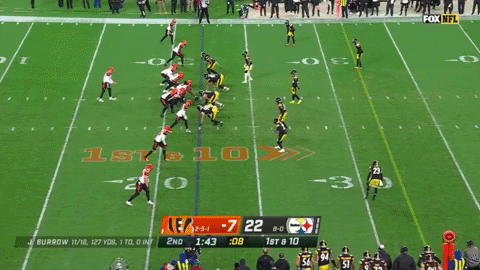 That's Bernard split out wide at the top of your screen, running an in-breaker on ex-Steelers cornerback Steven Nelson. Freezes the corner with the vertical push and creates the separation at the break to give himself space to run horizontally and then turn upfield after the catch. You also see Bernard's vision and instincts on display here, as he consistently makes great decisions with the ball in space and is always aware of tacklers and where the sticks are.
Bernard has a couple nasty Texas routes out of the backfield last year, but this one against Pittsburgh gives you the best view and just how clean his cuts are. Leaves Avery Williamson absolutely grasping for air and then slithers through a few tackles for the touchdown.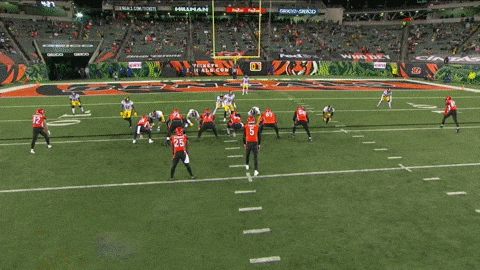 Simply put, Bernard is a nightmare for linebackers in the passing game. He's way to quick and technical as a route runner for most linebackers to have any prayer of sticking with him. Obviously Bernard isn't always the first option in the route combination, but he's consistently open on tape if his quarterback needs him. The reliability and consistency is such a welcome sight after last year's weekly circus by the Bucs' backfield in the passing game.
Here's Bernard in the slot at the bottom of your screen, exploding away from one of the better coverage linebackers in the league in Jayon Brown. The ball is on Bernard's back hip rather than leading him up the field, but he's able to make the adjustment and still twist around for the score. Fluidity, body control, concentration…Bernard has it all. Think about who he's been playing with at quarterback over the course of his career, and then think about how many less-talented backs have produced with Brady in the passing game. It's fun to think about what that combination could achieve this season.
Giovani Bernard, The Weapon
Perhaps my favorite thing about Bernard isn't his physical or athletic skill set as a receiver, it's his awareness. So many times I shouted at Bucs running backs to just get vertical as fast as they could after the catch, rather than stop their feet and size up their surroundings. Bernard has this uncanny sense of everything that is happening around him at all times, which manifests itself in his vision and decision-making once the ball is in his hands.
This is a fairly simple play, but Bernard's instant decisiveness to run to grass allows him to maximize every yard that could be gained on this catch. Of course, his acceleration, which isn't a trait shared by any of the Bucs current backs, is pretty exciting as well. You can get away from a lot of tacklers when you can mash the gas like that.
Look! He's not running right into tacklers after the catch and just falling forward! Bernard actually knows where the pockets of space are and he's accelerating into them as soon as he gets the ball in his hands. People think being a great receiving back in the NFL is all about making people miss and breaking tackles, and that does matter, but it's much more about ball skills, instincts and the ability to move and make decisions in the open field. Bernard excels in those areas.
Where Bernard won't blow anyone away is as a tackle-breaker. He consistently wraps the ball up and leans through tackles after the catch, but you won't see him throw off many square tackle attempts like Le'Veon Bell would in his prime. Still, Bernard is so shifty in space and has such good burst and vision that he represents a tough target to line up for most defenders.
Don't lie to me, I know you just got a little teary-eyed watching this play. If they could pull this off in Cincinnati last year, don't you think the Bucs will have a few tricks up their sleeve for Bernard? Tampa Bay's screen game was woeful for most of last season, that could change instantly with Bernard.
Giovani Bernard, The Pass Protector
But what really sets Bernard apart as a passing downs option is his pass protection. For four of the past five seasons, Bernard has graded between 73 and 81 in pass protection for PFF, high marks that put him at the top of the league at his position. His balance and strength are noteworthy traits, but Bernard is really technically sound and highly aware in pass protection. That's much more important than being able to KO a rusher once or twice a season.
Bernard stones the corner blitz right off of the fake handoff, even turning the defender out so that Joe Burrow has more space to maneuver or slide out to his left against interior pressure. Quiet base, good punch, keeps his feet moving to ride the defender out and not let him counter. Great stuff from Bernard.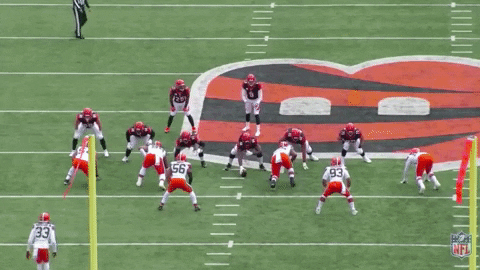 A-gap blitz with one of the league's throwback, thumper linebackers in B.J. Goodson? No problem. Bernard is looking at him pre-snap and picks it up flawlessly.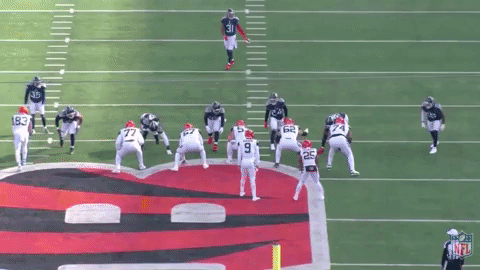 Nice pickup on the blitzing safety, showing perfect technique to halt the rusher in his tracks right in front of Burrow.
The value this kind of protection brings is something the Bucs just didn't have last season, and it resulted in several key mistakes. Remember the second half interception against the Panthers in Week 2? Blown protection, quarterback hit. How about the interception on the slightly underthrown ball down the left sideline in enemy territory during a narrow regular season loss against the Chiefs? Blown protection, quarterback hit. What about the NFC Championship Game, when Tom Brady's third interception occurred when Leonard Fournette failed to pick up a free blitzer? Blown protection, quarterback hit.
Adding Bernard to the fold changes a lot of that for Tampa Bay. Now you have a back you can count on to maximize his touches in the passing game, consistently get open from multiple alignments, find space after the catch and be as good as any running back in the league in pass protection. Bernard has been successful in the NFL while being exactly what Tampa Bay needs him to be, showing tremendous character and work ethic every step of the way. He's the perfect addition to Tampa Bay's locker room, as GM Jason Licht keeps winning the offseason once again with this shrewd move.
Share On Socials