When cornerback Sean Murphy-Bunting left the Bucs' Week 3 game against Denver after the Broncos' first drive of the second half, it shook up the alignment of Tampa Bay's defense.
After playing just seven snaps at slot cornerback through two weeks, rookie safety Antoine Winfield Jr. shifted to Murphy-Bunting's nickel role, finishing the game with 31 snaps in the slot. Second-year safety Mike Edwards then took over the Bucs' frequently-used single-high safety position – playing 36 of his 42 defensive snaps at free safety – after not playing a single defensive snap to that point in the 2020 season.
What's going to change?
The Bucs' nickel package has essentially become their default defense, as Tampa Bay ran the formation on 66 percent of their defensive snaps in 2019, per Football Outsiders. Todd Bowles' defense will likely mirror what Tampa Bay did against Denver after losing Murphy-Bunting, with Winfield in the nickel role and Edwards at free safety to create a "big nickel" defense with Jamel Dean on the outside. In the Bucs' "base" 3-4-4 defense, the primary change will likely be limited to Dean taking over Murphy-Bunting's spot at the wide cornerback position across from Carlton Davis III, while Winfield remains at free safety across from Jordan Whitehead at strong safety.
What to expect from Winfield?
With Winfield now being trusted to man the nickel position as his primary concern, it will likely limit how versatile Bowles can be in moving him around the defense. In Week 3, Winfield saw a season-low in snaps as a box safety and a drop in his snaps when lined up along the defensive line from Week 2 to Week 3, but fear not, he will still be a presence in pass rush.
"The nickel spot is really a starting spot now," said cornerbacks coach Kevin Ross last season. "You have to have three good corners in order to win in this league right now. They'll expose you. [Nickel] is a valuable asset. He has to be able to blitz, he has to be able to cover, he has to be able to tackle. He has to be a very versatile guy."
On Sunday's game we saw Bowles' send a number of blitzes from the nickel position, both from Winfield and Edwards.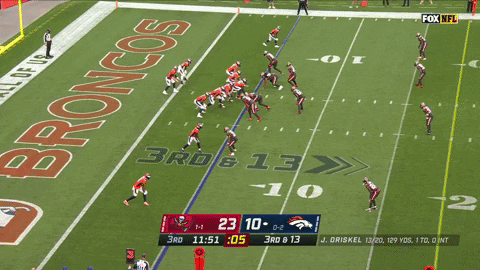 On this third-and-13 play with the Broncos' backed up to their own five-yard line, Bowles overloaded Driskel's right side with a nickel blitz from Winfield. Given that it was also a six-man pressure, running back Melvin Gordon was forced to pick up Devin White, which left Shaq Barrett in a one-on-one situation with rookie center Lloyd Cushenberry coming off of a stunt. The result? A sack and a safety.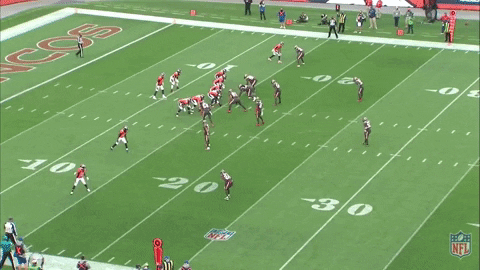 On the Bucs' first defensive play following the safety, Bowles sent Winfield on a blitz from the nickel spot again. Before the play, Driskel's rookie receiver Jerry Jeudy let him know that Winfield will be a free runner. Driskel tried to hit Jeudy on a quick hitch as White is forced to cover Winfield's zone, but Winfield is able to get into the backfield quickly and knock the pass down.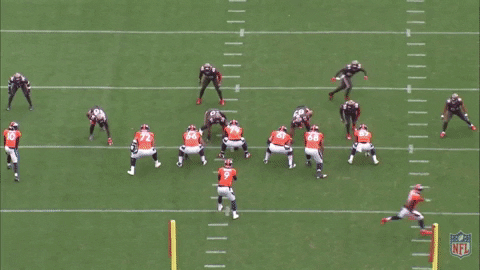 Here's another example of a nickel blitz from Edwards, with Winfield also blitzing from the defensive line on Driskel's opposite side. Driskel is able to get the throw off, but Edwards is a free runner who is just a split second late from converting his quarterback hit to a blindside sack.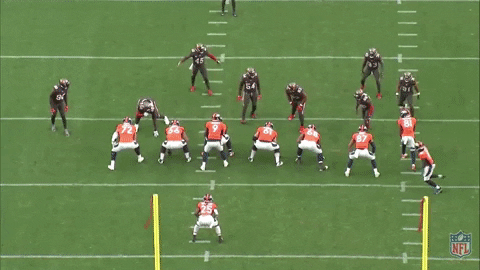 And this last play I just added because Winfield is so fun to watch play football. Playing out of the slot, Winfield was lined up across from Jeudy a lot on Sunday. As Jeudy motions inside on this play, Winfield follows. Winfield steps up on the play-action from Driskel, but quickly diagnoses the play and cuts off the passing lane to Gordon, essentially killing all hope of a successful play as Barrett closes on Driskel.
See Jon Ledyard's most recent edition of Bucs' Briefing for a more in-depth look at Winfield's coverage from the nickel position against Denver.
What to expect from Edwards?
Edwards, as a rookie out of Kentucky, lost his job to Andrew Adams by Week 5 of the 2019 season.
Edwards had his issues in coverage last year, but head coach Bruce Arians and safeties coach Nick Rapone both pointed to his tackling concerns before the 2020 season began. Both also called him a ballhawk, denoting his play-making ability on the back end. But when Winfield and Whitehead quickly became guys that the staff could trust, Edwards got the short end of the stick as far as playing time, especially with no preseason to show whether or not he's righted the ship.
But despite his struggles in 2019, Edwards hopped off of the bench this past Sunday and had a strong start to 2020 with one defensive stop, three tackles, no missed tackles, one completion allowed for six yards on two targets in coverage per Pro Football Focus, and his first career interception on a great one-handed play to rob second-year quarterback Brett Rypien of a touchdown pass.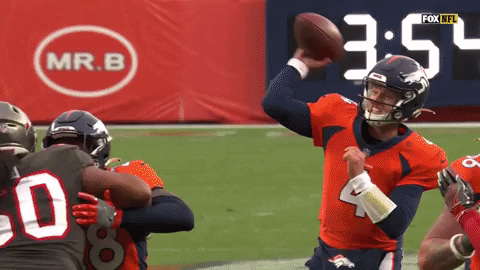 Edwards played primarily at free safety yesterday, as previously mentioned by his snap count, and that will likely continue this coming Sunday if Murphy-Bunting isn't cleared. Edwards flashed strong instincts and the tackling ability that the staff was looking for last week, but it's a small sample size to put faith in moving forward.
I already showed Edwards' blitz out of the nickel position, but this play shows quick mental processing and change-of-direction to close and finish on tight end Noah Fant near the end of the first half last Sunday.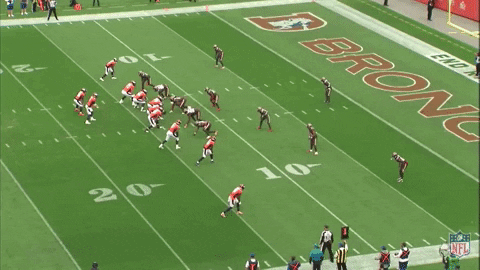 Another silver lining that stems from Edwards' year of experience in the league is that he is able to slide over to the nickel role in certain situations if Bowles wants to change up the looks. 100 of Edwards' 614 total defensive snaps in 2019 came out of the slot, per Pro Football Focus.
What about Whitehead?
When Edwards couldn't hold down the starting spot at free safety last year, it forced Bowles to get a little more creative with Whitehead than the third-year safety should be. As I wrote before the season, Whitehead is a tough, physical player who is at his best when playing in the box.
Now that the Bucs have Winfield, Whitehead has been free to play loosely and man a position that better suits his strengths, while eliminating situations that might reveal his weaknesses.
Whitehead has been a superb tackler through the first three weeks of the season, coming off an impressive game against Denver as a true strong safety in the box and as the Bucs' money-backer when inside linebacker Lavonte David shifted to an outside linebacker spot.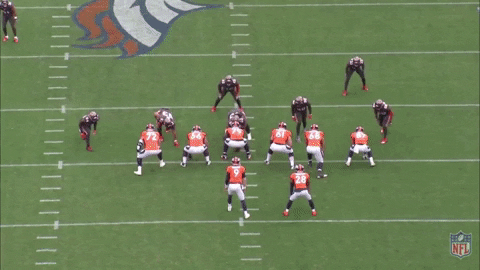 On this play Whitehead came on a blitz from deep in the defensive secondary as the Bucs run a game up front. Right tackle Elijah Wilkinson picks up Barrett as he loops to the edge,  but right guard Graham Glasgow was too slow to recover and pick up Whitehead as he barreled through the A-Gap. Whitehead secures the tackle on Driskel for his first sack of the season.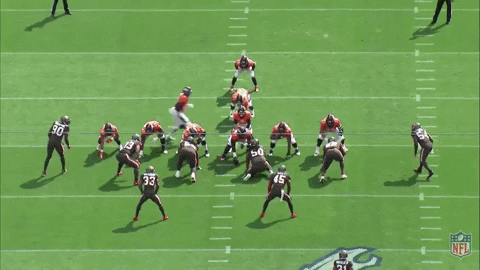 This final play from Whitehead is cool for a couple of reasons. First, defensive tackles Vita Vea and Will Gholston absolutely dominate the middle, with David setting the edge from the weakside position.  Whitehead, playing as the Bucs' money-backer, does a great job of getting off of his block and staying in his run fit through the A-Gap to make first contact with Gordon in the backfield.
Heading into Sunday
Obviously the loss of Murphy-Bunting would be a major blow to Tampa Bay's defense, but the addition of Winfield this offseason plays a critical role in how the Bucs can adjust and adapt while still keeping a formidable unit together in their secondary, largely relying on Winfields' ability to provide effective coverage in the nickel position and Edwards' ability to build on the strong play that he showed in Week 3. Should Tampa Bay lose another cornerback to injury, it would likely see the Bucs deploy veteran Ryan Smith or undrafted free agent Parnell Motley, drastically changing the outlook.
The Los Angeles Chargers' offense is currently the sixth-most productive offense in terms of yards per game, averaging 425.7 yards per game, however their 17.3 points scored per game puts them at 29th out of 32 teams.
Share On Socials