The Current State Of The Buccaneers
The Tampa Bay Buccaneers had the best offseason in the NFL last year, re-signing outside linebacker Jason Pierre-Paul and defensive tackle Ndamukong Suh, in addition to using the franchise tag on outside linebacker Shaquil Barrett. Oh, and general manager Jason Licht and head coach Bruce Arians were also able to lure the greatest quarterback of all time, Tom Brady, to Tampa Bay and also trade for future Hall of Fame tight end Rob Gronkowski.
Those moves, plus the selection of star right tackle Tristan Wirfs and free safety Antoine Winfield, Jr. in the first two rounds of the 2020 NFL Draft culminated in the Bucs making NFL history by hosting and winning the Super Bowl at Raymond James Stadium against Kansas City, 31-9. Despite the team's supreme success, the Bucs' coaching staff didn't get pilfered outside of offensive assistant Antwaan Randle El, who left for Detroit to be the Lions wide receivers coach. That's a huge plus as Tampa Bay looks to defend its championship in 2021.
But repeating as Super Bowl champs won't be easy if the team can't be kept intact. That will be a challenge this offseason, as Licht and director of football administration Mike Greenberg have a lot of free agents to re-sign this offseason first. Among them are Barrett, Suh, Gronkowski, inside linebacker Lavonte David, running back Leonard Fournette and kicker Ryan Succop among others.
The NFC South appears to be there for the taking for Tampa Bay if most or all of the team's stars can return in 2021. New Orleans is expected to see star quarterback Drew Brees retire and the Saints are in terrible salary cap shape and will have to make some unwanted roster cuts. Atlanta underwent a regime change and isn't expected to make the playoffs again this year, and Carolina looks to be a year or two away from Matt Rhule took over as head coach last year, and is in search of a new quarterback to replace Teddy Bridgewater.
Explaining The Bucs Battle Plans For The 2021 Offseason
PewterReport.com writers Scott Reynolds, Mark Cook, Jon Ledyard, Matt Matera and Taylor Jenkins  have devised their own Bucs Battle Plans For The 2021 Offseason that feature free agent signings, trades, roster moves and draft picks designed to help Tampa Bay repeat as Super Bowl champions. Here's my Bucs Battle Plan – let me know what you think of it in the comments section below.
Remember, these Bucs Battle Plans are how the PewterReport.com staff members would reshape the team this offseason – not necessarily what we think Tampa Bay will do in free agency and the draft, although there could be some overlap with certain players the team may be targeting.
The big challenge regarding this year's Bucs Battle Plan is that the 2021 salary cap hasn't been set yet, although it's expected to be between $180-$185 million, which is a decrease of about $13-$18 million from the $198 million in 2020 due to the lost stadium revenue from COVID-19. Tampa Bay has between $11 million and $19 million in available salary cap room between OverTheCap.com and Spotrac.com.
Licht and Greenberg can create a good deal of salary cap space by doing restructures to the contracts of wide receiver Mike Evans and left guard Ali Marpet, and the team can also extend the contracts of Brady, left tackle Donovan Smith and center Ryan Jensen. We're going to assume for all of this year's Bucs Battle Plans that Greenberg and Licht will make some or all of these moves to clear a substantial amount of room, so we won't be committed to clearing a certain amount of salary cap space in this year's free agency period due to the uncertainty.
Cook's Bucs Battle Plan For The 2021 Offseason
Like Scott Reynolds,  I try to to be reasonable and realistic, trying to project what Licht would or could do instead of playing fantasy football or overriding trades and salary cap management in video game football. In this Battle Plan, I am not necessarily looking down the road but instead focused on keeping the team together and throwing a band-aid over the very few weak spots on the roster, in hopes of repeating as Super Bowl champs.  So I'm going to re-sign many of the team's free agents, add a few new pieces in free agency and fill in the holes with the 2021 NFL Draft.
Bucs' Pay Cuts
In order to complete my plan I will need to free up come cash and part of that will come at the expense of tight end Cameron Brate and defensive lineman William Gholston, who will both have to take a 50 percent decrease in order to stay with the team.  The total savings for both will give the team an additional $6 million in cap money.
Use The Franchise Tag On Godwin
After using the franchise tag on Barrett last year, I will use the franchise tag on Godwin this season, as the value of the tag is around $16 million. I will still attempt to work out a long-term deal prior to training camp as it could save the team millions in money if Godwin has the season I expect him to in 2021. The numbers he could reach this season would push him in Top 5 receiver money for 2022 as a free agent.
Unrestricted Free Agent Re-signings
ILB Lavonte David – 3-year deal, $45 million
The Bucs can't allow David to leave. While Devin White might be the emotional leader of the defense, it is David who is the heart of soul of that side of the ball.
OLB Shaquil Barrett – 4-year deal, $66 million
Barrett gets the payday he has wanted since the end of last season with a new deal that averages $16.5 million per year. Other teams offer a little more but Barrett knows where his bread is buttered.
DT Ndamukong Suh – 1-year deal, $5 million
Suh doesn't need to play another year, but the lure of  a chance to win another Super Bowl will be too strong to resist and he agrees to a deal for a little less than last season's salary.
TE Rob Gronkowski – 1-year deal, $5.75 million 
Like Suh, the chance to win another ring will keep Gronkowski motivated to play another season and having Tom Brady as his quarterback doesn't hurt.
QB Blaine Gabbert – 2-year deal, $4 million
The Buccaneers need a solid backup and with Gabbert's familiarity with the offense and relationship with Brady, Gabbert is back in his backup role for two more years.
K Ryan Succop –2-year deal, $6.5 million
One of the biggest issues the Bucs have had over the last decade was inconsistent kicking, and Succop solved it in 2020. He is still a kicker however, and could fall off the face of the Earth at any point, but for now he is rewarded.
T Josh Wells – 2 year deal, $2.5 million
Wells doesn't move the needle for me, but it isn't like there are free agents out there who you could afford to bring in with experience in the current offense.
CB Ross Cockrell – 2-year deal, $3.5 million
Steady, smart and dependable. Not flashy but he gets the job done and earned a new deal with solid play in relief in 2020.
LB Kevin Minter – 2-year, $2 million
Minter is more valuable than most people realize and is great in the locker room as well.
CB Ryan Smith – 1-year, $1.5 million
You hope he isn't pressed into duty as a long-term starter but his value on special teams gets Smith a new deal for a least the 2021 season.
QB Ryan Griffin – 1-year, $1.15 million
The Bucs can't really afford a third quarterback at a veteran salary to hold a clipboard in shorts and a ball cap on Sundays but with Brady to miss the offseason recovering from surgery the Bucs will need Griffin's arm at least until the start of the year.
Unrestricted Free Agents Not Re-signed
RB Leonard Fournette
With his late season and playoff performance, Fournette played him out of the Bucs' preferred price range.
WR Antonio Brown
Not a fan of the man but I wish him well and hope he continues to keep his life on track, just not in Tampa Bay.
TE Antony Auclair
I am not opposed to bringing Auclair back but in a crowded room it would be a luxury the Bucs can't afford to have a fifth tight end who doesn't dress on the roster.
OT Joe Haeg
The Bucs should have kept Demar Dotson. Haeg wasn't impressive as a starter although he was decent when the team used an extra lineman down the stretch as a blocking tight end and could be brought back in an emergency if needed.
RB LeSean McCoy
We've all pushed our gas tank a little too far and ended up on the side of the road waiting on help. McCoy's gas tank was on fumes when the Bucs signed him last spring.
RB T.J. Logan
Good guy but doesn't bring enough value to the table to even sign to a veteran minimum salary.
DL Steve McLendon
The 35-year old McLendon likely is headed off to the beach and retirement after coming to the Bucs to fill in for Vita Vea after his injury.
DT Rakeem Nunez-Roches
I would like to bring Nunez-Roches back in 2021 but he likely finds a little more money on the open market than what the Bucs want to pay.
FS Andrew Adams
Adams was a solid backup and overall great guy and could be brought back for train camp to compete for the fourth safety job, but for now is allowed to test the waters.
LB Deone Bucannon
Enjoy your ring, young man, and if things change you might get a call like you did late last season.
LB Jack Cichy
You can't make the club in the tub. Unfortunately for Cichy he can't seem to stay healthy for a full season.
New Unrestricted Free Agents Signed
RB James White – 2-year deal, $7 million
With an expected departure of Leonard Fournette, the Buccaneers will need a veteran presence in the running back room and White provides that along with a rapport with Brady who was his quarterback in New England and the two have an established chemistry. White immediately becomes the most versatile running back on the roster and will get from underneath the gloomy shadow – and weather – of New England.
DT Gerald McCoy – 1-year, $3.25 million
The Buccaneers might have slightly preferred Ndamukong Suh in the NFL Draft back in 2010 but ended up with McCoy instead, now they have both for the 2021 season and provide a heck of 1-2 punch with Suh's strong bull rush and McCoy's quick get off that will keep opposing guards and centers off balance. And McCoy will finally get a taste of the postseason for the first time in his NFL career.
G/T Germain Ifedi – 2-year deal, $4.5 million
Ifedi has seen his share of struggles since being a first-round draft pick in 2016 NFL Draft. Penalties have been is biggest concern but Harold Goodwin and Joe Gilbert will get that corrected and Ifedi gives the Bucs a decent backup guard and a tackle in a pinch in case of injury. And with a hopefully healthy O.J. Howard back in the lineup the need for an extra offensive lineman, a role that Joe Haeg fell into after the bye week in 2020, pretty much goes away.
Restricted Rights Free Agents Re-signed
G Aaron Stinnie – 1-year deal, $2.133 million
Stinnie proved his worth in the playoffs making three solid starts for an injured Alex Cappa.
Exclusive Rights Free Agents Re-signed
TE Tanner Hudson – 1-year deal, $850,000
This is a big year for Hudson who has shown a ton of potential in the preseason but has yet to translate it to the regular season. Of course Hudson has had very few opportunities, but in limited action he's been mediocre at best. That potential is intriguing enough to gamble on for less than $1 million.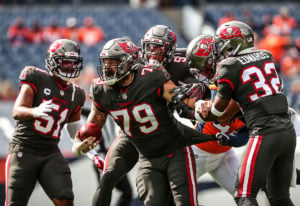 DL Patrick O'Connor – 1-year deal, $850,000
O'Connor seems like he's been round for years and every season we count him yet somehow he sticks around. As primarily a special teams standout he is coming back in 2021.
DL Jeremiah Ledbetter – 1-year deal, $850,000
Sign him and let him come in and compete. Ledbetter was showing flashes in 2019's training camp before an injury derailed his season. Maybe this is the year he can break through.
LS Zach Triner – 1-year deal, $850,000
When you finally find a kicker who performed at the success rate of Succop last season, you don't rock the boat with the holder or the person snapping the ball. Triner is back and in turn the kicking woes are a thing of the past.
Cook's 2021 Bucs Draft Picks
Round 1 – Alabama RB Najee Harris
Senior • 6-2, 230
Harris could very well be off the board by the time the Bucs draft, and while I normally wouldn't take a running back in the first round, at No. 32 and with the Buccaneers not needing an impact starter necessarily, Harris would be a great fit and selection for Tampa Bay. Harris runs with power but can make guys miss despite a 230-pound frame. Add in his ability to catch the ball and his Tuscaloosa pedigree, and Harris will be NFL-ready the day he arrives in Tampa Bay. With 1,466 yards on the ground plus another 425 as a receiver and 30 total touchdowns in 2020, Harris is a no-brainer if he's still on the board and makes the Bucs offense even more dangerous.
Round 2 –Washington OLB Joe Tryon
Junior • 6-5, 262
Tryon has almost all the traits NFL teams are looking for and can play standing up or with his hand in the dirt equally effectively. Scouts love his loose hips and overall athleticism and most believe with solid NFL coaching he is far from reaching his ceiling as a football player. Blessed with a perfect blend of height, length and speed, the only thing keeping him out of the first round is basically just one year of production as he sat out the 2020 campaign due to COVID-19. Tryon would be the perfect fit to learn and work in on a rotational basis behind Shaq Barrett and Jason Pierre-Paul in Todd Bowles' aggressive scheme.
Round 3 – Alabama ILB Dylan Moses
Senior • 6-3, 240

Moses isn't Devin White, but the Bucs don't need him to be. Moses' 2020 production wasn't as good as expected but part of the reason could have been mental after a devastating ACL injury that ended his 2019 season. With another year recovered and teammates like White and Lavonte David, plus good coaching, Moses could end up being David's eventually replacement one day. Moses is a quick-twitch, sure-tackling linebacker who physically can be a productive NFL starter in the NFL. Add in a quick burst off the edge when called on to blitz and Moses could excel in Bowles' scheme.
 Round 4- Ohio State C Josh Myers
Junior • 6-5, 312
Myers wouldn't be an ideal fit in a primarily zone-blocking scheme as he doesn't have great skill to get to the second level, but inside the "phone booth" he will battle you till the end. Boxy, smart and tough, Myers would be a good fit to sit behind Ryan Jensen for a couple seasons while also learning both guard spots to increase his value go the team. Myers helped lead the Buckeyes to two straight playoff appearances and also helped J.K. Dobbins eclipse 2,000 yards on the ground in 2019.
Round 5 – Florida State OLB Janarius Robinson
Junior • 6-5, 265

Y'all didn't think I would really do a whole mock draft and not include a Seminole did you? Robinson was hindered by questionable coaching at Florida State but all his measurables scream potential. As a sophomore, Robinson appeared in all 13 games with 11 starts with recorded 48 tackles, including nine for loss with three sacks, two forced fumbles, two fumble recoveries, three quarterback hurries and one pass breakup. He also had a great showing in the Senior Bowl with five tackles and 1.5 sacks. Robinson, like Tryon wouldn't be forced into instant duty in Tampa Bay and could work on his raw moves and counter moves while continuing to get stronger.
Round 7– Florida CB Marco Wilson
Junior • 6-0, 190
And for good measure I also included a Gator in my draft as well. Wilson has experience on both the outside and in the slot, making him more valuable. It would be an uphill climb for Wilson to make the roster for the Buccaneers but by all accounts he is a smart, tough player who just needs time to perfect and work on technique, particularly hand placement. Wilson also was very good at Florida coming off the edge as a blitzer and is physical enough to be a decent tackler at the next level. He started 34 games for the Gators over his career and led the team with 10 pass breakups in 2018. Unfortunately for Wilson, his junior season wasn't very good and his most memorable highlight was a shoe-throwing incident against LSU that cost them the game as it resulted in a big unsportsmanlike conduct penalty.
Round 7 – Pick Traded To Miami for 2022 sixth-rounder
Cooks' "Way Too Early" Bucs' 53-Man Roster Projection
Quarterbacks – 2
QB Tom Brady
QB Blaine Gabbert
Analysis: As long as Brady stays healthy it doesn't matter who is behind him. The Bucs like Gabbert in the event of an emergency, and I can see the Bucs having just two quarterbacks on the 53-man roster and a young player on the practice squad.
Running Backs – 4
RB Ronald Jones II
RB Najee Harris
RB James White
RB Ke'Shawn Vaughn
Analysis: The Bucs love the addition of the veteran White, but really like Harris, who they foresee as becoming a true three-down running back before too long, making Jones expendable after this season when his contract is up.
Wide Receivers – 6
WR Mike Evans
WR Chris Godwin
WR Scotty Miller
WR Tyler Johnson
WR Justin Watson
WR Jaydon Mickens
Analysis: Evans and Godwin are as good as any two receiving teammates in the NFL and their numbers will only be better in 2021 after a year under their belt with Brady. The depth behind the duo also looks solid.
Tight Ends – 4
TE Rob Gronkowski
TE O.J. Howard
TE Cameron Brate
TE Tanner Hudson
Analysis: There isn't a better 1-4 tight end group in the league as long as everyone stays healthy. Getting Howard back will allow Gronkowski to not take such a beating as a blocker and hold keep him fresher as a receiver as well.
Offensive Line – 9
LT Donovan Smith
LG Ali Marpet
C Ryan Jensen
RG Alex Cappa
RT Tristan Wirfs
G-T Germain Ifedi
G-T John Molchon
C-G Aaron Stinnie
C-G Josh Myers
Analysis: The five main starters all return and there is no reason to think they can't be just as good as they were to finish the season. They also will have better depth with Stinnie getting significant and important playing time.
Defensive Line – 6
DE Will Gholston
NT Vita Vea
DT Ndamukong Suh
NT Khalil Davis
DT Gerald McCoy
DE Pat O'Connor
Analysis: A good groups gets even better with McCoy joining the rotation. The team will need to rebuild the unit in 2022 most likely but have the Bucs' centerpiece already with Vea.
Outside Linebackers – 5
OLB Shaquil Barrett
OLB Jason Pierre-Paul
OLB Joe Tryon
OLB Anthony Nelson
OLB Janarius Robinson
Analysis: Can Barrett and Pierre-Paul stay healthy for a full season as they did pretty much for the most part in 2020? Hopefully the newcomers can spell the pass rushing duo and preserve them for what the team hopes is another deep playoff run.
Inside Linebackers – 4
ILB Devin White
ILB Lavonte David
ILB Dylan Moses
ILB Kevin Minter
Analysis: The best linebacking duo will be back to lead the Bucs defense and will have a couple of solid backups as well behind them. White should make the jump to the Pro Bowl in 2021.
Cornerbacks – 6
CB Carlton Davis
CB Jamel Dean
CB Sean Murphy-Bunting
CB Ross Cockrell
CB Marco Wilson
CB Ryan Smith
Analysis: A young group continues to grow and get better in 2021 and shouldn't have the same growing pains we saw in the first part of last season.
Safeties – 4
FS Mike Edwards
SS Antoine Winfield Jr.
SS Jordan Whitehead
SS Javon Hagan
Analysis: The only difference is Hagan replaces Adams as this group also continues to grow and get better, something that has to be scary to opposing offensive coordinators.
Special Teams – 3
K Ryan Succop
P Bradley Pinion
LS Zach Triner
Analysis: Solid times three. Succop should continue to be one of the best in the NFL, while Pinion keeps punting and kicking off as well as anyone in the division.
What Did You Think?
Did you like my Bucs Battle Plan for the 2021 offseason? Does it adequately address Tampa Bay's needs? Which additions did you like best? Let me know what you think in the article comments section below.
Help support our efforts here at PewterReport.com by becoming a Pewter Report Donor for as little as $10 for a one-time donation or only $3 per month as a regular donor. We accept all forms of credit card payment in addition to PayPal donations. Click here to support your favorite Bucs website.
PEWTER REPORT'S BUCS BATTLE PLAN SERIES
Scott Reynolds' Bucs Battle Plan For The 2021 Offseason
Share On Socials