We've extensively covered the few befuddling tendencies of Todd Bowles' defense this season, but one we haven't touched on yet is the propensity Bowles has for dropping his edge defenders into coverage this season. It hasn't worked out well for the Bucs defense on multiple occasions, but Bowles still hasn't deviated from the strategy.
Jason Pierre-Paul and Shaq Barrett are tied for ninth amongst all edge defenders in coverage snaps, with 50 apiece. That rank goes up when you eliminate from the list situational edge rushers who are rush/coverage specialists. Amongst all edge defenders who have played over 400 snaps this season, the Bucs duo is tied for fourth-most coverage snaps, behind only Kyler Fackrell, Harold Landry and Brian Burns.
Seeing Pierre-Paul and Barrett in the same cluster of coverage edge defenders as Fackrell (a former off-ball linebacker) and the ultra-athletic Landry and Burns is head-scratching enough, but even more so when comparing it to the way Bowles deployed the outside linebackers just a year ago.
During the 2019 season, Barrett played all 16 games and dropped into coverage a total of 56 times. He's already nearly eclipsed that this season, and the Bucs have only played nine game! The numbers are even more egregious for Pierre-Paul, who was in coverage just 11 times in the ten games he played last season. In his entire career, Pierre-Paul had never dropped more than 26 times in a single season. Now, at nearly 32 years old and having suffered multiple significant injuries, Bowles has him on pace for nearly 100 coverage reps this season.
On paper, the idea of playing two edge rushers who lack elite athleticism and coverage experience in space is just strange. But when study the game tapes and see how both players have been victimized in coverage, it makes the lack of adjustments by Bowles look even more puzzling.
Pierre-Paul's coverage reps look so ugly that it's almost humorous that he's still being deployed this way. He clearly isn't built to play in space, as he doesn't have the lateral agility to change directions or speed to run down faster ball carriers. This is the easiest 11 yards Darius Slayton will ever get in the NFL.
Some will point to Pierre-Paul's dropped interception against the Saints as a sign of his promise in coverage, but in my mind the play is further evidence of why he shouldn't be dropping more than a couple times a season. Pierre-Paul is juked out so badly by Alvin Kamara's release that he nearly falls down in coverage.
Drew Brees inexplicably throws the ball right to Pierre-Paul as he stands back up, but had this pass been accurate, Kamara has a good chance of scoring a touchdown. If Pierre-Paul can't even cover in the flat, where can he cover?
The simple answer is nowhere. The Saints biggest offensive play of the game came when Pierre-Paul didn't get enough depth in his zone while dropping off the edge. He looks like he's moving on stilts.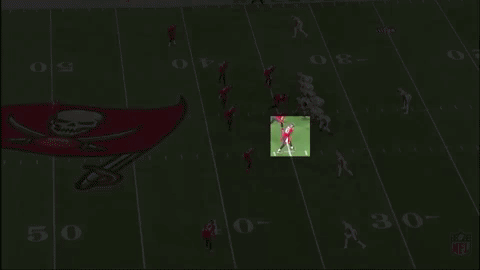 Again, this isn't meant to be a rip session on Pierre-Paul. Even at his healthiest, he's never been the type of edge defender to drop into coverage and be effective. It's a classic mis-use of a player's skill set in a way that gives Pierre-Paul very little chance to be successful. On the season, Pierre-Paul has been targeted ten times for eight catches and 102 yards, surrendering about 13 yards per catch, per Pro Football Focus.
The numbers are similarly ugly for Barrett, who has surrendered catches on all nine of his targeted reps this season for 101 yards per Pro Football Focus. Barrett is a little better suited to drop into coverage than Pierre-Paul, but at a clip of 5.5 times a game? No thank you.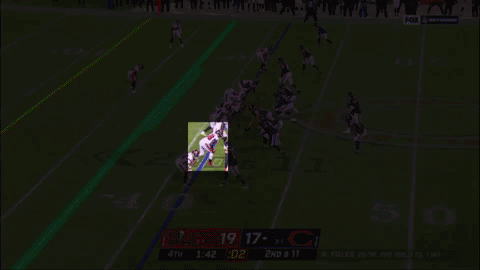 This was essentially the game-winning play for the Bears, on which Bowles trusted an edge defender to match up with a running back on a wheel route out of the backfield. The downfield pick by Allen Robinson didn't help, but Barrett was already losing this footrace with David Montgomery.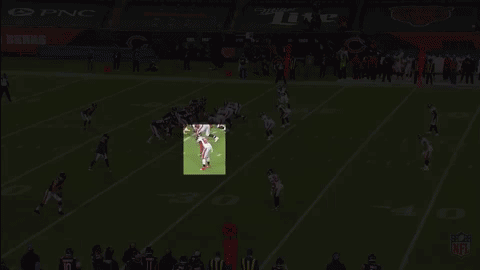 I think Barrett actually plays this one pretty well since he has to be able to defend the flat and sink on anything vertical. But asking this of your edge defender in coverage? That's a bit much. Barrett simply can't drop fast enough once he sees Nick Foles trying to throw over his head.
The reason Bowles is doing this is because it gives him another wrinkle to throw at teams when it comes to creating pressure. Barrett and Pierre-Paul drop as part of blitz packages, and as a change-up pitch, I don't mind that at all. The problem is the rate at which Bowles' has gone to that well is putting both players in unenviable positions far too often this season.
Coaching isn't just about having good ideas and scheme, it's also about using your players to the best of their abilities, putting them in positions where they can win. With his deployment of the Bucs edge defenders this season, Bowles hasn't done that. Both Barrett and Pierre-Paul are on pace to log nearly 100 snaps apiece in pass coverage in 2020. If that doesn't change, the Bucs will continue to pay the price on defense.
Share On Socials