Expected Points Added, or EPA, is a statistic that was created to measure the value of each play during a football game in terms of points. EPA is essentially trying to put a value on how many points a team can expect to gain based on the result of an individual play, while taking the down-and-distance and the team's field position into account.
For example, a 5-yard run from the 50-yard line on first-and-10 is weighed differently than a 5-yard run inside the opponents 10-yard line on third-and-2.
You can read all about Expected Points Added here, including examples.
Below are the Bucs' highest-valued plays by Expected Points Added, per rbsdm.com by Ben Baldwin, from their Week 2 match-up against the Carolina Panthers.
Jordan Whitehead, Interception: 5.4 EPA
This play happened on the Panthers' first offensive drive of the game after driving from their own 29-yard line to just outside of the Bucs' red zone. On first-and-10 from the Bucs' 22-yard line, quarterback Teddy Bridgewater dropped back and threw a screen pass intended for running back Christian McCaffrey. The pass was overthrown and intercepted by Whitehead, at the Tampa Bay 22-yard line.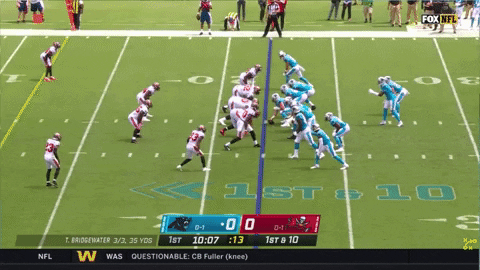 Antoine Winfield Jr., Forced Fumble: 5.2 EPA
Later in the first quarter, Tampa Bay ended Carolina's second drive with their second forced turnover of the game. On a second-and-7 play Bridgewater dropped back and the Bucs sent pressure with Winfield off of the edge. Winfield was able to get to Bridgewater and force a fumble that was ultimately recovered by Jason Pierre-Paul and returned six yards to the Carolina 23-yard line.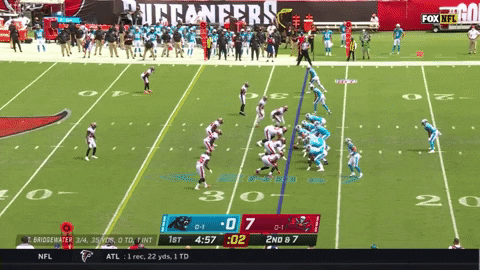 Leonard Fournette, 46-Yard TD Run: 4.6 EPA
After answering a Tampa Bay field goal with one of their own, Carolina was able to bring the game within seven points following the two-minute warning. Tight end Rob Gronkowski then secured the Panthers' onside kick attempt and on the first play of the Bucs' ensuing drive, with 1:56 remaining, Fournette broke free up the middle for a 46-yard touchdown run to give the Bucs a 31-17 lead.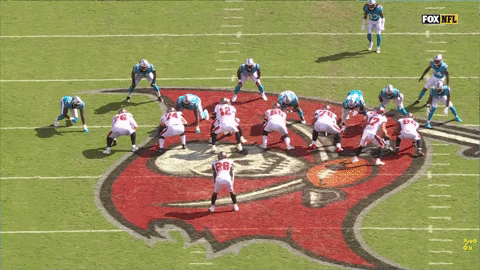 Tom Brady/Mike Evans, 50-Yard Reception: 4.0 EPA
On Tampa Bay's second drive of the game, facing a second-and-14 from their own 29-yard line following an illegal block in the back penalty from center Ryan Jensen, Brady connected with Evans for a 50-yard reception down to the Panthers' 21-yard line.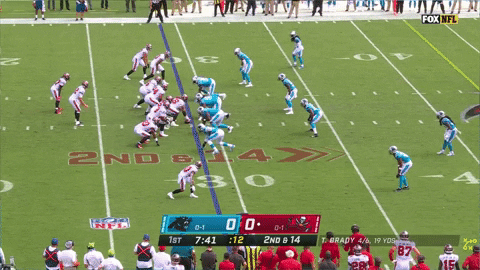 Lavonte David, Fumble Recovery: 3.9 EPA
Two plays into the Panthers' first drive of the second half, trailing 21-0, the Bucs came up with their third turnover of the game. Starting at their own 21-yard line on second-and-14, Bridgewater connected with receiver Robby Anderson for a short gain. The play was initially ruled down by contact, but after a Tampa Bay challenge, it was ruled that David forced the fumble before the receiver was down and recovered it at the Carolina 27-yard line.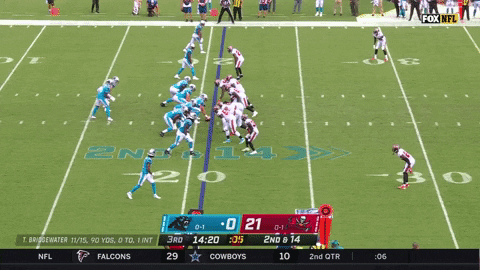 Here is an alternate angle of the forced fumble.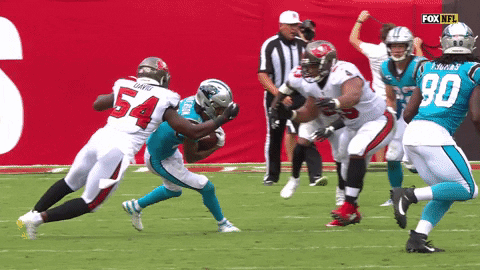 Carlton Davis, Interception: 3.3 EPA
With Carolina trailing 21-14 after scoring touchdowns on two consecutive drives to close the gap to just seven points, Davis was able to nab his second career interception and the Bucs' fourth and final turnover of the day. Backed up on a second-and-17 play from the Carolina 44-yard line, Bridgewater fired a pass downfield for receiver D.J. Moore, but the throw was just off target and Davis took advantage for the interception, returning it two yards to the Tampa Bay 40-yard line.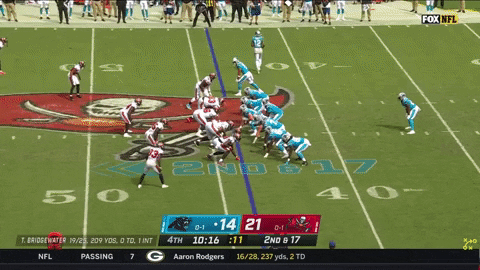 Here is an alternate angle of the interception.