Before you break out the champagne on the Bucs' signing of former fourth overall pick Leonard Fournette on Wednesday evening, celebrating the two-time 1,000-yard rusher as the answer to Tampa Bay's annual lack of a feature back, consider a few things with me.
First, Leonard Fournette is not as impactful in the passing game as his traditional stats might indicate.
Second, Leonard Fournette has consistently been one of the worst pass-protecting backs in the NFL, a role Bruce Arians has described as essential for running backs in the Bucs offensive scheme.
Third, these limitations can and should limit Fournette's opportunity to make an impact in Tampa Bay, because we have a large sample size of him in both receiving and pass protection that tells us that impact will be more negative than positive to the team.
Pass Protection
According to Pro Football Focus, Fournette received the eighth-most pass protection snaps of any back in the NFL last year with 83, yet posted the site's sixth-worst grade out of 58 qualifying backs.
Although he didn't have as many opportunities in pass protection in 2017 or 2018, Fournette's grades were still among the worst in the league during those seasons as well. Even if you don't accept PFF grades as gospel, consistently grading near the bottom of the league is a strong indicator you won't be a net positive in that area moving forward. How much of a detriment Fournette could be in pass protection if he's given as much opportunity in that role as he was last season is where the concern should lie.
A look at Fournette's tape confirmed the concerns PFF indicated in their grading.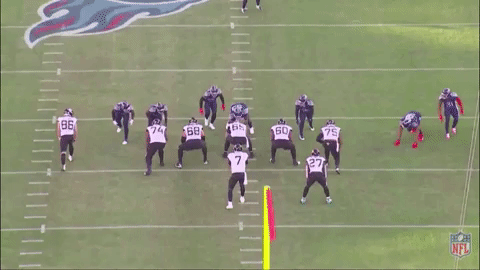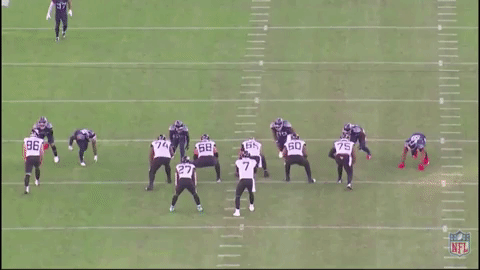 There's a myriad of issues with Fournette in pass protection, but it starts and ends with technique. Getting square to rushers, anticipating their movements in order to counter, staying under control, not lunging to land a punch. Fournette is basically out there throwing himself at NFL defenders right now, and it's not a recipe for success.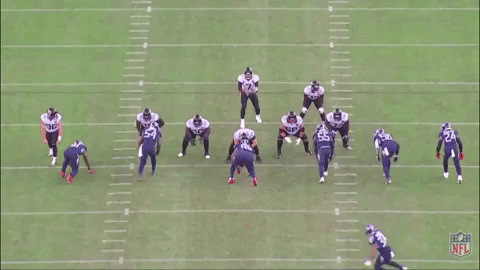 Fournette overcommits on the blitzing defensive back, getting off balance and allowing the opponent to slip by him for a near strip-sack. Rather than landing a knockout punch, Fournette needs to sustain his block and run the defender up the arc if he tries to corner.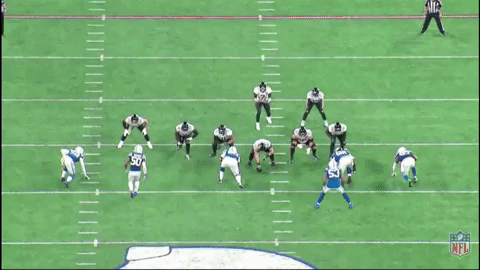 I noticed a few mental mistakes by Fournette too. Here the Jaguars have the left guard, left tackle and Fournette in place to block the weakside 3-tech, edge defender and off-ball linebacker if he comes. Instead of picking up the linebacker, Fournette steps into the A-gap and muddies the whole thing up, leaving Darius Leonard free to get a shot in on his quarterback.
I was pleased to see Fournette's effort and desire to be physical in pass protection, but he needs considerable work in his blitz pickup, from a technical and mental standpoint. Given that Tampa Bay doesn't really have a go-to back in pass protection, it would have been nice to land an impact player in this area, considering how often Arians has emphasized its' importance.
Receiving
Many will look at Fournette's team-leading 76 receptions from a year ago and think he was a great receiving back, but don't be fooled by traditional stats. While Fournette did see a heavy volume of targets (4th-most amongst running backs) and receptions (5th-most) in the short passing game, his average of 6.87 yards per reception was 47th out of 61 backs with 20 or more targets. That is not the type of player you want to be getting 100 targets in your offense.
The biggest issue with Fournette is that, despite his size and speed, he's simply not a creator with the ball in his hands. He's not particularly elusive, and he goes down far easier on first contact than you'd expect for a big back. Fournette also rarely plays fast, which allows him to be an easier target for tacklers in the open field, as they don't feel challenged in their pursuit angles. He's just an uninspiring player in space and he struggled to get open against man coverage when the team moved him into the slot.
In a terrific article for SI Maven's Jaguar Report, Gus Logue uses data from NFLscrapR to show that, during his best statistical season, Fournette was still actually a negative in Jacksonville's passing attack. Logue points out that Fournette's EPA (expected points added) per target was actually -0.19, indicating that his involvement in the Jaguars' passing game actually worsened the team's chances to score because of how inefficient he was.
This is less of a concern in Tampa Bay, because Fournette won't see nearly the same volume of opportunity or touches in the passing game as he did in Jacksonville. It doesn't hurt the Bucs at all if they get to the end of the season and Fournette hasn't made an impact as a receiving back, because they have so many superior weapons anyway in the passing game.
It does make Fournette's signing more difficult to justify however, because teams should always be valuing pass game impact in running backs above everything else. That being said, Fournette was better (adequate) as a more ancillary option in the passing game his first two years in Jacksonville, so he's not completely hopeless in this regard, or incapable of playing on third downs. He's simply not a desirable option in the passing game, so limiting his opportunities would be in Tampa Bay's best interest, especially given their host of other weapons.
I'll have more on Fournette's impact on the Bucs' ground game later in the week, but Bucs fans should have minimal expectations for Fournette's skill set on long and late downs. We've already seen a large sample size of Fournette as a featured receiver in an offense that asked him to do a lot, and the results were below average-to-poor.
Fournette is better off being utilized for what he is – a north-south runner who can be a good short yardage/protect-the-lead back with the hope that his red zone work rebounds from an abysmal campaign a year ago (more on that later this week). He's not going to help the Bucs out much as a receiver or as a pass protector, so hopefully they don't ask him to.
Share On Socials