Last week we had our first mock draft with a top 10 appearance for Alabama RB Najee Harris over on NFL.com , and while I think that is highly unlikely to actually happen on April 29, I thought it might be fun to run through some running back scenarios for the Bucs if Harris and Clemson RB Travis Etienne are off the board before the Bucs pick in Round 1.
In the event this happens, I have a Plan A and a Plan B.
Plan A: Draft one of the UNC RBs
Plan B: Draft the other UNC RB
Simple, right?
If the Bucs miss out on Etienne and Harris, they need to find a way to come away with one of the two UNC running backs that should still be on the board at No. 32, either Javonte Williams or Michael Carter.
Before we talk about who will or won't be on the board or who is good value at No. 32, let's talk about the skill sets of these two absolute studs from UNC.
Scott Reynolds mocked Williams to the Bucs at No. 32 in our first 7-round Bucs mock draft a couple weeks ago, so you probably already know a little bit about him. Over 2,000 rushing yards over the past two seasons, while catching 42 balls for just under 500 yards, averaging 11.5 yards per catch as a running back. Wild stuff.
It all stems from the fact that Williams has a well-muscled, indestructible 220-pound frame. He is simply built exactly how a running back should be built, and that frame helps him weather hits, dish out punishment and rarely lose his balance.
Contact balance like Williams' does not come along every draft. Evaluators often try to tab big backs in each draft as "hard to tackle", but most of the time that's an eyeball physical assessment and not grounded in the realities of the tape. If they broke tackles in college it was mostly due to a size and strength advantage that quickly diminishes when a back reaches the NFL. But for Williams, its' his balance and aggression that shine greater than his size and strength, although being 220 pounds does help his projection to the NFL. He combines a nasty temperament with his natural traits to be a load to bring down one-on-one.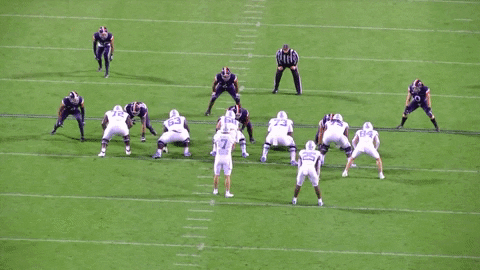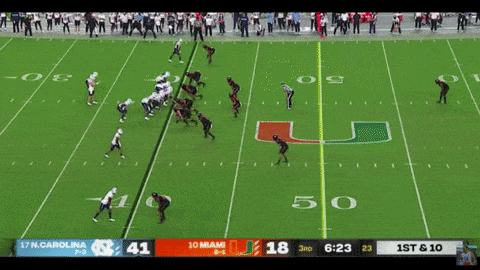 Williams shines in other areas – he has good vision and patience as a runner, and his routes out of the backfield look clean on tape – but when you can consistently break tackles and refuse to be brought down one-on-one, it makes every touch you get in a game that much more valuable. Where the Bucs backs were some of the most unproductive in the league after the catch this season, Williams would be a huge upgrade. I can't recall ever scouting a college back that broke tackles with the regularity and dominance that Williams does. It's amazing.
He's not perfect in pass protection, but for a college back it's actually incredible to watch how physical he is as a blocker. Williams occasionally drops his eyes just before contact at times, but if he can fix that one little flaw, he can sustain his peak blocks more often. And his peak blocks are completely insane.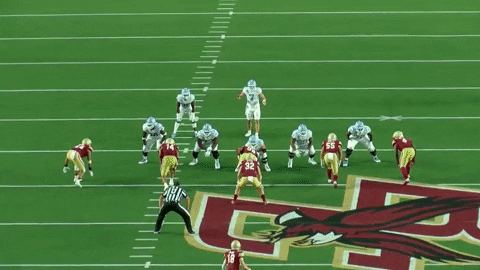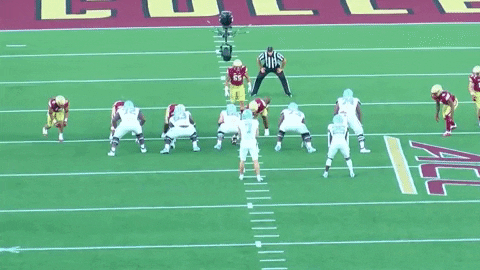 Play No. 1: Destroy a linebacker in the gap with one of the most dominant pancakes I've ever seen.
Play No. 2: Fit up on a defensive end one-on-one in space with a full line slide away from you.
Ridiculous stuff.
Carter is no slouch as a pass protector either. Yes, the reality of being 5-9, 200 pounds catches up with Carter on occasion…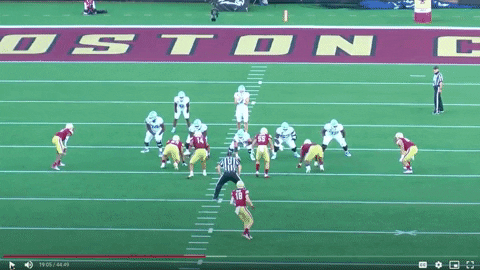 But the vast majority of the time on tape, Carter was exceptional in pass protection. He has great technique, balance and aggression, you just get concerned when the other guy is coming full speed and out-weighs him by 30-40 pounds. Carter dealt with that issue all throughout college however, and in the four games I studied, the rep above was the only negative I saw in pass protection from the senior running back.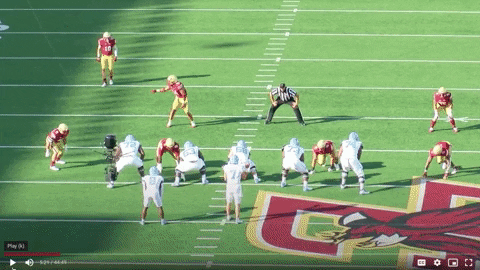 Great eyes and football IQ here, seeing the guard is going to be late getting back inside to pick up the looper on this game, so Carter steps in with a textbook block to save the day.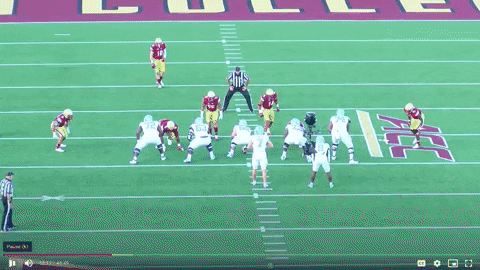 Four-man slide, linebacker right up the B-gap with plenty of space to work with, but Carter steps up and handles him. Again, this is stuff you don't often see in college, even from high-end running backs. Protection gets more complicated from the neck up in the NFL, but both Williams and Carter have the demeanor and the strength to be strong contributors in that area if they can grasp the mental processing aspect of it too. Their college tape indicates they should have minimal issues.
As runners, Williams and Carter differ, but both can dabble in the other's arena too. Williams is clearly the more impressive north-south runner, but Carter has very good balance through contact too, especially considering he's a smaller back. He shrugged off tacklers consistently in college, showing off the power needed to thrive in the NFL as an undersized ball carrier. Carter's real game is east-west however, as he was an excellent one-cut runner that constantly made tacklers miss in the open field.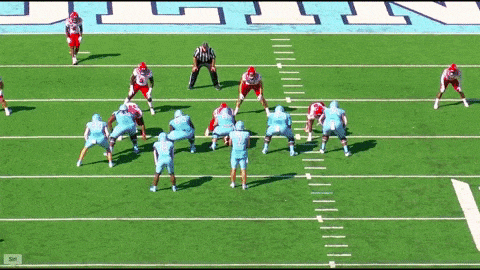 Although Carter is elusive, I would argue he's more of an instinctive runner than a human joystick. He anticipates and times his cuts well to elude tacklers despite not having the lightning fast feet of some of the elite backs in the NFL. Still, it's an admirable trait that will help Carter greatly at the next level, especially as a route runner where it could translate the best.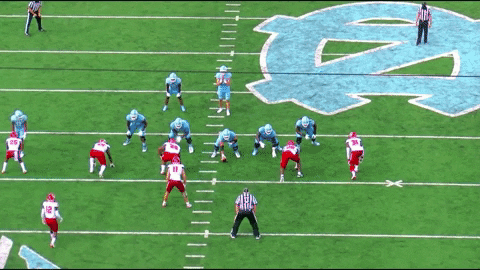 Great Texas route here by Carter. Quick setup on the linebacker in space, then explode out of the cut to dust his defender in coverage. North Carolina's offense featured a lot of routes for their running backs, including angles, wheels, seams and swings, stuff that will translate quickly to the NFL. Both North Carolina backs were impressive in the passing game, but Carter probably has a slight edge in ball skills, while Williams is better after the catch (because he's not human).
Now, one aspect that might make a transition to the Bucs offense challenging for Williams or Carter is that the Bucs are primarily a duo (gap scheme) based run scheme, while North Carolina's offense is almost all zone and counter runs. Without getting into too much detail, one of the major differences for a back is the footwork, as Tampa Bay's runs mostly start on a north-south plane for the running back, while the Tar Heels' scheme featured a lot of lateral movement at the handoff before making a cut to get downhill.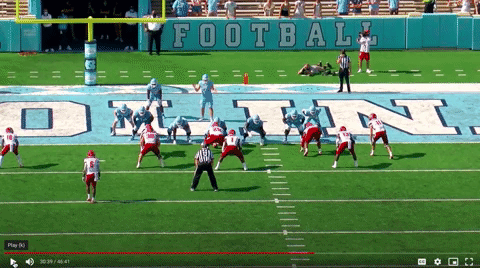 Williams reads the flow of this zone run, sees the linebackers firing and immediately cuts back, running through tackles for a huge gain. It's certainly different footwork and timing than the Bucs run scheme, but college backs have to learn new systems all the time at the next level. It's something to be aware of, but it isn't a major concern to me.
North Carolina often pulled offensive linemen on their gap scheme runs, while the Bucs rarely do. Having said that, the Bucs did pull blockers a little more often over the second half of the season, and they would be wise to continue to do so moving forward. That could add some familiarity for Williams or Carter while they adjust to a duo-heavy run scheme. The Bucs also run some inside zone and split zone, although the footwork and timing will be a little different from UNC's scheme.
But running the ball isn't the most important factor in having Williams or Carter high on the wish list for Tampa Bay. If there are three things the Bucs need from the running back position in 2020, it's ball skills, post-catch playmaking and pass protection. Not only can both North Carolina backs provide those qualities at a high level, but both also have feature running back characteristics, especially Williams. It's a situation the Bucs have to take advantage of if they miss out on Etienne and Harris.
Now, Williams is projected somewhere in the top 50, but it would be surprise to see Carter off the board before that. If the Bucs want Williams, they might need to pull the trigger at No. 32, as trading back into the second round could be dangerous territory with so many running back-needy teams at the top of Round 2. But running back is not the most valuable position early in the draft, so if a quality prospect that can fill a more important role comes along, the Bucs should seize the opportunity.
If the Bucs come up empty on a running back with their first pick and are still looking for help with their second and third round picks, Carter is a nice consolation prize on day two of the draft. He's capable of doing many of the things that Ronald Jones has proven incapable of doing in Bruce Arians' offense, including running crisp routes, consistently catching the ball (one drop last season) and even coming up with the occasional high-point reception down the field.
Make no mistake, running backs are the most replaceable position on the field for all 32 NFL teams. But they still matter, and the Bucs found that out the hard way for much of 2020. After trying to find difference-makers at the running back position all last offseason, the Bucs can finally make it right in April by drafting one of these two Tar Heel studs.
Share On Socials