One of the Bucs' biggest issues against the Chiefs in Week 12 was their response to Kansas City defensive coordinator Steve Spagnuolo's consistent blitzes. Throughout the game Spags sent extra pressure almost 50 percent of the time, and early in the game that pressure had a massive impact on the Bucs' lack of offensive success.
Blitzing is a big part of the Chiefs' defensive identity, deploying the strategy almost 36 percent of the time this season, a Top 10 rate in the league, per Pro Football Reference. The fact that the Bucs were so unprepared for it was probably the biggest reason why they struggled on offense back in Week 12.
Granted, there are plenty of obvious areas that the Bucs can better handle the Chiefs' pressure packages this Sunday that they failed to do in Week 12. Receivers consistently messed up hot routes and backs were very poor in pass protection – issues that could cost them a win in the Super Bowl if they arise again.
Those are obvious player execution flaws that need to be fixed, but there are still things the Bucs can do from a game-planning perspective to deal with the Chiefs' constant array of blitzes. If Tampa Bay's coaches can figure out a better plan of attack to handle Kansas City's creative pass rush, the Bucs' chances of winning will go up significantly in the Super Bowl.
Here's three things Tampa Bay must do on offense to counter the Chiefs' pressure packages.
1. Screens
One of the most important things the Bucs have done since their last loss of the season – to the Chiefs in Week 12 – is to get their seldom-used screen game rolling a bit. Now, their running back and tight end screens still need some work on timing and execution, but some of the ideas in place have come a long way from early in the season when every Tampa Bay screen looked like a complete dumpster fire.
Washington doesn't show pressure on this snap, but just the fact that the Bucs are able to flex their effectiveness in the screen game will make the Chiefs hesitate some before sending the Cover Zero blitzes that were so successful against Tampa Bay in Week 12. You run into a screen on a Zero blitz, and it could be six quick points for the offense. The Bucs' screen game just didn't scare the Chiefs in Week 12, but Tampa Bay's tape since then should give Spags something else to worry about in his defensive game plan.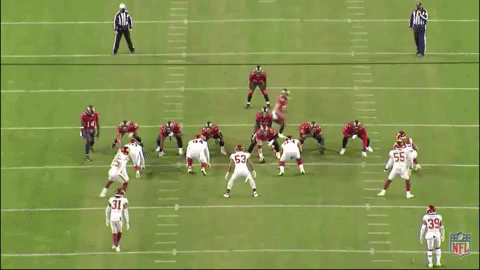 It helps having offensive linemen that are outstanding in space like center Ryan Jensen and left guard Ali Marpet, but the Bucs haven't been able to utilize their outstanding traits on the move this season until recently. Head coach Bruce Arians and offensive coordinator Byron Leftwich's creativity has also come to light in the evolution of Tampa Bay's screen game, as their best play call of the game against Green Bay in the NFC Championship involved a ghost motion by Scotty Miller to draw the defense to the field, before coming back to Rob Gronkowski for 29 yards to the boundary. Slick stuff.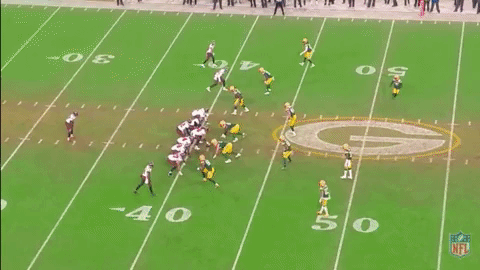 Although the running back screens have improved slightly, the Bucs' wide receiver screens are where their offense has really taken off over the past two months. The bye week following their loss to Kansas City paid dividends for Tampa Bay, as it realized it needs more answers for pressure in its passing attack. Back in Week 15 when the Falcons showed pressure pre-snap in the second half, the Bucs were consistently ready to make them pay with a quick game screen to get their offense rolling.
If wide receiver Antonio Brown returns to the lineup, he'll be a critical addition on these screen concepts, as he's Tampa Bay's most elusive receiver with the ball in his hands, and his presence allows Chris Godwin to move to a blocking role rather than a receiving one, which is helpful given that he's easily the team's best blocking receiver. Brown caught a plethora of screens from Week 14-Week 17, consistently creating after the catch to help the Tampa Bay offense maximize the down.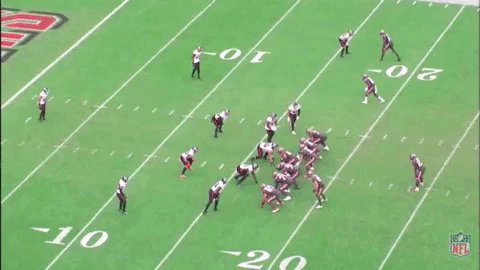 The Falcons show pressure and send a game to attack the right side of the Bucs offensive line, but Tom Brady throws a bubble screen right in behind it, with Godwin and Brown combining to handle the Falcons two defenders and pick up 14 yards.
The Bucs went from having almost no answers to pressure with their screen game in Week 12, to a bunch of different concepts by Super Bowl LV. Tunnel screens, bubble screens, running back screens, fake motion screens … it's an encouraging and critical evolution of the Tampa Bay offense that will need to be on display against Kansas City if the Bucs want to keep Brady's jersey clean all game long.
2. Throw On First Down
This is a good idea regardless of the Chiefs' blitz intentions, but if Spags is planning to send pressure, he's less likely to do it on first down than any other down. The Bucs have been one of the worst rushing teams in the NFL this season, failing to pick up at least four yards on first-and-10 on over 66 percent of their first down rushes, the 23rd-best mark in the league.
The moment the Bucs get two or three yards on first down, they've opened the door for Spags to send the house at Brady, making it harder for an Arians' offense that wants to attack vertically to get clean looks at the deep ball. The Chiefs are a brilliant blitzing team with the ability to send anyone on the field without tipping their hand pre-snap. Their ability to dress up certain looks and send unexpected pressure makes it hard for Brady to decipher the blitz and have time to get off clean looks down the field.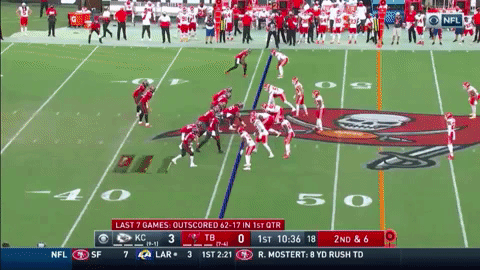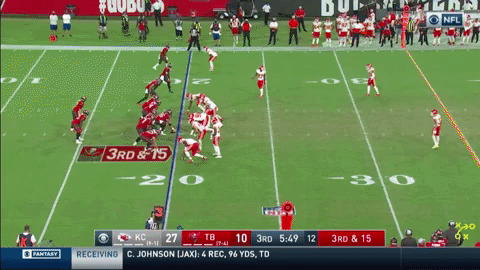 Yes, Brady threw a few deep ball dimes under pressure against Kansas City in Week 12, which is an encouraging sign in a game that I thought he played very well in despite little help from the protection or the scheme. But no quarterback can survive like this all game, and eventually the blitz impacted Brady enough to knock him off-platform on a deep ball to Miller, resulting in an underthrown ball when Ronald Jones II blew his block on Tyrann Mathieu.
It's hard to make high degree of difficulty throws with any sort of regularity when you're getting destroyed as you throw, so it's crucial that the Bucs win first down more often to keep the Chiefs blitzes off of Brady. The best way to defeat a blitz is to face as few reps of it as possible, and Tampa Bay has the opportunity to do that if it change its approach on first down.
That'll be easier said than done however, as Arians and Leftwich have run the ball on first downs in the playoffs an incredible 68.5 percent of the time (not counting two-minute drills, rushes when killing clock or kneel downs), despite a negative EPA (Expected Points Added). On the flip side, the Bucs have the second best EPA of any playoff team on first down pass attempts, better than even Kansas City's offense has been, per RBSDM.com. The biggest reason the Bucs have been victorious despite their offensive approach over the last two games is due to their defense forcing six turnovers, five of which have resulted in Bucs' touchdowns on short fields.
It's highly unlikely the Chiefs commit errors at the same rate, but not impossible. Regardless, the Bucs coaches need to take their aforementioned crucial first down results into account when game-planning for Super Bowl LV. Living in third-and-long against Green Bay's insignificant pass rush and low blitz rate was a situation Brady found a way to win in more often than not, but against Spags and the Chiefs aggressive defensive approach it will be a lot harder to execute cleanly. Winning first down is a huge key to victory.
3. Increase Play-Action Usage Regardless Of The Score
Back in Week 12, the Bucs fell behind 17-0 in the first quarter and almost completely abandoned the play-action passing game. Brady threw just five play-action passes, completing four of them for 83 yards and a touchdown. The Bucs averaged over nine yards more per play-action pass attempt than they did on non-play-action passes, yet hardly did it throughout the game.
That was a critical mistake that Bucs coaches will hopefully be looking to avoid against Kansas City in the Super Bowl. Are you ready for the stat of the year, in regards to the Tampa Bay offense?
Brady was the second-most successful quarterback in the NFL on play-action passes (behind Deshaun Watson) during the 2020 season, averaging 10.2 yards per attempt, including 3.2 yards more per attempt on play-action passes than non play-action passes. That last stat is good enough for the best mark in the NFL. But the Bucs ran play-action on just over 20 percent of Brady's drop-backs, the 33rd highest mark in the league out of 38 qualifying quarterbacks, per Pro Football Focus.
Obviously the Bucs have done enough good in other areas to overcome that game-planning flaw and reach the Super Bowl, but it sure would be nice to pull out a cheat code that boosts your pass game more than any other team in the league for more than five plays a game, especially in the Super Bowl!
One of the big reasons Tampa Bay is so successful on play-action passes is that it opens up opportunities for them to attack the middle of the field, where Brady is especially deadly as a passer. But most importantly it will slow the Chiefs' pass rush, as they read run first and buy Brady an extra half second or two to make a play down the field. Brady is a clean platform thrower of the football, and it's on the Bucs coaching staff to put him in position to succeed in the biggest game of the year.
Not dialing up more play-action passes for the GOAT in the Super Bowl would be a huge mistake, and you have to think the Bucs coaches are aware of that. Given the Bucs' success with play-action passing all season, especially against Kansas City in Week 12, as well as knowing it could help Tampa Bay's pass protection find success against the Chiefs' blitz packages, I'm guessing we see Arians and Leftwich pull out play fakes far more than normal.
Perhaps they'll even challenge their season-high 14 play-action drop-backs against Washington in the wild card game. You remember that game, right? When Brady went 8-of-13 on play-action attempts for 182 yards and two touchdowns, while averaging 14 yards per attempt? Hmmm. Sure would be nice to find a way to replicate the process behind that result in the Super Bowl.
All advanced stats courtesy of Pro Football Focus, unless noted otherwise.
Share On Socials