While most Bucs fans may look at the performances of "Playoff Lenny" through rose-tinted glasses, the truth is that the Bucs running back group – led by Leonard Fournette, Ronald Jones II and newcomer Giovani Bernard – is much nearer the bottom of the league than the top. All three have holes in the major aspects of running back play: pass protection, receiving and rushing. We will discuss all three in this article, how Tampa Bay's running backs performed in 2020 and look at their roles in 2021.
Pass Protection: League Worst Vs League Best
When describing the value of a running back to a novice, pass protection may be one of the last things you would list in importance. However, as we have seen through history, keeping Tom Brady upright in the pocket is paramount to your offenses success. To hammer home this point, here's a stat for you. Brady is unbeaten when not sacked in a game since 2010. That's a 10-year span. Now that's a stat you could win with if you could make a wager on it at BetMGM PA.
Below is a table showing the career pressure percentages of each of the Bucs three main running backs. Note the difference between the pressure percentage and true pass set (TPS) pressure percentage. This statistic from PFF takes away plays such as screens, RPOs and play-actions from the pressure data. So you have a better example of how the back performs in a drop-back passing situation.
As you can see, both Fournette and Jones display extremely poor performance in this area. Shockingly in true pass set situations, Fournette gives up a pressure on nearly a quarter of these reps, one of the worst rates in the league. While Bernard shows marketed improvement, the Bucs' style of running back by committee suggests that the other two will see significant playing time.
Both Fournette and Jones seem to lack the awareness and aggressiveness needed to succeed at pass protection. The two following clips are from back to back plays in the Week 12 matchup against the Chiefs. In the first clip, Fournette whiffs on his block and Brady gets smoked as he delivers a strike 40+ yards downfield on 3rd down.
In the second clip, Jones whiffs on a blitzing Tyrann Mathieu. Brady is forced to throw under pressure and the ball is intercepted. From the 'All 22' view, you can see Tyler Johnson coming open on a deep crossing route. If Brady had more time, this could have been completed for a big gain.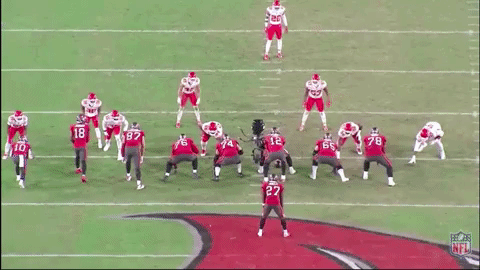 Bernard offers you one of the leagues best pass protectors, PFF ranked him seventh in terms of pass protection in 2020. He also gives you a reliable option for the swing or flare route from the backfield. This is often a fantastic answer to blitz as it puts the blitzer in a bind – does he continue his blitz or take the back?
Receiving: Backs That Can Catch Vs Receiving Backs
Now we move on to an area that has become synonymous with Brady, throwing to the running back.  I'm going to include Brady's go-to pass-catching back, White, in this breakdown. This gives us a measuring stick for Tampa Bay's backs. Below is a table combining the receiving performance of the Bucs' top three running backs and White from the last three seasons.
While evaluating receptions, yards per attempt and other box score statistics are usually used to determine the success of a player. When it comes to receiving backs, I believe two of the most critical variables are drop percentage and first down percentage, i.e, how often a pass goes for a first down. That was a role the Bucs were really missing in 2020. In reference to how important this is, the Bucs lost every game in which less than one-third of Brady's passes went for first downs last year.
From the table above you can see that none of the Bucs backs performed well in both categories. Bernard had a low drop percentage, but wasn't able to pick up many first downs. Some of this can be chalked up to the fact that with the Bengals, he wasn't a designated third down specialist like White and had significantly worse QB play than the others.
Fournette has actually done a great job at obtaining first downs, but has the same drop percentage as Jones over the past three years. And we all know how awkward it looks for Jones trying to catch a pass. Jones is a complete mess in the pass game. Along with his inability to consistently catch the ball, he is often slow out of his breaks and unaware of when the ball is coming his way.
It is likely that with Bernard acting as a pure third-down (and obvious passing downs) back, his first down percentage production should increase. Considering this alongside his outstanding pass protection almost shoe-horns him into that role. Fournette needs to cut down on the drops to be a reliable option on check-downs and screens. He does not possess the elusiveness to beat tight man coverage, as over 88 percentage of his targets last year came against zone defenses.
Fournette's Role In 2021
Fournette will battle for the starting position during camp and will probably be victorious based on his success in the playoffs last season. He excels as a power back, especially when the Bucs go to a power run game. Interestingly, Fournette averaged 5.9 yards per attempt on runs with a pulling lineman after the bye week. He certainly needs to cut down on the drops in the passing game, but can provide reasonable production in that department.
But most importantly, if Fournette wants to stay on the field, he needs to improve his pass protection. Throughout his career, he has been one of the worst pass pro backs in the league. Hopefully Bernard can teach him some tricks of the trade, or else Leonard may find himself struggling for playing time in 2021.
Jones' Role In 2021
Jones will be the team's main "running" back and should lead them in this category. He is without question the team's best pure runner. He is explosive and decisive in his running style, which suits the Bucs' duo scheme really well. However, he is not good at catching the ball and sometimes fumbles even when he does catch the ball. That, alongside his pass pro issues, will cost him playing time.
If Jones can improve his pass-pro he should see significant playing time this season. But entering year four, it's tough to remain optimistic that everything will click.
Bernard's Role In 2021
Bernard comes to the Bucs as one of the league's most established pass protectors. He offers two skill sets none of the others provide. His receiving skills allow the Bucs to do things they couldn't last year. Isolated option routes vs. linebackers, swing passes out the backfield and a reliable screen game. While Bernard is limited as a runner, this is secondary in his third down and passing situation role.
I think it's important for Bucs fans to understand what an impactful season for Bernard would look like. Roughly 70 targets for 55 receptions, 450 yards and a couple touchdowns doesn't look like much. But if Bernard can get Tampa Bay 2-3 third down conversion a game, it keeps the Bucs on the field. That's something the Bucs couldn't do well in the first halves of games all season. They were a painfully slow team at the start of games until the bye week. That should change with the addition of Bernard.
Share On Socials