NFL free agency is officially a month away, and the Bucs will be one of the key teams to watch as the annual offseason drama between players and teams unfolds. Before the madness begins on March 16, I will be going through each key Bucs free agent to decide if they are worth the cost to re-sign or not, starting with outside linebacker Jason Pierre-Paul.
The Projected Cost/Factors: Pierre-Paul is probably one of the toughest contracts to project because there are a lot of opposing factors to consider. On one hand, the Bucs standout pass rusher is 31 years old, had a serious hand injury in the past and a broken neck suffered in a car accident last offseason. His play has also been up-and-down throughout most of his career, and he tends to get sacks in bunches against the weakest of competition.
On the other hand, Pierre-Paul's return to action this season re-invigorated the Bucs defense, as well as providing much needed vocal leadership and effort on the field. He is a presence that would not be easily replaced within the structure of the locker room, which is something the Bucs need to consider given the youthfulness of their defense.
Then there is the recent uptick in production as well, with Pierre-Paul notching 21 sacks and 36 quarterback hits over his 26 games in Tampa Bay, after managing just 16.5 sacks and 36 quarterback hits in his last 36 games with the Giants before arriving in Tampa Bay.
I talked to a couple of cap experts about what kind of contract Pierre-Paul could garner this offseason, and the results varied a good bit. Everyone agreed he's tricky to nail down given his age and injury history, and that even if there was a multi-year deal on the table, it would likely be heavily front-loaded so that a team could get out of it easily in a year or two.
One response I got said maybe a one-year deal at $7 million, with incentives that could bump it to $10 or $11 million by the end of the season. Last year due to his neck injury in May, he restructured his deal with the Bucs and went to an incentive-laden deal that totaled $10.75 million after most of those incentives were hit, according to OverTheCap.com. As part of the restructure, the final year of Pierre-Paul's contract in 2020 was voided, which made him an unrestricted free agent.
I'm guessing Pierre-Paul would be hoping for something a little lengthier in contract to close out his career, so a two or three-year offer wouldn't surprise me at all, but I doubt the structure of the deal would be difficult for a team to pull the plug on after a year or two. Tampa Bay has plenty of cap room, so if they want him back it's a done deal, even after signing Shaquil Barrett and their quarterback of choice. It's just a matter of whether they believe Pierre-Paul is worth the cost.
The Tape/Production: I mentioned Pierre-Paul's recent uptick in production over his two season in Tampa Bay, despite playing for two different defensive coordinators. But does the tape reveal a player who is hustling his way into sacks, or is Pierre-Paul winning one-on-one due to dominant skill as a rusher?
There was a little bit of both on his tape from this past season, but there is no question that Pierre-Paul still possesses the necessary traits to make an impact off the edge. His best quality has always been the ability to convert speed-to-power, and while JPP has definitely lost a step in explosiveness, his technique will challenge offensive tackles who can't match his hands and power.
Kaleb McGary had a brutal rookie season for the Falcons, and this Pierre-Paul sack was one of the lowlights. He was just absolutely abused by the hump move and swat from the veteran edge rusher, tossing McGary off-balance by selling speed up the arc and then quickly crossing his face to bully inside the tackle.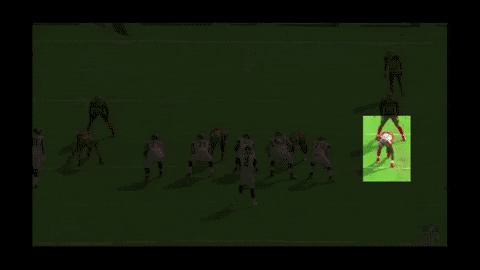 Here's another one against Jaguars left tackle Cam Robinson. This rush is more nuanced, with Pierre-Paul utilizing a long arm to force Robinson to lean and reach to land his punch, then snatching the tackle's outside arm to yank him forward and win around the edge. Very smooth move that again began with speed-to-power in the long arm bull rush.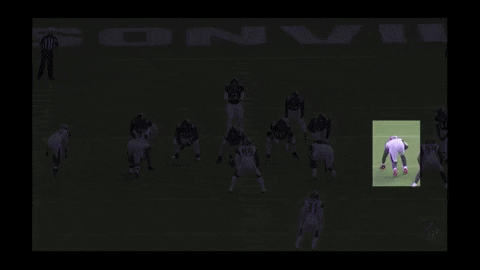 Of course, those are two high-points in JPP's pass rushing repertoire from this past season, but they aptly show the way that he is effective as a rusher. If he faces an offensive tackle who can't defend their frame and allows him to work power moves on their upper body, the results can be ugly.
Still, there are plenty of reasons to be concerned that JPP's current rate of production as a Buc (0.8 sack per game) might not be sustainable moving forward, or might not suggest the consistent impact that you think.
JPP's sacks have always tended to come in bunches against overwhelmed opponents, and while beating anyone one-on-one in the NFL is worthy of celebration, you might also be able to get similar production in those match-ups out of a cheaper edge rusher.
In other words, the sacks JPP gets in those situations are as impactful to the team regardless of who gets them, and the reality is that some of the one-on-one match-ups that he stacks up production against could be replicated by several other edge defenders across the league, some of them perhaps cheaper than Pierre-Paul.
Of Pierre-Paul's 8.5 sacks in 2019, five came over the final two games of the season, and two were coverage sacks. The other three came against Texans' backup right tackle Roderick Johnson and the aforementioned McGary, who admittedly was a first-round pick (I had a fifth-round grade on him), but did not enjoy a successful rookie campaign in Atlanta.
Pierre-Paul was a part of nine sacks this past year, three of which would be easily categorized as coverage sacks, and a fourth coming against a tight end (Jonnu Smith) on a play where the ball should have been thrown already. A fifth came on a strong bull rush against Jake Matthews that condensed the pocket, but a sack would not have occurred if Matt Ryan hadn't tried to roll out of the back of the pocket into JPP's arms.
But sacks don't tell the whole story at all, as pressures are often even more important than sacks. They can force turnovers, cause bad decisions by the quarterback and considerably aid the rest of your team's pass rush. Case in point: when Pierre-Paul puts a stud left tackle like Matthews in Ryan's back with a bull rush, good things like this Carlton Davis' interception will happen.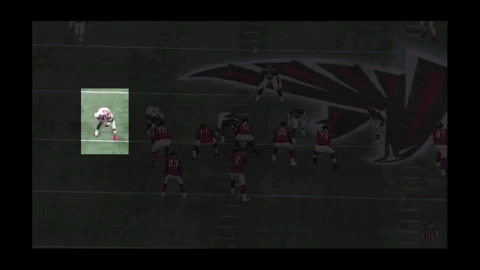 Nothing on the stat sheet for Pierre-Paul, but huge impact on the game. I think that impact can be broadened if Tampa Bay is able to kick Pierre-Paul inside more on long and late downs, where his length and hands can be problematic for stockier guards, and his lack of elite pass rush athleticism (burst, speed, bend) will be less noticeable rushing on a linear path to the quarterback.
Aligned as a three-technique against the Jaguars, Pierre-Paul had one of his best rushes of the season.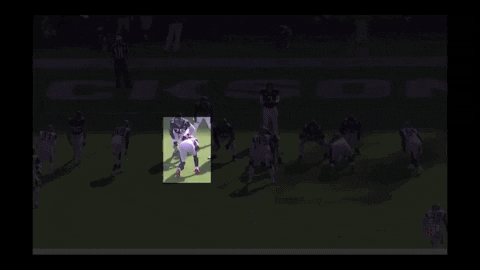 If the Bucs could find another solid edge rusher, which could be second-year player Anthony Nelson if he develops and replaces Carl Nassib, this role for JPP next to Vita Vea inside could be havoc for other teams. Combine it with Todd Bowles' vast array of stunts up front, and the Bucs could be a difficult team to scheme pass protection for due to the versatility of their defensive line. More on that another time.
The Conclusion: The specifics may surprise you, but in general I'm not telling you anything you don't already know about JPP. He's no longer thought of as one of the league's top edge rushers, and hasn't been for a few years now. As a result he should not get paid like one, and isn't expected to. That doesn't mean he still can't help a team on multiple levels.
While Pierre-Paul is just an average pass rusher on tape, the Bucs would not have to break the bank for him, the cap room is there to make the move with ease and JPP's all-around contributions as a leader and run defender are reason enough to re-sign him as long as his asking price isn't unreasonable. With Barrett on one side set to attract the attention of opposing team's pass protection schemes, JPP will be able to operate on an island and move around as Bowles sees fit.
Of course, a full look at any decision regarding JPP requires some knowledge of who else might be available to replace Pierre-Paul if the Bucs did let him walk, and there are definitely some names to note. Players like Jacksonville's Yannick Ngakoue, Baltimore's Matt Judon, Seattle's Jadeveon Clowney and Pittsburgh's Bud Dupree are likely to either return to their current team or price themselves out of where Tampa Bay would be willing to go (after signing Barrett to a long-term deal of course), but players like Buffalo's Shaq Lawson, the New York Giants' Markus Golden, who was drafted by Arians and Bowles in Arizona, or Dallas' Robert Quinn could make sense if they hit the market.
Still, I'm not sure Golden or Lawson are an upgrade from a pass-rushing standpoint, and while Quinn may be, he's not as well-rounded as JPP, and he has an extensive injury history of his own to monitor. This year's draft class is also an ill-advised option, with very few quality edge rushers that are ready to make an impact during their rookie season.
Given a different team and cap situation, I might let JPP hit the market if I were general manager Jason Licht. But the Bucs have the opportunity to bring back a starting-caliber, quality duo at outside linebacker without breaking the bank for Pierre-Paul. As long as that remains the case, I would advocate for the 10-year veteran's return to the Bay area on a short-term deal that would have the team considering his viability after each season.
Share On Socials