The Bucs win over the Panthers on Monday Night Football provided opportunity to show what type of team Tampa Bay has to a national audience.
It also puts the attention – and scrutiny – from national analysts and media members squarely on their shoulders, as head coach Dirk Koetter found out quickly after the Bucs 17-14 win.
"Can I just say something first?" Koetter said. "The worst thing about being on Monday Night Football is, Oh my God, there's no TV on on Monday and I had to turn it off because, wow! Wow! You have a lot of experts out there on other people's teams."
Late in the fourth quarter, tied 14-14 with Carolina, the Buccaneers worked their way down the field with the intentions of taking the lead with either a touchdown or field goal. The Bucs began that drive on their own 20-yard line and took over five minutes off the clock on the drive before stalling out and attempting a 46-yard field goal that rookie Roberto Aguayo missed.
The prior play call before the miss was one that caused many fans, media and analysts to questions.
On third-and-9 from the Panthers 27-yard line, Koetter called for a handoff to running back Jacquizz Rodgers that ended up losing a yard. In came Aguayo, who had already missed earlier in the game from 33 yards, and the former FSU standout also missed this attempt to the left.
Quickly, social media lit up with those wondering why Koetter didn't allow Winston to pass, and even MNF analyst Jon Gruden questioned the Koetter's decision.
"I think coach Koetter lost confidence in Winston after he forced the ball into a double zone," Gruden said on the national ESPN broadcast as Aguayo trotted out onto the field.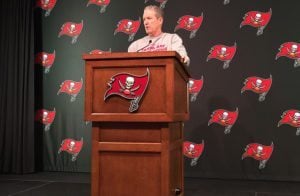 PewterReport.com asked Koetter his thoughts on Gruden's comments.
"That wasn't a lack of confidence," Koetter said. "Again, when analysts say stuff like that, that's like – when Jon [Gruden] was coaching and someone said that about him, you know what he'd be standing up here saying? 'That guy doesn't know what I'm thinking or anything about my team.' He gets paid to talk on T.V. I get paid to coach the Bucs.
"Those guys can say whatever they want. Yeah, we ran it on third-and-nine. You know what? We also ran it on third-and-three and third-and-five and we were two out of three running the ball on third down and we weren't nearly that successful throwing the ball. It had no reflection at all on my confidence in Jameis Winston. There can be no person on this planet, other than his parents, that's more confident in Jameis Winston than me."
Luckily for Koetter and the Buccaneers, Tampa Bay went onto win on their next drive, with Aguayo connected on the game-winning field goal as time expired. And to validate Koetter's point even more, with under two minutes to go in the game, Koetter called a third down pass play from a one-receiver set from their own 17-yard line, that Winston threaded between two defenders to move the chains and that eventually led to the Bucs walking out of Bank of America Stadium with a 2-3 record heading into their bye week.
Share On Socials