PewterReport.com analyzes the top players in the 2022 NFL Draft with its' position previews. Kasey Hudson keeps things rolling by previewing the wide receiver position, with a comprehensive look at what the Bucs have and what they need at wideout. Hudson also provides a detailed list of this year's top wide receivers. In addition, Scott Reynolds offers up the team needs and the annual PewterReport.com Bucs' Best Bets – the most likely wideout for the Bucs to select in Rounds 1-3, and in Rounds 4-7.
What The Bucs Have At Wide Receiver
Tampa Bay's offense is receiver-driven, so naturally the team has put a lot of resources into the position in the form of draft picks and money. Mike Evans, a first-rounder in 2014, and Chris Godwin, a third-rounder in 2017, are the stars. Both have multiple 1,000-yard seasons and are Pro Bowl-caliber receivers. Evans is the team's depth threat outside, while Godwin primarily lines up in the slot as a big-play volume receiver. Evans makes an average of $16.5 million per season. Godwin just got re-signed for three years, averaging $20 million per season. The Bucs replaced Antonio Brown with Atlanta's Russell Gage in free agency, signing him to a three-year, $30 million contract.
Tampa Bay has some adequate, proven depth. The Bucs re-signed Breshad Perriman this offseason, who has the early lead on the fourth receiver spot. He's big and fast, but can disappear for stretches in games. Scotty Miller and Tyler Johnson also have several years of experience, but come with their own concerns. Miller is a small, one-dimensional deep threat, while Johnson struggles to separate due to his lack of speed, and is also a sub-par blocker. The team invested a fourth-round draft pick in Jaelon Darden, who didn't make an impact as a rookie receiver or returner last year. None of those four are guaranteed a roster spot in 2022. Cyril Grayson, Jr., Travis Jonsen, Vyncint Smith and Austin Watkins, Jr. round out the receiver room.
What The Bucs Need At Wide Receiver
The Bucs might not draft a receiver after adding Gage this offseason. If Tampa Bay does select one it would have to be the right player in the right round for the sake of value. Receiver is not nearly as pressing of a need as defensive tackle or tight end due to the lack of available bodies at those positions. Still, the Bucs offense needs to have four starting-caliber receivers due to the importance of the position in Byron Leftwich's offense.
In 2019 and in 2021 the position was decimated with injuries (and Brown's defection) and the offense struggled late in the season as a result. Without Brown, Godwin, Perriman or Grayson against the Rams, the Bucs offense only put up three points in the first half, and failed to score 30 points in their playoff loss. Drafting a stud receiver like Arkansas' Treylon Burks, Ohio State's Chris Olave or even North Dakota State's Christian Watson early would increase the competition for WR4 and add more talent to the depth chart.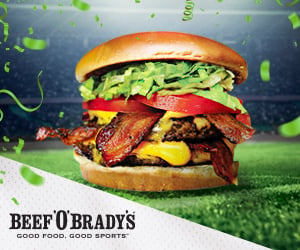 PewterReport.com's 2022 NFL Draft Previews + Bucs' Best Bets are presented by Beef 'O'Brady's – Good Food. Good Sports.
Visit BeefOBradys.com to place your order for Draft Weekend! From to-go to full-on catering – make it Beef 'O' Brady's. Visit any of the 45 Tampa Bay area Beef 'O' Brady's locations. See you at Beef's!
Top Wide Receivers In 2022 NFL Draft
*Important Note: These players are NOT listed in the order of Pewter Report's ranking for them. Rather, the numbers are provided to show you the rough order in which we expect them to come off the board during the draft.
1. USC WR Drake London – Junior – 6-4, 219, DNP
The USC receiver has a 6-foot-4, 219-pound frame, and Bucs have been attracted to players physically comparable to Mike Evans. London is a multi-sport collegiate athlete who also played basketball for the Trojans. Coaches and scouts have said that London's basketball skills have translated to the football field in many ways, from body control to his ability to win contested catches. The Bucs love versatile receivers, and London can line up in the slot as well as outside and be effective. London racked up 1,084 yards and seven touchdowns in just eight games before breaking an ankle that has prevented him from running a 40-time this offseason. He should be healed up by training camp, though.
2. Ohio State WR Garrett Wilson – Junior – 6-0, 183, 4.38
Wilson is known for his yards-after-catch ability. The junior creates separation and makes tough catches on tape, good ingredients for a productive career. Wilson played in a stacked receiving core at Ohio State, so his best season didn't come until 2021, racking up 1,058 receiving yards and 12 touchdowns. There aren't many obvious weaknesses with Wilson, but his route-running will need to be refined in the NFL.
3. Alabama WR Jameson Williams – Junior – 6-1, 179, DNP
This former Buckeye just needed the right roster to shine, and transferring to Alabama gave him that opportunity. Williams has elite acceleration, making him the best deep threat in college football. More importantly, the 6-1 receiver's speed manipulation helps him create separation on defenders, making him a reliable downfield target. But Williams is not the strongest or the most well-rounded receiver in the draft. Much development is needed, but a torn ACL suffered in January could impact his draft stock. Williams erupted onto the scene with 79 catches for 1,572 yards and 15 touchdowns this season.
4. Ohio State WR Chris Olave – Senior – 6-0, 187, 4.39
The OSU record holder for receiving touchdowns has a lot to offer any team in the league. Olave has high football IQ, speed and clean routes. That's three contributing skills the Bucs' appreciate. While Olave is not the most physical receiver, he does well leveraging his speed and smarts to create separation on defenders in routes. The downside is Olave tends to struggle in tight coverages, which can cause inconsistencies in his catching percentage. Oddly enough, Olave never hit 1,000 yards in a single season in college. But 35 touchdowns in 47 games is a
5. Arkansas WR Treylon Burks – Junior – 6-3, 225, 4.55
Obviously leading the razorbacks in catches and yards is appealing. But it's how Burks utilizes his frame against defenders that's more impressive. Burks is not the easiest guy to tackle, and he is aggressive in contested catch situations. Those are a lot of traits the Bucs covet, as the 6-3 receiver can line up outside, in the slot and even in the backfield. I can imagine offensive coordinator Byron Leftwich getting creative with Burks. In addition, Burks has a low drop rate and is reliable when it comes to quick and difficult passes. Despite a productive college tenure, Burks saved his best season for last. In 2021, the junior piled up 66 catches for 1,104 yards and 11 touchdowns.
6. Western Michigan WR Skyy Moore – Junior – 5-10, 195, 4.41
Another solid competitor as a slot receiver option for Tampa Bay. For starters, Moore made a splash as a true freshmen with more than 800 receiving yards. Then he closed out his 2021 season with 1,292 receiving yards and 10 touchdowns. Moore's Western Michigan film shows his quickness to cut without losing speed, and he is fearless in matchups. Something else that stands out with the 5'10 receiver is that he previously played quarterback and defensive back, two positions that can give him a unique read on the field.
7. Penn State WR Jahan Dotson – Senior – 5-11, 178, 4.43
Penn State produces strong athletes. We've known this for years, and now Dotson is the next to enter the NFL. Dotson is a solid perimeter route runner with strong hands and a low drop percentage. In his highlights he has a notable amount of tough catches that he does well reeling into his body. Regardless of his 5-11 build, Dotson is a tough competitor when jumping up for passes. Something that stood out to me with the Penn State draftee is his football IQ. Coaches and scouts speak on his 58 receptions for first downs this past season due to his ability to analyze space on the field. Dotson is a player that could help the Bucs, but might not fit their physical/athletic prototype.
8. North Dakota State WR Christian Watson – RS Senior – 6-4, 208, 4.36
WE ALL KNOW WHERE I STAND HERE. Watson is another multi-sport athlete with raw skills similar to Mike Evans. Watson was the standout at the Senior Bowl, even though his name was not at the top of the "must see" list. Everyone loves a good story, so having the former Plant High School/Tampa native back in the bay would be awesome.
But it's Watson's skill set that makes him a fit for the Bucs. The NDSU receiver comes from a run-heavy scheme where he learned how to block, play special teams, wideout and the slot. So Watson could contribute to Tampa's offense in multiple ways out the gate. However, he is raw and must develop as a route runner. Watson's best college season only resulted in 43 catches for 801 yards and seven touchdowns last year.
9. Georgia WR George Pickens – Junior – 6-3, 195, 4.47
Pickens will need to add some weight to his frame, but is an athletic receiver. The 195-pound draftee is a perimeter guy with good footwork who can cause some quality matchup issues for the defense. He's also a full-effort player that fights to catch passes on and off-target. There's been some questions pertaining to Pickens' health and maturity, as he's played in just 12 games over the past two seasons. Although he is a solid receiver, Pickens would be a surprise pick for the Bucs.
10. Alabama WR John Metchie – Junior – 5-11, 187, DNP
A versatile receiver that's hard to tackle could be a productive player in the Bucs offense. After watching Metchie's highlight film, he picks up speed on his routes and cuts without dancing too much. Draft notes state that the 5-11 receiver can play Z or slot successfully in vertical offenses. The tough part is Metchie will be coming off of an ACL tear. So Metchie would be a later-round evaluation due to his injury. His health history is a concern, but Metchie has 151 catches, over 2,000 receiving yards and 14 touchdowns over the past two years.
11. South Alabama WR Jalen Tolbert – RS Senior – 6-1, 194, 4.49
Tolbert was in top conversations at the Senior Bowl, due to his 1,474-yard season in 2021 at South Alabama. Unfortunately, he looked like he still needed some developmental work at the Senior Bowl. While Tolbert has size and speed going for him, he also seemed shy of contact, something that's unavoidable at the NFL level. His full skill set needs work to thrive as a pro.
12. Memphis WR Calvin Austin – RS Senior – 5-8, 170, 4.32
Calvin Austin is a track star coming off of back-to-back 1,000-yard seasons and nearly 20 touchdowns over past two years. While his size screams slot receiver, scouts state that the Memphis receiver should not be perceived as a slot-only receiver because roughly 77% of his reps in college were out wide. Clearly, Austin has an appealing versatility to him. I just do not see the Bucs picking up a small, speedy type of receiver at the moment.
13. Cincinnati WR Alec Pierce – Senior – 6-3, 211, 4.41
Pierce was a spoken of highly heading into Senior Bowl week. There were quality flashes of him using his size, displaying good speed and even blocking. Some of his routes appeared to be hesitant, but he made some good plays in tight coverages. He has a physicality to his game which helps him create separation and go toe-to-toe with defenders. Pierce can play out wide or be a larger target in the slot. Expect the Bucs to consider him if they look for a wideout later in the draft. Pierce's best season came in 2021, with 52 catches for 888 yards and eight touchdowns.
14. Purdue WR David Bell – Junior – 6-1, 212, 4.65
A physical player, fearless of contact, is great to watch. But in comparison to this draft class, Bell is one of the slowest receivers. The Purdue draftee has strong starts off the line of scrimmage and pretty consistent hands, but won't make many big plays at the next level. Bell's draft film shows that he will need time to develop and the right scheme to thrive at the next level. I don't see Bell being on the Bucs radar for the draft, given his lack of speed.
15. Boise State WR Khalil Shakir – Senior – 6-0, 196, 4.43
Shakir has potential and showed growth each year at Boise State. He does well in space and fighting to get into the end zone, but he burns out at the top of routes and struggles to consistently create separation between himself and defenders. Shakir was ok at the Senior Bowl, but didn't seize the spotlight. A 4.43 40-yard dash at the Combine definitely helped Shakir's stock, as did his first 1,000-yard season in 2021.

Best Of The Rest
16. Kentucky WR Wan'Dale Robinson – Junior – 5-8, 178, 4.44
Since the Bucs picked up WR Russell Gage (a predominant slot receiver), I don't see the need for another slot unless the receiver can contribute elsewhere. Granted, in the right offense Robinson can be a surprise. The 5-8 receiver originally played running back before transitioning into a full-time receiver. Robinson is quick, has reliable hands and shows potential to grow as a slot receiver, but will need time to develop in the league. He broke out last year with 104 catches for 1,334 yards and seven touchdowns for the Wildcats.
17. UCLA WR Kyle Phillips – RS Junior – 5-11, 189, 4.58
Another predominantly slot receiver, Phillips could be a good day three pick up. Phillips is a good route-runner who knows how to command the middle of the field and does his best work on underneath throws. Again, I see the Bucs picking up an outside receiver before another slot guy. Phillips best season came last year, when he grabbed 59 passes for 739 yards and 10 touchdowns.
18. Southern Methodist WR Danny Gray – Senior – 6-0, 186, 4.33
Gray's journey from JUCO to SMU is a nod to his work ethic and competitiveness. The SMU receiver has some work to do with his route running, but he does well using his speed to gain separation. He's at his best in spread offenses and racked yards after the catch at SMU. Gray is known as a deep threat after averaging more than 16 yards per reception in 2021. His 4.33 speed suggests that will translate to the NFL, but drops were a big issue on tape and at the Senior Bowl. Gray wasn't high on the NFL radar until he broke out in 2021 with a 49-catch, 803-yard, 9-touchdown season.
19. Clemson WR Justyn Ross – RS Junior – 6-4, 205, 4.63
Ross is a big slot receiver with a basketball background that benefits him on the football field. While he is not the fastest receiver, he makes quick cuts to separate in his routes. But if Ross cannot use his size to create separation, it's a tough task for him. He works hard to make himself available on each play, but is not the sort of slot player you would see lining up for the Bucs. After a 1,000-yard true freshman season, Ross' production plummeted each year since 2018. He also missed the 2020 season following spinal surgery.
20. Notre Dame WR Kevin Austin – RS Junior – 6-2, 200, 4.43
Notre Dame has produced a ton of athletic receivers over the past few years. The next in line, Kevin Austin, has development potential, but a small college resume. Austin did not play in 2019 and missed the 2020 season with two different foot injuries. Although he had a breakout 2021 season with 48 catches for 888 yards, his ability to contend in the league may take some time. Austin had just six career catches before the 2021 season! His frame and speed give him a quality foundation to build on.
21. Rutgers WR Bo Melton – RS Senior – 5-11, 189, 4.34
Bo Melton is more of a special teams' player than a true receiver, but has registered back-to-back 600+ yard seasons. Although Melton is a speedster, he lacks explosiveness and crisp route running skills. In five years at Rugers, Melton never passed 55 catches or 638 yards receiving in a single season. But his 4.34 speed will interest teams, especially given his toughness and character.
22. Baylor WR Tyquan Thornton – Senior – 6-2, 181, 4.28
A 6'2 receiver who runs a 4.28 is worth a look. But Thornton is not entering the draft with much production under his belt. He caught 62 passes for 948 yards and 10 touchdowns last year, but was a blip on the radar before that. However, Thornton has promising traits to improve upon at the next level. Baylor trained Thornton to play outside and at slot, but preferably outside, which could be appealing to the Bucs. He is a deep threat with decent hands who could thrive in a vertical offense. But Thornton has to get stronger from his rail-thin current frame.
23. Texas Tech WR Erik Ezukanma – RS Junior – 6-2, 209, 4.54
Erik Ezukanma could be an appealing big slot receiver for the Bucs. He is quick coming off of the line of scrimmage and good at using his build and skill set to make plays in the middle of the field. He works hard to make himself available for passes, which made him a reliable target in the red zone as well. Ezukanma has great hand-eye coordination that gets showcased when competing against defenders for downfield. However, in college he never recorded more than 48 catches or 748 yards in a single season. And his career-high in touchdowns was just six scores in 2020.  
24. Tennessee WR Velus Jones – RS Senior – 6-0, 204, 4.31
Jones' speed is no joke. His acceleration down the field can get defenders spinning, but he lacks consistency when he is not in open space. The Tennessee Volunteer did have some exciting big catches at the Senior Bowl, but more drops than successful grabs. His speed and size can be dangerous in the right scheme, but there's work to be done. Also, Jones will be 25 years old in a couple weeks. That's a tough sell for a college receiver whose best season was last year's 807-yarder.
25. Nevada WR Romeo Doubs – Senior – 6-2, 201, DNP
Romeo Doubs was on the top of the scouting list at the Senior Bowl, but had an off week. Doubs was efficient on a few deep balls, but for his size I expected more physicality. Some routes were very predictable, and you can tell that he was relying on his speed to make the play. I think with time in the playbook and more confidence, Doubs will do well. He's a two-time 1,000-yard receiver with 20 touchdowns over his past two seasons. But he's not a receiver that comes to mind for Tampa Bay right now.
26. Nicholls State WR Dai'Jean Dixon – RS Senior – 6-3, 205, 4.62
Dixon has a couple relatives in the NFL, so tough mindset and work ethic is expected. He has been noted as a "play until the whistle blows" kind of receiver who "plays bigger than his size". Although level of competition, route-running and speed are questions, Dixon has a good foundation to be coached up. He topped 1,000 yards twice in college, while catching 35 touchdowns in 50 games.
Bucs' Best Bets: Wide Receivers
Bucs' Best Bet – Rounds 1-3: Arkansas WR Treylon Burks

There's no doubt the Bucs like Burks. The team had a formal interview with him at the NFL Scouting Combine and he met the team on a Top 30 visit. At 6-foot-3, 225 pounds, Burks is a beast on the field with the strength to break tackles and enough speed to outrace defenders. Playing primarily in the slot last season at Arkansas, Burks caught 66 passes for 1,104 yards and 11 touchdowns last year. His 16.7-yard career average certainly catches the Bucs attention, as the team likes to take deep shots in Bruce Arians' vertical-based passing game.
Due to his run-after-catch ability, the Bucs could use Burks in the slot, on receiver screens and end-arounds, in addition to lining him up wide as a split end (X) or flanker (Z). His frame is NFL-ready and he's a willing blocker in the run game. There is a chance that Burks could still be on the clock at No. 27 due to the fact that he timed slower than expected (4.55) at the NFL Scouting Combine. The Bucs could use another starting-caliber receiver to add depth to a receiving corps that was ravaged with injury last year in the playoffs. Burks could be an absolute weapon in Tampa Bay's aerial attack.
Bucs' Best Bet – Rounds 4-7: Cincinnati WR Alec Pierce

If the Bucs are intent on finding another good receiver to compete with the likes of Breshad Perriman, Tyler Johnson, Scotty Miller, Jaelon Darden and Cyril Grayson, Jr., Pierce would be an ideal candidate. At 6-foot-3, 211 pounds, Pierce is a big-bodied receiver with good speed and knows how to win vertically. Although he was timed at the Combine running a 4.41 he doesn't always play to that speed. When he doesn't create enough separation he can out-leap defenders and win in contested catch situations. Pierce has a 40.5-inch vertical.
Pierce would give the Bucs another Mike Evans-type player to attack defenses on the perimeter. While he's not an accomplished route runner underneath, Pierce was Cincinnati QB Desmond Ridder's favorite target downfield. He caught 52 passes for 884 yards and eight touchdowns for the Bearcats last year. Pierce's 17.5-yard average is exactly the type of stat that will get the Bucs' attention. If he was a more polish route-runner he might be a Day 2 selection. But Pierce seems destined for the fourth round. The question is, can he be more than a new version of Justin Watson in Tampa Bay?
Share On Socials