Other than Tom Brady's retirement, not much has changed since Pewter Report's first 2022 Bucs 7-Round Mock Draft.
The Bucs have 24 unrestricted free agents this year, including 10 starters. What happens in free agency will dictate a lot of what happens with Tampa Bay's draft plans – in addition to what happens with starting quarterback Tom Brady. There were reports Brady is retiring after 22 years in the NFL, and Pewter Report believes that will happen this offseason.
Still, it's time for Pewter Report's first of five 2022 Bucs 7-Round Mock Drafts. Tampa Bay will have the 27th overall pick in the 2022 NFL Draft thanks to the team's 13-4 finish.
With the East-West Shrine Bowl and the Senior Bowl over, Tampa Bay general manager Jason Licht, head coach Bruce Arians, director of college scouting Mike Biehl and vice president of player personnel John Spytek are hard at work on the Bucs' 2022 draft prep and ready for the NFL Scouting Combine. The Bucs are armed with picks in every round except the sixth due to a previous trade with the Eagles.
Let's take a look at Tampa Bay's personnel needs following the season, and who the Bucs select in Pewter Report's first 2022 Bucs 7-Round Mock Draft of the year – presented by Edmonson Electric • AC • Security.
BUCS PERSONNEL NEEDS
INTERIOR DEFENSIVE LINE
Tampa Bay only has two experienced defensive linemen under contract in 2022 – Vita Vea and Rakeem Nunez-Roches. Practice squaders Benning Potoa'e, Willington Previlon and Kobe Smith were re-signed and will go to camp, but are not locks to make the team. Will 35-year old Ndamukong Suh and 36-year old Steve McLendon retire? Will 30-year old Will Gholston be re-signed? This year's defensive line draft class really lacks quality and quantity. There may not be a defensive tackle taken until the second round this year. So the Bucs might be better off addressing the defensive line in free agency. Getting Gholston back seems likely, and re-signing Suh for one more season would be a major coup.
OFFENSIVE LINE
The Bucs had three offensive linemen make the Pro Bowl this year. One of those Pro Bowlers, center Ryan Jensen, will be a free agent in 2022 along with right guard Alex Cappa. Tampa Bay likely can't afford to bring both back. Re-signing Jensen makes the most sense, as he's the leader up front and the better player. If the Bucs hope to get Tom Brady to stick around for another season, having his starting center back makes sense. Robert Hainsey, the team's fourth-round pick in 2021, is the eventual starter, but he might not be ready yet. Replacing a guard like Cappa would be easier. The Bucs could re-sign Aaron Stinnie as a cheaper option. The team has in-house options in Nick Leverett, Sadarius Hutcherson and John Molchon. This year's draft is full of quality guards and tackles that could be converted to guards.
WIDE RECEIVER
Chris Godwin is a free agent coming off a torn ACL. It's a safe bet to assume he'll re-sign in Tampa Bay, as the Bucs offense is wide receiver-driven. With Antonio Brown gone, there is a clear hole at the No. 3 receiver spot. Breshad Perriman is a free agent, and is really a No. 4 receiver at best. The same could be said of Tyler Johnson and Scotty Miller, who are both under contract in 2022. Cyril Grayson, Jr. will also be back in the mix. This season, Jaelon Darden didn't do much to impress as a rookie receiver. Finding another versatile play-making receiver with starting potential for three-receiver sets is a priority this offseason. This is a good year to find a receiver, as it's filled with quality and quantity.
CORNERBACK
The Bucs will either re-sign Carlton Davis III or use the franchise tag on him. Davis will return along with Jamel Dean and Sean Murphy-Bunting – both of whom are entering contract years. Tampa Bay doesn't need to select a cornerback this year, but it would wise to draft and develop one. The Bucs won't likely have the trio of Davis, Dean and Murphy-Bunting back in 2023. Murphy-Bunting or Dean (or both) could depart. Given the number of injuries the team suffered at the cornerback position, drafting one this year would be wise to have him ready to possibly start in 2023. The cornerback crop seems rather deep this year.
OUTSIDE LINEBACKER
While Tampa Bay spent a first-round pick on edge rusher Joe Tryon-Shoyinka last year, the Bucs might need another young pass rusher that can get to the quarterback. Jason Pierre-Paul is oft-injured, just turned 33 and will have offseason shoulder surgery. He's a free agent and his return is not certain. Shaquil Barrett turns 30 in the fall, and Anthony Nelson is in the final year of his contract. The Bucs had to play several games without JPP and Barrett at the end of the season and the Bucs' pass rush suffered. Drafting Barrett's eventual replacement early and developing him to pair with JTS down the road seems like a wise move. If the Bucs are going to get one, it needs to be early. This is not an overly deep class of edge rushers.
RUNNING BACK
The Bucs only have Ke'Shawn Vaughn and seldom-used Kenjon Barner under contract in 2022. Despite Bruce Arians' assertion that he can be a "lead back" Vaughn's mediocre statistics suggest otherwise. Will Leonard Fournette be re-signed? What about Giovani Bernard? The departure of Ronald Jones II seems inevitable. This year's draft class lacks star power at the position, but there are a couple of intriguing pass-catching backs in this year's class that fit Tampa Bay's system.
TIGHT END
Only Cameron Brate and Codey McElroy, who was on the practice squad, are under contract in 2022, and Brate is set to earn a $6.5 million base salary. Brate will likely have to take a pay cut if the team wants him back. Rob Gronkowski might not return since Brady has retired. O.J. Howard, the Bucs' first-round pick in 2017, hasn't been the same since tearing his Achilles last year. It seems likely that he'll get a fresh start elsewhere. This year's tight end class seems to be deeper than usual with talent.
For the past 40 years, Edmonson Electric • AC • Security has proudly served central Florida with electric services and now proud to add state-of-the-art "Smart Home" technology, security systems and air conditioning to its roster. Whether it's surveillance cameras, home theaters, or smart lighting, Edmonson Electric • AC • Security is automating your home.
Visit EdmonsonElectric.com to find out more about controlling, monitoring and securing your home or call 813.910.3403 for additional information.
Control. Monitor. Secure.
2022 BUCS 7-ROUND MOCK DRAFT
ROUND 1 Arkansas WR Treylon Burks
6-3, 225 • Junior
The Bucs already have Pro Bowler Mike Evans and will work to re-sign franchise player Chris Godwin. But Antonio Brown's departure has created a pressing need for another starting-caliber wide receiver. Because the Bucs run so much 11 personnel (three receiver sets) the third receiver is considered a starter in Tampa Bay.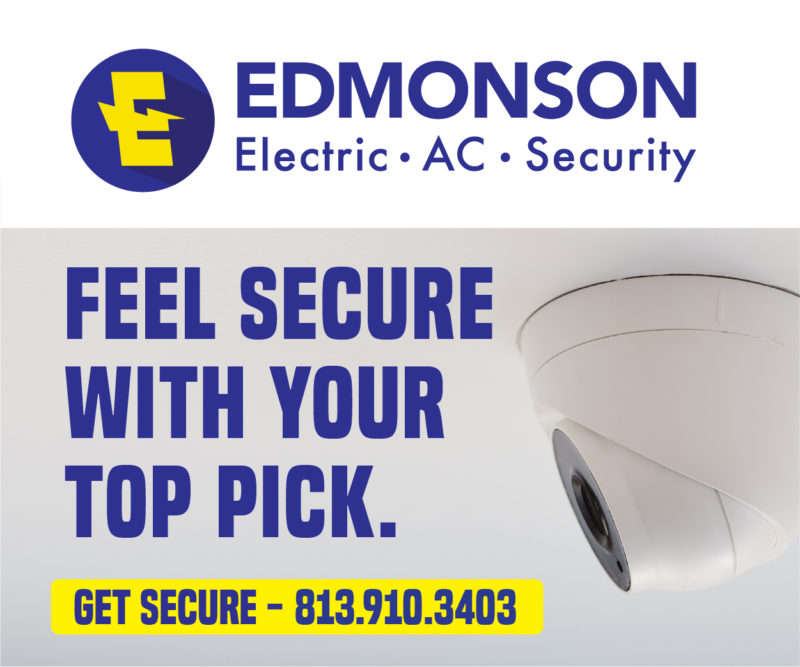 At 6-foot-3, 225 pounds, Burks is one of the biggest receivers in the draft. It will be interesting to see how fast he times at the NFL Scouting Combine and his pro day workout. A 4.4 or faster 40-yard dash time could put him out of reach for Tampa Bay. A 4.5 or slower 40-time should make him available with the 27th overall pick.
Burks used his speed and his physicality to get yards after the catch at Arkansas where he averaged over 16 yards per catch every season. He was efficient on screen passes and operating out of the slot where he lined up 222 times in 2021, as opposed to just 79 times out wide on passing plays.
Even if Godwin returns to Tampa Bay as expected, the Bucs could use another big, physical receiver that can play both in the slot and out wide for depth and versatility. Burks earned a 90.8 PFF receiving grade last season, including an 80.8 grade against man coverage.
BURKS' ARKANSAS CAREER RECEIVING STATS
2019: 29 catches for 475 yards (16.4 avg.)
2020: 51 catches for 820 yards (16.1 avg.), 7 TDs
2021: 66 catches for 1,104 yards (16.7 avg.), 11 TDs
BURKS' ARKANSAS CAREER RUSHING STATS
2019: 9 carries for 35 yards (3.9 avg.)
2020: 15 carries for 75 yards (5.0 avg.)
2021: 14 carries for 112 yards (8.0 avg.), TD
Burks had 10 100-yard games for the Razorbacks, and had three more games 90 yards or more. The big target had 10 catches for 206 yards (20.6 avg.) and one touchdown versus Missouri.
He played his best against the top defenses in the SEC. Burks lit up Alabama for eight catches for 179 yards (22.4 avg.) and a pair of touchdowns. He had six catches for 167 yards (27.8 avg.) and a TD versus Texas A&M. Against Auburn, Burks notched nine catches for 109 yards (12.1 avg.) and two scores. Burks also shined against Ole Miss with seven receptions for 136 yards (19.4 avg.) and a TD.
Although he struggled against Georgia this year, being held to just three catches for 10 yards (3.3 avg.), Burks had seven catches for 102 yards (14.6 avg.) and a touchdown against the Bulldogs in 2020. He has the skill set and NFL frame to step into Bruce Arians' offense and be incredibly productive as a rookie. If he's there at No. 27, Burks would be a home run selection for the Bucs.
ROUND 2 – UCONN DT Travis Jones
6-4, 326 • Junior
Even if Ndamukong Suh returns for one more season at age 35, Tampa Bay needs to address the defensive tackle position. The Bucs need a young, athletic, run-stuffing tackle to pair with Vita Vea for the future. This draft class is shallow in terms of quality and quantity, so if the Bucs are going to draft an interior defensive lineman they'll need to do so in the first couple of rounds.
While Georgia defensive tackle Devonte Wyatt may get some consideration in the first round, Tampa Bay's defensive line is predicated on big bodies stopping the run. They don't come much bigger than the 6-foot-4, 326-pound Jones, who was a brute at the Senior Bowl. He has a larger frame and is more of a powerful player than Wyatt, whose game is predicated off speed and quickness.
Jones had some dominant one-on-one reps at the Senior Bowl where he used a Suh-like bull rush to drive guards and centers backwards off the snap. That's how he notched a sack in the Senior Bowl game. He also has an impressive swim move that he's added to his pass rushing repertoire.
JONES' UCONN CAREER DEFENSIVE STATS
2018: 46 tackles, 5.5 TFLs, 0.5 sack
2019: 40 tackles, 6 TFLs, 3.5 sacks, FR
2021: 48 tackles, 7.5 TFLs, 4.5 sacks
Jones played at UCONN where the Huskies had a dismal 4-32 record during his time there. But despite the lack of winning, Jones had a successful career, improving each season, especially as a pass rusher. Jones has eight career sacks, including 4.5 last year.
He's got the size and ability to start right away in Tampa Bay if Suh doesn't return. But at the very least, Jones would be a great wave defensive tackle as a rookie.
ROUND 3 – BYU RB Tyler Allgeier
5-11, 220 • Junior
Does Leonard Fournette return in free agency? If he does, the Bucs likely draft a cornerback in the third round. If not, Tampa Bay will need to look at adding another running back like Allgeier to compete with Ke'Shawn Vaughn for the right to start. At 5-foot-11, 220 pounds, the BYU star is a bruising, tackle-breaking back with impressive speed for a big back.
Allgeier has benefitted from good blocking at BYU, but he also creates on his own with a powerful lower body and a wicked stiff arm. Whether it's an outside zone run or a between-the-tackles carry, Allgeier is a chain-mover with an impressive 6.4-yard career average.
ALLGEIER'S BYU CAREER RUSHING STATS
2018: 9 carries for 49 yards (5.4 avg.)
2019: 17 carries for 119 yards (7.0 avg.)
2020: 150 carries for 1,130 yards (7.5 avg.), 13 TDs
2021: 276 carries for 1,601 yards (5.8 avg.), 23 TDs
ALLGEIER'S BYU CAREER RECEIVING STATS
2018: 1 catch for minus-3 yards (minus-3 avg.)
2019: 3 catches for 67 yards (22.3 avg.), TD
2020: 14 catches for 174 yards (12.4 avg.)
2021: 28 catches for 199 yards (7.1 avg.)
Allgeier has scored an astounding 36 rushing touchdowns in the past two seasons. He's had 13 100-yard games for the Cougars, including a pair of 200-yard games. In his final season at BYU, Allgeier had back-to-back monster games against Washington State and Virginia. Allgeier logged 32 carries for 191 yards (6.0 avg.) and a pair of touchdowns against the Cougars. Versus the Cavaliers, Allgeier had 266 yards and five touchdowns on 29 carries (9.2 avg.).
The Bucs need running backs that can pass protect and catch the ball and Allgeier can do both. He's improved as a receiver out of the backfield every season. Allgeier averaged 9.2 yards per catch at BYU. He also averaged 24.3 yards per kick return in limited duties. Allgeier spent his second year at BYU at linebacker and could also contribute on special teams as a rookie.
ROUND 4 – Western Kentucky OLB Deangelo Malone
6-3, 234 • Senior
In the fourth round the Bucs get another pass rusher to add to a defense that will likely not re-sign aging Jason Pierre-Paul. The 33-year old is coming off injuries to his shoulder, knee and neck in each of the last three seasons. With Joe Tryon-Shoyinka, last year's first-round pick set to start opposite Pro Bowler Shaquil Barrett, the Bucs need another pass rusher to fill out their depth chart. Anthony Nelson, who had a career-high five sacks last season, is entering a contract year.
Malone, who played five years at Western Kentucky, is one of the best edge rushers in the draft with 349 career tackles, 59 tackles for loss, 32.5 sacks, eight forced fumbles, seven pass breakups and a fumble recovery for a touchdown. He showed he could hang at the Senior Bowl with impressive speed-to-power rushes, even at 234 pounds. Malone was named the American team's MVP with six tackles, two QB hurries and half a sack in the Senior Bowl game.
The Hilltoppers top defender consistently graded high by Pro Football Focus with an 85.6 grade in 2019, a 74.8 grade in 2020 and 79.7 grade last year. He had a 75.3 run defense grade as a fifth-year season, which is impressive given his lack of ideal size.
MALONE'S WESTERN KENTUCKY CAREER DEFENSIVE STATS
2017: 25 tackles, 1.5 TFLs, 1.5 sacks, PBU
2018: 60 tackles, 9 TFLs, 6 sacks, INT, PBU, 2 FFs
2019: 99 tackles, 20.5 TFLs, 11 sacks, FR, TD
2020: 71 tackles, 10.5 TFLs, 6 sacks, PBU, 2 FFs
2021: 94 tackles, 17.5 TFLs, 8 sacks, 4 PBUs, 4 FFs
Malone had 10 multi-sack games at Western Kentucky, which shows how good of a pass rusher he is. He could compete with Cam Gill for the right to be the designated pass rushing outside linebacker in 2022, as well as playing on special teams as a rookie. If Malone, whose game is reminiscent of Leonard Floyd's game coming out of Georgia, can gain 15 pounds in the NFL level, he could eventually compete for a starting role in Tampa Bay at 250 pounds.
ROUND 5 – North Dakota State OL Cordell Volson
6-6, 319 • Senior
Bucs general manager Jason Licht likes drafting offensive linemen every year to develop and keep the trench play strong. One of the things he likes to do is draft offensive tackles and move them inside. That would be the plan for the 6-foot-6, 319 pounds, who could replace Alex Cappa at right guard should he depart in free agency.
Volson, who played right tackle for the Bison for years, played left and right guard at the East-West Shrine Bowl and had a good showing. The fact that he's probably a better guard at the NFL level, but can play right tackle in a pinch and offer versatility there will help his draft stock. He has nearly 34-inch arms with an 81.5-inch wingspan.
Volson is a nasty run blocker that needs work as a pass protector. He packs a powerful punch at the snap and is essentially a carbon copy of Cappa in that respect. If the Bucs lose Cappa in free agency, getting a player like Volson in the fifth round would be a huge get – if he's still available.
ROUND 7 – Virginia Tech TE James Mitchell
6-3, 255 • Junior
The Bucs' tight end position could be in complete flux if Rob Gronkowski and O.J. Howard don't return in free agency. The Bucs have Cam Brate and Codey McElroy, but will need more depth at the position. Mitchell is a talented tight end in that he can block and catch and would be a tremendous value in the seventh round.
After two very productive seasons at Virginia Tech, Mitchell suffered a season-ending knee injury just two games into his third season with the Hokies. Mitchell had just five catches for 42 yards and a touchdown before his knee injury. Prior to that, Mitchell averaged over 16 yards per catch in his first two seasons at Virginia Tech.
MITCHELL'S VIRGINIA TECH CAREER RECEIVING STATS
2019: 21 catches for 361 yards (17.2 avg.), 2 TDs
2020: 26 catches for 435 yards (16.7 avg.), 4 TDs
2021: 5 catches for 42 yards (8.4 avg.), 1 TD
Mitchell was also used as a goal line back where he carried the ball five times for seven yards and scored four rushing touchdowns as a sophomore. He also had a 1-yard rushing TD in 2020.
Mitchell has an ideal body type to play special teams as a rookie, which will help the Bucs coverage units. He is a high-character leader who has the athleticism and ability to eventually develop into a solid No. 2 tight end in the NFL.
Share On Socials