PewterReport.com analyzes the top players in the 2022 NFL Draft with its' position previews. Jon Ledyard keeps things rolling by previewing the cornerback position, with a comprehensive look at what the Bucs have and what they need at corner. Ledyard also provides a detailed list of this year's top cornerbacks. In addition, Scott Reynolds offers up the team needs and the annual PewterReport.com Bucs' Best Bets – the most likely cornerback for the Bucs to select in Rounds 1-3, and in Rounds 4-7.
What The Bucs Have At Cornerback
The Bucs have one of the best cornerbacks in the league in Carlton Davis III. He was re-signed this offseason to a three-year deal with just over $14.833 million per season. Davis, who missed half the season with a quad injury, primarily mans the left cornerback spot opposite Jamel Dean. A former third-round pick, Dean plays right cornerback and is entering a contract year. Dean battled some injuries to have his best season in 2021. Sean Murphy-Bunting, the team's starting slot cornerback, is also entering a contract year. Picked a round earlier than Dean in 2019, Murphy-Bunting had a fantastic 2020 postseason, but has underwhelmed in the regular season. He missed half of the 2021 campaign with a dislocated elbow.
Ross Cockrell, Dee Delaney and special teamer Rashard Robinson return as reserves and will battle for depth chart positions in training camp. The Bucs also added veteran defensive back Logan Ryan, who will could play safety or nickel corner. Cockrell had a great camp last year, but disappointed when pressed into regular duty due to injuries. Tampa Bay wound up using reserve safety Mike Edwards in the slot ahead of Cockrell down the stretch. The Bucs did not re-sign Pierre Desir and Richard Sherman, who were two injury replacement signees last year when Tampa Bay was rocked with injuries at the cornerback spot.
What The Bucs Need At Cornerback
The Bucs have six cornerbacks on their roster and could head into the 2022 season with just those players. Tampa Bay will need to add more bodies for camp and competition, but drafting a cornerback this year is not an absolute necessity. The team wants to give Dean and Murphy-Bunting ample playing time this year to evaluate them. The Bucs will likely only be able to afford to re-sign one of them next March. Right now it's probably Dean over Murphy-Bunting.
If Tampa Bay is going to draft a cornerback, it will likely be one that can compete inside at the slot position with the flexibility to also play outside. Todd Bowles prefers big, long, physical corners, so don't expect the Bucs to draft a player smaller than 5-foot-11. Tampa Bay has had a few in for Top 30 visits, including Auburn's Roger McCreary and Nebraska's Cam Taylor-Britt. Both are Day 2 selections.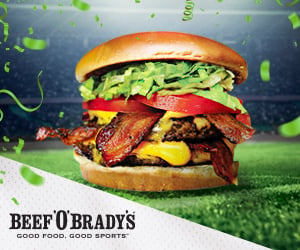 PewterReport.com's 2022 NFL Draft Previews + Bucs' Best Bets are presented by Beef 'O'Brady's – Good Food. Good Sports.
Visit BeefOBradys.com to place your order for Draft Weekend! From to-go to full-on catering – make it Beef 'O' Brady's. Visit any of the 45 Tampa Bay area Beef 'O' Brady's locations. See you at Beef's!
Top Cornerbacks In 2022 NFL Draft
*Important Note: These players are NOT listed in the order of Pewter Report's ranking for them. Rather, the numbers are provided to show you the rough order in which we expect them to come off the board during the draft.
1. Cincinnati CB Sauce Gardner – Junior – 6-3, 190, 4.41
Per PFF, Gardner allowed 131 yards in 14 games this past season. In his entire college career, Gardner never surrendered a touchdown. And the tape matches the numbers. You could argue he wasn't tested as often as other cornerbacks. That's fair to say. But when Gardner squared up with Alabama in the College Football Playoff, he was completely dominant. Gardner will face better competition in the NFL, and like all cornerbacks he'll have his struggles. But his mental toughness, confidence and ball skills to create splash plays will help him bounce back. Press-man schemes should be excited to add Gardner into the fold.
2. LSU CB Derek Stingley, Jr. – Junior – 6-0, 190, 4.44
In coverage, perhaps no cornerback has the upside or playmaking of Stingley. He's a silky smooth mover with excellent athleticism and the ball skills you want at the position. He can play in press or off coverage, and has enough length and strength to battle receivers in contested spots too. But questions abound. Stingley played just three games this past season, and seven the year before. Neither campaign was as impressive as his freshman year, as Stingley struggled as a tackler and didn't make as many plays on the ball. There are health, run defense toughness and tackling concerns.
But even in coverage, Stingley's tape was fairly boom-or-bust in 2019. He forced a ton of incompletions, and also gave up a ton of big plays. Stingley can be beaten at the line of scrimmage, and doesn't have elite recovery speed down the field. Devonta Smith and Van Jefferson both gave him issues in press. Stingley surrendered almost 18 yards per catch on the receptions he did allow, including five touchdowns. He's a splash play machine, but he gives up plenty too.
Any team drafting Stingley will be putting a lot of stock in his 2019 tape, when he had 21 pass breakups, six interceptions and allowed only 34 receptions all season. But in 10 games over the past two years, Stingley has five pass breakups and zero picks. Which player is the NFL getting? I'm not sure, but I wouldn't want to spend a top five pick to find out.
3. Washington CB Kyler Gordon – RS Junior – 5-11, 194, 4.52
Honestly, there's not much to dislike about Kyler Gordon. Yes, his processing can still improve a bit, especially in zone coverage. There's still a quicker level he can play at when attacking routes or even reading run keys in front of him. But Gordon has all the movement skills, size, strength and ferocity you want in a young cornerback. Few cornerbacks possess his ability to mirror receivers off the line of scrimmage and close on the ball with explosiveness.
Gordon ran a 4.52 at the Combine, but plays even faster. He consistently disrupted the catch point down the field and prevented big plays. And he's active in run support too, showing ideal physicality for the position. Unlike McDuffie, Gordon can play in man or zone heavy schemes, although his length and technique should translate well to press-man coverage in the NFL. The next step for Gordon is mastering the IQ side of things, which should allow him to make more plays on the ball. He has some rough edges to smooth out, but Gordon's ceiling is impressively high. And his floor isn't too low either.
4. Washington CB Trent McDuffie – Junior – 5-11, 193, 4.44
Throughout the entire process, McDuffie has been expected to be a top ten pick. But we haven't heard much of anything from the sourced up members of the media on his draft stock. It's unusual for smaller cornerbacks to get that kind of buzz without some outstanding tape or ball production. McDuffie simply doesn't have either. He's a solid zone cornerback with impressive route awareness and good temperament against the run.
But there's only value in those abilities for a handful of schemes. McDuffie's lack of experience and ability in press man coverage, especially with sub-30 inch arms, is a concern. He has excellent fluidity and athleticism, but rarely made plays on the ball in off coverage. Through 28 career games, McDuffie has just nine pass breakups and two interceptions. Both picks were on underthrown deep balls, but McDuffie did elevate for both catches. In the right scheme, McDuffie can be a solid starter. But the limitations to his game are probably being undersold right now.
5. Michigan CB/S Dax Hill – Junior – 6-0, 191, 4.38
Hill is what happens when elite performance in a specific role converges with projection into other roles and incredible athleticism. He played predominantly in the slot for Michigan, and he was dominant in that role. When given the opportunity to move into the box or play deep he also excelled despite limited reps. He combines great speed with elite movement. And with all the hype about Hamilton's size, Hill's wingspan is only half an inch shorter. The production Hill created over his three-year career was impressive with 151 tackles, 7.5 tackles for loss, half a sack, 20 passes defensed and four interceptions. Look for Hill to be drafted late in the first round.
– Josh Queipo
6. Clemson CB Andrew Booth – Junior – 6-0, 194, DNP
Booth is the upside play of the top cornerbacks in this class. His transitions and footwork are lightning quick, and he's capable of playing in multiple schemes. Yes, his technique in press and as a tackler need work. Per PFF, Booth's nearly 24 percent missed tackle average was 326th in college football last year. That's brutal. Sometimes his feet move faster than his mind, and he gets off balance too easily.
But Booth is a very willing and aggressive tackler. He flies downhill in run support and plays with impressive intensity. Right now, consistency is the biggest issue in his game. The hope is that with further development he can level out at his peaks. Last season, Booth had eight pass breakups and three interceptions in 11 games. Injuries will also need vetting, as Booth was banged up quite a bit during his college career.
7. Florida CB Kaiir Elam – Junior – 6-1, 191, 4.52
Elam is a big, long corner with the strength and technique to jam up receivers at the line of scrimmage. He's patient too, rarely getting caught in a bad position on a receiver's release. However, down the field things can get questionable. Elam struggles to play with his back to the ball, committing a host of penalties last season. If he can clean that up, he'll be a good starter in the NFL.
Outside of one rough performance as a tackler against Alabama, Elam showed he's able to lay the lumber, too. Elam has to make more plays on the ball too, as he broke up six passes and intercepted just one last season. But the picks he's had over his career suggest real ball skills are a part of his game. There are some very real comparisons to Carlton Davis III on Elam's tape. He's a Bucs fit who could be a surprise selection at No. 27 overall.
7. Baylor CB Jalen Pitre – Senior – 5-11, 198, 4.46
Pitre is an exceptional slot cornerback who will constantly bring the fight against the run. Few players work top-down on the ball with better execution than Pitre does. He's a ferocious tackler, but will miss stops due to his size/over-aggressiveness. The trick with Pitre will be his value. How many defenses will value a slot only defender in the first round? I think Pitre will likely be a Day 2 pick, but whatever team adds him will be getting a baller. Pitre had 18 tackles for loss, three sacks, three forced fumbles, nine pass breakups and two interceptions last year.
8. Nebraska CB Cam Taylor-Britt – Senior – 5-11, 207, 4.38
Taylor-Britt is a stocky, long-armed cornerback with a frame that could ultimately move to safety. In fact, Taylor-Britt started seven games at strong safety back in 2019. He's known as a hard work and great leader who exemplified pro work ethic for his teammates at Nebraska. The senior is also one of the more physical defensive backs in the class, with some huge hits on tape.
But Taylor-Britt doesn't come without concerns, too. After playing in a zone-heavy scheme at Nebraska, Taylor-Britt is underdeveloped in man coverage. He's also not especially instinctive in zone, allowing receptions in front of him with regularity. And for all his physicality, Taylor-Britt still missed a number of stops in space. Tayl0r-Britt has the physical traits to be a press corner, but didn't do it a lot in college. During his final season, Taylor-Britt broke up 12 passes, but had just one interception.
9. Auburn CB Roger McCreary – Senior – 5-11, 190, 4.50
McCreary's tape is very good, but a lot of his peripheral information makes him a questionable pick. Already known as a smaller cornerback, McCreary's arm length and wingspan would be the shortest in the NFL at his position. He also failed to impress in his athletic testing, with just 31.5-inch vertical jump and a good-not-great 4.50 40-yard dash. Given his size, he'll likely have to move to the slot in the NFL. But McCreary never played inside in college, and said at the Senior Bowl that he is still learning zone coverages from scratch.
Those weaknesses will have him off the board of several NFL teams. But McCreary makes a lot of plays on the ball and is sticky in man coverage. Yet, against Alabama's John Metchie, McCreary won more than he lost. There's a very finite fit for McCreary in the NFL, and I'm not sure his tape is dominant enough to take him as high as the rumors have him. But the senior did break up 16 passes last year and snagged two interceptions.
10. UTSA CB Tariq Woolen – RS Senior – 6-4, 205, 4.26
Based on pure measurables, Woolen might be the highest upside project cornerback in NFL history. He's 6-foot-4, 205 pounds with 34-inch arms and runs a 4.26 40 with a 42-inch vertical and a 10'11" broad jump. Just jaw-dropping stuff. But Woolen is stiff and leggy, as many taller cornerbacks tend to be. Those movement deficiencies came out in his athletic testing too, as Woolen's shuttle and 3-cone were poor.
He's also one of the worst tacklers in the draft, missing an incredible 39 percent of his stops, per PFF! Woolen has only played cornerback for two seasons, recording 11 pass breakups and two interceptions in 20 games. The soon-to-be 23-year old needs considerable work before he's ready to play. But in press-zone schemes, Woolen's best ball could be ahead of him.
11. Sam Houston State CB Zyon McCollum – RS Senior – 6-1, 199, 4.33
McCollum is the other upside play of the mid-tier cornerbacks in this class. Whatever team selects him will be hoping they can turn one of the best athletes to ever play the position into a baller. At 6-f0ot-1, 199 pounds, McCollum is a legit 4.3 blazer with nearly 40-inch hops and absurd agility drill results. In five seasons at Sam Houston State, McCollum broke up 54 passes and picked off 13! Unfortunately, he's already 23 and his technique is far from pro-ready. He'll need ample development in the NFL after being picked on frequently by FCS competition.
12. Houston CB Marcus Jones – RS Senior – 5-8, 174, DNP
Jones will immediately compete with McCreary for shortest arms on an NFL cornerback. But Jones' wingspan is somehow even smaller. At 5-foot-8, 174 pounds, he's abnormally tiny for a cornerback, even in the slot. Surgeries on both shoulders have hindered him over the past two seasons, and kept him from working out at the Combine or his pro day. But he's a monster kick and punt returner who offers exceptional athleticism as a nickel. Jones is fearless too, sticking his nose into run defense often. His 18 pass breakups and five interceptions last year are among the best in the class at his position.
Best Of The Rest
13. Cincinnati CB Coby Bryant – RS Senior – 6-1, 193, 4.47
In a class full of toolsy cornerbacks, Bryant comes up a little bit short in that regard. He's not as fast, long or explosive as players like Woolen or McCollum. But he could easily have a better career. Bryant played opposite Sauce Gardner in Cincinnati, which meant he saw a lot of targets. And Bryant was incredibly productive too, with 25 pass breakups and seven interceptions over the past two years. He's an elite tackler with legit ball skills, but his lack of athleticism could pigeonhole the redshirt senior to specific scheme fits. Still, I think Bryant has a chance to have a better career than a lot of the other Day 3 cornerbacks.
14. Fayetteville CB Joshua Williams – RS Senior – 6-3, 195, 4.51
Williams has the size and length teams are looking for, but you're not going to learn much from his tape. D-II opponents didn't give him the issues NFL receivers will. We saw this firsthand in Mobile, where Williams spent the week getting torched by a mediocre group of pass catchers. I'm not sure he has the speed or fluidity to play in man coverage in the NFL. Perhaps a press-zone scheme will take Williams under the wing and develop him. The 22-year old did have three interceptions and nine pass breakups in nine games last season.
15. Alabama CB Jalyn Armour-Davis – RS Senior – 6-1, 197, 4.39
For three seasons at Alabama, Armour-Davis barely saw the field. Due to a knee injury, Armour-Davis redshirted in 2018. Then in 2019 he played just 59 snaps, before playing 33 in 2020. So, with 92 career snaps and zero starts to his name, Armour-Davis used 11 games in 2021 to vault his way into consideration to be a top 100 pick. Armour-Davis broke up seven passes, picked off three others and surrendered zero touchdowns.
But he barely played over the final four games of the season as injuries sprang up once again. However, the tape he put out in 2021 is very impressive. He plays like a far more experienced cornerback, in coverage and as a tackler.  If Armour-Davis can stay healthy, he could be the steal of the draft.
16. Pitt CB Damarri Mathis – RS Senior – 5-11, 196, 4.39
Mathis is a boom-or-bust cornerback who gives up too many big plays and commits too many penalties. Having said that, there is significant athleticism and catch point competitiveness to his game. If Mathis can become more disciplined, his best football could be ahead of him. The 23-year old broke up eight passes and intercepted two last season, adding 44 tackles. Mathis missed the 2020 season following a shoulder injury that required surgery.
17. Mississippi State CB Martin Emerson – Junior – 6-2, 201, 4.51
Emerson is one of the biggest, longest cornerbacks in the draft, with over 33-inch arms! He needs to play in a press scheme in the NFL, even if he's re-routing before his zone drops. That's where Emerson will be at his best, as he lacks the mirror-and-match quickness to shadow receivers in man. And despite massive size advantages and 11-inch hands, Emerson hardly ever made a play on the ball. The junior had just three pass breakups last season and hasn't intercepted a pass since 2019. But he's a good tackler and run defender that could be a Bucs target on Day 3 of the draft.
18. Missouri CB Akayleb Evans – RS Senior – 6-2, 197, 4.46
Evans is a size/speed/length cornerback who will be an intriguing Day 3 pickup. He'll win the interview process with teams, showing an impressive disposition at the podium during the NFL Combine. But Evans' technique can be lacking, making him slow to attack routes/the ball at times. He can also be a penalty machine, with too many flags over the past couple seasons. In 11 games last year, Evans broke up seven passes and grabbed his first and only career interception.
19. Penn State CB Tariq Castro-Fields – RS Senior – 6-1, 197, 4.38
Castro-Fields is big and physical, yet somehow still unwatchable as a tackler. His testing surprised at the Combine, but on the field there are very real concerns. Functionally, Castro-Fields doesn't transition in his movements like a starting NFL cornerbacks. That's disappointing, since his best schematic usage is in press coverage. He's physical with good technique at the line of scrimmage.
But Castro-Fields can't match shiftier receiver once the route is underway. The 23-year old will have a very narrow scheme fit in the NFL. And there's very little upside considering how poor his ball skills are. Over his past 15 college games, Castro-Fields managed just seven pass breakups and zero interceptions.
20. Alabama CB Josh Jobe – Senior – 5-11, 182, DNP
Early in his Alabama career, there was hope that Jobe would become the next great Crimson Tide cornerback. That never came to fruition, however. Instead, Jobe struggled with penalties and matching receivers in man coverage. Then Jobe was injured near the end of his college career, missing the pre-draft process.
The senior is aggressive and physical, competing at the catch point frequently.  He'll also fly around against the run, but missed tackles are a big issue. Jobe struggling through the worst season of his career as a 23-year old (now 24) is a bad sign for his NFL stock. In 12 games, Jobe had 38 tackles, six pass breakups and two interceptions.
Bucs' Best Bets: Cornerbacks
Bucs' Best Bet – Rounds 1-3: Nebraska CB Cam Taylor-Britt

The 5-foot-11, 207-pound Taylor-Britt is a physical ball of energy on the field. The hard-hitting cornerback is a forceful tackler when using good technique, and tough and aggressive in coverage as well. Lauded by his coaches for his tremendous work ethic, Taylor-Britt was voted as a team captain during his final year at Nebraska. His long arms, 4.38 speed and athleticism helped him break up 27 passes and pick off six others in his four years with the Cornhuskers. Taylor-Britt's physicality was also used near the line of scrimmage as he's recorded 2.5 career sacks.
While Taylor-Britt can be guilty of missing some tackles and biting on double moves because he's over-eager, NFL coaches would much rather tell players to slow down than hurry up. Taylor-Britt has an alpha personality and has been a durable starter. He's started 29 out of the last 30 games, including seven at strong safety in 2019 when he forced a team-high four fumbles. Taylor-Britt's tape screams "Bucs cornerback" and the team brought him in for a Top 30 pre-draft visit. He figures to be drafted in the third or fourth round.
Bucs' Best Bet – Rounds 4-7: Mississippi State CB Martin Emerson

Emerson is a tall, long cornerback with great size (6-2, 201) that would be a good fit in Todd Bowles' scheme. Tampa Bay likes big cornerbacks to play on the outside. The Bucs were ravaged with injuries at the cornerback position last year. They lost Carlton Davis III and Sean Murphy-Bunting for half the season and Jamel Dean for a few games. Drafting Emerson would give the Bucs a young outside cornerback that could help on special teams as a rookie while he learns the defense.
Emerson is battle-tested in the SEC. He ran a 4.53 in the 40-yard dash, which is on par with Davis' time coming out of Auburn. Emerson's lack of ball skills make him a mid-round pick. He had just one interception in three years for the Bulldogs, which came during his freshman season. Emerson broke up 15 passes at Mississippi State, including 11 in 2020 and three last year. He may never be a starting-caliber cornerback in Tampa Bay, but might offer quality depth as a fourth-round pick.
Share On Socials