PewterReport.com analyzes the top players in the 2022 NFL Draft with its' position previews. J.C. Allen keeps things rolling by previewing the defensive tackle position, with a comprehensive look at what the Bucs have and what they need at defensive tackle. Allen also provides a detailed list of this year's top defensive tackles. In addition, Scott Reynolds offers up the team needs and the annual PewterReport.com Bucs' Best Bets – the most likely defensive tackle for the Bucs to select in Rounds 1-3, and in Rounds 4-7.
What The Bucs Have At Defensive Tackle
The Bucs have a pressing need at the defensive tackle position, as starter Ndamukong Suh and reserve Steve McLendon remain unsigned. The Bucs really need Suh back in a big way this season. Tampa Bay did lock up Pro Bowl nose tackle Vita Vea with a multi-year contract extension worth $17.75 million per season. Vea had his best season last year and will need to step up with more playing time in 2022 to justify that big pay day.
The Bucs also re-signed starting defensive end Will Gholston and reserve Patrick O'Connor to one-year deals this offseason. Gholston is entering his 10th season in Tampa Bay, while O'Connor is a special teams ace. Rakeem Nunez-Roches is a good run-stuffer and is entering the final year of his contract. He's the top reserve at nose tackle and three technique in Tampa Bay. The Bucs also signed Deadrin Senat on Friday for camp depth. Benning Potoa'e, Kobe Davis and Willington Previlon were practice squaders last year and will compete for a roster spot in camp.
What The Bucs Need At Defensive Tackle
Even if Suh re-signs, he's 35 this year, while McLendon is 36. Gholston also turns 31, so the Bucs definitely need a youth movement at defensive tackle. Tampa Bay wants a younger, more athletic quick-twitch defensive tackle that can provide more interior pass rush. This is not a great draft for defensive tackles from a quality or quantity standpoint. So finding that type of defensive lineman will be difficult.
The Bucs aren't interested in Jordan Davis, who is a poor man's Vea. Devonte Wyatt, his teammate at Georgia, is very athletic, but lacks a lot of sack production with just five career sacks. UConn's Travis Jones is a big, run-stuffer like Suh. After that the talent drops off considerably. The Bucs might have to get creative and go after a big EDGE defender in the second round like Houston's Logan Hall and use him inside. It will be interesting to see which defensive tackle Tampa Bay comes away with.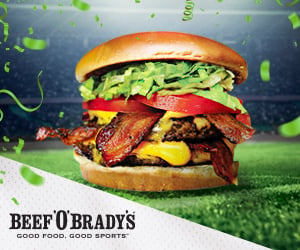 PewterReport.com's 2022 NFL Draft Previews + Bucs' Best Bets are presented by Beef 'O'Brady's – Good Food. Good Sports.
Visit BeefOBradys.com to place your order for Draft Weekend! From to-go to full-on catering – make it Beef 'O' Brady's. Visit any of the 45 Tampa Bay area Beef 'O' Brady's locations. See you at Beef's!
Top Defensive Tackles In 2022 NFL Draft
*Important Note: These players are NOT listed in the order of Pewter Report's ranking for them. Rather, the numbers are provided to show you the rough order in which we expect them to come off the board during the draft.
1. Georgia DT Jordan Davis – RS Senior – 6-6, 341, 4.78
Davis' size and strength profile will immediately make him one of the strongest players in the NFL. That gives him a solid floor as a run-stuffing nose tackle. His potential in that area has a ceiling of allowing defenses to play with lighter boxes to help against the ever-increasing pass game. The wild card with Davis' projection is what can he become as a pass rusher. He wasn't used in that role much at Georgia, where he was pulled in third-and-long situations routinely.
When he pins his ears back and decides to rush the quarterback, he can shoot a gap quickly and violently, running past and over unsuspecting blockers. His sheer strength also gives him a solid bull rush to push the pocket right back into a signal caller's face. But Davis hasn't shown the ability to get home at this point in his career. He's expected to be drafted in the mid-first round.
2. Georgia DT Devonte Wyatt – RS Senior – 6-2, 304, 4.77
Wyatt has an explosive first step and uses his speed to overwhelm opposing linemen. He's has great bend and displays fluidity and twitch getting off of blocks. He sets the edge well and is difficult for singular lineman to block.  A versatile defender, Wyatt played all along the line. Wyatt will need to develop other ways to get to the quarterback, currently relying on speed moves. He'll need to work on hand placement, often times striking wide. He doesn't have great arm length and he'll need to be more consistent leveraging his explosiveness into power.
Also, Wyatt needs to work on his play recognition skills. He can over pursue at times, taking himself out of plays. He also has some character concerns.  A two-year starter for the Bulldogs, Wyatt finished his collegiate career with 113 tackles, 12 for a loss, five sacks and two forced fumbles. He's expected to be drafted in the second half of the first round.
3. Connecticut DT Travis Jones – Senior – 6-4, 325, 4.92
Jones plays with good leverage at the point of attack with his powerful stout frame. He keeps his eyes in the backfield and won't be pushed around by blockers. But the biggest detraction with Jones is his pass rush ability. He'll often play too high in his rushes, and lacks a variety of pass rush moves. He doesn't easily shed blocks and struggles against double teams.
Right now, Jones profiles as more of a run defender, who may come off the field on third downs. But he could threaten as a rusher down the road. Jones finished his three years with the Huskies starting 32 games tallying 19 tackles for loss and 8.5 sacks. He's expected to be drafted in the second round, but could sneak into the latter end of the first.
4. Oklahoma DT Perrion Winfrey – Senior – 6-3, 290, 4.89
Winfrey possesses elite length for the position and has a wicked get-off. He displays good range moving in space and lateral mobility. He's got impressive upper body strength with the ability to knock blockers back. Winfrey showed out at the Senior Bowl, winning the MVP award.
But he must improve as a tackler at the next level often trying to strong arm ball carriers. He struggles to consistently shed blocks and lacks secondary pass rush moves. Undisciplined in the run game, Winfrey needs to do a better job of reading and reacting. Lack of production is a concern as well.  In his two years at Oklahoma after transferring from Iowa Western community College, Winfrey started 20 games racking up 17 tackles for loss, six sacks and a forced fumble. Winfrey is expected to be selected in the second round.
5. Texas A&M DT DeMarvin Leal – Junior – 6-3, 283, 5.00
Leal shows great athleticism and good lateral movement. He fires out of his stance with a number of pass rush moves in his arsenal. Leal also displays good change of direction and can move in space. He played all over the line at Texas A&M. There are legitimate questions on where Leal fits at the next level. He doesn't have the bulk to play the interior and doesn't have the lateral agility to be an every-down edge.
But Leal also struggles mightily against double teams in the run game, and must improve on reading and reacting to plays. He has difficulty disengaging from blockers and isn't a physical presence. He'll need to develop a better pass rush plan and improve his tackling. Leal finished three seasons with 29 starts, 25 tackles for loss, 13 sacks and two forced fumbles. Leal is expected to be picked in the second round.
6. Alabama DT Phidarian Mathis – RS Senior – 6-4, 342, 310 N/A
Where Mathis shines is in the run game demonstrating a good anchor and the ability to shed blockers. He has quick hands with a powerful punch and keeps his eyes in the backfield tracking the ball. He shows good lateral movement and has played all across the line. Mathis doesn't exactly fire off the ball or threaten upfield. He relies on his strength when rushing the passer, and doesn't possess an arsenal of pass rush moves. The redshirt senior is one of the more limited athletes in the defensive tackle class. But Mathis had a ton of production over his five years at Alabama, finishing with 24.5 tackles for loss, 10.5 sacks and three forced fumbles. Mathis is likely a mid-rounds pick.

Best Of The Rest
7. Tennessee DT Matthew Butler – RS Senior – 6-3, 297, 5.00
In a class with very few potential pass rushers at defensive tackle, Vols' captain Matthew Butler is intriguing. At 6-4, 297 pounds with impressive athletic testing numbers, Butler has a lot of traits NFL teams covet. His nearly 82-inch wingspan, combined with his burst off the ball and relentless motor, project as a speed-to-power rusher.
But Butler must become better with his hands to reach his ceiling. As a run defender he can struggle to get off blocks and make impact plays behind the line of scrimmage. Butler has the raw skills that sometimes are better utilized in the NFL than in college. When you combine those traits with his leadership and intangibles, it makes him a valuable day 3 defensive line addition. Butler's fifth-year senior season was his most productive, with 8.5 tackles for loss and five sacks. He is expected to be selected in the fourth round.
8. Arkansas DT John Ridgeway – RS Senior – 6-5, 321, 5.30
Ridgeway spent his first three seasons at Illinois State before transferring to the SEC for his redshirt senior season. The jump in competition didn't stop the tall lineman from still succeeding. Ridgeway is at his best lining up as a nose tackle, where he can take on double teams and help control the running game. He has functional strength that allows him to control his gap assignments, re-routing runs and freeing up linebackers to make plays. Over the course of his four playing seasons, Ridgeway racked up 12 tackles for loss, showing he has a knack for finding the ball.
Unfortunately, Ridgeway's skill set seems limited to an early-down role, as he has doesn't offer much pass rush. Due to his tall build, he has a tendency to let his pad level get high, allowing blockers to drive him backwards. A lack of pass rush moves also stands out. As a result, Ridgeway had limited success in college, where he registered just three sacks over 40 starts. In the right system, Ridgeway can carve out a successful role as an early-down run stuffing nose tackle. There is value in that and NFL teams will be looking to select him as a day three pick.
9. Iowa State Eyioma Uwazurike – RS Senior – 6-6, 316, 5.32
When you talk about physical freaks in this class, Uwazurike has to be at the top of the list. The sixth-year senior is almost 24 years old already, but improved every year of his college career. His coaches at Iowa State heralded his toughness and physicality, which are great traits to accompany a 6-6, 316-pound frame with an almost 85-inch wingspan.
Uwazurike played all over the Cyclones defensive line, picking up nine sacks and 12 tackles for loss in 2021. He needs to become more technical and consistent in his approach, as Uwazurike can lose his gap in the run game too often. Still, there are exciting traits to work with in the four-year starter's skill set. He's expected to be selected in the fourth or fifth round.
10. Florida DT Zachary Carter – RS Senior – 6-4, 282, 4.99
At 6-4, 282 pounds, Carter played all over the defensive line for Florida. A lot of his reps came on the edge, where he was tough to handle at the point of attack, but often exposed in space. In the NFL, Carter definitely lacks the athletic traits to play on the edge. So he'll need to bulk up to become a full-time defensive tackle.
The redshirt senior plays with a frenetic pace and physicality to his game, but lacks refinement or polished rush moves. If Carter has a path to success in the NFL, it's as a rotational interior pass rusher off the bench. He blossomed in his final two seasons at Florida, with 20.5 tackles for loss and 13 sacks over 24 games. He's expected to be selected in the fourth or fifth round.
11. LSU DT Neil Farrell – RS Senior – 6-4, 330, 5.41
Farrell is a massive run-stopping defensive tackle. He is at his best on early downs where he can anchor, occupy gaps and take on multiple defenders. This frees up his teammates to make plays on the ball carrier. His strength and a swim move allows Farrell to penetrate off the line of scrimmage quickly on passing downs. But his lack of lateral mobility and speed prevent him from being a difference maker as a pass rusher. He needs to learn how to play more controlled and gap-sound football to stay on the field in the NFL. He finished his career with the Tigers with 23 tackles for loss, 7.5 sacks and two forced fumbles. Farrell is expected to be selected in the fourth or fifth round.
12. UCF DT Kalia Davis – RS Senior – 6-1, 302, N/A
Davis is the definition of a bull in a china shop. He is able to fire out of his stance and penetrate gaps with lightning quick speed. This allows him to get favorable angles on offensive linemen, preventing them from being able to properly anchor against him. He uses his shorter frame to consistently play with low leverage and strong legs to drive opponents back into the face of the quarterback. That's impressive considering Davis began his UCF career as an off-ball linebacker.
Davis will need to improve the timing of his hands when grappling with opponents. He's coming off of a torn ACL in 2021 that prevented him from playing all but five games. When combined with a 2020 COVID opt-out, Davis has played just five games since 2019. Despite the lack of playing time, Davis was still able to generate 15 tackles for loss, four sacks, and one forced fumble over 28 games, including just 14 starts in three years.
13. UCLA DT Otito Ogbonnia – Senior – 6-3, 324, 5.31
With enviable length and size, Ogbonnia has the build to be a prototypical nose tackle at the NFL level. Ogbonnia's upper body strength and long arms allow him to land heavy punches to offensive linemen and drive them back easily. He flashes a few pass rush moves such as a rip and swim, but doesn't use them consistently enough.
The senior's lack of explosiveness and speed mean he will never be a high sack producer, but he could develop into a nice pocket pusher. Ogbonnia's best-case outcome is as a run-stuffing nose tackle who can help a pass rush by making quarterbacks uncomfortable in closing pockets. In order to reach this potential, Ogbonnia will need to work on dropping anchor and holding gaps in the run game. Otherwise, he won't be on the field in the first place.
14. Missouri State DT Eric Johnson – RS Senior – 6-4, 299, 4.86
Johnson is a strong tackler and demonstrates the ability to shed blocks. He has a strong anchor and powerful hands to punch and grab. But Johnson plays with a high pad level and will struggle to maintain leverage off the snap. He will need to refine his technique and add to his pass rush repertoire at the next level. The redshirt senior is not a bendy athlete, getting driven out of plays too often. He'll need to work on his reactionary skills, often losing track of the ball carrier. Johnson finished his six-year career at Mississippi State with 19.5 tackles for loss, 6.5 sacks and two forced fumbles. He is projected to be selected in the fifth or sixth rounds.
Bucs' Best Bets: Defensive Tackles
Bucs' Best Bet – Rounds 1-3: Georgia DT Devonte Wyatt

Wyatt has been mocked to the Bucs more than any other player this year. At 6-foot-4, 307 pounds, he's big enough to stop the run and athletic enough to rush the passer. Wyatt is a bit of a late bloomer. He came on his senior season at Georgia with 39 tackles, seven tackles for loss, 2.5 sacks and a pair of forced fumbles. Wyatt had a very good Senior Bowl week where he impressed as the top defensive tackle there. Either he or Bulldogs teammate Jordan Davis figures to be the first defensive tackle off the board.
But Wyatt doesn't come without some question marks. For such an athletic player, the production doesn't match his impressive performance at the NFL Scouting Combine. Despite having 4.77 speed, Wyatt only notched five sacks in four years at Georgia. There are also some character concerns that cause him to slide down in the first round. Would the Bucs still be interest in him if Wyatt was there at No. 27? They interviewed him at the Combine and had him in for a Top 30 visit. Wyatt certainly fills a big need in Tampa Bay.
Bucs' Best Bet – Rounds 4-7: Tennessee DT Matthew Butler

If the Bucs pass on drafting a defensive tackle early, they better grab one in the fourth round, as it's not a deep class. Iowa State' Eyioma Uwazurike is an option, and has been in a past Pewter Report Bucs' mock draft. But Butler is an intriguing defensive tackle because of how hard he plays. Butler is battle-tested in the SEC. He's notched sacks against the likes of Alabama and Georgia, in addition to sacking Ole Miss' Matt Corral twice last year. Butler has recorded 152 tackles, 16 tackles for loss and 9.5 sacks in his Volunteers career.
Butler is a good, but not great athlete. That will keep him out of the first days of the draft. But he has enough pass rush ability (five sacks last year) and grit to warrant an early Day 3 selection. Butler is a blue-collar, hard-nosed defender against the run. And he's quick enough to execute stunts and twists when getting after the quarterback. At 6-foot-4, 297 pounds, he has enough size to be a 3-technique defensive tackle in Todd Bowles' scheme. Butler could be a Bucs fit in the fourth round.
Share On Socials