PewterReport.com analyzes the top players in the 2022 NFL Draft with its' position previews. Matt Matera keeps things rolling by previewing the edge defender position, with a comprehensive look at what the Bucs have and what they need at outside linebacker. Allen also provides a detailed list of this year's top edge defenders. In addition, Scott Reynolds offers up the team needs and the annual PewterReport.com Bucs' Best Bets – the most likely outside linebacker for the Bucs to select in Rounds 1-3, and in Rounds 4-7.
What The Bucs Have At Outside Linebacker
Tampa Bay has one of the best edge rushers in Shaquil Barrett, a two-time Pro Bowler. The Bucs gave Barrett a contract extension worth $17 million per season last year. He came through with a 10-sack season and his second Pro Bowl berth. In three years in Tampa Bay, Barrett has recorded 37.5 sacks, 11 forced fumbles and two interceptions. The Bucs drafted Joe Tryon-Shoyinka in the first round last year and he'll end up replacing Jason Pierre-Paul. The 33-year old Pierre-Paul's body is breaking down. He only had 2.5 sacks last year as a result of a shoulder injury and broken fingers. The year prior, it was a knee injury, and a neck injury the year before that.
Tryon-Shoyinka is expected to start after having four sacks last year. Anthony Nelson enters a contract year as the No. 3 outside linebacker. He had his best season yet with a career-high five sacks. Cam Gill saw some reps as a designated pass rusher. He has the early edge to be the fourth outside 'backer on Tampa Bay's depth chart. His main competition will come from Elijah Ponder, who was a practice squad player last year.
What The Bucs Need At Outside Linebacker
Tampa Bay needs another quality edge rusher to bring to camp to compete for a reserve spot with Nelson, Gill and Ponder. The Bucs spent a premium draft pick on Tryon-Shoyinka last year, so they likely won't draft another outside linebacker in the first round. If they do, Houston's Logan Hall or Minnesota's Boye Mafe might be the only possible candidates. Rushing the passer is important to defensive-minded head coach Todd Bowles and to general manager Jason Licht. So drafting another edge rusher on Day 2 or Day 3 won't be out of the question.
If the Bucs don't address outside linebacker in the draft they may have to turn to a veteran this summer. Would Pierre-Paul be an option? What about Justin Houston, Takk McKinley or Carl Nassib? The Bucs will need another outside linebacker or two to fill out the training camp depth chart. An injury to Barrett would leave the Bucs thin on talent and experience, and that could be disastrous.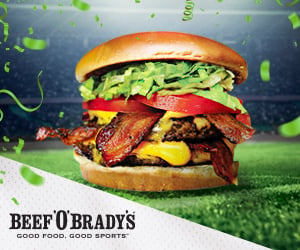 PewterReport.com's 2022 NFL Draft Previews + Bucs' Best Bets are presented by Beef 'O'Brady's – Good Food. Good Sports.
Visit BeefOBradys.com to place your order for Draft Weekend! From to-go to full-on catering – make it Beef 'O' Brady's. Visit any of the 45 Tampa Bay area Beef 'O' Brady's locations. See you at Beef's!
Top Edge Defenders In 2022 NFL Draft
*Important Note: These players are NOT listed in the order of Pewter Report's ranking for them. Rather, the numbers are provided to show you the rough order in which we expect them to come off the board during the draft.
1. Michigan EDGE Aidan Hutchinson – Senior – 6-7, 260, 4.74
The general consensus top edge rusher off the board. Hutchinson comes from a football family as his dad, Chris, was an All-American defensive lineman at Michigan. Hutchinson is all energy all the time in pursuit of the quarterback or ball carrier. His strength and physical nature mixes perfectly well with his bag of pass rushing moves. He can win by bull rushing, but also beat you with a rip, swim and other techniques. 
There were some questions initially about Hutchinson's first step. At times it set him back, but by the middle of the season, any of those doubts went away. A three-year starter, Hutchinson burst onto everyone's radar during his senior year. He started 14 games and recorded 16.5 tackles for loss, 14 sacks and four forced fumbles. Hutchinson was also a team captain, Big 10 defensive player of the year, first team Big 10, unanimous All-American and a runner up to the Heisman trophy.
2. Georgia EDGE Travon Walker – Junior – 6-5, 272, 4.51
You can't really go wrong with a Georgia defensive player this year, can you? Walker is another player that just has a relentless motor out there. His athleticism is elite, even among other pass rushers in this draft class. Walker is versatile as well, lining up on the inside for 36 percent of his snaps, according to Pro Football Focus.
The production level is a bit alarming for Walker considering his skill set. He had just 9.5 sacks in three years, with six of them coming last year. Walker also made 65 tackles, 13 tackles for loss, a forced fumble and four pass breakups in that time. Along with that, he helped the Bulldogs win the national championship in January. 
3. Oregon EDGE Kayvon Thibodeaux – Junior – 6-4, 254, 4.58
I really enjoy watching Thibodeaux's speed off the edge. He makes it tough for anyone to block him as he quickly gets off the line of scrimmage and into the backfield. He has good size as well. There are some skills he'll need to work on, which include improving his pass rushing moves and overall tackling. Questions have come about his passion for the game, which could raise some red flags.
Thibodeaux started for all three years at Oregon. He recorded 35.5 tackles for loss, 19 sacks, three forced fumbles and seven pass breakups in 32 games. Thibodeaux is a team captain, first team All Pac-12 and unanimous All-American. At the NFL Combine, he led all edge rushers with 27 reps on the bench press. 
4. Florida State EDGE Jermaine Johnson – RS Senior – 6-5, 254, 4.58
Straight up, Johnson is a stud. He has great size, power and speed. Johnson's progression is an interesting one. He shuffled around the defensive line at Georgia and didn't really get the playing time he desired. Then Johnson transferred to Florida State and crushed it with 12 sacks last year. 
He balled out at the Senior Bowl to the point where he was so good, he didn't practice the last day or play in the game because there wasn't much more he could do. Johnson had 26 tackles for loss, 18.5 sacks, three forced fumbles and four pass breakup in college.
5. Purdue EDGE George Karlaftis – Junior – 6-4, 266, 4.77
Karlaftis actually grew up in Greece for over a decade of his life. Unfortunately though, his dad Matt passed away. Then his mom, Amy, brought the whole family back to the United States to move closer to family in Indiana. Karlaftis actually grew up a mile from Purdue's campus. 
The junior is on the go all the time and has a great first step off the ball. He's a powerful rusher when taking on blockers. Karlaftis does struggle out in space and his arm length is less than ideal, which will make it tough for him to create separation. He jumped onto the scene as a freshman with 54 tackles, 17 tackles for loss, 7.5 sacks, a forced fumble, three pass breakups and an interception. His junior year was solid as well, putting together 41 tackles, 11.5 tackles for loss and five sacks.
6. Houston EDGE Logan Hall – Senior – 6-6, 283, 4.88
Hall displays great initial burst off the line and has the strength to bull rush linemen into the pocket. He shows great speed-to-power and has a repertoire of moves at his disposal. Violent, heavy hands and a strong anchor help him blow up lineman in pass protection. Hall shows good play recognition and has the ability to chase down ball carries with impressive change of direction.
However, Hall plays with a high pad level and could struggle with getting pushed back in the NFL. He possesses a good bull rush, but will need to do a better job at stacking moves and adding counters when his plan stalls. He can be overmatched in the run game at times, due to being a lighter interior player. He is a bit of a tweener as well, not quite agile enough to be an every down edge, but almost too small to be an interior lineman. Over his four seasons at Houston, Hall started 23 games for the Cougars. He totaled 99 tackles, 20 tackles for loss, eight sacks and a forced fumble in his career. Hall is expected to be selected in the second round, but could sneak into the late first round.
7. Minnesota EDGE Boye Mafe – RS Senior – 6-4, 261, 4.53
Mafe is the first pass rusher on this list that I think can still be available for the Bucs in the second round. He had a great showing at the Senior Bowl, standing out at practice and then kicking it to another level in the game. He led the way with multi-sack outing.
He still has a lot to learn about pass rushing skill and overall instincts for the game. With that said, Mafe had an awesome  showing at the Senior Bowl, standing out at practice and then kicking it to another level in his game. He led the way with a multi-sack outing. Getting better each year at Minnesota, Mafe's senior year finished with 34 tackles, 10 tackles for loss, seven sacks and a forced fumble.
8. Penn State EDGE Arnold Ebiketie – RS Senior – 6-2, 250, 4.65
This is another player that is considered to be on the Bucs radar, or at least a fit. Continuing the list of international edge rushers, Ebiketie grew up in Cameroon before moving to D.C. at age 12. He played three years at Temple before transferring to Penn State. That's when he really broke out. With just six sacks on the Owls, Ebiketie registered 9.5 in his season with the Nittany Lions. 
Ebiketie is a high effort guy that can play both the run and the pass. He's physical with more than enough speed to get to the quarterback. The concern is that he relies too much on just quickness and doesn't have enough refined technique to win battles against opposing linemen.
9. Michigan EDGE David Ojabo – RS Sophomore – 6-4, 250, 4.55
The streak continues with international edge rushers, as Ojabo was born in Nigeria and seven years later grew up in Scotland. Ojabo is an extremely raw talent with high potential. He's got all the physical traits with size, quickness and strength. Ojabo has shown a good instinct for the game as well, he just needs more reps to get everything going. 
Ojabo's production all came from last season. He racked up great numbers with 11 sacks, 12 tackles for loss, three pass breakups and a Big 10-leading, school record five forced fumbles. That was all with Hutchinson lining up on the other side of him. There's a lot of room for growth here for Ojabo, who was first team all Big-10. Unfortunately a torn Achilles suffered during the pre-draft process likely rules him out for his rookie season.
10. Kentucky EDGE Josh Paschal – RS Senior – 6-3, 268, 4.77
Paschal is a versatile player that can line up all over the defensive line. He unfortunately was diagnosed with acral lentiginous melanoma in 2019, which required multiple surgeries. Paschal had to re-work his body and return to football form. Overcoming the adversity, Paschal had a productive 2021 season with 5.5 sacks, 15.5 tackles for loss and 53 tackles. 
He's a three-time team captain and was a second team All-American and second team All-SEC last year. Paschal has a lot of power to his pass rushing game and does well with hand placement against opponents. He lacks the athleticism to have a high ceiling, but his coaches at Kentucky rave about his character.
11. USC EDGE Drake Jackson – Junior – 6-3, 273, DNP
Jackson has size-able arm length that helps him create separation as a pass rusher. Athletically, there's a lot to like and he relies on his speed to get into the backfield, but does have a couple of moves. While he can play both the run and pass, Jackson needs to put on some more muscle for the NFL level. 
He started all three years at USC, playing in 28 games. Jackson recorded 103 tackles, a team-high 25 tackles for loss and racked up 12.5 sacks. He also forced a fumble, broke up two passes and even had two picks. In his last year, Jackson was second team All Pac-12. 
12. Oklahoma EDGE Nik Bonitto – RS Junior – 6-3, 248, 4.54
Bonitto is extremely quick off the ball and bendy to corner as a pass rusher. He has some nice moves off the edge as well. HIs issue is that he needs to get more physical when out there. Bonitto was really productive as a starter, especially over the past two years. He had 117 tackles, 32 tackles for loss, 18.5 sacks, one forced fumble and two interceptions. Is he big enough to start in the NFL? And can he make an impact against the run?
13. South Carolina EDGE Kingsley Enagbare – Senior – 6-4, 258, 4.87
When it comes to pass rushing, Enagbare has a couple of moves. He takes the proper angles to get to the quarterback, and the best part is that there's a ton of room to grow. Enagbare was pretty consistent for the Gamecocks, recording 24 tackles for loss, 15 sacks, four forced fumbles and four pass breakups during his tenure.

Best Of The Rest
14. Western Kentucky EDGE DeAngelo Malone – RS Senior – 6-3, 243, 4.54
The production has been there. It's just about putting it all together. Malone has good explosiveness off of the snap when going after the quarterback. In 62 games with 53 starts, Malone recorded 349 tackles, 60 tackles for loss, 34 sacks, nine forced fumbles, eight passes defensed and one interception. 
15. San Diego State EDGE Cameron Thomas – RS Junior – 6-4, 267, DNP
Thomas has the right size as an edge defender. He can move from sideline to sideline, showing good quickness. But it'll take some work before he can be a legitimate pass rusher. Thomas had 155 tackles, 39 tackles for loss, 21 sacks, two forced fumbles and three pass break ups at San Diego State. 
16. Ole Miss EDGE Sam Williams – RS Senior – 6-4, 261, 2.57
It took until his senior year for Williams to really jump onto the scene as a pass rusher. In that year he had 12.5 sacks, more than what he had in his other two years. He's got good length and relentlessly goes after whoever has the ball. Last year, Williams was a second team All-American and first team all-SEC. There are off-the-field concerns that teams will take a long look at before drafting him.
17. Miami (Ohio) EDGE Dominique Robinson – RS Senior – 6-5, 253, 4.72
In close quarters, Robinson can get the job done. He's got a good first step and knows how to corner. He was originally recruited as a quarterback, so you know that he's fast enough to move around and get after the opponent. In his senior year, Robinson had 29 tackles, 8.5 tackles for loss and 4.5 sacks. He was second team in the well-loved MAC.
18. UAB EDGE Alex Wright – Junior – 6-5, 271, DNP
Wright has quite the range to pursue ball carriers in space. He'll need to continue growing into his body, but he has good length and solid hand placement. In three seasons, Wright had 91 tackles, 19 tackles for loss, 12.5 sacks, three forced fumbles and five pass breakups there.
19. Cincinnati EDGE Myjai Sanders – Senior – 6-5, 228, 4.67
Sanders has good bend for what you look for in an edge rusher. He started the last three years and really stood out in his junior year, when he had a personal-best seven sacks. That dipped in his senior year, when he only put up 2.5. He still ended up making first team all-AAC and was a team captain. 
20. Alabama EDGE Christopher Allen – RS Senior – 6-3, 241, DNP
It's tough to find playing time on the Crimson Tide. Allen played in 34 games, but only started in five of them. In that time he recorded 61 tackles, 19.5 tackles for loss, 7.5 sacks and four forced fumbles. Allen unfortunately had a season-ending foot injury last year, playing in just one game. 
21. Penn State EDGE Jesse Luketa – Senior – 6-3, 253, 4.89
I'm probably higher on Luketa than most people. The Senior Bowl practices were highlighted by Johnson and Mafe, but Luketa put in work and played well in the game. Luketa has a high motor and will continue to go after the opposition. He was a team captain in 2020, recording 151 tackles, 11.5 tackles for loss, a half-sack, eight pass breakups and a pick-six in his career. 
22. Virginia Tech EDGE Amare Barno – RS Senior – 6-5, 246, 4.36
Barno was the top performer at the NFL Combine in the 40-yard dash with a time of 4.36 on the list. He initially played linebacker and then transitioned to edge defender. You know he's got the movement from his off-ball experience, it's just more about getting those reps. In his two years with the Hokies, Barno put together 78 tackes, 21.5 tackles for loss, 10 sacks, three passes defensed and a fumble recovery. 
23. Texas A&M EDGE Michael Clemons – RS Senior – 6-5, 263, 4.83
Clemons is aggressive off of the edge and moves quite well, especially off of the snap. He'll need to refine his technique a bit. Analyst Dane Brugler has Clemons projected to go in the fifth round according to his draft documents. Injuries are an issue, considering he missed time in his 2018, (when he redshirted) 2019 and 2020 seasons. However, he was healthy in 2021. Clemons has had a long career already, playing at Cisco community college for two years before transferring to Texas A&M. He was a team captain as a senior and recorded seven sacks while scoring a defensive touchdown on a scoop-and-score. 
24. Oklahoma EDGE Isaiah Thomas – RS Senior – 6-5, 266, 4.70
Thomas has a good first step and a couple of solid pass rushing techniques. He was second team all Big-12 over the last two seasons along with being a team captain last season. With the Sooners, Thomas made 81 tackles, 26.5 tackles for loss, 8.5 sacks, four forced fumbles and seven passes defensed. 
25. Ohio State EDGE Tyreke Smith – Senior – 6-3, 254, 4.86
I thought Smith did well at the Senior Bowl practices too. He's got a great first step to get into the backfield and attack the passer. As a senior, he recorded 26 tackles, five tackles for loss, three sacks, one forced fumble and four pass breakups. 
26. Houston EDGE David Anenih – RS Senior – 6-2, 245
In his senior year Anenih was first team all-AAC. He played five years and recorded 99 tackles, 31.5 tackles for loss, 20 sacks, four forced fumbles and broke up seven passes. He's an athletic player that has substantial potential if he can put it all together.
Bucs' Best Bets: Outside Linebackers

Bucs' Best Bet – Rounds 1-3: Houston EDGE-DT Logan Hall
Hall is ranked as an edge rusher by most draft prognosticators and experts. The 6-foot-6, 283-pounder reportedly played at 265 pounds during the season. But he was mostly used at defensive tackle, where he recorded six sacks and 13 tackles for loss. He's an incredibly versatile player that could help the Bucs in a lot of different ways. Now that his weight is up, Hall has the chance to play defensive tackle at the next level. Hall's game resembles that of defensive end Will Gholston, who moves around the Bucs' front. And Hall's position flexibility could help the Bucs at 3-tech as well, especially if he got over 290 pounds.
Todd Bowles has even played nose tackle Vita Vea on the edge at times to give the offense a different look. Hall has the length and enough speed – he ran a 4.88 at the NFL Scouting Combine – to play outside in certain rush packages. Anthony Nelson is 6-foot-7, 271 pounds with 4.82 speed, and is an edge rusher in Bowles' scheme. Hall can be a valuable chess piece on the defensive line, but will mostly kick inside. Given the Bucs desire to find interior pass rush, we believe Tampa Bay is mostly interested in edge defenders who can move inside.
While Hall's ideal value is in the second round, don't be surprised if he's the Bucs' first pick – even at No. 27. He might not be there at No. 60 when Tampa Bay is on the clock. Hall recently came in for a Top 30 visit, and he's definitely a Bucs fit.
Bucs' Best Bet – Rounds 4-7: UAB EDGE-DT Alex Wright

Wright is an interesting prospect because scouts are mixed on where he gets drafted. Is he a middle-round pick because of his 6-foot-5, 271-pound NFL-ready frame and physical tools? Or does his lack of instincts warrant a later, Day 3 selection instead? Wright had 19 tackles for loss and 11.5 sacks in his three seasons for the Blazers, including a career-high six last year. While UAB often lined him up as an outside linebacker, he had the most success rushing the passer as an interior nickel rusher. Wright actually looked lost on the edge, but quite comfortable inside at defensive tackle.
Wright's size and versatility make him a poor man's Logan Hall. But that versatility could be welcome in Tampa Bay, where Bowles values players that can play multiple positions. The Bucs have shown some pre-draft interest in Wright. The problem is that the team currently only has a fourth-round pick, and is without picks in the fifth and sixth rounds. Is the fourth round too early to pick a developmental player like Wright? We'll find out soon enough.
Share On Socials