PewterReport.com analyzes the top players in the 2022 NFL Draft with its' position previews. Matt Matera keeps things rolling by previewing the tight end position, with a comprehensive look at what the Bucs have and what they need at tight end. Matera also provides a detailed list of this year's top tight ends. In addition, Scott Reynolds offers up the team needs and the annual PewterReport.com Bucs' Best Bets – the most likely tight end for the Bucs to select in Rounds 1-3, and in Rounds 4-7.
What The Bucs Have On Interior Offensive Line
The Bucs had two major defections along the offensive line this offseason. Pro Bowl left guard Ali Marpet suddenly retired in his prime at the age of 29. Then starting right guard Alex Cappa left for a bigger pay day in Cincinnati during free agency. Tampa Bay couldn't afford to keep both Cappa and Ryan Jensen, so the team wisely opted to re-sign the Pro Bowl center. Shortly after Cappa's departure, general manager Jason Licht traded for Patriots right guard Shaq Mason. The addition of Mason is actually an upgrade, especially in the running game.
The Bucs have quietly stockpiled the guard position over the last couple of years. Aaron Stinnie, who replaced Cappa in Tampa Bay's playoff run in 2020, is back on a one-year, prove-it deal. He's the early favorite to replace Marpet. Stinnie will be challenged by Nick Leverett, a versatile backup, who impressed the Bucs with his positional flexibility last year. Also, backup center Robert Hainsey, last year's third-round pick, will also compete at left guard now that Jensen has been re-signed. The Bucs also have Sadarius Hutcherson and John Molchon that will also be in the mix.
What The Bucs Need On Interior Offensive Line
The Bucs have plenty of bodies along the interior offensive line. Jensen, Mason, Stinnie and Hainsey are locks to make the team. Leverett seems to be in contention for a roster spot, too. That's five interior offensive linemen out of the nine or 10 that the Bucs will keep on the team's 53-man roster. Does Tampa Bay need another interior offensive lineman? No. The Bucs should be able to find a starting left guard out of the Stinnie-Leverett-Hainsey competition and have plenty of backups at both guard and center.
However, having too many good players is never a bad thing. Adding another talented interior offensive lineman only adds to the competition. The reality is that Stinnie and Leverett are in contract years and may not be back in 2023. If the right interior offensive lineman is there and is the best player available in a certain round when the Bucs are on the clock, general manager Jason Licht could pull the trigger. Keep in mind that the Bucs also like to draft offensive tackles and move them inside, too. Marpet, Cappa and Hainsey all played tackle in college.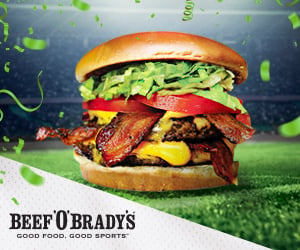 PewterReport.com's 2022 NFL Draft Previews + Bucs' Best Bets are presented by Beef 'O'Brady's – Good Food. Good Sports.
Visit BeefOBradys.com to place your order for Draft Weekend! From to-go to full-on catering – make it Beef 'O' Brady's. Visit any of the 45 Tampa Bay area Beef 'O' Brady's locations. See you at Beef's!
Top Guards In 2022 NFL Draft
*Important Note: These players are NOT listed in the order of Pewter Report's ranking for them. Rather, the numbers are provided to show you the rough order in which we expect them to come off the board during the draft.
1. Boston College G Zion Johnson – RS Senior – 6-3, 312, 5.18
Johnson is easily the best guard in this class. He was a five-year starter, spending his final three with Boston College.  A team captain his final two years, Johnson made the All-ACC team twice.  He combines long arms with a very technical approach to win consistently in pass protection. In addition, his athleticism allows him to be a consistent asset in the run game. He should be off the board before the end of Round 1.
2. Texas A&M G Kenyon Green – RS Senior – 6-4, 323, 5.24
A mauler in the run game, Green may have the highest upside of any guard in the draft. A three-year starter, he was a two-time consensus All-American.  His combination of size and power make for an interesting blend that o-line coaches will want to develop. He lacks consistency in technique, leaving opportunities for edge rushers to win on his oversets. He also will have to learn to keep his hands from getting wide at the next level or he will draw the ire of coaches with penalties. Green's range is late first round to mid-second.
3. Memphis G Dylan Parham – RS Senior – 6-3, 311, 4.93
Parham was a four-year starter at Kentucky, logging games at both guard positions as well as right tackle. At the next level, his small size profiles best as a center. He was first team all-AAC his Senior year. Parham works hard to maintain leverage and anchor in pass protection. Parham displays good footwork that enables him to mirror the defender he is engaged with. He can lose his pad level and his strength is average at best, which leads him to be susceptible to bull rushes. But his attributes make him a solid bet to develop at the next level. NFL teams will look at him in the second or third rounds.
4. Kentucky G Darian Kinnard – Senior – 6-6, 322, 5.31
Kinnard spent his entire career playing tackle for Kentucky. There he was consensus All-American and first team All-SEC in his senior year. At the NFL level he profiles as a guard.  This is due to slightly shorter arms and a lack of lateral agility. His strength is evident on tape and his frame is well-suited for the guard position. However, Kinnard will need to work quite a bit on his technique and pad level to be successful at the next level. He plays with a nasty demeanor, but his technique suffers at times, too.
5. Central Michigan G Luke Goedeke – RS Senior – 6-5, 312, DNP
A tight end who converted to tackle in college, Goedeke profiles to move to guard at the NFL level. Goedeke's calling card is his above-average strength. This helps to give him a high floor as a run blocker. He moves well, allowing him to be an asset on traps and counters. Goedeke is the definition of a guy who won't on a rep. This allows him to recover more often than most. He can be slow to set which allows bull rushers to gain leverage and bully him. Goedeke profiles as a high-upside project who will need to work on his pass protection to become a long-term stalwart on an NFL offensive line. He has been shooting up draft boards and could be taken as high as the second round, but more likely somewhere in the third. 
6. Chattanooga G Cole Strange – RS Senior – 6-5, 307, 5.03
Strange was a 2021 first team All-American and team captain who started 44 games at Chattanooga. Strange is quick off the ball, dictating contact with his assignment. He pairs strong play strength with a big punch. Strange's athleticism jumps off the tape and showed well in testing. The redshirt senior plays with a mean streak that offensive line coaches will love. He is light for a guard and has only one career start at center, so he will either need to add mass or learn a new position at the NFL level. If he doesn't win immediately, Strange does struggle to reset and re-assert. Strange is also old for an NFL rookie at 24. He is seen as a third round pick, but could go anywhere from the late second to the early fourth round.
7. Oklahoma G Marquis Hayes – RS Senior – 6-5, 318, 5.32
Hayes was a three-year starter at Nebraska and second team All-Big 12 in his senior year. With ideal size at the guard position he plays like a bully. He uses strong hands and a powerful frame to push defenders around. Also, Hayes moves well in pulls, finding his target and decimating him. He can get caught leaning, which leads to ugly losses and struggles to maintain his pad level. Hayes is projected as a third-rounder.
8. Georgia G Jamaree Salyer – Senior – 6-3, 321, DNP
Salyer is a two-year starter at tackle for Georgia where he earned second team All-American in 2021. At the NFL level he will most likely kick into guard, where his lack of athleticism and agility aren't as important. Salyer features incredible strength both in his combine testing (31 reps on the bench) and on his tape. When he was able to grip/latch onto a defender, he almost always finished strong. Salyer will need the right scheme that doesn't require him to move in space much to be successful.  He will most likely be drafted in the second or third round.

Best Of The Rest
9. LSU G Ed Ingram – RS Senior – 6-3, 307, 5.02
Ingram has a prototypical guard build that he complements with above-average play strength and good hands at the point of attack. He keeps his pad level low and handles stunts and twists well. He started three of his four years at LSU. Teams will have to do some homework on Ingram as he was suspended in 2018 following an arrest. Ingram struggles with using his lower body enough and will bend at the waist too much. His below average athleticism also hurts his ability to handle longer defenders and speed rushes. He is projected to be an early Day 3 pick.
10. Virginia Tech G Lecitus Smith – RS Senior – 6-3, 314, 5.18
Smith is a small, compact guard who may be maxed out physically.  His best attribute is footwork, which allows him to mirror his defender and stay engaged. He jumps out of his stance and will often dictate contact with his assignment. Smith has a strong punch, good bend and moves to the second level in the run game with ease that belies his tight end background. Concerns with Smith will center around his strength and anchor. He can get bullied by stronger defenders who can get into his chest due to his shorter arms. Smith is most likely a fourth-round pick.
11. Georgia G Justin Shaffer – RS Senior – 6-3, 314, 5.14
Shaffer was a second team All-SEC selection in his senior year after being a two-year starter for Georgia. He has a good frame with room to build on it. Shaffer features a quick get-off and strong punch. His nasty mentality shows him to be someone who really looks to finish every block, and he has the play strength to pull it off. Shaffer reaches too much on zone blocks, leading to balance issues. He will need to continue to work on his hand placement in order to prevent penalties at the next level. It's difficult to project where Shaffer will be drafted due to past injury concerns. He could go anywhere from the third to the fifth round. 
12. North Carolina G Joshua Ezeudu – RS Junior – 6-4, 308, 5.19
Ezuedu is a good athlete who has experience at both tackle and guard at North Carolina. He was a team captain his senior year. The redshirt junior combines decent strength with good movement ability. Ezeudu can get to the second level and stick on linebackers on zone runs and as a puller. Also, Ezeudu plays with a wide base and displays good footwork. He will need to work on the technical side of his game, as his hands can get wide, leading to penalties. In addition, the guard can raise his pad level, allowing defenders to win with leverage. Ezuedu is a small project for NFL teams, and is projected to be drafted late day two or early Day 3.
13. Ohio State G Thayer Munford – RS Senior – 6-5, 328, 5.39
Munford was a four-year starter at Ohio State, where he played mostly tackle. During his senior year, Munford transitioned to guard, where he profiles in the NFL. Munford has a massive frame with long arms and good play strength when he lands his punch. But he does struggle with landing his punch consistently and can be caught bending at the waist and raising his pad level. He also lacks true athleticism, which leads to struggles against more explosive, faster pass rushers. Munford will most likely be an early Day 3 pick. 
14. Wisconsin G Logan Bruss – RS Senior – 6-5, 309, 5.32
Bruss started 35 games over four seasons across right tackle, right guard and tight end at Wisconsin. Bruss has a big, wide frame with solid play strength. He uses heavy hands to strike hard against his opponent. Despite great testing numbers, Bruss plays like a much more average athlete. He struggles to be effective on the move and will often get turned around trying to find a second level block. Bruss has a habit of allowing defenders to cross his face and will allow his pad level to rise, losing leverage. Bruss is seen as an early Day 3 pick.
15. Michigan G Andrew Stueber – RS Senior – 6-6, 325, DNP
Stueber was a two-year starter at Michigan after missing all of 2019 with an injury. Playing mostly right tackle in college, he projects to move inside to guard at the NFL level. Stueber uses his big body and strong grip strength to try and dictate terms for his opponent. A smart player, he redirects rushers by moving them off of their pass rush lanes. He has solid leg drive to make him an asset in the run game. Stueber can draw flags by letting his hands get wide and trying to jump snaps too quickly, leading to holding calls and false starts. His overall play strength and lack of athleticism are areas of weakness. Stueber is projected as a fifth-round pick. 
16. Tulsa G Chris Paul – RS Senior – 6-4, 323, 4.89
Paul was a four-year starter at Tulsa, playing across the line at both tackle and guard spots. In 2021 he was an honorable mention for the All-AAC team. When watching him play you can see he gets a quick jump off the line and clearly has a well thought-out blocking plan on each snap. But he ends up getting in trouble when his defender makes an unanticipated move, as Paul struggles to recover. Paul had issues against longer, faster pass rushers, as his footwork isn't fast enough to keep up. He also lacks any real power to his punch, preventing him from getting quick wins. Paul is projected to be a sixth-round pick.
17. North Dakota State G Cordell Volson – RS Senior – 6-6, 315, 5.27
A three-year starter at NDSU, Volson logged 37 starts at right tackle, two at left tackle, and two at right guard. He provides some positional flexibility, but will most likely transition fully to guard at the next level. Volson has good play strength and uses good leg drive to make him an asset in the running game. He displays a solid anchor and a wide base to handle both bull rushes as well as lengthier pass rushers. Volson shoots off the line with purpose in the running game, getting into his assignment quickly. Due to his tall frame and lack of athleticism, Volson struggles with balance and pad level. This leads to him losing the leverage battle more often that not. His punch is strong but inconsistent. Volson profiles as a late-round pick.
Top Centers In 2022 NFL Draft
1. Iowa C Tyler Linderbaum – RS Junior – 6-2, 296, DNP
Linderbaum has the most consistent high-level tape of any offensive lineman in the draft. He fires off the ball quickly, initiating contact with defenders. His hands strike center mass almost every time. And he uses a good leg drive to push up and through his opponent. The biggest knock on him will be his lack of size. Still, many undersized centers have thrived at the NFL level, and I expect Linderbaum to do the same. He should go off the board somewhere between picks No. 20 and No. 45.
2. Nebraska C Cam Jurgens – RS Junior – 6-3, 303, 4.92
Jurgens was a third-team All-Big Ten center after enjoying three years as a starter for Nebraska. While not the strongest player, he is able to hold his own against bigger, stronger defensive tackles due to his craftiness. His anchor is solid, allowing him to slow and stop bull rushes with relative ease. Jurgens was used in space a lot in college and moved well, often pulling in pass protection. He can seal off blocks in the run game. Despite his fluidity, Jurgens does struggle to stick on second level defenders. Jurgens should be a late second-round pick.
3. Kentucky C Luke Fortner – RS Senior – 6-4, 307, 5.21
Fortner was a three-year starter at Kentucky, where he played all three interior line positions. The redshirt senior has good mass and plays with a wide base and strong anchor. He does a great job of syncing his upper and lower body, moving well to finish blocks. But Fortner struggles with keeping his hands inside and his pad level low, causing him to lose leverage. Fortner should be off the board before the end of Day 2.
4. Wake Forest C Zach Tom – RS Senior – 6-4, 304, 4.94
Tom was a three-year starter for Wake Forest, logging 37 starts in his career between left tackle and center. Lean in the lower half with a thicker chest, Tom's athleticism jumps off the tape from the first snap you watch. Tom is a fluid mover with good footwork that allows him to mirror and match his opponent. Honestly, Tom was one of my favorite players to watch on tape. His intelligence is evident, as he has a plan against each pass rusher he faces. Tom's movement skills also allow him to make high-level blocks in space. 
Tom's improvement rests on how he can develop his body in an NFL weight room. Tom must get stronger and add bulk to his lower half. He is currently projected to be a fourth- or fifth-round pick. If he lands in that area, Tom could be a steal.
5. Arizona State C Dohnovan West – Junior – 6-3, 296, 5.27
West was a three-year starter in college, playing mostly guard in his first two years before settling into the center position in 2021. This is where he projects in the NFL. West works best on the move and profiles well in an outside zone scheme. You can see his ability on the move when he pulls, quickly finding his target and clearing him out. West has good grip strength and solid footwork to stay locked in to his defender. The biggest questions with West will be his size and play strength. West is profiled as a fifth-round pick.
6. Ole Miss C Ben Brown– RS Junior – 6-5, 312, DNP
Brown was a four-year starter at Ole Miss where he spent most of his time at right guard, but played 2020 at center. That gives him some positional flexibility as he moves to the NFL. Brown is a bit of the polar opposite of Tom. He has great size and strength. However, he lacks fluidity and mobility skills. He is strong and can lock up and not lose ground against bigger nose tackles. But against quicker, more nimble opponents, Brown gets exposed. He has trouble moving laterally and gets caught bending at his waist and losing balance. Brown is projected to be an early Day 3 pick.
6. Boston College C Alec Lindstrom – RS Senior – 6-3, 296, 5.18
Lindstrom is hailed as a smart player who commands the line.  A three-year starter at Boston College he was first team All-ACC twice. Undersized and lacking play strength, he struggles against strong bull rushes. He tries to compensate by using a wide base and trying to gain leverage. His greatest asset is his ability to continually reset and never give up on a rep. Lindstrom should be a late Day 3 pick.
Bucs' Best Bets: Interior Offensive Line

Bucs' Best Bet – Rounds 1-3: Memphis G Dylan Parham

Parham is a very good guard prospect whose stock is on the rise. The 6-foot-3 lineman played last year at 285 pounds, but gained weight and is up to 311 pounds now. He blazed a 4.93 time in the 40-yard dash at the NFL Scouting Combine, which showed how athletic he is. Parham wins in other ways rather than overwhelming size. He has large, 10.25-inch hands and great grip strength, especially in pass protection. While he's not a pile-mover in the running game he is a solid positional blocker, who uses very good technique to get the job done.
There is a chance that the Bucs could draft Boston College's Zion Johnson at No. 27 if he slides to them. But the problem is that Tampa Bay would want its' first-round pick to see the field as a rookie and make an instant impact. Would Johnson beat out Aaron Stinnie for the starting left guard job? If not, the Bucs' first rounder would sit on the bench in 2022. It's more likely that Tampa Bay would draft a guard in the second or third round if the team is going to select one at all this year. Parham had a formal interview with the Bucs at the Combine.
Bucs' Best Bet – Rounds 4-7: Chattanooga G Cole Strange

Strange has seen an uptick in his draft stock since a very strong showing at the Senior Bowl. That was a huge week for him after playing at a small school like Chattanooga. Not only did Strange excel at guard, but he also got some snaps in at center. At 6-foot-5, 307 pounds, Strange has some similar traits that former Bucs guard Alex Cappa had coming out of small school Humboldt State. He starred at the Combine, posting fantastic times in the 40-yard dash (5.03), three-cone drill (7.44), 20-yard shuttle (4.5) and broad jump (10 feet).
Strange is similar to Cappa in another area – his physicality. The athletic lineman is not a finesse technician. He's a rugged interior lineman with good movement and a has workman-like attitude. Strange met with the Bucs at the Combine and also was a Top 30 visit. There's a chance that Strange is gone in the third round, but if he's not, he would be a tremendous addition in the fourth round.
Share On Socials