PewterReport.com analyzes the top players in the 2022 NFL Draft with its' position previews. Jon Ledyard keeps things rolling by previewing the linebacker position, with a comprehensive look at what the Bucs have and what they need at off-ball linebacker. Allen also provides a detailed list of this year's top off-ball linebackers. In addition, Scott Reynolds offers up the team needs and the annual PewterReport.com Bucs' Best Bets – the most likely linebacker for the Bucs to select in Rounds 1-3, and in Rounds 4-7.
What The Bucs Have At Inside Linebacker
Tampa Bay has one of the league's most dynamic duos at inside linebacker in Devin White and Lavonte David. The athletic White led the team in tackles with 128 stops, and had eight tackles for loss, 3.5 sacks, three pass breakups and a fumble recovery. While he made his first Pro Bowl in 2021 as a reserve, White actually had a better season in 2020 when he had career highs in tackles (140) and sacks (nine). He also had two key interceptions in the 2020 postseason and a pair of big fumble recoveries. White's play slipped last year as he struggled to get off blocks and the discipline of maintaining his gap. Hopefully a new voice in his ear with Larry Foote taking over as his position coach helps.
David had just 97 tackles last year, his lowest total in five years. And his five tackles for loss were the fewest in his career. Is age finally catching up to David, who turned 32 in January? He's entering the final year of his contract and the 2022 campaign will be a big one for him and his future in Tampa Bay. The Bucs drafted a pair of linebacker last year in K.J. Britt and Grant Stuard. Both played almost exclusively on special teams. Veteran and special teams captain Kevin Minter, who is 31, has not been re-signed.
What The Bucs Need At Inside Linebacker
Tampa Bay only has four inside linebackers on its roster right now. The Bucs can head into the season with the quartet of White, David, Britt and Stuard after having those four plus Minter on the roster last year. But what the team is lacking is a solid No. 3 linebacker that can fill in for David or White on defense. Is Britt, last year's fifth-round pick, ready to handle that assignment? Does he have the athleticism to be a solid fill-in player? The Bucs will use training camp to find out.
But Britt doesn't seem to have the tools to be David's eventual replacement, especially in coverage. This year's inside linebacker draft class is mediocre. There are several Britt-type players, but not many future starters with playmaking ability. If Todd Bowles wants to get David's eventual replacement onboard this year, he may have to pull the trigger in the second or third round with a player like Georgia's Channing Tindall or Alabama's Christian Harris. Bowles and general manager Jason Licht put an emphasis on speed at the linebacker position.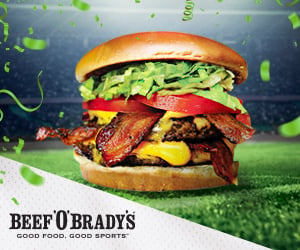 PewterReport.com's 2022 NFL Draft Previews + Bucs' Best Bets are presented by Beef 'O'Brady's – Good Food. Good Sports.
Visit BeefOBradys.com to place your order for Draft Weekend! From to-go to full-on catering – make it Beef 'O' Brady's. Visit any of the 45 Tampa Bay area Beef 'O' Brady's locations. See you at Beef's!
Top Off-Ball Linebackers In 2022 NFL Draft
*Important Note: These players are NOT listed in the order of Pewter Report's ranking for them. Rather, the numbers are provided to show you the rough order in which we expect them to come off the board during the draft.
1. Utah LB Devin Lloyd – RS Senior – 6-3, 237, 4.66
Other than not having elite speed, it's hard to knock Lloyd's game. An ultra physical linebacker who has the size to slip blocks in the box and the athleticism to make plays in space, Lloyd is the real deal. Not many linebackers are head-bangers in the box and elite in coverage, but Lloyd checks both boxes. His feel for developing routes in zone coverage reminded me of Colts' linebacker Darius Leonard. Lloyd has been productive for the past three seasons at Utah, but exploded for 22 tackles for loss, eight sacks, 10 pass breakups and four interceptions.
2. Georgia LB Quay Walker – Senior – 6-4, 241, 4.52
Right now, Walker is a space linebacker with some impressive flashes in coverage. But his read-and-reaction ability as an off-ball linebacker needs work. I think instincts are critical for linebackers in the NFL, and I just didn't see it with Walker. To be fair, Georgia's defense makes it hard because they blitz him constantly. But Walker just doesn't play ahead of schedule like Lloyd or his teammate Nakobe Dean.
However, the senior is an elite athlete and an outstanding tackler. Walker closes quickly and violently on ball carriers, posting one of the best missed tackle rates in college football, per PFF. His potential in coverage is sky-high too, but his tape is hit or miss there right now. Last year was Walker's first as a starter, and he finished with just 67 tackles, including 5.5 for loss, 1.5 sacks and three pass breakups.
3. Georgia LB Nakobe Dean – Junior – 5-11, 229, DNP
If you're a small linebacker, you better be able to play with elite anticipation and mental processing. There are flashes of Dean doing that, but it's fairly inconsistent. Part of the problem is Georgia's defensive scheme constantly fired the star linebacker, sending him on blitzes against run and pass. Because of that, it's hard to get a great feel for how Dean would fare in a less aggressive scheme. Most NFL defenses will not utilize him the same way Georgia did.
Still, Dean has outstanding range, smarts and communication on the field. He can run and hit out on the perimeter, and is very crafty as a blitzer. I don't think his ceiling is sky-high in the NFL, but he should be a solid-good starter. Dean started all 25 games over the past two years, but took a big leap in 2021. Over 15 games, Dean recorded 10.5 tackles for loss, six sacks, eight passes defensed and two interceptions this past season.
4. Montana State LB Troy Andersen – Senior – 6-3, 243, 4.42
Andersen is officially getting late Round 1 buzz, which is probably the craziest take of draft season to me. Based on his tape, I would not select Anderson in the first three rounds. He is a very slow mental processor who is severely lacking instincts and read-and-react ability. As a result, he's often caught at the second level by blockers, and struggles mightily to get off blocks. Andersen was a speed bump against North Dakota State, by far his most important game tape to analyze.
But even in other games, Andersen is a run-and-chase player who relied on athleticism and size to make plays in the FCS. In the NFL, that won't fly. He's often behind the pace of the play looking for the ball, and loses his assignments in coverage too. For all his athleticism, Andersen is high-cut and stiff, struggling to finish against more elusive ball carriers. The physical and athletic tools are enticing, but he's already 23 years old. Right now Andersen looks like a stud special teamer, not a stud linebacker.
5. Wyoming LB Chad Muma – Senior – 6-3, 239, 4.63
I appreciate the frenetic energy with which Muma plays. He's full tilt on every rep once he finds the ball, making plenty of stops on plays away from his gap. But he also plays with excellent discipline, a gap-sound approach that reveals his football IQ. As a result, he also doesn't take a ton of chances. That shows up on the stat sheet too, as Muma made only eight tackles for loss each of the past two seasons.
Muma is capable in coverage and has even flashed ball skills at times. I don't see him as a playmaker at the next level, but he's assignment sound, smart and capable of playing all three downs. There's value in that for NFL teams, even if Muma doesn't have star potential. Muma did record the first three interceptions of his career this past season at Wyoming.
6. Wisconsin LB Leo Chenal – Junior – 6-3, 250, 4.53
Chenal has throwback linebacker size, toughness and style of play, but isn't lacking for athleticism either. Perhaps no linebacker in this draft is as tough to handle physically as Chenal. He plays with an edge and packs a massive punch between the tackles. He's also a good tackler who drags down runners outside his frame despite less-than-ideal length.
However, a big question with Chenal will be his coverage ability. Move him outside of the box, and his sphere of influence diminishes. Wisconsin didn't ask Chenal to do much in coverage outside of middle field zone drops, where he was fine. But don't expect the junior to be a playmaker in coverage. Chenal blitzed frequently, and was a force attacking the pocket when running backs squared him up. He may not be an ultra-versatile linebacker, but he can play all three downs and be passable in the right scheme. Chenal should immediately upgrade a team's run defense, even if he never becomes a playmaker.
7. Alabama LB Christian Harris – Junior – 6-0, 226, 4.44
Of all the linebackers in this class, Harris may have the most upside. He checks the size and speed boxes, and plays with impressive intensity. Few linebackers in the class are as physical as Harris. But his ability to play ahead of schedule is lacking. Harris is still very much a "see ball, get ball" type of linebacker, which can leave him a step behind, giving blockers better angles to cut him off. Also. Harris' potential in coverage has yet to be recognized. Targeting him was almost an automatic completion for opposing offenses. But the 21-year old already has 40 starts under his belt, including a 79-tackle, 5.5-sack season last year. He's still rough around the edges, but perhaps with the right coaching Harris can reach his potential.
8. Georgia LB Channing Tindall – Senior – 6-2, 230, 4.47 
Tindall is a classic seek-and-destroy, straight line defender who can really pop when he lines up an opponent in space. But his instincts are severely lacking, as is his off-ball mental processing. Tindall is an excellent athlete with impressive range and closing speed to make stops out on the edges. However, he'll get stuck behind the action and caught up on blocks far too often. He was a part-time player in college who never started. Tindall filled specific roles for Georgia and wasn't the lead communicator many other linebackers were in college.
There is probably an elite ceiling for Tindall on special teams in the NFL. I don't know if he'll ever be consistent and disciplined enough to stay on the field as a full-time starter. But he's capable of splash plays, and has experience as a rusher off the edge too. Tindall is a nice depth addition for an NFL linebacker room, even if he never becomes a starter. He enjoyed a career year in 2021 with 7.5 tackles for loss, 5.5 sacks and a forced fumble.
9. Oklahoma LB Brian Asamoah – RS Junior – 6-0, 226, 4.56
Asamoah is a run-and-hit, undersized linebacker whose athleticism allowed him to dominate the Big 12. His range and agility in space are up there with the best in the class. However, despite his physicality, Asamoah is still a liability in the box taking on blocks and holding gaps. His processing might need to be off the charts for him to survive as an every down linebacker. Still, Asamoah is such a smooth athlete that he could have a role on passing downs. For teams that like to play their linebackers situationally, Asamoah should have value in the middle rounds.
10. Penn State LB Brandon Smith – Junior – 6-3, 250, 4.52
Smith is comically large for a modern linebacker, standing 6-3 1/2 and 250 pounds with nearly 35-inch arms! That's a wingspan of over 82 inches, for a linebacker. Crazy. He's billed as a raw prospect with unlimited upside, but I don't think Smith is totally clueless. Yes, his processing and vision on the second level have to improve. And he doesn't overwhelm blockers like you'd expect him to given his size.
But Smith has great range and a massive tackle radius to make plays outside his frame. Those traits show up in coverage, as Smith's mobility and instincts allow him to blanket areas in zone coverage. Those will be attractive skills to NFL teams, even if Smith can't start right away. He may need a season or two, but if Smith stays after it, he could be the steal of the linebacker class. The junior just turned 21 and has the same number of career starts under his belt. Smith picked up four tackles for loss and five pass breakups last season.

Best Of The Rest
11. Cincinnati Darrian Beavers – RS Senior – 6-4, 243, 4.69
Beavers is a throwback linebacker with 81+ inch wingspan to play on the edge situationally in the NFL. I'm not sure he possesses the athleticism and range to be an every down linebacker in the NFL. Beavers just doesn't move like modern linebackers need to when working middle-of-the-field to the sidelines.
But he can bang in the box and won't back down from anyone. Perhaps he'll fit best in a Patriots' style defense that can tap into his edge defender background. Beavers needs a scheme that will work around his weaknesses in the NFL. And he's gotta start tackling like his physical profile suggests he can after missing a ton of stops last season. Beavers finished 2021 with 12 tackles for loss, five sacks and an interception.
12. Baylor LB Terrel Bernard – RS Senior – 6-1, 218, 4.59
It is very hard to be a small linebacker in the NFL, but not impossible. To make it work, a prospect needs at least one of two things: great instincts or elite athleticism. Bernard is average in both areas, especially when you weight-adjust his testing numbers (he played at 222 pounds). As one of the lightest linebacker prospects in the draft, Bernard's ugly missed tackle rate in college is a concern.
But he does fly around and won't back down physically from anyone. Bernard racked up 31.5 tackles for loss and 16.5 sacks for the Bears. His intensity allowed him to fare well in college. But it might not be enough for more than special teams acclaim in the NFL.
13. LSU LB Damone Clark – Senior – 6-2, 239, 4.57
Clark's first three years at LSU had plenty of ups and downs, but everything clicked his senior year. The 21-year old has always had elite size, length and athleticism for the position. But linebacker is a cerebral position that takes time to learn. When the mental aspects clicked into place for Clark, he excelled.
Over 12 games in 2021, Clark posted 135 tackles, including 15.5 for loss and 5.5 sacks. He's close friends with Bucs' linebacker Devin White, who has served as Clark's mentor, per Dane Brugler. Unfortunately Clark had spinal fusion surgery in March, which probably rules him out for his rookie season. So any team drafting him would only get him for three seasons, rather than the typical four for a rookie.
14. Oklahoma State LB Malcolm Rodriguez – RS Senior – 5-11, 232, 4.52
There's a strong possibility Rodriguez is the shortest and shortest-armed linebacker drafted this weekend. But he's a rolling ball of butcher knives on the field, running and hitting everything that moves. Rodriguez oozes toughness and physicality with good instincts to process and attack. It's hard to imagine his frame holding up as a full-time off-ball linebacker in the NFL.
But Rodriguez played in 60 straight games in college, none better than his last season. In 14 games, Rodriguez recorded 16.5 tackles for loss, three sacks, four forced fumbles, five passes defensed and one interception.
15. Nebraska LB JoJo Domann – RS Senior – 6-1, 228, 4.58
Domann is an undersized linebacker with short arms and an extensive injury history. He'll also turn 25 years old this summer. Also, his overhang role in Nebraska's defense means he spent very little time diagnosing blocks like he will in the NFL as a box linebacker. So the peripheral aspects of his profile are pretty ugly, but he's a fun player on tape. Domann was able to play pretty fast given how simple his assignments were compared to other linebackers. He closed on everything in the flat and rarely missed stops. In the NFL he'll probably have to make a living as a special teams ace, which he's suited for. Domann had nine tackles for loss, two sacks, five pass breakups and two interceptions last season.
16. Indiana LB Micah McFadden – Senior – 6-1, 234, 4.62
McFadden blitzed relentlessly at Indiana, which made each passing down rep an adventure. If a lineman caught him on a blitz, McFadden would often get buried despite his best efforts. But there were plenty of reps where he bullied his way through blockers to the pocket. Any running back stepping up to take on McFadden should say a prayer first. There is no hesitation or softness in the senior's game. Unfortunately, there is also minimal athleticism or fluidity in space. Changing directions is a critical trait for linebackers, and McFadden doesn't do it well. But at worst, he'll be an excellent backup linebacker and special teamer in his career.
17. Iowa State LB Mike Rose – Senior – 6-4, 245, 4.69
Rose is a banger who won't hesitate to take on blocks in the box. But the linebacker position has evolved beyond pure physicality in today's NFL. Rose just might not have the mobility to be a starter at the next level. His range and change-of-direction in space are concerns. There are too many coverage and pass rush weaknesses with Rose to value him in the first two days of the draft. And his missed tackle rate was one of the highest of any linebacker in the draft. Rose finished his senior year with 12 tackles for loss and three sacks.
18. Oklahoma State LB Devin Harper – RS Senior – 6-0, 234, 4.49
Harper is an excellent athlete with good size and speed for the position. However, he wasn't able to earn a starting spot at Oklahoma State until his sixth season in Stillwater. Harper is a shoddy tackler with plenty of inconsistencies in coverage and run defense. He'll also be 24 years old two weeks after the draft. However, he enjoyed a career year in 2021 with 11 tackles for loss and six sacks in 13 starts.
Bucs' Best Bets: Linebackers
Bucs' Best Bet – Rounds 1-3: Alabama LB Christian Harris

If the Bucs are thinking about getting an eventual replacement for Lavonte David in this year's draft class, Harris is the guy. At 6-foot, 226 with 4.44 speed, he's the prototypical size-speed fit for a Bucs linebacker. Harris blitzes like he was shot out of a cannon, and racked up 10 sacks over the last two years, including 5.5 in 2021. When he gets a sack it's usual a forceful, punishing hit on the quarterback. He forced two fumbles last year and does his best work around the line of scrimmage where he's a playmaker. Harris had 26 tackles for loss as a three-year starter at Alabama, including 11.5 last year.
Where Harris needs work is in pass coverage. But part of his lack of development with dropping into coverage is because the Crimson Tide valued his work along the defensive front. Harris did record six pass breakups and one interception at Alabama. Two of those pass deflections resulted in INTs for his teammates. Harris motors at 100 miles per hour and is a seek-and-destroy linebacker. He played cornerback in high school and is still physically growing into his role as a linebacker without losing any speed. Harris hits much harder than his size would indicate and he'll come off the board late in the second round or early in the third.
Bucs' Best Bet – Rounds 4-7: LSU LB Damone Clark

Clark is a second- or third-round prospect, but a spinal fusion surgery for a herniated disc will likely cause him to slip to Day 3. The Bucs have a fourth-round pick and two seventh-rounders. It's doubtful Clark falls all the way to the seventh round, but Jason Licht has drafted four linebackers on Day 3 (Devante Bond, Jack Cichy, Chappel Russell and Grant Stuard) to help on special teams. Clark's best friend and mentor is Bucs starting linebacker Devin White. And Licht has drafted three LSU linebackers before. Kevin Minter in Arizona in 2013, Kendell Beckwith in Tampa Bay in 2017 and White in Tampa Bay in 2019.
Clark amassed 10 sacks and 23 tackles for loss for the Tigers, including 15 tackles for loss and 5.5 sacks last year. He also improved in coverage where he broke up three passes and intercepted one, in addition to two forced fumbles. Clark was a tackling machine at LSU in his final season, recording 135 stops. He has sideline-to-sideline speed, running a 4.57 at the NFL Scouting Combine at 6-foot-2, 239 pounds before his back surgery. The Bucs may have to wait a few months before he resumes action, but Clark has starting potential and could be a Day 3 steal.
Share On Socials