PewterReport.com analyzes the top players in the 2022 NFL Draft with its' position previews. JC Allen kicks things off previewing the quarterback position, with a comprehensive look at what the Bucs have and what they need at quarterback. JC also provides a detailed list of this year's top quarterbacks. In addition, Scott Reynolds offers up the team needs and the annual PewterReport.com Bucs' Best Bets – the most likely quarterback for the Bucs to select in Rounds 1-3, and in Rounds 4-7.
What The Bucs Have At Quarterback
Tampa Bay is fortunate to have Tom Brady back after he ended his 40-day retirement. Brady was the best quarterback in football last year, earning a Pro Bowl berth after leading the league in passing yards and touchdowns (43). Both were Bucs franchise records. With Brady, who turns 45 in August, under contract for one more year, the Bucs are once again favorites to win the NFC South and compete for NFC supremacy.
Tampa Bay's 2021 quarterback room returns intact with veterans Blaine Gabbert and Ryan Griffin joined by Kyle Trask, who was last year's second-round pick. Trask was essentially the team's fourth-string QB in practice, but rarely got much time with live reps in practice. This offseason will be a big one for Trask as he competes with Gabbert for the right to back up Brady as the No. 2 QB on the depth chart. Gabbert is entering his fifth year in Bruce Arians' system and has the initial edge. Griffin will once again be the veteran on the practice squad.
What The Bucs Need At Quarterback
The Bucs don't need to draft a quarterback. The team already has four arms for training camp, and all four have at least one year's worth of experience in the offense. After drafting Trask in the second round last year it seems highly unlikely that Tampa Bay would draft another quarterback in 2022. Yet with Brady in the final year of his contract, and Gabbert and Griffin only re-signing for one year, Trask will be the only QB under contract in 2023. This isn't a strong quarterback class. But if the Bucs want to hedge their bets and draft another one to compete with Trask in 2022 and '23 that would be the reasoning to draft a QB – albeit far-fetched. If Tampa Bay somehow drafts another signal caller then Griffin would be the odd-man out.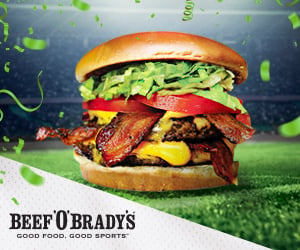 PewterReport.com's 2022 NFL Draft Previews + Bucs' Best Bets are presented by Beef 'O'Brady's – Good Food. Good Sports.
Visit BeefOBradys.com to place your order for Draft Weekend! From to-go to full-on catering – make it Beef 'O' Brady's. Visit any of the 45 Tampa Bay area Beef 'O' Brady's locations. See you at Beef's!
Top Quarterbacks In 2022 NFL Draft
*Important Note: These players are NOT listed in the order of Pewter Report's ranking for them. Rather, the numbers are provided to show you the rough order in which we expect them to come off the board during the draft.
1. Liberty QB Malik Willis – RS Senior – 6-1, 219, N/A
Willis can make all the throws and has a cannon for an arm. However, he isn't always accurate with his passes. He has a quick release, but needs to work on his footwork while in the pocket. A dual-threat with the ball in his hands, Willis is explosive as a runner. But Willis struggles with decision-making. There are too many times he tucks the ball and runs without progressing through his reads. He'll also force the ball into tight windows, ending up in incompletions and interceptions. For his career he threw for 5,176 yards with 48 touchdowns adding 2,131 yards on the ground and 29 scores. Willis is expected to be drafted in the first round.
2. Pittsburgh QB Kenny Pickett – RS Senior – 6-3, 217, 4.73
A four-year starter, Pickett has all the experience you want in a first round quarterback. One area he excels in is keeping plays alive when things breakdown. He has good instincts for the position and has shown growth with his accuracy over his tenure at Pitt. Pickett shows the ability to go through his progressions, often throwing receivers open and showcasing quick reaction decision making.
The former Panther has good athleticism for the position, which can sometime work against him when he bails from clean pockets. Release time is another thing Pickett will need to work on, as he held onto the ball for the second highest rate in the FBS. Another knock on Pickett has been his hand size (8 1/2 inches), which plays into his 38 career fumbles in college. The 2021 Heisman finalist finished his senior year with 4,319 yards passing and 42 touchdowns, adding five scores on the ground. Pickett is expected to be drafted in the first round.
3. Cincinnati QB Desmond Ridder – RS Senior – 6-3, 211, 4.52
Ridder can make throws at every level, showing good pocket awareness, as well as pre-snap operation. He has a little trouble keeping his eyes down field and going through his progressions. He prefers to work from the pocket, but like the quarterbacks above him, has excellent athleticism for the position. The former Bearcat displays great vision as a runner, and has the elusiveness to make defenders miss.
Accuracy issues are probably the biggest blemish in Ridder's game, which only is highlighted when he's under pressure. However, he also needs to work on his release and his decision-making as well. The four-year starter finished his collegiate career with 10,239 yards passing and 87 touchdowns, adding 2,180 yards on the ground to go with an impressive 28 scores. Ridder is expected to be drafted in the first round.
4. Mississippi QB Matt Corral – RS Junior – 6-2, 212, N/A
Corral has one of the fastest releases of any quarterback in the draft. He displays good poise in the pocket and isn't afraid to hang in and take a hit. The former Rebel shows tremendous athleticism and is consistently accurate on short and intermediate throws. While he doesn't have a rocket arm, he shows enough to make throws at every level. Corral needs to improve on working through his progressions though, and rarely dropped back in Ole Miss' offense. He'll need to learn how to better anticipate throwing receivers open, and improve his timing in the pocket, especially when his first read isn't available. He ended his career with the Rebels throwing for 8,287 yards and 57 touchdowns, while rushing for 1,338 yards and 18 scores. Corral is expected to be drafted in the second round, but could sneak into the end of the first.
5. North Carolina QB Sam Howell – Junior – 6-1, 218, N/A
Howell demonstrates good anticipation, often placing the ball in a position for his receiver to make plays. He possesses above-average arm strength with the ability to deliver throws at every level. He gets the ball out quickly and accurately and shows good athleticism as a runner to gain extra yardage.
At just 6-0, Howell lacks the ideal height for the position, and his pocket awareness leaves a lot to be desired. He needs to show more patience to let plays develop, too often tucking and running early when plays break down. He'll need to clean up his footwork, drop back mechanics, and get better at making anticipatory throws at the next level. Howell won the starting job as a freshman and missed just one game for the Tar Heels on his way to posting 10,283 yards and 92 touchdowns during his three years. He added 1,009 yards on the ground for 17 scores. Howell is expected to be drafted in the second round, but could sneak into the end of the first.
6. Nevada QB Carson Strong – RS Junior – 6-3, 226, N/A
Strong has the powerful arm, a tight spiral and quick release teams covet. He's accurate at all levels and works well through his progressions. The former Wolfpack quarterback displays efficient pre-snap recognition and routinely makes anticipated throws to receivers. However, Strong lacks the athleticism to make plays in the running game and needs to work on his pocket movement to keep plays alive. He will sometimes lock onto his primary read under duress and force throws into tighter than desired windows. Injury history will be a concern to some teams as Strong has had significant knee issues. Over his three years as a starter, he compiled 9,368 yards and 74 touchdowns. Strong is expected to be drafted somewhere between the late third and fifth round.
7. Western Kentucky QB Bailey Zappe – RS Senior – 6-0, 215, 4.88
Zappe shows impressive accuracy and understands pre-snap reads and adjustments. He displays good ability post-snap to work through his progressions and find soft spots in zones to make anticipatory throws. The former Hilltopper also has very good pocket awareness and feels pressure before it arrives. However, Zappe has below average arm strength and doesn't have great zip on the ball. He struggles when pushed out of the pocket and making throws on the run, routinely sailing passes to his receivers.
At 6-0, Zappe doesn't have the ideal size for the position and lacks athleticism to make things happen as a scrambler. After spending his first three years at Houston Baptist, he transferred to Western Kentucky his senior year, where he threw for an absurd 5,967 yards and 62 touchdowns! In one season! Zappe is expected to be drafted in the late fourth or fifth round.
8. Brown QB E.J. Perry – RS Senior – 6-0.5, 219, 4.65
There's no doubting Perry has NFL arm talent and possesses true dual threat ability. Like many in this class, Perry can scoot. He's patient on the move and will buy time to find the open man before tucking and running. He displays a goldfish-like mind, easily moving on from bad plays. He gets the ball out quickly and has excellent accuracy on short-to-intermediate throws. Perry will need to work on several things at the next level including his footwork, timing, and throwing mechanics. The former Bear has the tendency to sail throws to the sideline and is an avid risk taker that sometimes works against him. Perry's downfield arm strength is average at best, and he lacks poise in the pocket.
There's no doubting his character and leadership, as Perry was seen picking up all of the trash on the sidelines after workouts at the NFL Scouting Combine. In his two seasons as a starter at Brown he amassed 5,981 yards through the air with 45 touchdowns, while gaining 1,132 yards on the ground and 15 scores. Perry is expected to be drafted on day three.

Best Of The Rest
9. Notre Dame QB Jack Coan – RS Senior – 6-3, 218, 4.90
Coan shows above average accuracy and a capable arm to go with it. While he doesn't have a cannon, he can drive the ball when needed and is able to layer it in between coverages. He does a good job going through his progressions, but can get fixated on his first read when sensing pressure. While Coan doesn't offer anything as a scrambler, he's able to make subtle movements to buy time in the pocket. However, when he is forced out of the pocket, his accuracy takes a notable drop. After four years in Wisconsin Coan transferred to Notre Dame for his final season, where he passed for 3,150 yards and 25 touchdowns. Coan is expected to be drafted on day three.
10. Western Michigan QB Kaleb Eleby – RS Junior – 6-1, 208, 4.90
Eleby is a very confident passer and displays good accuracy in rhythm, especially on short-to-intermediate throws. He does a good job leading receivers and putting them in position to gain yards after the catch. Eleby can make plays in the running game, but he's not generally a dynamic runner. He can make all the throws and shows enough zip to make throws from the opposite hash, albeit floating some passes a bit too much.
Eleby's 6-0 height and 208-pound frame are less-than-desirable traits for the position. He struggles making pre-snap reads and lacks poise in the pocket. Also, Eleby has trouble going through his progressions and will abandon his reads too quickly in some instances. The former Bronco finished his collegiate career with 6,068 passing yards and 45 touchdowns. He is projected to be selected in the sixth or seventh round.
11. Southeastern Louisiana QB Cole Kelley – RS Senior – 6-7, 249, 5.11
Kelly has a strong arm capable of making throws at every level. He possesses above average velocity and is an overall accurate passer. His imposing 6-7, 260-pound frame is the ideal prototype for the position. Though more of a pocket passer, Kelley shows athleticism as a runner with good vision, balance and elusiveness, utilizing both speed and power.
The former Lion needs to work on his pre-snap recognition skills and decision-making. Kelley often fails to give receivers a chance to make plays after the catch. He'll need to improve his touch at all levels and sometime sails throws, especially on passes to the sideline. Kelley had his best season his super senior year, amassing 5,124 yards through the air and 44 touchdowns, adding 491 yards on the ground to go with 16 scores. Expect Kelley to be a late round pick or an undrafted free agent.
12. Kansas State QB Skylar Thompson – RS Senior – 6-2, 217, 4.91
Thompson shows tremendous athleticism, making throws on the move and is a factor as a runner. He's an accurate passer when working short-to-intermediate routes, spreading the ball around to multiple receivers. An anticipatory passer, Thompson leads his receivers, putting them in good position to gain extra yardage. Thompson will need to work on his pocket presence at the next level and going through his progressions. Often he will prematurely tuck-and-run if his first and second reads aren't open, or if he senses pressure.
Thompson's average arm strength can be a detriment when it comes to downfield throws. He'll need to work on his mechanics as well, matching his upper and lower body. Over his five seasons with the Wildcats, he totaled 7,134 yards and 42 touchdowns, while compiling 1,087 yards on the ground and 26 scores. But injuries were a big issues, causing Thompson to miss 13 games over the past two seasons. If Thompson is drafted, it's not expected to be until the seventh round.
13. Kent State QB Dustin Crum – RS Senior – 6-1, 210, 4.75
The strongest part of Crum's game is his athleticism and ability as a runner. As a passer there is a lot to be desired. He shows good zip on the ball, but his mechanics need refinement. He's mostly accurate on short-to-intermediates routes, but isn't a precision passer. Crum struggles with decision-making under pressure, but will move around the pocket to buy himself time. He doesn't possess the greatest ball placement, and will need time to adjust to the speed of the NFL. Over three seasons as a starter for the Golden Flashes, Crum threw for 7,420 yards and 55 touchdowns, adding 2,071 rushing yards and 24 scores. Crum could hear his name called in the seventh round, but is most likely an undrafted free agent.
14. Iowa State QB Brock Purdy – Senior – 6-1, 212, 4.84
There are things to like about Purdy's game. He possesses a clean throwing motion and gets rid of the ball quickly when he knows where it's going. Purdy displays natural touch and has the ability to throw receivers open in the passing game. He shows good balance when stepping up into the pocket, re-setting his feet to deliver accurate passes on short-to-intermediate routes. At 6-0 he's undersized for the position though. Purdy's arm strength is just mediocre, and his accuracy takes a hit on deep passes. He can also be erratic when faced with pressure, forcing his throws when under duress.
Purdy struggles getting through his progressions and often gets stuck on his first read, checking down if not open. He was extremely productive over his four years at Iowa State, starting 46 consecutive contests. He finished his career with the Cyclones throwing for 12,170 and 81 touchdowns, while compiling 1,117 yards on the ground with 19 scores. Projecting as a career backup, Purdy will be a late-round pick at best.
15. Miami QB D'Eriq King – RS Senior – 5-9, 196, 4.60
King has enough arm strength to make NFL throws at each level. He's got a quick, clean release, and offers enough zip and accuracy on short to intermediate routes. He is very athletic and elusive as a runner and is a threat to take off from the pocket at any time. King is extremely undersized for the position at just 5-8, and has a long history of medical concerns. He's not the best decision-maker and lacks the arm strength to drive the ball downfield. King also struggles making pre-snap reads and adjustments, and needs to improve his touch at all levels.
King will most likely need to transition to wide receiver at the next level. The quarterback spent his first four seasons at Houston before transferring to Miami for his final two seasons. For his career, King threw for 8,378 yards and 76 touchdowns. He added 2,055 yards on the ground with 32 scores and caught 61 passes for 520 yards, finding the end zone three times. King is not expected to hear his name called in the draft, but could be an interesting free agent signing.
Bucs' Best Bets: Quarterback
Bucs' Best Bet – Rounds 1-3: Cincinnati QB Desmond Ridder

The 2022 QB class is rather weak, and there aren't many that fit Tampa Bay's vertical-based passing attack. Ridder might be the best deep ball thrower, and there is a chance that he could be there at No. 27 when the Bucs are on the clock. If the Bucs are going to surprise us all and draft a QB, it might be Ridder. As a four-year starter in Cincinnati, Ridder compiled a record of 44-7 as a starter. He led the Bearcats to an undefeated season and a FBS playoff berth before losing to Alabama.
The strong-armed Ridder completed 62.1 percent of his passes for 10,239 yards with 87 touchdowns and 28 interceptions in his fantastic career. He passed for a career-high 3,334 yards with 30 touchdowns and eight interceptions last year. Scouts are mixed on his degree of accuracy, and Ridder has a slight build at 6-foot-3, 207 pounds. While he ran a 4.52 at the NFL Scouting Combine, Ridder is viewed as more of a pocket passer than a dual-threat QB. That's fine for Tampa Bay's system, which calls for its quarterback to win from the pocket.
Bucs' Best Bet – Rounds 4-7: South Dakota State QB Chris Oladokun

It's highly unlikely the Bucs draft a quarterback this year, especially after the first round. Tampa Bay already spent a late second-round pick on Kyle Trask last year. And with four QBs on the depth chart already, there just isn't room for another one unless he's special. Oladokun will be a late Day 3 pick at best, and probably a priority free agent signing instead. The Tampa product went to USF and Samford before transferring to South Dakota State where he had a good senior season. Oladokun passed for 3,165 yards with 25 touchdowns and seven interceptions while completing 62 percent of his throws in 2021.
At 6-foot-2, 213 pounds, Oladokun lacks the prototypical size the Bucs look for in their pocket passers. Tom Brady and Ryan Griffin are each 6-foot-4, while Trask and Blaine Gabbert are 6-foot-5. Oladokun is a good athlete with decent mobility, evidenced by his 4.62 40 time. Tampa Bay did have Oladokun in for a local visit prior to the draft, and there could be some interest in signing him to rookie tryout contract after the draft. The Bucs will need a couple of quarterbacks to operate the rookie mini-camp in May. If Oladokun goes undrafted there is a chance he would want to return home and try to make an impression on his hometown team.
Share On Socials