SR's Fab 5 is exclusively sponsored by Edmonson Electric • AC • Security –
the official smart home and security company of PewterReport.com.
For the past 40 years, Edmonson Electric • AC • Security has proudly served central Florida with electric services and now proud to add state-of-the-art "Smart Home" technology, security systems and air conditioning to its roster. Whether it's surveillance cameras, home theaters, or smart lighting, Edmonson Electric • AC • Security is automating your dream home.
Visit EdmonsonElectric.com to find out more about controlling, monitoring and securing your home or call 813.910.3403 for additional information.
Control. Monitor. Secure.
FAB 1. Arians, Brady Still Meshing Philosophies

Tampa Bay's 20-19 loss at Chicago on Thursday Night Football proved to be a watershed moment for the Bucs when it came to this team learning to stop beating itself with penalties. Tampa Bay opened the year with at least eight penalties in four of its first five games, and penalty yardage of at least 71 yards in four of its first five games.
After having 11 penalties for 109 yards against the Bears, the Bucs have totaled just 12 penalties for 79 yards in the last four games. That's a much more acceptable average of three infractions for 20 yards per contest.
There might be another watershed moment coming for Tampa Bay after Sunday's embarrassing 38-3 blowout at home courtesy of the New Orleans Saints. Not only did the Bucs struggled to score points, they struggled to even pick up first downs – going three-and-out on the team's first four possessions of the game.
Not having left guard Ali Marpet proved to be problematic as his replacement, Joe Haeg, struggled mightily in pass protection. Trailing 21-0 early in the second quarter, the Bucs had to abandon the running game, which only led to more pressure on quarterback Tom Brady.
One would think that a pass-first team like Tampa Bay with all of its weapons would be built to mount a comeback, and that even an early 21-0 deficit is not a hold that Bruce Arians' high-powered couldn't climb out of. But it's important to realize that what New Orleans defensive coordinator Dennis Allen did exposed a difference in philosophy between Arians and Brady when he played a deep zone coverage that forced throws underneath and got pressure with the Saints' front four after building a big lead.
It's a difference that needs to be reconciled with immediately or Tampa Bay is going to struggle again if its faced with a similar situation later in the season – or perhaps the playoffs.
Arians' philosophy is to take big shots down the field in the passing game. He's said that in his press conferences, he's written about that in his book, "The Quarterback Whisperer," and he lives it with his "no risk it, no biscuit" mantra.
A prime example of this was philosophy in action was Tyler Johnson's 20-yard catch on a first-and-20 situation following a holding call in the win over the New York Giants. Arians said that might have been the play of the game – not Rob Gronkowski's touchdown, nor Mike Evans' diving TD grab.
"I thought Tyler probably made the play of the game – Tyler Johnson – on that first- or second-and-20," Arians said. "Great catch by him."
Brady's philosophy after years of being in New England is more risk-adverse. Brady is good at not taking sacks because he gets rid of the ball quickly. Because he's less likely to throw the ball into tight windows he will look for the check downs to running backs or underneath receivers to get something rather than nothing.
This is different from how Jameis Winston played quarterback for Arians last year. Arians wants his quarterback to hang in the pocket and make the intermediate or deep throw rather than the check down. When Winston was able to do that, it was a great play, and that's part of the reason he was able to compile a league-high 5,109 passing yards.
But the downside of hanging in the pocket and waiting for the deeper routes to develop was Winston holding on to the ball too long and getting sacked – to the tune of 47 times last year – or staring down his receivers while waiting for them to get open and throwing interceptions – evidenced by his league-leading 30 INTs in 2019.
The play below is a prime example of Arians' philosophy and Brady's philosophy not meshing well. Brady feels some pressure from his left as left tackle Donovan Smith is pushed back to within a few feet of him and he takes the check down to Ronald Jones II, which picks up five yards to the 20-yard line on second-and-20. I guarantee you that Arians told Brady he needed to hit Mike Evans at the 30-yard instead when they reviewed the game in the film room on Monday. That would have set up a more manageable third-and-5 situation instead of third-and-15.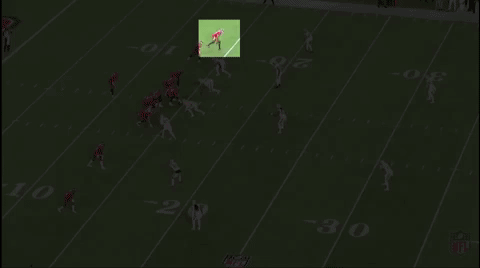 Brady has been inclined to throw intermediate and deep passes this season in Arians' offense, but tends to take those riskier shots when he has a clean pocket. Below is another example of Arians likely wanting Brady to go somewhere else with the football.
The Bucs are facing a third-and-3 situation and inexplicably offensive coordinator Byron Leftwich calls for three deep vertical routes with only one route, a crossing route at the sticks. That does not help Brady out whatsoever.
Brady only has one option underneath and the crossing route is tightly covered, so he has to hang in the pocket. This is just a poor play call on third-and-3. It's Arians and Leftwich wanting a big chunk play instead of calling a play that's designed to convert a short third down situation.
As the pocket closes in on Brady he throws a deep pass to Scotty Miller, who is in one-on-one coverage outside. The play never has a chance as Miller and Brady aren't on the same page and Miller cuts off his route.
Where Arians wants Brady to go with the ball is to Evans, who beats the linebacker down the middle. The throw down the middle has some risk as Brady has to drop it in between the deep safety and the linebacker underneath. But Evans is 6-foot-5 and is fully capable of coming down with that pass.
That's where Brady should have gone with the ball, and that's what Arians wants. But Brady opted to go to the undersized speedster in Miller instead because it's actually less risk-adverse as he's singled up in coverage and Miller has won those match-ups down the field before, evidenced recently with a touchdown catch right before halftime at Las Vegas.
Brady has a better level of comfort throwing to Miller than he does with Evans because Evans has missed more practice time due to hamstring and ankle injuries this season. That's part of the reason why Miller entered Sunday night's game against the Saints as the Bucs' leading receiver with 400 yards.
When pressured, Brady has done the opposite of what Arians wants him to do, which is to hang in the pocket and throw the ball downfield for bigger chunk plays. The first video was an example of what Brady is comfortable doing, dating back to his days with the Patriots. The second video was an example of Brady doing what Arians wanted him to do by hanging in there and chucking down the field.
Neither play – nor philosophy on those plays – accomplished the desired outcome, which was to pick up a much needed first down. Those plays are a prime example of Brady and Arians – and Leftwich as an extension of Arians as the Bucs' play-caller – still trying to mesh together halfway through the season.
The final example below is Brady also reverting to something he did often in New England – looking to Gronkowski when in trouble. In addition to checking down to running backs to avoid sacks with the Patriots, Brady would often look to his future Hall of Fame tight end to get him out of a jam.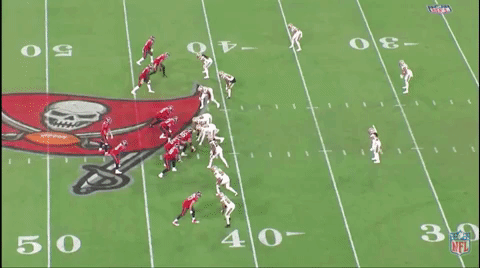 The only problem here is that Brady escapes the pocket and throws across his body for a desperation throw to Gronkowski, which gets picked off. It's not necessarily fatal as it was fourth-and-7 to begin with.
But look at Evans running open a deep post pattern with a step or two on his defender. That's actually an easier throw for Brady to make even though it's 15 yards farther down the field because he doesn't have to throw across his body. There is a chance if the throw to Evans is on the money that it's a touchdown. Again, that's something Arians certainly pointed out to Brady in the film room.
"Part of it's scheme, part of it's reading out some things that Mike was open on and just finding him," Arians said after the game. [Brady] is still learning the offense in some spots, but we've got to do a better job."
Arians was singing the same tune about Evans, who finished with six catches for 64 yards on Sunday despite being just targeted once in the first half.
"Mike was open a bunch in that ballgame," Arians said. "He didn't get targeted – that was all. Mike was open."
It didn't help that Brady and the Bucs offense had six plays where they were behind the sticks either due to penalties or sacks in Sunday's loss to the Saints. Nor did it help that Tampa Bay had five third downs with six yards or more to gain for a first down.
The takeaway from all of this is that Brady may not be the quarterback Arians wants, but he may be the QB Arians actually needs.
By that I mean that Arians innately wants a Winston-type passer that will hang in the pocket and let 'er rip downfield more than Brady will, as Brady wants to get rid of the ball quicker than Arians might want with check downs that might not pick up yards in the chunks that Arians prefers.
The Bucs offense has an identity. It's a pass-first offense.
But is it the down-field offense that Arians prefers, or the move-the-sticks offense that Brady is used to? Brady and Arians will need to try to work on that and have their philosophies mesh to avoid another debacle like Sunday's 38-3 loss to the Saints.
Share On Socials