SR's Fab 5 is exclusively sponsored by Edmonson Electric • AC • Security – the official smart home and security company of PewterReport.com.
For the past 40 years, Edmonson Electric • AC • Security has proudly served central Florida with electric services and now proud to add state-of-the-art "Smart Home" technology, security systems and air conditioning to its roster.
Whether it's surveillance cameras, home theaters, or smart lighting, Edmonson Electric • AC • Security is automating your dream home. Visit EdmonsonElectric.com to find out more about controlling, monitoring and securing your home or call 813.910.3403 for additional information.
Control. Monitor. Secure.
A Special Message From SR
Welcome to the final SR's Fab 5 of the year, as the next two Fridays fall on Christmas and New Year's Day. I hope you are enjoying the holiday season – and the Bucs' playoff push. Over the next two Fridays I will have my 4 Match-ups to Watch to get you ready for Tampa Bay's final two games of the 2020 regular season, and then the SR's Fab 5 column returns the first week in January to ring in 2021.
In the meantime, I hope you are enjoying the new video versions of the Pewter Report Podcasts on YouTube, and that you will consider donating to Pewter Report this holiday season, as the COVID-19 pandemic has hurt most businesses across the country economically – and Pewter Report is no exception. As you can see, we have recently revamped the PewterReport.com website and are in need of funds for new web cameras to increase the quality of the Pewter Report Podcast videos.
All of the funds that our loyal Pewter Report visitors donate get poured right back into the development costs for our business, which in turn benefits you – the die-hard Pewter Report readers, listeners and viewers. If you have donated in the past, I thank you on behalf of the Pewter Report staff. If you are considering donating to Pewter Report, you can do so by clicking this link – PewterReport.com/donation – where you can choose to make a one-time donation for only $10 (or more if you wish), or become a monthly donor for as little as $3 per month.
Thank you for your support this year, Pewter Nation. The year 2020 has certainly been a trying one economically, but we've had record traffic with over 1.2 million unique visitors. Thank you so much for turning to PewterReport.com for your Bucs coverage this year, and have a very Merry Christmas and Happy Holidays, and a safe and fun New Year's.
FAB 1. Barrett, JPP Heating Up For The Holidays
It's wintertime and Christmas is just around the corner. That means the temperatures will be dropping … except in Tampa Bay where things are heating up.
Especially, the Bucs' pass rush, as the team is coming off Sunday's 26-14 victory over the Vikings where Kirk Cousins was sacked six times.
The dynamic duo of Jason Pierre-Paul and Shaquil Barrett, who combined for three of those sacks, one forced fumble and one fumble recovery, is really getting hot – and just in time for the Bucs' playoff push.
"Yeah, we have to," Barrett said. "It's not an option – we have to. I mean not 'we.' I started slow and I just have to pick it up. I want to do my job as much as possible and be known as one of the best, so in order to do that you have to have the stats, you have to have the numbers to go with it. 

"Having JPP on the other end just helps out a lot. We always talk and are always switching sides now and are trying to figure out what works best for us. It's working right now, and we've just got to stay hot, keep it hot and keep going."
Over the last four games Barrett has recorded four sacks and a forced fumble, while Pierre-Paul has racked up three sacks, a forced fumble, a fumble recovery and even picked off a couple of passes. While Barrett led the NFL with a franchise-record 19.5 sacks en route to his first Pro Bowl berth, Pierre-Paul leads the team with 9.5 sacks with Barrett right behind with eight QB captures.
"I think they have a great friendly competition in competing against each other getting back there," said Bucs defensive coordinator Todd Bowles. "They help each other out where you just can't try to double one or the other, as well as the guys up the middle. They're doing a good job getting to the passer. Sometimes the ball is coming out fast, so we're happy with the production and we're happy with the pressure."
If the past is any indicator, Pierre-Paul and Barrett won't be cooling off any time soon. In two games against the Falcons last year, the Bucs sacked Matt Ryan a total of 12 times with Barrett and Pierre-Paul combining for seven sacks and an incredible 28 pressures between the two.
In last year's 35-22 win at Atlanta, Pierre-Paul and Barrett each had a sack. In the 2019 season finale, a 28-22 loss in overtime, Barrett broke the Bucs' single-season record with three sacks of Ryan, while Pierre-Paul notched a pair of sacks. Ryan has already been sacked 33 times this year with three more games left after being dropped 48 times a year ago.
In between two Falcons games is a trip to Detroit where the Bucs will face the Lions as they did in December a year ago where Tampa Bay prevailed 38-17. Barrett had a sack in that game, as did defensive tackle Ndamukong Suh, who began his career in Detroit as a first-round pick in 2010. Suh is tied for third on the team with sacks this year with five, including one last Sunday against Minnesota.
Tampa Bay is tied for the fourth-most sacks in the league with 40 after recording 47 last year. The franchise record is 55 sacks in 2000 – led by Warren Sapp's 16.5 QB captures. That was the last time the Bucs had two double-digit sackers with defensive end Marcus Jones producing 13 sacks that year. Tampa Bay needs 16 sacks over the last three games to break that record. If the Bucs equal their sack production from a year ago against the Falcons and the Lions they'll compile 14 and fall to reach 53 and fall two short. Still, 53 sacks would be six more than the team had a year ago.
Pierre-Paul needs half a sack to reach double digits for the fourth time in his 11-year career, while Barrett needs just two over the last three games to record double-digit sacks for the second year in a row. Barrett has extra incentive as he's playing on a one-year franchise tag and is slated to be a free agent next year.
"It is a luxury and we don't plan on Shaq going anywhere," Arians said. "I don't think he wants to go anywhere because having JPP on the other side really helps him out and I think vice versa. Putting them over the guards this week – they did some different stuff and they're a heck of a duo, man. When you can get people one dimensional, they're hard to block."
Just ask Ryan and the Falcons offensive line.
FAB 2. Bucs' 2019 Draft Class Cooling Off
When I was formulating my prediction for the Bucs' 2020 season I came up with a 10-6 record and a wild card playoff berth while others in the local and national media were more ambitiously forecasting an 11-5 or 12-4 record for Tampa Bay due to the arrival of a pair of future Hall of Famers in quarterback Tom Brady and tight end Rob Gronkowski.
The reason I wasn't as bullish on the Bucs this year was because I didn't quite trust the Bucs defense becoming a Super Bowl-caliber unit in 2020, especially fielding so many second-year players in starting roles. Tampa Bay drafted five players last year that are playing a significant amount of snaps this year, including inside linebacker Devin White, cornerbacks Sean Murphy-Bunting and Jamel Dean, safety Mike Edwards and outside linebacker Anthony Nelson. White was drafted fifth overall, while Murphy-Bunting, Dean and Edwards were Day 2 picks. Nelson was picked in the fourth round.
The old adage in the NFL is that the biggest jump in growth and player development occurs during the offseason between a player's rookie year and his second season. For Tampa Bay's entire 2019 draft class, it didn't have that offseason due to the COVID-19 pandemic. The over 400 reps in mini-camps and OTAs (organized team activities) were the players could hit the practice field running the Bucs offense and defense, get filmed, and then head inside One Buccaneer Place to review the tape with the coaches never materialized.
Instead, the Bucs players and coaches were left watching last year's game film on Zoom calls during the spring and summer, and working out on their own rather than with Tampa Bay's strength and conditioning staff. Throw in the fact that the Bucs had a truncated three-week training camp rather than the normal five week camp, and didn't have any preseason games as a result of COVID-19 and the growth for the Bucs' 2019 draft class – and other team's draft classes from a year ago – has been stunted, according to Tampa Bay head coach Bruce Arians.
"I think so," Arians said. "All those second-year players I think were stunted this year a little bit – not as much as the first-year players. Their development, not being able to be in the building, be around coaches [and] actually getting that practice time and not being able to grow – I think it hurt everybody."
That doesn't mean that the second-year Bucs defenders – and even wide receiver Scotty Miller, last year's sixth-round pick – haven't improved in some areas. Some players have made statistical strides and others have grown mentally in the game with another year's worth of experience in the scheme. But neither White, nor Murphy-Bunting, Dean, Edwards nor Nelson has seen their game take a quantum leap forward in 2020.
The fact that NFL teams like the Bucs spend the vast majority of practice time game-planning for the next opponent and preparing for individual match-ups does not leave much time at all to hone the fundamentals and work on improving individual techniques. Unfortunately that will have to occur next offseason for the team's second-year players.
Let's take a look at the statistical comparison between last year and this season for Tampa Bay's 2019 draft class.
ROUND 1 – ILB DEVIN WHITE
2019 stats – 13 games / 13 starts
91 tackles, 4 TFLs, 2.5 sacks, 4 FRs, 3 FFs, 3 PBUs, 2 defensive TDs, 1 INT
2020 stats – 13 games / 13 starts
118 tackles, 9 TFLs, 5 sacks, 1 FF, 1 FR, 2 PBUs
White has been a more active tackler with 27 more tackles than a year ago, but the splash plays – outside of an increase in sacks – have been fewer and far between. As a rookie, White had a hand in eight takeaways and even scored two touchdowns on fumble recoveries. In his second season in Tampa Bay, he's had just one forced fumble and one fumble recovery through 13 games, which is the only amount of games he played in last year due to an early-season knee injury.
While being named a defensive captain for the first time, White has completely regressed in pass coverage and looks lost trying to keep up with tight ends and running backs. After allowing just 40 receptions for 401 yards and one touchdown last year, White has surrendered 73 catches for 657 touchdowns and five TDs in 2020, with just two pass breakups and no interceptions. White is one of Tampa Bay's worst graded defenders from Pro Football Focus with a horrible 37.9 overall grade and a woeful 33.6 grade in coverage. The LSU product needs to spend months in the offseason honing his coverage skills if he wants to develop into a Pro Bowl linebacker with an all-around game.
"Well, the biggest thing is his leadership, and the leadership comes with commanding the defense and knowing the defense," Bucs defensive coordinator Todd Bowles said of White's improvement. "He's playing a lot faster, understanding the defense and getting everybody else to play fast. His talent is already there. He's already way ahead of the game from that standpoint, but the game has slowed down for him from a mental standpoint and he's leading us."
ROUND 2 – CB SEAN MURPHY-BUNTING
2019 stats – 16 games / 10 starts
44 tackles, 1 TFL, 1 sack, 1 FF, 8 PBUs, 3 INTs, 1 defensive TD
2020 stats – 13 games / 10 starts
57 tackles, 3 TFLs, 2 PBUs, 1 INT
Murphy-Bunting had a strong end to his rookie season strong with two of his three interceptions coming in the month of December, including a pivotal pick-six in a win at Detroit. The second-round pick from 2019 has seen his confidence get shaken at times and he has not been a good fit for zone defense that Bowles often deploys, as he played primarily man coverage in college.
Murphy-Bunting has given up 49 passes for 608 yards and four touchdowns in pass coverage this season, according to PFF, with three games left after allowing 51 catches for 528 yards and four scores all of last year. He has also made far fewer plays on the ball this season, too. In 2019, Murphy-Bunting had eight pass break-ups and three interceptions, while he's had just two passes defensed and one INT this season. Asking Murphy-Bunting to play both inside at the slot cornerback spot as well as outside cornerback may be too much for the Central Michigan product in his second year in the league.
"[Murphy]-Bunting is probably the headiest of the bunch," Bowles said. "He does a lot of things for us, does a lot of the dirty work and plays a lot of positions for us. He's been banged up a little bit, but everybody is at this point in the year. He's coming around healthy, so we look for him to get better and better."
ROUND 3 – CB JAMEL DEAN
2019 stats – 13 games / 5 starts
21 tackles, 1 TFL, 17 PBUs, 2 INTs
2020 stats – 11 games / 5 starts
48 tackles, 7 PBUs, 1 INT, 1 defensive TD
Dean has received more time on defense this year than he did as a rookie despite missing the last two games due to injury. The big, fast cornerback recorded 17 pass break-ups and two interceptions over the second half of the 2019 season. With that kind of finish, Dean seemed on his way to perhaps being the Bucs' best cornerback in 2020.
But Dean's play and his production has plateaued or perhaps regressed, just as the play of White and Murphy-Bunting has this year. While Dean recorded his first pick-six against Green Bay, that was his lone interception this season and he has just seven pass breakups, which is 10 fewer than a year ago. Dean has allowed 31 receptions for 276 yards and five touchdowns this season, according to PFF.
"Dean has been banged up the last couple weeks and hasn't played as much," Bowles said. "He started out very well. The more time he gets, the more time and different plays he's starting to see. He's starting to understand the game a lot more, so we're happy with his progression, as well."
ROUND 3 – S MIKE EDWARDS
2019 stats – 15 games / 7 starts
45 tackles, 3 TFLs, 1 sack, 2 FRs, 6 PBUs
2020 stats – 13 games / 0 starts
11 tackles, 5 PBUs, 1 FR, 2 INTs
Edwards started seven games last year as a rookie and logged 614 snaps on defense before being replaced by the steady presence of veteran Andrew Adams due to the rookie's erratic play in coverage. Edwards was beaten out for a starting safety role by rookie Antoine Winfield, Jr. this year in camp, and he's been used as a spot player on defense without much significant playing time. In fact, Edwards has only played 163 snaps on defense in 2020.
As a result, Edwards' stats are off from a year ago when he had 31 more tackles than he does this season, while producing a sack and two fumble recoveries. But in pass coverage, Edwards has actually played far better despite fewer snaps. The Kentucky product recorded the first two interceptions of his career this year, in addition to breaking up five passes. Edwards is actually the second-highest graded Buccaneer according to PFF, ranking right behind nose tackle Vita Vea (90.3) with an 83.1 grade, including an impressive 82.3 grade in pass coverage.
"Mike has gotten a better grasp of the game at safety," Bowles said. "He's a ballhawk naturally, but he's seeing things a lot easier than he saw his first year, naturally – which he should in his second year. He's playing a lot faster."
ROUND 4 – OLB ANTHONY NELSON
2019 stats – 9 games / 1 start
8 tackles, 1 FF, 1 PBU
2020 stats – 13 games / 0 starts
14 tackles, 1 TFL
Injuries robbed Nelson not only of playing time last year as a rookie, but also costing him his first and only preseason. That's right. Nelson has never played a snap in an NFL preseason game where he could hone his craft by getting plenty of reps as the COVID-19 pandemic wiped out his second preseason, too.
Nelson had eight tackles, one forced fumble and one pass breakup last year as a rotational player behind Shaquil Barrett, Jason Pierre-Paul and Carl Nassib. In his second year in Tampa Bay, Nelson has just 14 tackles and one tackle for loss with eight hurries and five QB hits, according to PFF, despite playing 77 more snaps (229) than he did a year ago (152). His pass rush game really needs to improve in the offseason, and no Buccaneer could benefit from preseason games more than Nelson in 2021.
"Anthony has had a heck of a year," Arians said. "He's gotten a lot of pressures and uses his length to bats some balls."
Bowles has been pleased with Nelson's contributions this year, although they've been few and far between with Barrett and Pierre-Paul playing the majority of minutes at outside linebacker.
"Nelson is the third wheel right now," Bowles said. "He comes in and he gives us some good minutes."
ROUND 6 – WR SCOTTY MILLER
2019 stats – 10 games / 2 starts
13 catches for 200 yards (15.4 avg.), 1 touchdown
2020 stats – 13 games / 5 starts
28 catches for 462 yards (16.5 avg.), 3 touchdowns
Of all of the Bucs' 2019 draftees, Miller has shown the most improvement from a year ago. Hamstring injuries limited him to just 10 games during his rookie season, and he's more than doubled his number of catches, yards and touchdowns in his second year in the league. Miller spent time during the offseason building a rapport with Brady at Berkeley Prep in Tampa, and the two honed their connection in the Bucs' brief training camp.
Miller was more of a factor early in the year and was the Bucs' leading receiver halfway through the season with 400 receiving yards until Antonio Brown's arrival in November. Brown's insertion into the line-up came at Miller's expense, as he has seen a dramatic decrease in snaps ever since. Miller only received two targets in Tampa Bay's 26-14 win over Minnesota last Sunday, but his lone catch came on a big, 48-yard scoring strike from Brady that gave the Bucs offense some much-needed momentum.
"I've got all the confidence in the world that when he's in the game, he'll make a play," Arians said.
The lack of development and the statistical regression of most of the Bucs' 2019 draft class is not an indictment on general manager Jason Licht's drafting. White, Murphy-Bunting, Dean, Edwards, Nelson and Miller have all flashed the ability that justifies their role as a starter or rotational contributor. It's just that the COVID-19 pandemic has robbed the 2019 draft class of the ability to make that big leap in improvement from the players' rookie year. Several of these 2019 draft picks will get better next year after they have an offseason in which they can grow and hone their techniques.
For the first two years Bucs fans were lamenting over the selection of nose tackle Vita Vea with the first-round pick in 2018, and wondering if cornerback Carlton Davis III and running back Ronald Jones II, Tampa Bay's second-round picks, would develop into anything more than pedestrian starters.
Now after a hot start in 2020, Vea has been sorely missed on defense and was potentially having a Pro Bowl season. Davis has a team-four interceptions and a league-high 17 pass break-ups while becoming one of the best cover corners in the NFL. And Jones is the league's fourth-leading rusher with a career-high 900 yards and a healthy 5.0 average.
Don't give up on the Bucs' 2019 draft class despite some average play from its members, particularly on the defensive side of the ball. Just wait until next year after the 2021 offseason and preseason, and look for some of these Buccaneers to take the step that Vea, Davis and Jones have taken in 2020.
FAB 3. Rewind Week 14 – Fast Forward Week 15

Not having open locker room at One Buccaneer Place and restricted media access to players this year due to COVID-19 has forced me to do less feature segments on players and more analysis on the games. So I'm using the Fab 3 section – called Rewind – Fast Forward – to share some observations from the Bucs' last game as well as my analysis in previewing the next one. Enjoy.
REWIND: Week 14 vs. Minnesota Vikings

• By the 11:00 mark in the second quarter in Tampa Bay's 26-14 win over Minnesota, Vikings rookie receiver Justin Jefferson, who is in the running for NFL Offensive Rookie of the Year honors, had two catches for 22 yards, and Pro Bowl receiver Adam Thielen had two receptions for 30 yards. Yet over the final 35 minutes of the game Thielen would catch just one pass for nine yards and Jefferson would catch only two balls for 17 yards.
Bucs defensive coordinator Todd Bowles played more Cover 2 and Quarters (Cover 4) coverage on Sunday than he did in previous weeks against Los Angeles and Kansas City. While Tampa Bay's defense did surrender some runs to Dalvin Cook, who had 102 yards on the ground, his longest run was just 14 yards. The plan was to keep everything in front of the defensive backs and to not get beat deep. As a result, the longest gain of the day by Minnesota was a 25-yard reception by tight end Irv Smith. Mission accomplished by Bowles' secondary.
"He mixed his coverages really, really well," Bucs head coach Bruce Arians said of Bowles' play-calling. "We kept safeties back there in different forms and we played some man, too. We're not going to let those guys go over the top and did a great job of keeping them in front of us."
• One of the reasons why the secondary played much better against Minnesota was due to the play of Tampa Bay's safeties. Rookie Antoine Winfield, Jr. had a career-high 11 tackles, including nine solo stops, to lead the Buccaneers, while Jordan Whitehead contributed five tackles. Winfield also had a sack, which was his third of the year, and a forced fumble, which was his second of the season, against the Vikings. The Bucs will need to continue to deploy Cover 2 against the Falcons this week to prevent Atlanta's dangerous wide receivers from going deep.
FAST FORWARD: Week 15 at Atlanta Falcons

• Falcons wide receiver Calvin Ridley just topped 1,000 yards with another 100-yard game against Los Angeles last Sunday and leads the team with 67 catches for 1,029 yards and eight touchdowns. His 15.4-yard average is even slightly better than Julio Jones' 15.1-yard average. Ridley has 25 touchdowns in three years in Atlanta, which is more than Jones, who has only 17 over that span, including three this year. Jones, who is battling a hamstring injury and did not practice on Wednesday or Thursday, may not play on Sunday, but when he's on the field he's been a Buc-killer. Yet Ridley has become the more productive receiver in Atlanta over the last couple of years.
• Atlanta running back Ito Smith had 11 carries for 42 yards last Sunday compared to Todd Gurley, who was limited to just 19 yards on six carries and two catches for 12 yards. Gurley leads Atlanta with 645 yards and nine touchdowns this year while averaging 3.6 yards per carry, but hasn't gained more then 26 yards on the ground in any of the last three games. In fact, Gurley has just one 100-yard game in his first season with the Falcons and has only rushed for more than 75 yards in a game twice this year.
• The Falcons are 1-3 in their last four games and the play of quarterback Matt Ryan is a big reason why. Ryan has completed more than 57 percent of his passes in just one game during that span, while not totaling 275 yards passing in any of those games over the last month. He has thrown just four touchdowns and six interceptions during that stretch, including one touchdown and a season-high three interceptions against Los Angeles last week. It doesn't help that Ryan has been sacked 14 times in the past four games, including eight times against the Saints in a 24-9 loss at New Orleans. The Bucs have recorded 11 sacks in their last four games, including six last week against the Vikings.
• Falcons offensive coordinator Dirk Koetter likes to use some trick plays, and when he does it is usually in the first quarter where he likes to catch opposing defenses off guard. In last week's 20-17 loss at Los Angeles, Koetter had wide receiver Russell Gage line up as a wildcat quarterback and throw a 39-yard touchdown to Ridley. In last year's 28-22 overtime win against the Bucs in Tampa Bay, the Falcons took an early 7-0 lead in the first quarter when Ryan hit offensive lineman Ty Sambrailo on a tackle eligible play with a 35-yard scoring strike. Tampa Bay's defense has been sleepwalking through the first quarter over the last two months and can't afford to get caught napping and give up a big play on a trick play.
FAB 4. Bucs at Falcons – 4 Match-ups To Watch
Each week you can find 4 Match-ups to Watch in the Fab 4 section of my SR's Fab 5 columns. Here is an advanced look at Tampa Bay's huge home game against Minnesota. The 8-5 Bucs travel to Atlanta to battle the 4-9 Falcons, which are led by interim head coach Raheem Morris, who was Tampa Bay's head coach from 2009-11.
Bucs CB Sean Murphy-Bunting vs. Falcons WR Calvin Ridley
With Julio Jones missing four games due to injury, it's been Ridley who has stepped as the Falcons' top receiver this year. Ridley, who has an 83.5 grade from Pro Football Focus, has eclipsed the 1,000-yard mark for the first time and has produced a career-high 50 catches that have resulted in first downs. The speedy Ridley operates from all over the field and will play on either side of the line, in addition to the slot. At 6-foot-1, 190 pounds, he's not the biggest receiver, but Ridley gets open due to great quickness and route-running ability. If Jones, who has been battling a hamstring injury, can't play against Tampa Bay on Sunday, Ridley will be Matt Ryan's primary option and will need to step up big.
Murphy-Bunting has struggled in his second year in Tampa Bay, earning an underwhelming 53.1 overall grade from PFF, including a 52 coverage grade. Playing zone coverage has not benefited Murphy-Bunting at all, as he has been slow to react to passes and has just one interception and one pass breakup in 13 games. Look for offensive coordinator Dirk Koetter to try to match Ridley up against Murphy-Bunting as much as possible. Murphy-Bunting will be playing right cornerback if Jamel Dean doesn't play, or inside as a slot cornerback if he does.
ADVANTAGE: Ridley
Bucs DT Ndamukong Suh vs. Falcons RG Chris Lindstrom
Lindstrom, last year's first-round pick, has quickly developed into a quality starter, and has improved as the season has gone on. Lindstrom has earned a 76.6 overall grade this year and a 77.3 grade in pass protection. The Boston College product has only been penalized once in 2020, but has allowed 20 pressures, including three sacks. But Lindstrom hasn't allowed a sack in the last seven games, and has only surrendered two QB hits and eight pressures during that span.
Suh, who has a 63 overall PFF grade, including a 67.4 pass rush grade, is coming off a fantastic game against Minnesota where he had a season-high nine pressures, including six hurries, two QB hits and a sack. That sack was his fifth of the year. Outside linebackers Shaquil Barrett and Jason Pierre-Paul were dominant in both games against Atlanta a year ago, and Suh could benefit from their applied pressure this year if Ryan steps up in the pocket. Suh will have to play at a high level once again to beat the talented Lindstrom one-on-one.
ADVANTAGE: Push
Bucs QB Tom Brady vs. Falcons MLB Deion Jones
Jones is having a fine year at middle linebacker with 84 tackles, and is Atlanta's second-highest defensive player with a 78.7 overall grade. Not only is he outstanding against the run with his sideline-to-sideline speed, but he also contributes to the team's pass rush with 3.5 sacks and a 79.9 blitz grade from PFF. Where Jones will threaten Brady and the Bucs offense is not just blitzing or stuffing the run, but also in pass coverage. Jones has a 76.4 coverage grade from PFF and has three pass breakups and two interceptions, while allowing just 33 catches for 269 (8.2 average) and three TDs through the air.
Brady, who has a 90 overall grade from PFF, must account for Jones not only on running downs but also in the passing game. Bucs fans remember Jones' game-clinching pick-six in overtime in last year's season finale loss to Atlanta when he stepped in front of Jameis Winston's pass for Cameron Brate. Jones has two interceptions this season, including a pick-six a few weeks ago against Las Vegas. Brady has thrown 11 interceptions this season, including six to safeties, but none to linebackers. He'll need to keep that up against Jones in Atlanta this week. The Bucs offense attacks the middle of the field with Chris Godwin in the slot and tight end Rob Gronkowski down the seam. That's where Jones will be lurking, and Brady must be careful to avoid the Falcons' Pro Bowl defender.
ADVANTAGE: Brady
Bucs LG Alex Cappa vs. Falcons DT Grady Jarrett
Jarrett, who is the highest-graded Falcons defender with an 84.8 grade from PFF, will line up on both the right and the left side of the line, but he spends more of his time going against right guards. Because Atlanta has struggled to get to the quarterback this year with just 25 sacks, Jarrett must come through as a pass rusher, and has an 85.1 pass-rushing grade from PFF to go along with his three sacks on the season. Jarrett, a Pro Bowl defensive tackle, has a team-high 31 hurries this year, including 14 QB hits.
Cappa, who has a 64.7 overall PFF grade, including a 66.7 pass protection grade, has really excelled in his second season as the team's starting right guard. He's been penalized just twice, but not once in the past eight games. After allowing four sacks last year, Cappa hasn't surrendered any this season, although he has allowed 12 QB hits and 23 pressures. He'll need to bring his "A" game against Jarrett, who is one of quickest and best penetrating defensive tackles in the game.
ADVANTAGE: Push
FAB 5. SR's Buc Shots
• ALI GETS AN "A" FROM CHEAH: Bucs fan and Pewter Report contributor Steven Cheah has a great video breakdown of Bucs left guard Ali Marpet from Sunday's 26-14 win over Minnesota. Cheah, who also hosts the Going Deep Podcast with former NFL offensive lineman Willie Colon for Barstool Sports, does a great job with his video breakdowns. Make sure you follow him on Twitter @StevenCheah.
The entire Buccaneers Offensive Line was terrific on Sunday vs. the Vikings, but Ali Marpet had a bunch of plays that show why he is one of the premiere Guards in Football. He can truly do it all. Take a closer look. #Bucsfilm2020wk14 pic.twitter.com/n7IlqT0isu

— Steven Cheah (@StevenCheah) December 16, 2020
• LOOK OUT, ROOK! Despite wearing a helmet and pads, Bucs rookie right tackle shuddered in fear of a Gronk Spike by tight end Rob Gronkowski in Sunday's 26-14 win over the Vikings – and then had a good laugh about it on Twitter afterwards.
Thought that puppy was comin right at my dome!! Any sane person would be scared of a @RobGronkowski GRONK SPIKE‼️‼️ #GoBucs https://t.co/UHU0jKlQtX

— Tristan Wirfs (@TristanWirfs74) December 14, 2020
• WIN AND BUCS ARE IN? It certainly seems like a victory in Atlanta would put a 9-5 Tampa Bay team in the playoffs – either on Sunday with help from other teams, or the next week with a victory at Detroit.
More playoff modeling — @FiveThirtyEight has Bucs with 97 percent chance of making the playoffs. They list a 1 percent chance at a division title, though that would require Bucs to win remaining three games and Saints to lose their remaining three.

— Greg Auman (@gregauman) December 16, 2020
• BUCS VS. FALCONS PREVIEWED ON THE PEWTER REPORT PODCAST: The Pewter Report Podcast is energized by CELSIUS and broadcast live four episodes per week – Sundays after the game with additional episodes on Monday, Wednesday and Thursday – all at 4:00 p.m. ET – to recap all of the action from the previous Bucs game and get you ready for the next one. We'll be live on Sunday evening at 7:30 p.m. ET to recap the Bucs at Falcons game and break down the Bucs' playoff picture, in addition to Pewter Report Podcasts on Monday and Wednesday next week to prep you for the Bucs at Lions game next Saturday.
There will NOT be a Pewter Report Podcast next Thursday, which is Christmas Eve, or the following Thursday, which is New Year's Eve. And our game-day podcast for the Bucs at Lions game will take place Saturday, December 26 at 7:30 p.m. ET.
Watch us live on our PewterReportTV channel on YouTube.com and please subscribe (it's free) and add your comments. All of our Pewter Report Podcasts will be posted there so you can go back and watch the recorded episodes if you missed it live.
The audio versions of the Pewter Report Podcasts will continue to be found on iTunes and Soundcloud. Here are links to a few of the most recent episodes, including Wednesday's Bucs at Falcons preview podcast and Thursday's podcast, which featured The Athletic's Greg Auman.
Pewter Report Podcast Episode 250: Analyzing B.A. And The Bucs With Jake Arians
Pewter Report Podcast Episode 254: Prepare For An Air Raid In Bucs – Falcons Game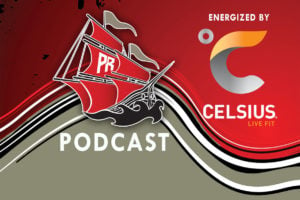 There is no better time to listen to a new Pewter Report Podcast – energized by CELSIUS – than right now or early Saturday morning during your workout or while running errands.
The popularity of the Pewter Report Podcast continues to grow. In addition to listening to the Pewter Report Podcasts on PewterReport.com you can also subscribe to the free podcasts at PodBean by clicking here and on SoundCloud by clicking here. And of course the Pewter Report Podcast is also available on iTunes and YouTube. Make sure you subscribe so you don't miss a single episode.
• BRADY BETTER WITHOUT AB? Bucs wide receiver Antonio Brown has failed to make many big plays on the field since joining the team in November. The 32-year old Brown, a seven-time Pro Bowler, has just one catch over 20 yards and has yet to score a touchdown. His 8.7-yard average is the lowest in his career, and he's not helping Tom Brady's efficiency much, either.
Tom Brady has 4 TD, 4 Int and completed 60% of his passes with Mike Evans, Chris Godwin and Antonio Brown all on the field this season.

The Buccaneers are 1-3 when all 4 play. pic.twitter.com/RIQNrXcQw3

— ESPN Stats & Info (@ESPNStatsInfo) December 13, 2020
• NO BRUCE, BRADY RIFT: Former Bucs wide receiver Keyshawn Johnson said what I reported on PewterReport.com three weeks ago – there is no rift between head coach Bruce Arians and quarterback Tom Brady.
"I don't see where there's an issue with the two"

–@keyshawn thinks the beef between Bruce Arians and Tom Brady is overblown. #KJZ pic.twitter.com/8zlTl3NaX5

— Keyshawn, JWill & Zubin (@KeyJayandZ) December 17, 2020
Share On Socials