SR's Fab 5 is exclusively sponsored by Edmonson Electric • AC • Security –
the official smart home and security company of PewterReport.com.
For the past 40 years, Edmonson Electric • AC • Security has proudly served central Florida and Bucs fans in the area with electric services and now proud to add state-of-the-art "Smart Home" technology, security systems and air conditioning to its roster. Whether it's surveillance cameras, home theaters, or smart lighting, Edmonson Electric • AC • Security is automating your dream home.
Visit EdmonsonElectric.com to find out more about controlling, monitoring and securing your home or call 813.910.3403 for additional information.
Control. Monitor. Secure.
---
FAB 1. Brady Needs To Improve His Play Against Saints
The 2020 Buccaneers only lost five games last season en route to winning Super Bowl LV. Tampa Bay finished the regular season 11-5 and wound up 15-5 after defeating the defending Super Bowl champion Kansas City Chiefs, 31-9, back in February.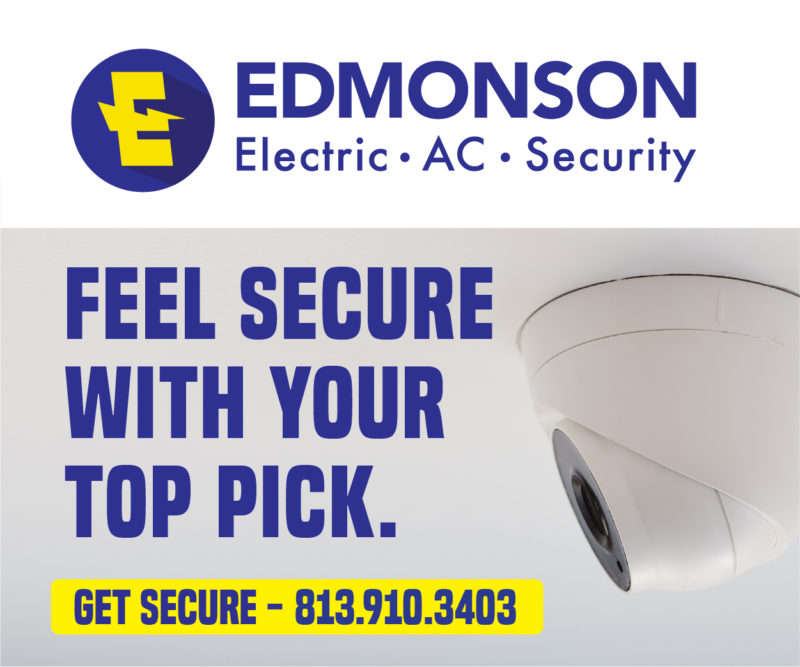 But two of those losses came against the Saints, who wound up sweeping the Bucs for a second straight season. The first one came in Week 1 in Tom Brady's debut in red and pewter. The Bucs lost, 34-23, at the Superdome. Brady threw two interceptions, including a pick-six. Both of those interceptions weren't entirely his fault, according to head coach Bruce Arians.
Tampa Bay's rematch against New Orleans was even worse. The Saints dominated the Bucs at Raymond James Stadium on Sunday Night Football. Brady and the Bucs were embarrassingly bad in a 38-3 defeat. Brady threw three interceptions and no touchdowns and played his worst game of the season in Tampa Bay.
New Orleans went on to finish 12-4 and won the NFC South for a fourth year in a row. The Saints outscored the Bucs, 92-26, during the regular season.
Football is the ultimate team sport, but one of the things that stands out about the in-season losses to New Orleans is Brady's subpar play.
Brady has to play better.
There's no doubt about it. He has to avoid turnovers and make more plays.
Brady has struggled against the Saints over his career, posting a 4-3 record in the regular season. The 44-year old legend has completed 155-of-247 (62.8 percent) passes for 1,881 yards with 13 touchdowns and eight interceptions in those seven meetings against New Orleans. Brady has also been sacked 21 times by the Saints, an average of three per game. Yet most of those negative stats stem from going 0-2 against New Orleans last year in the regular season.
The Bucs finally beat the Saints, 30-20, in the NFC Divisional Playoffs last year in the Superdome. That win snapped Tampa Bay's five-game losing streak against New Orleans dating back to 2018. Sean Payton had won four straight against Bruce Arians over the last two seasons prior to that playoff win by Tampa Bay.
But even in that long-awaited postseason triumph, Brady didn't play great. He completed a season-low 54.5 percent of his passes for 199 yards. But he did throw a pair of touchdowns and didn't turn the ball over.
In three games against the Saints last year, Brady completed 63-of-107 (58.9 percent) passes for 647 yards with four touchdowns, five interceptions and seven sacks.
BRADY vs. SAINTS – 2020 SEASON
Week 1: 34-23 LOSS – 23-of-36 (63.9%) for 239 yards with 2 TDs, 2 INTs, 3 sacks
Week 9: 38-3 LOSS – 22-of-38 (57.89%) for 209 yards with 0 TDs,  3 INTs, 3 sacks
Playoffs: 30-20 WIN – 18-of-33 (54.5%) for 199 yards with 2 TDs, 0 INTs, 1 sack
So what does Brady need to do to play better against New Orleans? The first step is to protect the ball.
"Turnovers," Arians said. "When you look at our two games, we turned it over, they scored. In the playoff game, they turned it over and we scored. When two good teams are battling, that's usually the deciding factor. Now, you've got to score when you get those turnovers. You can't kick field goals."
What makes Dennis Allen's Saints defense so tough to move the ball and score on is the talent he has to work with in New Orleans.
"The entire defense," Arians said. "This is by far the best 11 that we've faced this year. The front seven – Demario Davis is one of the best there is, the same with Cam Jordan. So, this is a big physical defense with a great secondary. Yeah, the defense stands out."
Due to the salary cap, the Saints lost several standouts on defense, including leading sacker Trey Hendrickson, defensive tackle Sheldon Rankins, a former first-round pick, linebacker Alex Anazlone, run-stuffing nose tackle Malcolm Brown, and starting cornerback Janoris Jenkins. But the Saints still have plenty of very good players on defense, including Davis, Jordan, defensive end Marcus Davenport, safeties Malcolm Jenkins and Marcus Williams, cornerback Marshon Lattimore and defensive tackle David Onyemata, who returns from an NFL suspension this week.
The Saints are opportunistic and have a plus-4 turnover differential thanks to nine interceptions in six games, which ranks third in the league. The Bucs are slightly better at plus-7 due to 10 interceptions in seven games.
"The first thing I see is great defense," Arians said. "Dennis Allen does a hell of a job and they've got really good players on defense."
New Orleans' defense is a big reason why the team is 4-2. The Saints have the league's eighth-ranked defense, allowing just 331.5 yards per game. By comparison, the Bucs defense ranks ninth, allowing 332.1 yards per game.
More importantly, the Saints have the NFL's third-best scoring defense, holding opponents to only 16.8 points per game. Tampa Bay's offense, the third-highest scoring unit in the league, has been averaging 33.3 points per game in 2021. So something has to give on Halloween.
The other area where Brady can be better is making sure the Bucs are in the right run plays with the proper checks at the line of scrimmage. Since Brady began meeting with the offensive line a few weeks ago Tampa Bay's running game has really taken off. The culmination of that was the Bucs' season-high 182 yards on the ground in last week's 38-3 win over Chicago. That was a very encouraging sign heading into New Orleans this Sunday.
Part of the reason why the Saints prevailed in both regular season games last year was because the Bucs struggled to run the ball. Tampa Bay ran for 86 yards on 26 carries (3.3 avg.) with one touchdown – a Brady QB sneak – in the 2020 season opener. In Week 9, the Bucs ran the ball five times for only eight yards (1.6 avg.). Brady was asked to do way too much in that game and threw three interceptions as a result.
It was a different story in the playoffs where Tampa Bay's offense finally achieved some real balance and rushed for 100 yards against New Orleans. The Bucs ran for 127 yards and a touchdown on 36 carries (3.8 avg.) in the 30-20 postseason victory.
New Orleans' run defense is ranked third in the NFL this year, surrendering just 80.8 yards per game. Tampa Bay still has the league's top-ranked run defense, allowing only 67.4 yards per game.
Brady will need some help from those around him in the Superdome. He needs better protection from the offensive line and his receivers must do a better job of getting open against the Saints and catching the ball.
But he has to avoid turnovers at all cost while improving his completion percentage. That needs to be closer to his season average of 67 percent – not the 58.9 percent Brady has been mired with in his recent meetings with the Saints.
And he must help the Bucs run the ball effectively with the correct calls and audibles at the line of scrimmage. More successful runs will help play-action and make Brady have to throw the ball fewer times, which could lead to less sacks and interceptions.
The offensive ingredients for Tampa Bay's last win at New Orleans were 100-plus yards in the running game, 30 points and no turnovers. And better play from Brady. That needs to continue if the Bucs want to have a Happy Halloween on Sunday.
FAB 2. Bucs O-Line Must Continue Dominant Play In New Orleans
Bucs general manager Jason Licht was ahead of his time in 2014. In his first season on the job he surveyed the landscape of the NFC South and knew that he needed to build a potent offense if Tampa Bay was ever going to get out of the division cellar.
In a division that featured the likes of Drew Brees in New Orleans, Matt Ryan in Atlanta and Cam Newton in Carolina, the Bucs were going to have to have an offense that could get into – and win – shootouts with some of the league's most dangerous quarterbacks. The Bucs needed a skilled quarterback, some dangerous weapons and an elite offensive line.
With his initial first-round pick as an NFL G.M., Licht drafted wide receiver Mike Evans, who has turned into the greatest offensive player in Bucs history. Licht also drafted two offensive linemen in 2014 – albeit later in the fifth round – with Kadeem Edwards and Kevin Pamphile.
That trend carried on the next year as Licht continued to build the offense. The Bucs' first pick was quarterback Jameis Winston followed by two more offensive linemen – left tackle Donovan Smith and guard Ali Marpet – this time in the second round. Smith and Marpet were starters as rookies, and both have signed contract extensions in Tampa Bay since being drafted.
It was clear early on that building a dominant offensive line was something that was important to Licht, who played guard in college.
In 2018, Licht made free agent Ryan Jensen the highest-paid center in the NFL and then selected another lineman on Day 2 in Alex Cappa, a former left tackle that converted to guard. Cappa moved into the starting lineup in 2019 and his play has improved each year. After a rough first year in Tampa Bay, Jensen has ascended to become one of the league's best centers.
Last year, Licht emphasized the offensive line again in the draft, trading up one spot for right tackle Tristan Wirfs in the first round. The 6-foot-5, 320-pound Wirfs immediately became one of the best offensive linemen in the NFL, and could be regarded as the league's best right tackle.
Wirfs has surrendered just one sack in his first 27 games in the NFL, which came at the expense of All-Pro Khalil Mack in last year's 20-19 loss at Chicago. In last Sunday's 38-3 drubbing of the Bears, Wirfs got his revenge. He completely shut out – and shut down – Mack in an epic display of dominance.
"I thought the offensive line played outstanding last week, especially Tristan," Bucs head coach Bruce Arians said. "He's had a Pro Bowl year so far, knock on wood. I think all five of those guys plus the tight ends – you don't run for 180 yards and not have a hell of a job up front."
The addition of Wirfs, who replaced the aging Demar Dotson, was the final piece of the puzzle for Licht in building a dominant offensive line in Tampa Bay. The Bucs boast four players that are playing at a Pro Bowl level in Wirfs, Marpet, Jensen and Smith. And Cappa is playing well enough to get a pretty hefty contract in free agency next year.
"I think they're the best unit overall, but in the same tier as the Saints and the Browns when they're fully healthy, as the three elite units in the NFL right now," said offensive line guru Brandon Thorn, who publishes the Trench Warfare newsletter on Substack. "Going back to last year, and even the year before that for Jensen and Marpet, I see each as a Top 3 player at their position – all in the elite tier."
Thorn feels the same way about Wirfs, and has noted the improved play from Smith as well.
While offensive stars like Evans, Tom Brady, Chris Godwin and Rob Gronkowski get all of the fame and acclaim, the Bucs dominant yet unheralded offensive line, which boasts zero Pro Bowlers so far, is at the heart of Tampa Bay's prolific offense. The Bucs offense ranks third in scoring, averaging 33.3 points per game, second in total yards with 423.4 yards per game, and first in passing with 324.3 yards per game.
Great blocking up front makes that possible.
The Bucs run game was one of the worst in the league during the first three weeks of the season, averaging a paltry 56.3 yards per game. But over the last four weeks, the offensive line and the tight ends have paved the way for Tampa Bay to rush for at least 100 yards per game and average 131.3 yards.
Tampa Bay is coming off its best rushing performance of the season with 182 yards and a touchdown on 31 carries (5.9 avg.) on Sunday against Chicago.
"Oh yeah, I think our run efficiency was way over 70 percent," Arians said. "I thought the backs all picked the holes really well, all three of them, but our offensive lines and tight ends just did a heck of a job blocking that unit."
That performance was the second-best in Bruce Arians' three seasons with the Bucs.
BUCS' TOP 5 RUSHING GAMES UNDER ARIANS
2020 at Carolina – 37 carries for 210 yards (5.7 avg.), 2 TDs
2021 vs. Chicago – 32 carries for 182 yards (5.9 avg.), TD
2020 vs. Green Bay – 35 carries for 158 yards (4.5 avg.), 2 TDs
2020 vs. Kansas City (Super Bowl LV) – 33 carries for 145 yards (4.4 avg.), TD
2020 at Washington – 29 carries for 142 yards (4.9 avg.), 1 TD
It's no surprise that the Bucs are undefeated when running the ball so well. And running the ball was key in Tampa Bay's 30-20 win at New Orleans in last year's playoffs as the team rushed for 127 yards and a touchdown. Conversely, the Bucs got pummeled, 38-3, at home in Week 9 after running the ball just five times for eight yards, which was a franchise-low.
BUCS' RUN GAME vs. SAINTS IN 2020
Week 1 at New Orleans: 26 carries for 86 yards (3.3 avg.), TD
Week 9: vs. New Orleans: 5 carries for 8 yards (1.6 avg.)
Playoffs at New Orleans: 36 carries for 127 yards (3.8 avg.), TD
The Bucs have topped 100 yards rushing just once in the last five meetings against the Saints, and that was their lone victory over New Orleans in the playoffs. That postseason win was the only time Tampa Bay's offensive line allowed just one sack. Brady was sacked three times apiece in the two meetings in the regular season.
In order to win in New Orleans this Sunday, Tampa Bay's offensive line will have to live up to its current standard and play dominant football. That means rushing for over 100 yards and keeping Brady's pocket clean. Brady has only been sacked nine times in seven games, but none in the past two weeks.
"We're doing such a great job of keeping him clean," Arians said.
The Bucs offensive line will have to remain stout in pass protection this week to take on an aggressive Saints defense that recorded five sacks in Monday's 13-10 win at Seattle.
"Easiest thing to point out are turnovers, but it's a team we play twice a year – last year three times," Arians said. "A team we're really familiar with. Obviously, we had our struggles with them over the years and were kind of able to rectify that last year during the playoffs, but it's a new season. Watching them on tape still – great defense and they have great players all over the field. They do a lot of things with their front four to put pressure on us. We have to be on the same page this week, really work through the details throughout the week.
"It's a tough place to play. We really didn't have that element last year, which was nice. But I'm sure it's going to be wild on Halloween this Sunday. A lot of work this week to put in and as long as we are able to protect Tom, kind of establish the line of scrimmage – that's what really helped us in the playoffs. Hopefully run the football and protect the quarterback."
That falls on the offensive line. And given how dominant this unit has become in leading the team to a Super Bowl win a year ago, the Bucs offensive line will be ready for the challenge in New Orleans on Halloween.
FAB 3. 4 Matchups To Watch: Bucs Offense vs. Saints Defense
Each week you can find 4 Match-ups to Watch on offense and defense in my SR's Fab 5 column. Here is preview of Tampa Bay's road game at New Orleans where the 6-1 Bucs face the 4-2 Saints in a key divisional game. The Bucs are favored by 5.5 points. Will this be a trick or a treat for the Bucs on Halloween? Here is a look at Tampa Bay's key players on offense vs. New Orleans' key defenders.
Bucs QB Tom Brady vs. Saints MLB Demario Davis
The 32-year old Davis is still one of the best middle linebackers in the NFL – even if he's the oldest player at his position in the NFL. At 6-foot-2, 248 pounds, Davis is fast and physical and is a playmaker against both the run and the pass. The Saints have the league's third-best run defense and Davis is a big reason why. He leads the team in tackles with 48 and eight tackles-for-loss. He's also adept at blitzing, as Davis is tied for the team lead with three sacks. Davis is also tied for second in New Orleans with four pass breakups. Whether it's the chess match as the Saints QB of the defense or just the plays on the ball he makes, Davis is a worthy adversary against Brady.
Brady has not played well against the Saints. He's thrown five interceptions and just four touchdowns, although a few of those picks weren't on Brady. Brady was 0-2 against the Saints in the regular season before getting a key playoff win in New Orleans last year. Davis has sacked Brady twice on blitzes last year – once in the 2020 season finale and again in the playoffs. One of the keys for the Bucs winning in New Orleans is to not let Davis go off and have a stellar game. Brady accounting for Davis on every snap and making sure the Bucs have the right run calls and protections is key.
ADVANTAGE: Push
Tampa Bay RT Tristan Wirfs vs. New Orleans DE Cameron Jordan
At age 32, Jordan appears to be on the decline as a pass rusher, although he's still a solid run defender. He notched his first sack of the season at Seattle on Monday after being shut out in the first four games. Jordan has notched 14 career sacks against the Bucs since 2011, but was shut out by Wirfs in all three meetings last year. In order to help the Saints beat the Bucs on Sunday he'll have to help pressure Brady into some mistakes. That's a tall order against Wirfs.
Wirfs began his NFL career by shutting out Jordan in New Orleans in his first ever NFL game. Tampa Bay's first round pick last year only gave up one sack, and that was to Khalil Mack. In the rematch in Week 9, Wirfs stoned Jordan again. Then he completed the trifecta with another shutout in the playoffs. The 22-year old right tackle is already playing at a Pro Bowl level and is looking to keep shutting down Jordan in pass protection. It's hard to bet against Wirfs given his 3-0 record against Jordan so far.
ADVANTAGE: Wirfs
Bucs WR Mike Evans vs. Saints CB Marshon Lattimore
It's hard to believe that Lattimore only has one career interception against the Bucs in his first four years since being drafted by the Saints. That came back in 2018, but he's really dominated Evans since 2017. The 6-foot, 192-pound Lattimore has stuck to Evans like glue and really gotten under his skin. Evans and Lattimore have a history of pushing and shoving and even coming to blows on occasion due to the physical nature of both players.
Evans has just one 100-yard game against the Saints in 14 career games. He's struggled against the Saints more than any other team, and he's been shut out twice. Evans' best game against Lattimore came in the 2018 season opener when he caught seven passes for 147 yards and one touchdown. Lattimore has held Evans to one catch or less in four of the last eight games. Evans scored two touchdowns last year, but one came on a 2-yard pass in the season opener and the other came on a 3-yard pass in the playoffs.
ADVANTAGE: Lattimore
Tampa Bay LT Donovan Smith vs. New Orleans DE Tanoh Kpassagnon
Kpassagnon was a defensive lineman in Kansas City last year when the Chiefs lost to the Bucs in Super Bowl LV. He'll surely want some payback against Smith and Tampa Bay for that Super Bowl defeat. Kpassagnon, a free agent addition in the offseason, is tied for the Saints' lead in sacks with three in addition to a forced fumble. At 6-foot-7, 289 pounds, Kpassagnon wins with power and length rather than speed and quickness. He's a difficult matchup in that respect, although he's not the starter at right defensive end. That's former first-round pick Marcus Davenport, who has battled some injuries to start the season.
Smith has handled Davenport well in the past. It's been the Saints' designated pass rushers that have given him problems. Trey Hendrickson, who is now with Cincinnati, gave Smith some fits and recorded three sacks in two regular season games last year. Carl Granderson, who is still with New Orleans, has two of his seven career sacks against Tampa Bay. Granderson and Kpassagnon will rotate in to give Smith different looks. So far, Smith has been up to the challenge, surrendering just one sack this season, which came in Week 2. He's playing at an elite level, and even though he's struggled in the Superdome in the past, Smith should hold his own on Sunday.
ADVANTAGE: Push
FAB 4. 4 Match-ups To Watch: Bucs Defense vs. Saints Offense
Each week you can find 4 Match-ups to Watch on offense and defense in my SR's Fab 5 columns. Tampa Bay's defense limited Chicago to just three points and forced four takeaways last week, but did give up 100 yards rushing to rookie Khalil Herbert. Can they create enough takeaways to win like they did in New Orleans last year, 30-20 in the NFC playoffs? Here are the key match-ups to watch on Sunday when the Saints have the ball.
Bucs ILB Devin White vs. Saints RB Alvin Kamara
Kamara has never had a 100-yard rushing game against the Bucs before in nine games, but he has a 100-yard receiving game back in 2018. Yet there have been plenty of touchdowns – nine (six rushing and three receiving) – and multiple 100-yard games of combined offense. Six to be exact. Kamara has rushed for 278 yards and a pair of touchdowns on 68 carries (4.0 avg.) in five games against White and Todd Bowles' defense. And he's also been a real threat as a receiver out of the backfield with 29 catches for 169 yards and one touchdown. With Jameis Winston at quarterback this year, the Saints are relying on him even more. Kamara is the Saints' leading receiver with 25 receptions for 241 yards and four touchdowns.
Bowles has charged White with covering Kamara out of the backfield. In four games against the Saints over his first two years White has recorded no fewer than 11 tackles in any of those contests. Although he's missed a few tackles, White has generally played some of his better games against Kamara and the Saints. But he didn't make any splash plays until the NFC Divisional Playoff game. That's when White stepped in front of Kamara and picked off Drew Brees, in addition to making a key fumble recovery. This battle could go either way on Sunday.
ADVANTAGE: Kamara
Tampa Bay DT Ndamukong Suh vs. New Orleans LG Calvin Throckmorton
The Saints lost guard Andrus Peat, who wasn't a star player, but was a capable starter. The former first-round pick is out for the season. In steps Throckmorton, an undrafted free agent signed in 2020. The 6-foot-5, 309-pounder is not a great athlete and struggles with balance issues, according to some scouting reports. Pro Football Focus gave him a 53.1 overall grade this year, primarily when he filled in for Caesar Ruiz earlier in the year at right guard. He's definitely the weakest link on the Saints' strong offensive line.
Suh has been very quiet this season with just eight tackles, one sack and one fumble recovery through seven games. He has recorded just two tackles in the last three weeks and needs to step up. He's battling a sore knee that limited him in practice, so that could be the culprit. Suh will have a very favorable matchup from a talent standpoint this week going against Throckmorton and needs to take advantage of it. Even if he doesn't win in the passing game as a pass rusher, Suh must do a better job at the point of attack in the running game. The Bucs have allowed too many rushing yards the last two games.
ADVANTAGE: Suh
Bucs OLB Shaq Barrett vs. Saints RT Ryan Ramczyk
Ramcyzk signed a contract extension with the Saints this summer, which makes him the highest paid right tackle at $19.2 million per year. Is he the league's best right tackle – or is it Wirfs? Pride will be on the line on Halloween in New Orleans, as Ramcyzk looks to continue his mastery against Barrett, who has yet to record a sack on him in the past five meetings. Ramczyk wins with great strength, length and technique and rarely gives up sacks.
Barrett really struggles against big right tackles, and Ramczyk is one of the bigger ones at 6-foot-6, 320 pounds. Barrett is off to a hot start this year with 5.5 sacks and has been Tampa Bay's top pass rusher. He did notch a sack last year against the Saints, but it came against one of the Saints' tight ends. Can Barrett finally get the best of Ramczyk and get to Jameis Winston? Ramczyk has already given up two sacks in six games this season, so maybe he's no longer invincible.
ADVANTAGE: Push
Tampa Bay OLB Jason Pierre-Paul vs. New Orleans LT Terron Armstead
Armstead has fared well against the Buccaneers, allowing just one sack over the last three years. That came last year in New Orleans' 38-3 win at Tampa Bay against Barrett. Armstead has had Pierre-Paul's number since he joined the Bucs in a trade during the 2018 season. The 30-year old Armstead is still one of the best left tackles in the game and has yet to surrender a sack this season.
Pierre-Paul has struggled this year due to a rotator cuff injury and a broken finger. He's missed some time and had to play the last couple of games with a big club on his hand. Still, he did manage to record two sacks and force a fumble last week despite that. Pierre-Paul hasn't won many battles against Armstead, and has just one career sack against the Saints as a Buccaneer. That came as an interior rusher in the 2020 season opener.
ADVANTAGE: Armstead
FAB 5. SR's Buc Shots
• THE REAL INTRIGUE ABOUT BRADY'S 600TH TD PASS: So much was made about Tom Brady's 600th career touchdown ball last year after Mike Evans accidentally gave it to a fan in the stands. But the real key was the actual landmark pass itself. As @NFLonCBS points out, Brady's 600th scoring strike more than doubles the career TD totals from some amazing NFL QBs. (Not sure why Kyle Orton is on this list, though.)
To put Tom Brady's 602 Pass TD in perspective, it's more than DOUBLE these legend's career amounts:

John Elway (300)
Joe Montana (273)
Steve Young (232)
Terry Bradshaw (212)
Kurt Warner (208)
Troy Aikman (165)
Kyle Orton (101) pic.twitter.com/I64iuTMWya

— NFL on CBS 🏈 (@NFLonCBS) October 25, 2021
• BRADY IS AS SAFE AS CAN BE IN THE RED ZONE: An amazing statistic about Bucs quarterback Tom Brady over the past year and a half.
Stat of the day: Since joining the #Bucs, Tom Brady has 50 TDs and 0 INTs in the redzone.

— Dov Kleiman (@NFL_DovKleiman) October 27, 2021
• BUCS-SAINTS PREVIEWS ON THE PEWTER REPORT PODCAST: The Pewter Report Podcast is energized by CELSIUS and broadcasts four live episodes each week. Here is the lineup for next week during the bye week: Monday, Wednesday and Thursday at 4:00 pm EST. The Pewter Pregame, Pewter GameDay and Pewter Postgame return on Sunday, November 14 at Noon EST prior to Tampa Bay at Washington.
Pewter Report's Jon Ledyard, Scott Reynolds and the rest of the Pewter Report team broke down the Bucs' 38-3 bashing of the Bears on Sunday night.
Ledyard and Reynolds discussed the Bucs' injuries and which players might be back for Sunday's game in New Orleans.
Ledyard and Reynolds analyzed the Saints offense and explained how the Bucs defense can ruin Jameis Winston's day.
Ledyard and Matt Matera broke down the Saints defense and detailed the ways Tom Brady and the Bucs offense can exploit New Orleans.
Watch the Pewter Report Podcasts live on our PewterReportTV channel on YouTube.com and please subscribe (it's free) and add your comments. All Pewter Report Podcasts are archived so you can watch the recorded episodes if you missed them live.
There is no better time to listen to or watch a new Pewter Report Podcast – energized by CELSIUS – than Friday afternoon on the way home from work. Or early Saturday morning during your workout or while running errands.
The popularity of the Pewter Report Podcast continues to grow. In addition to listening to the Pewter Report Podcasts on PewterReport.com you can also subscribe to the free podcasts at PodBean by clicking here and on SoundCloud by clicking here. And of course the Pewter Report Podcast is also available on iTunes and YouTube. Make sure you subscribe so you don't miss a single episode.
• BUCS REDUCTION IN PENALTIES MUST CONTINUE: After starting the 2021 season as one of the most penalized teams in the league, the Bucs had one of their cleanest games against the Bears in last week's 38-3 win. Tampa Bay committed just one penalty for 10 yards. The Bucs drew seven flags for 120 yards in Philadelphia the week prior. The Bucs are now the sixth-most penalized team with 48 penalties for 481 yards, which is the third-most in the NFL. So what's the key to reducing penalties moving forward?
"The road games, it's eliminating penalties and communication problems," Bucs head coach Bruce Arians said. "That's where the penalties [come from]. This was our cleanest game. And it's so much easier offensively at home to communicate. When you're on the road – this one's going to be crazy. Halloween in New Orleans – second time I've had that one. It's always fun to look in the stands and see how crazy they can actually be down there. What a great crowd. Communication will be paramount this week."
Share On Socials