SR's Fab 5 is exclusively sponsored by Edmonson Electric • AC • Security –
the official smart home and security company of PewterReport.com.
For the past 40 years, Edmonson Electric • AC • Security has proudly served central Florida with electric services and now proud to add state-of-the-art "Smart Home" technology, security systems and air conditioning to its roster. Whether it's surveillance cameras, home theaters to watch the Bucs play, or smart lighting, Edmonson Electric • AC • Security is automating your dream home.
Visit EdmonsonElectric.com to find out more about controlling, monitoring and securing your home or call 813.910.3403 for additional information.
Control. Monitor. Secure.
FAB 1. Bucs Will Pick Up White's Fifth-Year Option
Tampa Bay has picked up the fifth-year option of every first-round pick since Jason Licht became general manager in 2014. Now Pewter Report has learned that linebacker Devin White, the team's first-round pick in 2019, will be the next Buccaneer to have his fifth-year option picked up. Look for an announcement from the team prior to May 2, which is the deadline.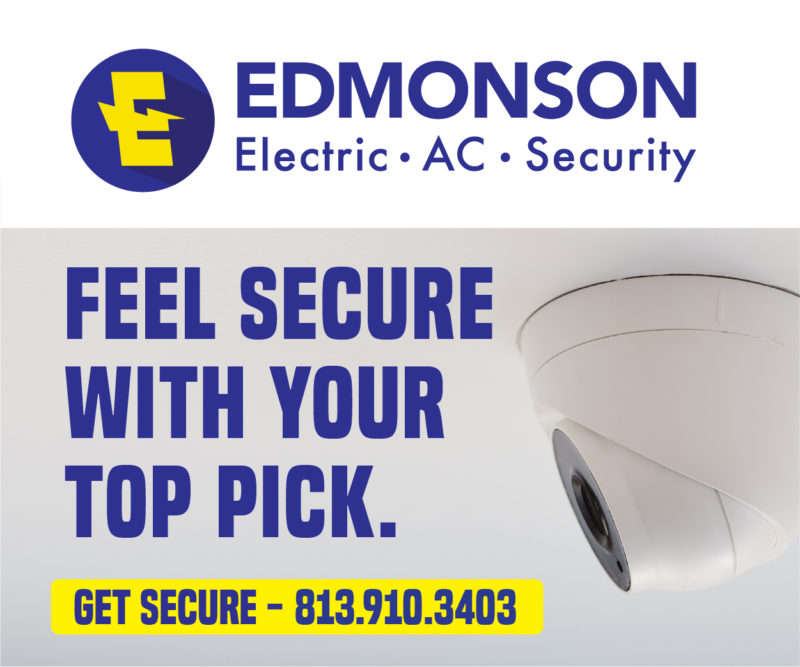 That doesn't necessarily mean that every player that gets a fifth-year option gets a contract extension, though. Cornerback Vernon Hargreaves, the first-round pick in 2016, III had his fifth-year option picked up for 2020, but was released during the 2019 season.
Tight end O.J. Howard, a first-rounder in 2017, just played on his fifth-year option. He likely won't be re-signed unless it's a much cheaper, one-year deal.
Nose tackle Vita Vea, Tampa Bay's first-round pick in 2018, had his fifth-year option for 2023 picked up last May. But the Bucs and Vea just came to terms on a long-term contract extension on January 9 instead.
White is entering the final year of his rookie deal, which will pay him a base salary of $965,000 and a roster bonus of $3,727,611. The LSU product received a signing bonus of over $19 million. Adding in the proration of that signing bonus money will make his cap value rise from just over $8,170,222 million last year to $9,527,759 in 2022.
According to OverTheCap.com, White's fifth-year option amount will be $11.374 million and would make him the league's 12th-highest paid linebacker. The Bucs could have done one of three things with White heading into his contract year.
Option No. 1 was to pick up White's fifth-year option. It's a one-year, prove-it deal that comes with essentially a $2 million pay raise. That's a fair risk for a two-time team captain that is respected by the players, the coaches and front office. White led the team in tackles the past two years and made the Pro Bowl this year as an alternate. If White can't become consistent in 2023, the Bucs can let him hit free agency in 2024.
Tampa Bay would be wise to select another starting-caliber inside linebacker in one of the next two drafts. Not only as a safeguard in case White isn't signed long-term, but also because Tampa Bay could lose Lavonte David to retirement after this season or next.
David turned 32 in January. Replacing one inside linebacker will be hard enough. Trying to find two impactful linebackers at the same time would be worrisome for Tampa Bay.
Option No. 2 would have been to not pick up the fifth-year option, as suggested by Pewter Report contributor Joshua Queipo. This means White would be a free agent in 2023. White has the motivation to break the bank and become a $100 million man, as he said at his pro day in 2019.
Indianapolis' Darius Leonard, a three-time All-Pro, is currently the highest-paid linebacker at $19.7 million per season. So it's doubtful that White reaches $20 million per season, but moving up into the Top 5 at potentially $15 million (or more) per year with a dynamic season is within reach.
"Draft me, because when I hit free agency in five years, the price will go up," White said in 2019. "I'll be looking for $100 million then."
White is a splashy player with tons of speed and athleticism. Although he had just 3.5 sacks and no interceptions this past season, White had a career-high nine sacks, three fumble recoveries, two interceptions and a forced fumble in helping the Bucs win Super Bowl in 2020. As a rookie, White had four forced fumbles, three fumble recoveries, including two for touchdowns, and an interception.
If he can get back to that type of splash-play production, become better in coverage and more consistent in run fits, tackling and shedding blocks, White could be the elite player the Bucs drafted him to be with the fifth overall pick. Those are some big "ifs", because he's only shown flashes so far.
Option No. 3 would have been to extend White's contract before his fifth-year option like the team did with Vea. The problem is that White doesn't really deserved a contract extension yet. He's simply not as consistent as the Bucs need him to be. Locking up an inconsistent player for multiple years isn't a good idea. It's a bad idea when the price tag is north of $12 million per season, even if it could give Tampa Bay some more immediate cap flexibility in the interim.
Right now, White is a more athletic, splashier version of Kwon Alexander. The Bucs were hoping for the next David, Derrick Brooks or Hardy Nickerson when they spent the fifth overall pick on White in 2019. Maybe he ends up getting to that level this year or the next. White just turned 24, but consistency is the key.
The Bucs will pick up White's fifth-option year, and that's the smart play for now.
FAB 2. Bucs To Become First Team With Four Black Head Coaches
February is Black History Month and it's an appropriate time to recognize the Tampa Bay Buccaneers and the Glazer family for their approach to hiring minority coaches throughout the years. In 1996, the Glazers were one of the first NFL teams to hire a Black head coach in Tony Dungy.
Dungy was the first Black head coach in Tampa Bay history, and was followed by the hires of Raheem Morris (2009-11) and Lovie Smith (2014-15). The Bucs were the first – and are the only – NFL team to hire not only just two minority head coaches, but three.
Fritz Pollard was the NFL's first Black head coach in 1921, as the co-coach of the Akron Pros. Oakland's Art Shell became the first Black head coach in the modern era of the NFL in 1989. Dungy became the league's fifth Black head coach, following Pollard, Shell, Minnesota's Dennis Green (1992-2001) and Philadelphia's Ray Rhodes (1995-98).
It appears that the trailblazing Bucs will also be the first NFL team to hire a fourth Black head coach. And do so in the very near future.
Bruce Arians turns 70 this year and is nearing the end of his illustrious NFL coaching career. The Bucs are the first – and only – NFL team to have a Black coach in each coordinator position under Arians' watch.
Byron Leftwich is the offensive coordinator. Todd Bowles is the defensive coordinator. Harold Goodwin is the assistant head coach and run game coordinator. And Keith Armstrong is the special teams coordinator.
One of those four men will likely replace Arians as Tampa Bay's next head coach. Arians has committed to coach this season and is under contract for the 2023 season, which is a team option year. That means the Bucs can decide to pick up that option year and let Arians coach.
Or the team can extend him beyond 2023 if it wants to. Of course, Arians can also retire if he wants to.
Whenever he decides to hang it up, there is a strong chance Bowles, Leftwich, Goodwin or Armstrong could be the heir apparent. Arians has set the Bucs up with several great, qualified successor options. To Arians they are quality coaches who just happen to be Black.
"A player is going to ask the coach, 'How are you going to make me better?'" Arians said. "He doesn't really care if the answer comes from a male or female. Black, white, brown, yellow – just 'help me be better. The best teachers I had were all different races, all different ethnic groups, male and female. If you can teach, you can coach.
"To hear voices in a staff meeting that aren't the same, don't look alike, but they all have input – you get better output. For the players, the same thing. Not hearing the same thing over and over, to hear it from different people, different ages – from 27 to 82 – and every kind of ethnic group there is. And male and female. So, I think our players learn from that. I know I do. And it helps our staff."
Bowles has already been a head coach. In the Bucs' eyes, that experience is valuable. He had a 24-40 record with the Jets from 2015-18. Tampa Bay made Bowles the league's highest-paid defensive coordinator after his brilliant game plan helped the team win Super Bowl LV, 31-9. Bowles' defense kept the Chiefs out of the end zone.
Bowles interviewed for four head coaching positions this offseason. Unless something has changed within the organization over the past year, Pewter Report learned a year ago that Bowles would be Arians' replacement if all four coordinators were available to choose from.
Leftwich finally got a head-coaching interview with both Chicago and Jacksonville this offseason. He nearly became the Jaguars head coach, but he wanted GM Trent Baalke replaced. Jacksonville didn't budge, so it didn't happen.
I've already proclaimed my adoration for Goodwin in a previous SR's Fab 5. He's a true leader of men. And, ironically, Goodwin actually interviewed for the Bucs' head coaching vacancy in 2016.
General manager Jason Licht wanted to promote offensive coordinator Dirk Koetter to replace Smith after the 2015 season. It was a move that I happened to suggest after I called for Smith's firing. I applauded Licht's decision at the time. But before the Bucs could make that move, the team had to conduct additional interviews first.
Before you think it was just a meaningless interview, Licht's intentions were good. He knew Goodwin was worthy of being a head coach after getting to know him in Arizona in 2013. Promoting Koetter made sense as the Bucs offense was taking off in 2015. Jameis Winston was coming off a promising rookie season and Doug Martin was a Pro Bowler that year. Keeping Koetter for the sake of offensive continuity made sense at the time.
While he wasn't a favorite at the time, the experience of interviewing for a head-coaching job with the Bucs at the time helped Goodwin. And if Bowles and/or Leftwich leave to take other head coaching opportunities before Arians retires, Goodwin could be the next in line. He's my personal favorite of the in-house candidates.
Armstrong is a great communicator, but he's a special teams coach. Outside of Baltimore's John Harbaugh, those kind of hires haven't really led to much success in the NFL. Plus, Tampa Bay's special teams aren't that great, so I can't see Armstrong being a legitimate candidate to replace Arians.
Arians has been a trailblazer with his Black assistants, giving those worthy coaches better opportunities to become a head coach. Arians finally got his chance at age 60, but only after winning the NFL Coach of the Year in 2012 in Indianapolis as an interim head coach.
"I think probably because I didn't get a shot until I was 60," said Arians. "And Chuck Pagano had to get sick with leukemia for me to even become a head coach. I was winning a Super Bowl as offensive coordinator and didn't even get a phone call. So the lack of opportunity I think has made me want to give more opportunities to more people."
The NFL has sadly and unfortunately failed to progress in this area. There are just two African-American head coaches in the league. It's Pittsburgh's Mike Tomlin and Smith, Houston's new hire, replacing Black head coach David Culley. The NFL currently has five minority head coaches in Tomlin, Smith, New York Jets' Robert Saleh, who is of Lebanese descent, Washington's Ron Rivera and Miami's new hire, Mike McDaniels, who is biracial.
As USA Today noted, four NFL franchises – the Bucs, Browns, Cardinals and Raiders – are responsible for 32 percent of all minority head coaches and general managers hired in the past 30 years. The Falcons, Cowboys, Jaguars, Rams, Patriots, Saints and Titans have never hired a person of color as a head coach or a general manager.
Not enough progress is occurring elsewhere, but in Tampa Bay it certainly has. And that progress will continue after Arians is gone.
FAB 3. Arians Deserves To Be In Bucs Ring of Honor
We aren't ready for Bruce Arians to retire from coaching the Buccaneers just yet. But when Arians decides to call it a day, the Glazers should call him back to Tampa Bay for one more game.
So the soon-to-be 70-year old Arians can be inducted into the Bucs' Ring of Honor, of course.
The team's most recent inductee into the Bucs Ring of Honor was long-time defensive coordinator Monte Kiffin last year. The 81-year old Kiffin became the 14th member inducted into the Bucs Ring of Honor.
Arians shouldn't necessarily be the next inductee. He's still coaching.
The Glazers should put defensive end Simeon Rice and middle linebacker Hardy Nickerson into the Bucs Ring of Honor next. Finding room for running back James Wilder, which is a long shot, would also be a great idea.
There is no definitive formula for who gets in the Bucs Ring of Honor. That's up to the Glazers.
But it would seem like the second head coach to deliver a Super Bowl to the Buccaneers franchise would be a shoo-in, especially with his record in Tampa Bay. As I wrote about in this week's Bucs Monday Mailbag, with a 31-18 record in three seasons in Tampa Bay, Arians has the best winning percentage (.633) of any Bucs head coach. That's a far better winning percentage than Tony Dungy (.563) and Jon Gruden (.509) produced in Tampa Bay.
Arians' 5-1 record (.833) in the postseason is by far the best in team history. Gruden went 3-2 in the postseason in Tampa Bay, while Dungy's playoff record was 2-4. Over the last two years, Arians has won more postseason games than Gruden and Dungy combined. Arians led Tampa Bay to the best back-to-back seasons in franchise history with the Bucs going 11-5 in 2020 and 13-4 this past season.
He would likely need to coach in Tampa Bay three more seasons and average nine wins per year to surpass Dungy (54) and Gruden (57) in all-time regular season wins. Two more years with an average of 13 victories would tie Arians with Gruden for the most career wins in Bucs history.
Yet even if Arians didn't coach another game in Tampa Bay, he's already done enough to get inducted into the Bucs Ring of Honor with his team-best winning percentage and Super Bowl championship. And if he does coach a few more years, he could go down as the best coach in Tampa Bay history.
FAB 4. The Question No One Is Asking With Watson
Last week's SR's Fab 5 column explored the current legal situation and trade scenarios regarding the Bucs acquiring Texans quarterback Deshaun Watson. But there is one thing that wasn't addressed that no one is really talking about. Watson is being sued civilly by 22 women for inappropriate touching and sexual assault.
Not two – 22.
Out of those 22 women, 10 have filed criminal complaints against Watson that the Houston police are currently investigating. Watson's deposition in the civil trials is beginning right now. The problem is that whatever he says from a defense standpoint will be used as evidence should the police charge him criminally. That could be a dicey proposition for Watson. It would be ideal for Watson to learn that he was not being charged criminally before the civil trials proceeded. But that's not happening.
Even there is no criminal charges, the civil trials may not conclude until this summer or fall. Unless Watson decides to settle financially with his accusers and put this all behind him. Which leads us to the unaddressed point.
Would this really be behind Watson – and the Bucs – if the team traded for him?
A suspension by the league for Watson violating the code of conduct seems inevitable. If he's not criminally charged and settles his civil suits he could be looking at a three or four-game suspension at the minimum. It could be longer, given the fact that there is not just one accuser. That was the case with Ben Roethlisberger's four-game suspension in 2010 and Jameis Winston's three-game suspension in 2018. One woman was involved in each incident.
This is 22 women.
This NFL will likely view this differently.
This indicates a pattern of unacceptable behavior.
Could the Bucs trust Watson moving forward if they traded for him?
These alleged sexual assaults took place with nearly two dozen women over a period of time. Can Watson be rehabilitated? Or does the next team have to worry about Watson's supposed illegal endeavors continuing?
A quick search shows that there are five massage parlors within a 10-mile radius of Raymond James Stadium. And like it or not, due to the amount of strip clubs on and around Dale Mabry Highway, Tampa is becoming known as Sin City South.
The Bucs may be a great fit for Watson the quarterback. But Tampa Bay may not be a great fit for Watson the person.
I'm not saying the Bucs won't trade for Watson. But I've learned that, after the team did its' due diligence on him and his legal conundrum, it's not likely.
FAB 5. SR's Buc Shots
• STROUD IS ABOARD THE BLAINE TRAIN: I've shown my tongue-in-cheek affection for Bucs backup quarterback Blaine Gabbert all year long on the Pewter Report Podcast. I've pointed out how Tampa Bay was undefeated in games he's played in last year, which I did with plenty of sarcasm and humor.
But I've also written about how Gabbert might not be the quarterback you or the Bucs ideally want, but he may be the QB the team needs in 2022. Seriously.
Now Tampa Bay Times' Rick Stroud has come along to that line of thinking and reporting. Why? Because if the Bucs can't trade for a top-tier quarterback, Gabbert becomes the best option. That's a fact that I, Stroud and others are accepting. Gabbert is 32, athletic, has a strong arm and has four years in Bruce Arians' system.
Soon to be #Bucs QB Blaine Gabbert has a better quarterback rating over the last two years (103.2) than Tom Brady (102.2). #BlaineTrain

— Evan Winter (@evan_winter) February 23, 2022
Signing Gabbert and maybe Jameis Winston, who played in Arians' system in 2019, or Teddy Bridgewater, whom the Bucs considered signing if they couldn't land Tom Brady in 2020, and letting them duke it out with Kyle Trask may be the best that Tampa Bay can do in 2022. We'll see. It's not the ideal option, but it is an option and that is why we have to report it.
• MORRIS DESERVES ANOTHER SHOT AT A HEAD COACHING JOB: Congrats to Rams defensive coordinator Raheem Morris for winning a Super Bowl ring in his first season in Los Angeles. Morris' NFL career began by winning a Super Bowl in Tampa Bay in 2002 as Monte Kiffin's quality control coach working with Mike Tomlin. Now he's got two Super Bowl rings and two stints as head coach under his belt.
At age 33, Morris replaced Jon Gruden as the Bucs head coach in 2009 and helped the team win 10 games in the 2010 season. But the success was not sustainable as Tampa Bay started the 2011 season 4-1 before losing 11 straight games, which led to his firing.
Morris landed in Washington (2012-13) where he coached defensive backs before a six-year stint in Atlanta. He switched sides and coached wide receivers before becoming the Falcons defensive coordinator under Dan Quinn. When Quinn was fired midseason in 2020, Morris was named the interim head coach. Now at age 45, Morris appears ready to lead a team once again with the valuable experience he's gained since his days with the Bucs. I hope he gets it.
"I just think it speaks for itself," Rams coach Sean McVay told SI.com's Albert Breer. "If you're looking for a great leader, a great motivator, a great person to be able to inspire and be able to help guys reach their highest potential, bring people together, who also has a great feel for the schematics of the game, Raheem Morris is your guy."
• PR WILL BE LIVE IN INDY TO COVER THE COMBINE ON THE PEWTER REPORT PODCAST: The Pewter Report Podcast is energized by CELSIUS and broadcasts four live episodes each week. Pewter Report Podcasts typically air on Monday, Tuesday, Wednesday and Thursday at 4:00 pm EST. Pewter Report's Jon Ledyard and Matt Matera will be in Indianapolis covering the NFL Scouting Combine this week, including the press conferences for Bucs general manager Jason Licht and Bruce Arians on Tuesday, March 1.
Here are the Pewter Report Podcast episodes from this past week.
Scott Reynolds and Kasey Hudson analyzed the latest Pewter Report 2022 Bucs 7-Round Mock Draft on Tuesday's show.
Reynolds and Ledyard discussed the Bucs' biggest team needs this offseason on Wednesday's episode.
On Thursday, Ledyard and Matera answered questions in a Bucs Q&A show.
Watch the Pewter Report Podcasts live on our PewterReportTV channel on YouTube.com and please subscribe (it's free) and add your comments. We archive all Pewter Report Podcasts. So you can watch the recorded episodes if you missed them live.
There is no better time to listen to or watch a new Pewter Report Podcast – energized by CELSIUS – than Friday afternoon on the way home from work. Or early Saturday morning during your workout or while running errands.
The popularity of the Pewter Report Podcast continues to grow. In addition to listening to the Pewter Report Podcasts on PewterReport.com you can also subscribe to the free podcasts at PodBean by clicking here and on SoundCloud by clicking here. And of course the Pewter Report Podcast is also available on iTunes and YouTube. Make sure you subscribe so you don't miss a single episode.
• TEAMS DON'T RUN ON THE BUCS – THEY DON'T EVEN TRY: New Vikings offensive coordinator Wes Phillips gave Tampa Bay defensive coordinator Todd Bowles some props in his initial press conference this week. Phillips suggested that most teams don't even try to run on the Bucs defense because Bowles' scheme and the team's talent is too good to have success against.
Tampa Bay's run defense ranked third last year, allowing an average of 91.6 yards per game. But in 2019 and 2020, Bowles' first two years in Tampa Bay, the Bucs led the league in run defense.
Share On Socials