SR's Fab 5 is exclusively sponsored by Edmonson Electric • AC • Security –
the official smart home and security company of PewterReport.com.
For the past 40 years, Edmonson Electric • AC • Security has proudly served central Florida and Bucs fans in the area with electric services and now proud to add state-of-the-art "Smart Home" technology, security systems and air conditioning to its roster. Whether it's surveillance cameras, home theaters, or smart lighting, Edmonson Electric • AC • Security is automating your dream home.
Visit EdmonsonElectric.com to find out more about controlling, monitoring and securing your home or call 813.910.3403 for additional information.
Control. Monitor. Secure.
---
FAB 1. Brady Is Clear-Cut MVP (Right Now)
Not only did the Bucs greatly benefit from the losses of most of their top enemies in NFC – the Rams, the Saints, the Packers and the Cowboys – during the bye week, Tom Brady benefited, too.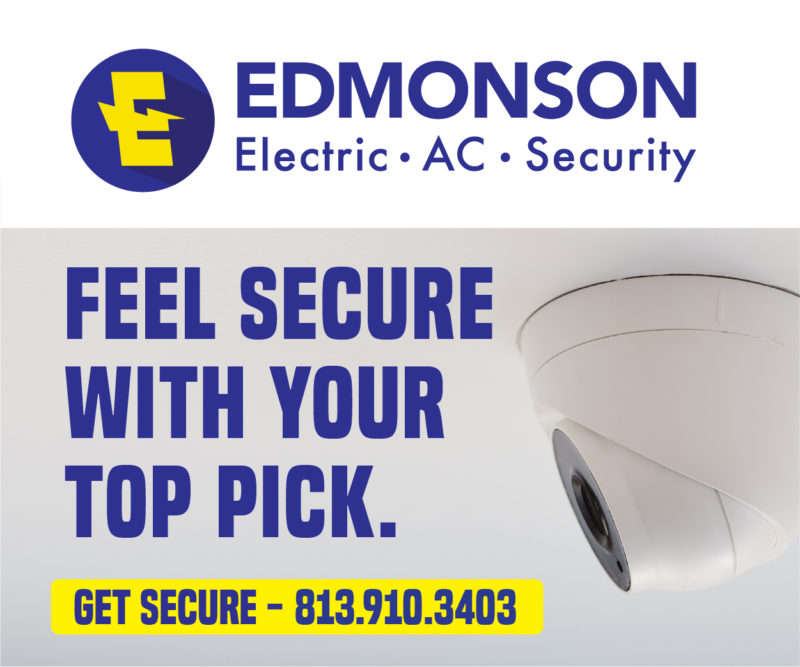 Brady, who has had an NFL MVP-caliber season so far for the 6-2 Bucs, still leads the league in touchdown passes with 25 even after they bye. The closest player is the Rams' Matt Stafford, who passed Brady on Sunday in terms of passing yards with 2,771 yards in nine games, with 23 TD passes. Brady has thrown for 2,650 yards in eight games this season.
When Los Angeles has its bye in Week 11 Brady should pass Stafford and reclaim the passing yardage lead position – if not sooner.
Stafford is a legitimate challenger for the NFL MVP, too – as long as the Rams keep winning. But L.A., which is now 7-2, had a crushing home loss to Tennessee last Sunday night, and Stafford played poorly on national TV. He was sacked five times and threw two picks, including a pick-six, against just one touchdown.
In Dallas, Dak Prescott completed just 48.7 percent of his passes and threw two touchdowns and an interception in an embarrassing, 30-16 loss at home to Denver. Buffalo's Josh Allen threw two picks and no interceptions and was sacked four times in an even more embarrassing loss, 9-6, in Jacksonville. The Bills are now 5-3.
Green Bay's Aaron Rodgers didn't play due to COVID-19 while the Packers lost at Kansas City. And Arizona's Kyler Murray sat out the San Francisco game, which was a win, with an injury. The last time we saw Murray was a couple of weeks ago when he was sacked twice and threw a pair of picks and no touchdowns in a 24-21 home loss to Green Bay on national TV.
So even though Brady didn't play great in Tampa Bay's 36-27 loss at New Orleans, getting sacked three times and throwing a pair of interceptions, including a pick-six, he also passed for 375 yards and four touchdowns. So how do Brady's stats stack up with other top QBs in contention for the NFL MVP this season? Let's examine it.
NFL MVP Contenders' Basic Stats
Bucs QB Tom Brady – 6-2 record
2,650 yards – 67.3 percent – 25 TDs, 5 INTs, 12 sacks – 1 rush TD
Brady has the league's top TD:INT ratio, most passing TDs (25) and total TDs (26)
Rams QB Matthew Stafford – 7-2 record
2,771 yards – 68.2 percent – 23 TDs, 6 INTs, 12 sacks
Stafford won head-to-head vs. Brady, has one more win and more passing yards
Cardinals QB Kyler Murray – 6-1 record as starter (Cardinals are 7-1)
2,276 yards – 72.7 percent – 17 TDs, 7 INTs, 18 sacks – 3 rush TDs
Cardinals have the NFL's best record, but that's it over Brady
Bills QB Josh Allen – 5-3 record
2,236 yards – 65.5 percent – 17 TDs, 5 INTs, 12 sacks – 3 rush TDs
Brady and Allen only have 5 INTs this year, but Allen's stats aren't as impressive
Cowboys QB Dak Prescott – 5-2 record as starter (Cowboys are 6-2)
2,045 yards – 69.4 percent – 18 TDs, 5 INTs, 11 sacks
Brady won the head-to-head, Prescott has fewer yards and TDs than Brady
Packers QB Aaron Rodgers – 7-1 record as starter (Packers are 7-2)
1,894 yards – 67.1 percent – 17 TDs, 3 INTs, 17 sacks
Rodgers has fewer INTs, but more sacks and fewer yards and TDs than Brady
It seems like the MVP race will come down to Brady, Stafford and perhaps Murray if he can get healthy, make up some ground statistically, and keep racking up wins for the Cardinals. Brady has the highest Pro Football Focus grade right now with a 91.3. That's far better than Murray (85.6), Prescott (82.7), Rodgers (81.3), Allen (80.0) and Stafford (78.8).
What makes Brady's case for the NFL MVP even more compelling is that he's winning like he is and leading the league in passing at age 44. Yes, Brady is still the greatest of all-time – even at age 44. The fact that he's still in his prime and not past his prime at his age is simply remarkable.
While there might be Brady fatigue around the league due to his 10 Super Bowl appearances and seven Super Bowl rings in his storied 22-year career, the fact that he's the clear-cut MVP right now and has the Bucs in the thick of another Super Bowl hunt at the midway point is stupendous.
It should be worth noting that a couple of really talented quarterbacks, Kansas City's Patrick Mahomes and Baltimore's Lamar Jackson, could get back in the MVP conversation with a strong finish. But the Ravens are now 6-3 after coming off a bad, 22-10 Thursday night loss at Miami in which Jackson threw one touchdown, one pick and was sacked four times.
The Chiefs are 5-4 and may not even make the playoffs, let alone win the AFC West.
The NFL's leading rusher, Tennessee's Derrick Henry, is also out for the year after suffering a foot injury that required surgery. He was the only non-quarterback that could have entered the MVP race this season.
Brady is a 15-time Pro Bowler and he's led the league in passing yards three times (2005, 2007, 2017). He was snubbed for the Pro Bowl last year, but wound up being named the Super Bowl MVP, which was the fifth time he's won that award.
Brady was the league's MVP in 2007, 2010 and 2017. Halfway through this season, he is on pace to deserve it again if he keeps playing as great as he has over the first half of the 2021 campaign.
FAB 2. Bucs On Dubious Record Pace For Penalties
How bad have the Bucs penalties been this season? Tampa Bay didn't even play last Sunday due to the bye week and is still the second-most penalized team in terms of yardage.
Through eight games the Bucs have been flagged 59 times for 580 yards in 2021.
Tampa Bay had 11 penalties for 99 yards in New Orleans, and those infractions played a huge role in the Bucs' 36-27 loss to the Saints. If Tampa Bay is going to seriously contend for another Super Bowl championship it can't commit a high number of penalties against good teams and expect to win.
Bucs head coach Bruce Arians hopes the high number of penalties in New Orleans would be a wake-up call for his team.
"Yeah, I would hope," Arians said. "I mean, I thought we already fixed it. We hit the quarterback in the head too many times. You have to be very careful if you're jumping to bat a ball on where you land, especially with the rules the way they are now. Again, we'll wait and see next time. We could go with one penalty and then come back with 10 or 11. It's something we have to be very, very aware of."
The Bucs are on pace to record 125 penalties for 1,232 yards. Granted, there is an additional game this year, so more penalties and more penalty yardage could be expected. But it doesn't mean the Bucs have to be at or near the top of the league in terms of penalties, either.
The 1,232 penalty yards that the Bucs are on pace for would be the most in franchise history. That dubious distinction alone is worth avoiding by this year's team, which has to break its penchant for averaging seven penalties for 72 yards per game.
The first time the Bucs had over 1,000 yards in penalties came in 2003 when the team had 117 infractions for 1,104 yards. Since then Tampa Bay has eclipsed 1,000 yards in penalties four other times: in 2011 with 123 penalties for 1,007 yards; in 2013 with 121 penalties for 1,136 yards; in 2015 with 143 penalties for 1,195 yards; and in 2019 with 134 penalties for 1,111 yards.
Penalties have been a problem under Arians, as the Bucs led the league in infractions (134) in 2019 and ranked fourth in yardage (1,111) that season. Tampa Bay was averaging eight penalties for 82 yards through the first five games last year, which would have put the Bucs on pace to have 128 penalties for 1,312 yards in 2020. Yet after Week 5 the Bucs dramatically reduced their number of infractions to a reasonable average of five penalties for 39 yards per game.
Tampa Bay finished the 2020 regular season with 100 penalties for just 848 yards. That was 34 fewer infractions for 263 less yards than the previous year. The Bucs' 100 penalties ranked eighth in the league in 2020, and the 848 penalty yards ranked a respectable 14th in the NFL.
But after getting its act together with penalties last year, the Bucs have reverted back to some old bad habits in 2021.
"Well Coach [Bruce] Arians preaches it every day," said Bucs defensive coordinator Todd Bowles. "We practice and we work at it every day. There has to be even more focus and we focus on it all the time. Some of them are going to happen and are inadvertent, but we can cut down on a bunch of those, so that'll be a big focus especially going into the second half of the year. Just like the first half, we just can't have them because we understand that helps us beat ourselves."
Penalties can be divided into two categories – effort and idiot. Effort penalties are offensive holding, pass interference, illegal use of hands and facemask flags. Those occur in the moment when engaged one-on-one with a moving target. Perhaps an opponent gets the best of the player, or there is a lapse in technique.
But the idiot penalties are the ones that irk the coaches the most because they generally involve a lack of focus by the player. Idiot penalties are offside, false start, encroachment, neutral zone infractions and personal fouls like taunting, unnecessary roughness and roughing the passer. A total of 29 of the Bucs' 59 penalties this year could be described as idiot penalties. That's about half of Tampa Bay's infractions.
LT Donovan Smith – false start (3)
OLB Jason Pierre-Paul – offside (2), neutral zone infraction
OLB Shaq Barrett – offside, neutral zone infraction
ILB Devin White – taunting, roughing the passer
C Ryan Jensen – taunting, unnecessary roughness
DE Will Gholston – roughing the passer, encroachment
RB Ronald Jones II – false start
WR Antonio Brown – false start
TE Rob Gronkowski – false start
LG Ali Marpet – false start
RT Tristan Wirfs – false start
CB Carlton Davis III – unnecessary roughness
ILB Lavonte David – offside
DT Ndamukong Suh – neutral zone infraction
TE O.J. Howard – false start
FS Mike Edwards – taunting
ILB Kevin Minter – illegal formation
OLB Anthony Nelson – offside
OT Josh Wells – false start
WR Scotty Miller – false start
LB Grant Stuard – offside
"All I just try to look at are the ones on our side of the ball, really the pre-snap ones," said Bucs offensive coordinator Byron Leftwich. "Obviously, you play the game of football, there's going to be post-snap penalties. That's part of it, Sometimes, the penalties are legit, sometimes it's not, but you can't control it. A penalty is a penalty. What we try to control are the ones pre-snap. Like I tell you guys, that takes nothing. That just takes concentration and all of us being on the same page. You really try to eliminate the pre-snap and coach the post-snap penalties."
Last year the Bucs had 57 idiot penalties, including 24 in the first five weeks of the season when penalties were as bad as they are now. The team dramatically reduced those after Week 5, committing only 33 over the final 11 games of the season.
Effort penalties are going to happen. That's just part of the game of football. But if the Bucs can hold their water at the line of scrimmage and eliminate some of the drive-killing false starts and momentum-killing offside and neutral zone infractions, they can get their penalty problem under control during the second half of the season.
Tampa Bay proved last year in Weeks 6-17 it could play more disciplined football. The Bucs need to do it again after the bye week this year – starting Sunday at Washington.
FAB 3. 4 Matchups To Watch: Bucs Offense vs. WFT Defense
Each week you can find 4 Match-ups to Watch on offense and defense in my SR's Fab 5 column. Here is preview of Tampa Bay's road game at Washington where the 6-2 Bucs face the 2-6 Washington Football Team, as both teams are coming off a bye week. Here is a look at Tampa Bay's key players on offense vs. Washington's key defenders.
Bucs LG Ali Marpet vs. WFT DT Jonathan Allen
Allen is a former first-round pick who is finally playing like it. While Washington's star-studded defensive line hasn't been as effective as head coach Ron Rivera would like, Allen is having a Pro Bowl-caliber season. He is Washington's highest-graded player with an 89.9 Pro Football Focus grade, including a 90.9 pass rush grade. That's shown up with a team-high six sacks so far.
Allen is a force, and Marpet will have his hands full on Sunday. This was an incredible battle to watch last year in the playoffs where Marpet handled him, limiting the 6-foot-3, 300-pounder to just one tackle. Allen, who only had two sacks in 2020, is playing better this year and is a real force. Another stellar game from Marpet will be needed to give Tom Brady time to throw and Leonard Fournette room to run.
ADVANTAGE: Push
Tampa Bay RT Tristan Wirfs vs. WFT DE Chase Young
Young, last year's top pick, famously called for Tom Brady prior to Washington's playoff game against Tampa Bay last year. "I want Tom!" the rookie defensive end exclaimed after making the playoffs in Week 17 and running off the field. Young got none of Brady in that game, as Donovan Smith shut him down effortlessly in a fine performance by the left tackle. This year, Young is playing left defensive end and has just 1.5 sacks and two forced fumbles after recording 7.5 sacks and forcing four fumbles last year. With fellow defensive end Montez Sweat out, Young will need to ramp up his production. This time he'll be going up against Wirfs rather than Smith.
Tampa Bay's right tackle has only allowed two sacks in 28 games and has been playing at a Pro Bowl level since entering the league last year as a first-round pick. The second career sack that Wirfs surrendered came in the Bucs' last game in New Orleans, and he'll want to make sure that doesn't become a habit with a bounce-back effort this week. Wirfs is equally good at pass protection and run blocking and has the length, power, quickness and athleticism to keep Young at bay. Still, this should be a great battle between two of the most talented players in last year's draft.
ADVANTAGE: Wirfs
Bucs WR Mike Evans vs. WFT CB Kendall Fuller
Fuller is the top cornerback on the worst pass defense in the NFL, so that's not saying much. Washington's defense has only four interceptions through the first eight games of the season, and Fuller has one of those along with seven interceptions. At 5-foot-11, 198 pounds Fuller has decent size for an NFL cornerback, but he's still giving up six inches to the 6-foot-5 Evans.
Last year, while playing on a gimpy knee in the Bucs' wild card win at Washington, Evans had a big game with six catches for 119 yards (19.8 avg.). Off to a great start in 2021 with 39 catches for 544 yards (13.9 avg.) and eight touchdowns, Evans has to be licking his chops for a chance to go against Washington's shaky pass defense once again. Even without Antonio Brown, Rob Gronkowski and possibly Chris Godwin this year, Evans should have another outstanding outing in the nation's capital despite being the center of attention in Tampa Bay's aerial attack.
ADVANTAGE: Evans
Tampa Bay RB Leonard Fournette vs. WFT MLB Cole Holcolmb
Washington's linebacker corps is underwhelming to say the least. It's one of the worst groups in the NFL, rivaling Kansas City's nondescript group of linebackers. With 73 tackles, a sack, an interception and two forced fumbles, Holcolmb is the most productive linebacker Washington has. Still, he isn't very good, as he's not always assignment sound and is prone to miss tackles. He'll have his hands full trying to stop Fournette on the ground and in the passing game.
Fournette had a breakout game last year at Washington with 93 yards rushing and a touchdown while averaging 4.9 yards per carry. He also had four catches for 39 yards, totaling 132 yards in the playoff win – and thus becoming "Playoff Lenny." This year, Fournette has continued his superb play as the Bucs' feature back and is averaging 85 yards of total offense per game. Given how bad Washington's defense is, this could be a game where Fournette hits 132 yards again – or more.
ADVANTAGE: Fournette
FAB 4. 4 Match-ups To Watch: Bucs Defense vs. WFT Offense
Each week you can find 4 Match-ups to Watch on offense and defense in my SR's Fab 5 columns. Tampa Bay's defense didn't record a takeaway and only one sack at New Orleans. Can the unit take advantage of Washington's banged up offensive line and rebound with multiple sacks and takeaways in D.C.? Here are the key match-ups to watch on Sunday when Washington has the ball.
Bucs OLB Shaquil Barrett vs. WFT QB Taylor Heinicke
Heinicke's coming out party was the 31-23 loss to Tampa Bay in the wild card playoff game. He passed for over 300 yards and ran for 46 yards and a touchdown against the Bucs, and kept Washington in the game until the very end. But Heinicke holds on to the ball too long, which forces him to scramble rather than passing for bigger gains. Tampa Bay's defense will need to be wary when playing man coverage, as Heinicke will look for an open rush lane in the middle of the defense when the defensive backs have their backs turned to the QB.
Barrett has the speed to play a big part of containing and tracking down Heinicke – either in the pocket or outside the pocket. Going against injured rookie right tackle Sam Cosmi, Barrett should win that battle and have an opportunity to pile up some sacks. With 5.5 sacks through eight games, Barrett is the Bucs' best pass rusher and needs to have a big game harassing Washington's mobile quarterback.
ADVANTAGE: Barrett
Tampa Bay ILB Devin White vs. WFT RBs Antonio Gibson and J.D. McKissic
Gibson is Washington's leading rusher with 442 yards and three touchdowns, and is averaging 4.0 yards per carry. But given Tampa Bay's top-ranked rushing defense, the real threat Gibson and McKissic pose is catching passes out of the backfield. McKissic is the second-leading receiver on the team with 33 receptions for 332 yards (10.1 avg.) and one TD. Gibson ranks fifth on the team with 17 catches for 144 yards (8.5 avg.) and one score. Nearly one third of Washington's passing game involves the running backs, as Heinicke often checks the ball down when his primary read is covered.
White has struggled in pass coverage this season, and has also missed his share of tackles. He'll need to plaster either McKissic or Gibson out of the backfield and then wrap up securely when the catch is made. The fact that McKissic and Gibson average 10.1 yards per catch and 8.5 yards per catch, respectively, is a sign that they are adept at slipping tackles and breaking tackles for extra yardage, especially on third downs as check down options. White will need to play under control and come up with double-digit tackles on Sunday. He missed last year's playoff game at Washington due to COVID-19 and will get his first crack at the guys in burgundy and gold on Sunday.
ADVANTAGE: Gibson and McKissic
Bucs OLB Jason Pierre-Paul vs. WFT LT Charles Leno, Jr.
Washington thought it was getting a steal in Leno when he was a surprise cut from Chicago. While Leno's play has been good, it hasn't been as good as it was with the Bears. The left tackle has a 75.9 Pro Football Focus grade, including an 82.8 pass block grade. Given all the injuries along Washington's battered offensive line, at least Leno is healthy. He'll be going against an injured Pierre-Paul, which should help his cause.
Pierre-Paul is fighting through a torn rotator cuff in his left shoulder and is playing with a cast on his right hand to help protect his broken finger. It's limited his production as a result. Pierre-Paul only has 2.5 sacks in the six games he's played in. The Bucs should split his playing time with rookie Joe Tryon-Shoyinka in an effort to make JPP more effective. The coaches have been reluctant to do that, though.
ADVANTAGE: Push
Tampa Bay NT Vita Vea vs. WFT C Tyler Larsen
Starting center Chase Roullier was Washington's highest-graded offensive player, according to Pro Football Focus. Roullier had earned an 81.4 PFF grade through the first eight games before being placed on injured reserve. In steps Larsen, who is a journeyman backup. Larsen has great size at 6-foot-4, 335 pounds, so he won't be rag-dolled by Vea like a 300-pound center would. But he'll need to step up his game and get his hands on Vea first to provide stout pass protection for Heinicke.
Vea is a force against the run and is also a decent pass rusher. He has the potential to get six to eight sacks per season, which would help him garner more Pro Bowl votes, but has trouble finishing near the quarterback. With one sack in eight games, Vea needs to do more than drive opposing centers into the QB's lap. He needs to shed blocks and get the quarterback on the ground. Sunday could present the opportunity for Vea to collect a sack or two to help his cause. Like White, Vea missed last year's playoff game and will play in the nation's capital for the first time on Sunday.
ADVANTAGE: Vea
FAB 5. SR's Buc Shots
• DEAN GETTING IT DONE: Bucs cornerback Jamel Dean has had an impressive four-game stretch since Week 5 when he returned from a knee injury. Dean has had four consecutive games with a Pro Football Focus grade of over 70, and his grades are even higher in pass coverage – while opposing passers' ratings are way down.
• EVANS IS DEADLY IN MAN COVERAGE: Cornerbacks beware – Bucs wide receiver Mike Evans has been killing it against man coverage this year. Six of his eight touchdown catches have come against man coverage. That's tops in the league according to Pro Football Focus.
• HIGH-RANKING BUCS AT THE MIDSEASON POINT: Here is a list of the Top 5 Bucs players with the highest grades per Pro Football Focus. Surprisingly absent is right tackle Tristan Wirfs, who has a 75.5 PFF grade, which might be low considering how dominant he's been in his second NFL season.
Highest-graded #Bucs through the first eight games (min. 200 snaps):

🔼 Tom Brady (QB)- 91.3
🔼 Ali Marpet (OG)- 84.3
🔼 Shaquil Barrett (EDGE)- 82.0
🔼 Chris Godwin (WR)- 79.6
🔼 Donovan Smith (OT)- 79.6 pic.twitter.com/kDZ6NBizgx

— PFF TB Buccaneers (@PFF_Buccaneers) November 10, 2021
• BUCS-WASHINGTON PREVIEWS ON THE PEWTER REPORT PODCAST: The Pewter Report Podcast is energized by CELSIUS and broadcasts four live episodes each week. Here is the lineup for next week during the bye week: Monday, Wednesday and Thursday at 4:00 pm EST. The Pewter Pregame, Pewter GameDay and Pewter Postgame return on Sunday, November 14 at Noon EST prior to Tampa Bay at Washington.
Pewter Report's Jon Ledyard and Josh Allen survey the NFC landscape and discuss how key losses by other teams benefited the Bucs.
Ledyard and Scott Reynolds previewed Tampa Bay's upcoming game at Washington on Wednesday.
Ledyard and Paul Atwal broke down the Bucs offense and detailed what is going right for Tampa Bay at the midseason mark, and what needs to improve down the stretch.
Watch the Pewter Report Podcasts live on our PewterReportTV channel on YouTube.com and please subscribe (it's free) and add your comments. All Pewter Report Podcasts are archived so you can watch the recorded episodes if you missed them live.
There is no better time to listen to or watch a new Pewter Report Podcast – energized by CELSIUS – than Friday afternoon on the way home from work. Or early Saturday morning during your workout or while running errands.
The popularity of the Pewter Report Podcast continues to grow. In addition to listening to the Pewter Report Podcasts on PewterReport.com you can also subscribe to the free podcasts at PodBean by clicking here and on SoundCloud by clicking here. And of course the Pewter Report Podcast is also available on iTunes and YouTube. Make sure you subscribe so you don't miss a single episode.
• CAM'S BACK IN CAROLINA: A shoulder blade injury to Panthers starting quarterback Sam Darnold has led Carolina to re-sign former starter and Bucs nemesis Cam Newton. But at age 32 after suffering multiple injuries, Newton isn't the same player. And he might not make much of a difference for the Panthers, according to The Athletic's Greg Auman, who compares Newton's 2020 stats with New England to Darnold's stats in Carolina.
Share On Socials