SR's Fab 5 is exclusively sponsored by Edmonson Electric • AC • Security
– the official smart home and security company of PewterReport.com
For the past 40 years, Edmonson Electric • AC • Security has proudly served central Florida with electric services and now proud to add state-of-the-art "Smart Home" technology, security systems and air conditioning to its roster.
Whether it's surveillance cameras, home theaters, or smart lighting, Edmonson Electric • AC • Security is automating your dream home. Visit EdmonsonElectric.com to find out more about controlling, monitoring and securing your home or call 813.910.3403 for additional information.
Control. Monitor. Secure.
FAB 1. How The Bucs Offense Beats The Chiefs Defense
The Chiefs beat the Bucs, 27-24, at Raymond James Stadium back in Week 12, but Tampa Bay gets its rematch with Kansas City in Super Bowl LV. Can Tom Brady and Co. get the better of Patrick Mahomes and K.C. this time around? I list the ways the Bucs can beat the Chiefs offensive and defensively in Fab 1 and Fab 2. Let's talk about what Tampa Bay's offense has to do first on Sunday.
Third-And-Short Is A Run Down
The Chiefs beat the Buccaneers in Week 12 largely because they won on third down. Kansas City converted 6-of-12 (50 percent) third downs, while Tampa Bay converted half as many third downs, going 3-of-9 (33.3 percent). Unfortunately for the Bucs, as they fell behind by 17 points in the first half, four of their first five third down failures were from three yards or less.
First Half
Third-and-6 – incomplete to Mike Evans
Third-and-3 – incomplete to Antonio Brown
Third-and-2 – incomplete to Cameron Brate
Third-and-2 – incomplete to Chris Godwin
Third-and-1 – 2-yard pass to Brown
Second Half
Third-and-8 – incomplete to Rob Gronkowski
Third-and-15 – 44-yard pass to Godwin
Third-and-10 – 7-yard pass to Godwin
Third-and-5 – 7-yard pass to Godwin
Tampa Bay converted just one of those third-and-short instances and they didn't run the ball once in those situations despite having a ground game that averaged 4.1 yards per carry on the season. In fact, the Bucs didn't even threaten the Chiefs with the possibility of the run in those third-and-short situations because they went with an empty formation with no running back and Tom Brady in shotgun.
This can't happen again. Third-and-2 is a run down in football – even in today's pass-happy league. By going with an empty formation it's a clear indication to the defense that a pass is coming. There is no threat of the run, so it's just rush and cover without having to maintain gap integrity to stop the run. To me, it's a clear advantage for the defense.
Since the bye week, the Bucs have converted 9-of-10 third-and-short situations – defined as third-and-3 or less –  when running the ball. That's 90 percent, folks.
And the only failed attempt was a third-and-1 at New Orleans that the Bucs ultimately converted with a 2-yard gain on QB sneak on fourth down. In fact, Tampa Bay has averaged 4.7 yards per attempt on third-and-short over the last seven games.
The times the Bucs have opted to pass the ball in third-and-3 or less, Brady has completed 7-of-14 passes for 126 yards with two touchdowns, one interception and he was sacked once. While Tampa Bay did score two touchdowns throwing the ball, the offense converted less than half of its third-and-short scenarios by passing the ball.
Going empty was an undeniable mistake the first time around against Kansas City. Offensive coordinator Byron Leftwich can't make the same mistake again.
Obviously if the Bucs ran the ball on every third-and-short over an entire season they would become incredibly predictable and there is no way they would convert 90 percent of their third-and-short rushing attempts. So passing on third-and-short situations sometimes helps counter predictability and helps them convert at a higher rate when they do run.
But the Bucs are down to a one-game season right now – Super Bowl LV. If I'm Leftwich and Arians and my team is averaging 4.4 yards per carry in the playoffs when Brady's kneel-downs are taken out of the equation, I'm running the ball on third-and-short every damn time.
Tampa Bay is converting 90 percent on third-and-short by running the ball. Why do anything else?
And if I'm going to throw the ball and I need two or three yards, I'm not going to chuck the ball 20 yards down the field like Brady did on this third-and-short situation against Kansas City last time out of a pseudo empty formation (since no one thinks Antonio Brown is running the football), which caused Chiefs defensive coordinator Steve Spagnoulo to blitz because he knew it was going to be a pass.
Here is another third-and-2 situation out of an empty formation, which led to a Chiefs blitz, an incomplete pass and a punt by Tampa Bay in Week 12.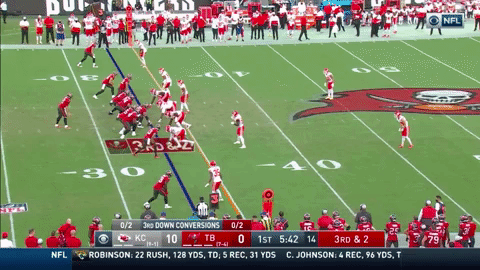 Going empty on third-and-short only seems to invite the blitz from Kansas City, and Brady had a difficult time finding the open receiver while being rushed. He throws incomplete short to Brate across the middle, but had Evans settled down just inside the 40-yard line he's wide open for the easy conversion. The old rule of beating the blitz usually still applies – throw to where the blitz is coming from. In this case, in Evans' direction.
Going empty isn't a sin in third-and-medium or third-and-long situations – just in third-and-short. Brady and the Bucs do a much better job of handling the Chiefs' blitz on this play. Brady sees the blitz coming and throws to where they are coming from. He and Brate are on the same page, as Brate recognizes the blitz and quickly settles down for the quick pass from Brady.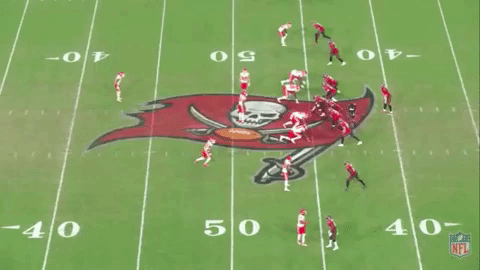 Although this was not on a third-and-short situation, Brady makes the same mistake against the blitz and chucks the ball downfield to Scotty Miller, but under-throws it. Miller usually can beat most defenders one-on-one in a foot race down the sidelines, but Bashaud Breeland hangs with him and intercepts Brady's underthrown ball. Meanwhile, slot receiver Tyler Johnson is wide open across the middle of the field for an easy catch-and-run first down.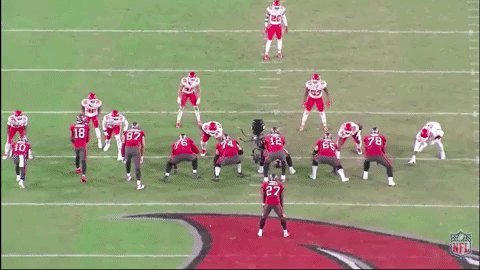 Attack Chiefs LBs With TEs And RBs In The Passing Game
Aside from managing third-and-short situations better with more runs and scrapping the empty formations, which were worthless against the Chiefs in Week 12, Tampa Bay needs to continue to attack Kansas City's linebacker corps again because it worked so well in the last match-up. Tight ends Rob Gronkowski and Cameron Brate combined for 10 catches for 140 yards with Gronk posting his first and only 100-yard receiving day of the season with 106 yards in Week 12.
Kansas City's trio of linebackers – Damien Wilson, Anthony Hitchens and Ben Niemann – are awful in coverage, surrendering a combined 600-plus yards through the air and allowing four touchdowns and producing zero interceptions per Pro Football Focus. The Chiefs even foolishly lined up defensive end Alex Okafor as a stand-up outside linebacker on Gronkowski on one play and, 10 yards into his route, Gronk threw up his hand to Brady, signaling that he easily defeated Okafor off the line and down the field. The result was a big 29-yard reception down to the Kansas City 37.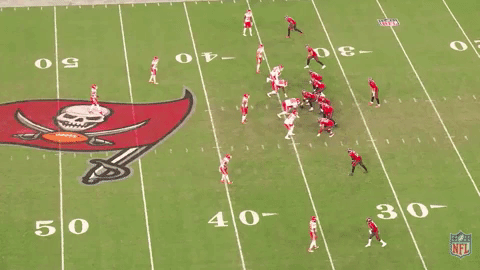 On the next play, Brady goes away from the Chiefs' capable safeties and corners and attacks the linebackers again. This time hitting running back Ronald Jones II out of the backfield for a 37-yard touchdown. The victim is Wilson, who is slow to drop off his man in zone coverage and pick up Jones in the flat. By the time he does, he misses his desperate tackle attempt and Jones is off to the races, cutting Kansas City's lead to 17-7 in the second quarter.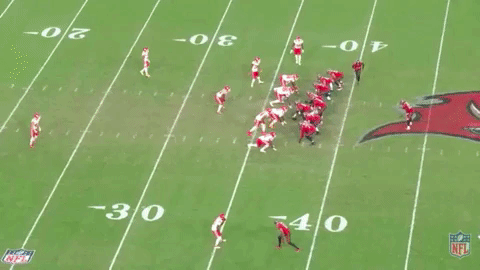 Leftwich and Brady weren't done picking on Wilson. In the third quarter, Gronkowski maneuvers right past Wilson, who is slow to get his proper depth because of Brady's use of play-action. Once in the clear, Brady fires a perfect pass for a huge, 48-yard gain down to the Kansas City 6-yard line.
Unfortunately the Bucs were held to only a field goal after three cracks from the 6-yard line. Tampa Bay could have used four extra points there in a game it would lose by three points. Better red zone play, along with scrapping the empty sets, running the ball on third-and-2 and attacking the Chiefs linebackers could change the outcome in the Bucs vs. Chiefs rematch this Sunday in Super Bowl LV.
Now the moment you've all been waiting for. Let's talk about how Todd Bowles' Buccaneers defense can stop – or at least slow down – the high-powered Chiefs offensive attack.
FAB 2. How The Bucs Defense Beats The Chiefs Offense
Look at the fact that Kansas City accumulated 543 yards with Pro Bowl quarterback Patrick Mahomes passing for 452 yards and three touchdowns in a 27-24 win over Tampa Bay in Week 12 and there is reason for concern for defensive coordinator Todd Bowles and the Bucs defense. Yet consider that most of the damage occurred in the first quarter where Pro Bowl wide receiver Tyreek Hill exploded for 203 yards and two touchdowns as the Chiefs raced out to a 17-0 lead.
Where there is some cause for optimism is what transpired next. The Chiefs were held to just 10 points over the last three quarters and Mahomes was held to 103 yards passing and one touchdown in the second half, as Tampa Bay mounted a comeback that ultimately fell three points short. Let's take a look at some of the adjustments Bowles made and offer up some suggestions as the Bucs prepare for the rematch with Kansas City in Super Bowl LV.
Bowles and head coach Bruce Arians said that the Bucs defense wasn't ready for the Chiefs' speed and that was evident on the first play of the game, which was a 34-yard catch by Hill, who went in motion and blew past Sean Murphy-Bunting in zone coverage. Hill's progress wasn't impeded at all by Murphy-Bunting and free safety Antoine Winfield, Jr. couldn't get over fast enough to prevent the big play.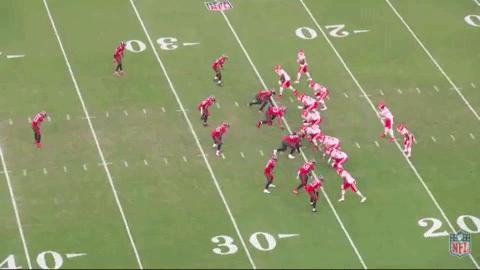 It's incredible that the Chiefs also had wide receiver Sammy Watkins wide open at the 31-yard line on that play, too. Kansas City only had three receivers past the line of scrimmage versus seven Bucs defenders – yet two of them were open by the play design and scheme. That's why Chiefs head coach Andy Reid and offensive coordinator Eric Bieniemy are so good.
Here is another example of the Chiefs deploying three receivers versus the Bucs' six defenders in pass coverage and having success with two of the three Kansas City receivers – Hill and Mecole Hardman – get open. Hill gets open on a 12-yard hook and Hardman was open on a corner route from the slot. Mahomes just overshoots Hardman for a rare incompletion.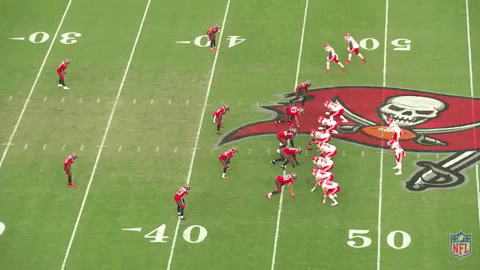 So how does Bowles and Tampa Bay's defense stop – or at least slow down – Mahomes, Hill and Kansas City's potent aerial attack? Some of the answers were revealed in the adjustments that Bowles made in quarters 2-4 after the Chiefs raced out to a 17-0 lead in the first quarter. Remember, Kansas City scored just 10 points over the final three quarters and Hill only had 66 receiving yards and one more score during the final 45 minutes of the game in Week 12.
Safety Depth In Alignment Is Vitally Important
The Bucs defense has thrived playing Cover 1 and Cover 3 this year, using a single-high safety and a safety deployed in the box to either stop the run, blitz or cover the tight end. Playing Cover 1 has allowed Bowles the opportunity to dial up some exotic blitzes, especially in third-and-long situations.
Unfortunately, the two things that Tampa Bay does best – blitzing and playing a single-high safety –don't work against Kansas City because of Mahomes' quick trigger and the Chiefs' blazing speed at the skill positions. While Tampa Bay can't play Cover 2 all the time with two deep safeties, it does need proper safety depth for the single-high safety, which is usually Antoine Winfield, Jr.
On this play, Winfield is lined up 15 yards off the line of scrimmage in deep centerfield. Cornerback Carlton Davis III is lined up 10 yards off Hill, but Hill's 4.27 speed quickly eats up the cushion and he blows past Davis. Winfield diagnoses the play quickly, but has a lot of ground to cover from the far hash and winds up being a yard or two behind Hill after he makes the catch – too late to make a play.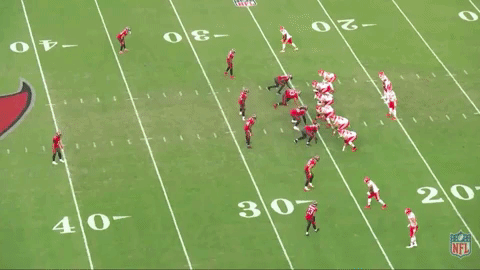 On Hill's second touchdown of the first quarter, a 44-yarder, he's lined up in the slot against Davis, which is an area that Davis, who is best as an outside cornerback, doesn't thrive. Instead of giving Hill a cushion, Davis attempts to plays press-man, but Hill is too quick off the snap and Davis is immediately in a trail position. The Bucs showed a Cover 2 look at the snap, but morphed into a Cover 1 Man Under. While free safety Mike Edwards aligned at the far hash, he does have a chance to make a play on Hill, but overruns the speedy wide receiver and gives up the touchdown.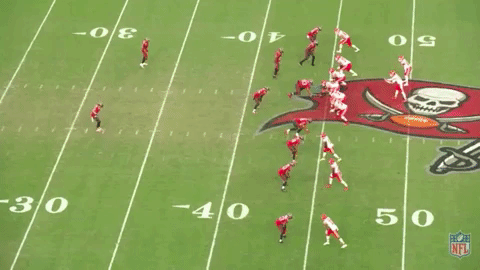 So what adjustment did Bowles make after the first quarter? When deploying a single high safety he had that player line up 17-18 yards off the line of scrimmage instead of 15 yards. Take a look at the pic below. That extra yard or two helped negate big plays down the field because the free safety had extra time to react and recover due to the depth.
Failing to get proper safety depth did cost the Bucs a touchdown in the third quarter as a perfect pass from Mahomes to Hill beat solid man coverage from Davis. Winfield was late getting aligned, didn't have proper depth and couldn't provide help over the top on the play below.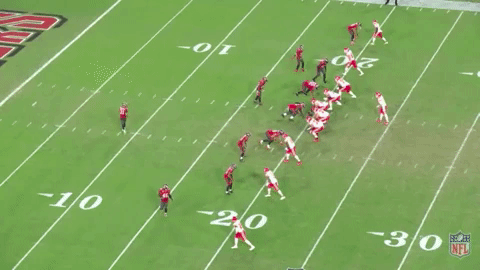 Proper safety depth and deploying more Cover 2 and Cover 4 (Quarters) coverages after the first quarter was key in slowing down the Chiefs from a yardage and a point production standpoint. The Bucs wound up playing Cover 4 on 28 percent of the snaps and Cover 2 on 20 percent of the snaps. I would hazard a guess that the combined 48 percent of those two coverages was the most they've played all year.
Tampa Bay only played Cover 3 on 13 percent of the snaps, and Cover 1 on 9.3 percent of the time. Bowles also deployed Cover 6 on 7.4 percent of the snaps. Look for a healthy dose of Cover 2 and Cover 4 again, and for deeper safety alignments when the Bucs are in Cover 1 and Cover 3.
Get To Mahomes With The 4-Man Rush
Deploying more Cover 2 and Quarters (Cover 4) and even Cover 6 coverages after the first quarter and not only helped keep the ball in front of the safeties, but it also allowed the Bucs' front four the time it needed to get to Mahomes with its four-man pass rush. The play below is a great illustration of that. Pierre-Paul comes free to drill Mahomes, who overthrew his receiver down the right sideline and the pass was picked off by Murphy-Bunting. Unfortunately, Pierre-Paul was whistled for a questionable personal foul penalty that negated the pick, but the Bucs wound up getting two sacks when they went away from Cover 1 looks.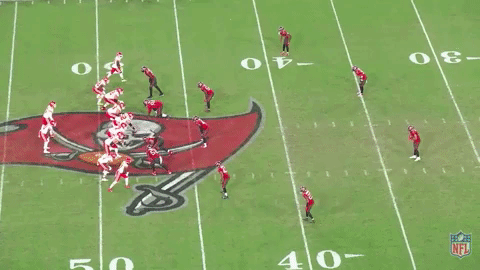 Cover 2 also worked beautifully at the end of the second quarter as the Bucs kept the Chiefs out of the end zone and forced three straight Mahomes incompletions before Kansas City settled for a field goal. It's a shame that Bowles slipped up and didn't call for it on Hill's touchdown in the third quarter that was featured in the previous segment.
Mahomes was 25-of-33 for 359 yards with two touchdowns in the first half. But of his eight incompletions, six came as a direct result of pressure from Tampa Bay's front four, and Shaq Barrett got a key sack-fumble in the first half.
Mahomes only had four incompletions in the second half, completing 12-of-16 passes for 103 yards, as the Chiefs went with much shorter, easier throws. Pierre-Paul did get a sack in the second half and the Bucs did force an incompletion on third down by applying pressure with the four-man rush. They'll need to apply even more pressure in Super Bowl LV, and should be able to do that with the Achilles injury to Eric Fisher.
With Green Bay's Billy Turner moving from right tackle to left tackle to replace the injured David Bakhtiari, reserve lineman Rick Wagner filled in for Turner at right tackle and Pierre-Paul and Barrett took advantage of those match-ups. The result was five sacks of Aaron Rodgers in the 31-26 win over Green Bay in the NFC Championship Game.
With Fisher out, Mike Remmers, who was already filling in for injured right tackle Mitchell Schwartz, moves from the right side to left tackle and right guard Andrew Wylie slides over to replace Remmers at right tackle for the Chiefs. Reserve Stefan Wisniewski will replace Wylie at right guard, and Pierre-Paul and Barrett need to have a repeat performance – this time against Kansas City's banged up offensive line.
Bucs Must Jam Kelce At The Line Of Scrimmage
Trying to contain Hill is one thing. Trying to stop Kelce, who is currently the game's best tight end, is another. The Bucs did a poor job on Kelce the first go-around in Week 12 as he hauled in eight catches for 82 yards, averaging a first down every time he caught the ball. Linebacker Lavonte David surrendered four receptions for 42 yards, Murphy-Bunting allowed two catches for 23 yards, Davis III got beat for a 14-yard gain and inside linebacker Devin White allowed a 4-yard grab.
The reason why Kelce was so productive was because he was open from the beginning of his route. Watch below as David is stacked behind the edge rusher and Kelce is uncovered at the line of scrimmage. David is a fast, athletic linebacker, but he's never closer than a yard away from Kelce during the entire route. It's a simple, 5-yard out that Kelce turns into a 12-yard gain on second-and-12, while David never has a chance to slow him down or make a play on the ball because of his alignment.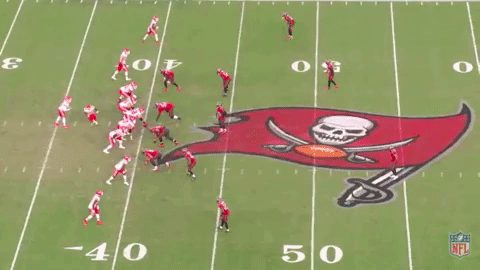 I get that with David's stacked formation there is the threat of blitz games between him and Jason Pierre-Paul, but Mahomes would throw to Kelce on a hot read right behind David regardless, so David's coverage disguise doesn't even work. The smarter play would to walk David down to the line of scrimmage and jam Kelce at the line. This would force Mahomes to possibly hold the ball a second longer to allow the Bucs' pass rush to get home, or force Mahomes to go elsewhere with the ball.
On the next play, Kelce is flexed out in the slot uncovered. He gets a free release off the line of scrimmage and picks up 20 yards as the Bucs are in 3-Deep zone coverage. It's an easy pitch-and-catch for a big first down. Too easy.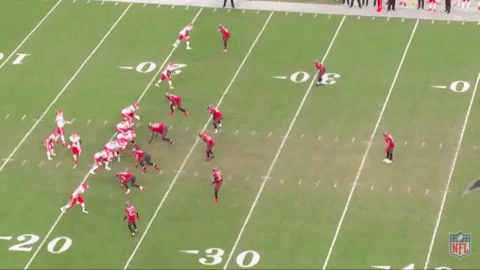 In the final Kelce catch that I'll feature, the Pro Bowl tight end goes in motion against zone coverage and gets a running head start towards the left sidelines right before the snap. Kelce motions towards outside linebacker Anthony Nelson, whose strong suit is definitely not coverage. Nelson doesn't mirror fast enough – he can't, he's not in Kelce's class athletically – and barely lays a hand on him as he releases from the line of scrimmage. Nelson doesn't get enough depth in his zone drop and with Davis matched up with Hill down the sidelines, Kelce is left wide open for a big first down.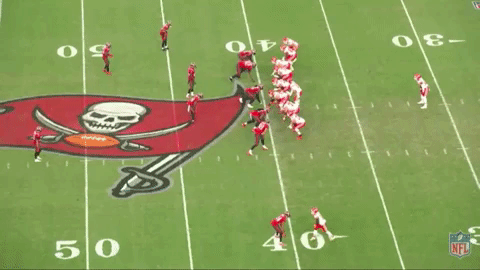 Whether it's playing man or zone coverage, Tampa Bay's defenders have to jam Kelce at the line of scrimmage and prevent clean releases into his route. Mahomes and Kelce have a tremendous connection that can be unstoppable at times when both are clicking. But the Bucs need to at least try to stop it by disrupting his route at the line of scrimmage.
Stop The Plays That Worked The First Time
At any level of football from Pop Warner to the NFL, it's always wise to revisit plays that worked the first time when going into a rematch. If a team couldn't stop it the first time, probe the opponent again to see if it put in the necessary time in the film room and on the practice field to stop it the second go-around. The Chiefs even went to the well twice with the same play in Week 12 and it worked for a total of 25 yards.
Mahomes ran an option play with Le'Veon Bell for eight yards in the first half. Mahomes reads Nelson, the end man on the line of scrimmage, and draws him near before pitching the ball to Bell. White was slow to react and had to fight through a block to get over to the sidelines, and strong safety Jordan Whitehead wasn't in position to make the tackle before the 8-yard gain because of his depth while dropping in coverage.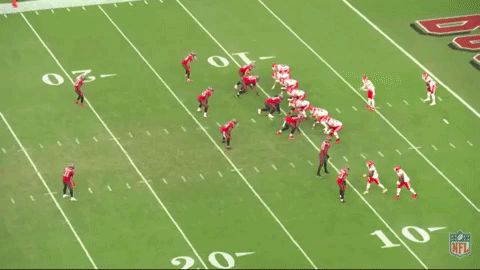 The Chiefs ran the same play in the second half with White reacting to it much faster this time, beating the attempted block by the tight end. But with Whitehead taking the running back, White makes the mistake of taking him too and leaving Mahomes free to run right behind him for a 17-yard gain. That's 25 yards in two plays. If I'm Kansas City I try to run it again – or a variation of it – in Super Bowl LV.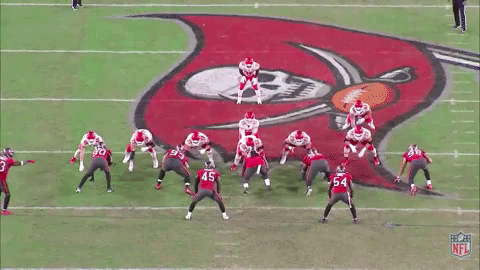 It would be easy to put any of Hill's three touchdowns in this section, but the truth is that Davis didn't necessarily have bad coverage, especially on two of them. It's just that Hill made two sensational grabs on perfect passes from Mahomes.
Be Ready For The Plays That Didn't Work
Just because a play didn't work against Tampa Bay the first time doesn't mean that it's not worth revisiting. Let's start with the gimmick play Kansas City tried near the goal line on its opening drive. The Chiefs ran a version of the "Philly Special" in which Mahomes goes in motion, catches the snap, pitches it to Hill on an end around, who pitches it to Kelce on the reverse.
The play ends with Davis getting in between Kelce, who is going to throw the ball, and Mahomes, his intended target, who is wide open in the end zone. White gets fooled by the criss-cross action and actually slips and falls in the end zone while trying to race out and get to Kelce. Luckily, Davis batted down Kelce's pass attempt, but that play should have worked for a touchdown. Don't be surprised to see Reid and Bieniemy go back to some trickery on the goal line in the Super Bowl.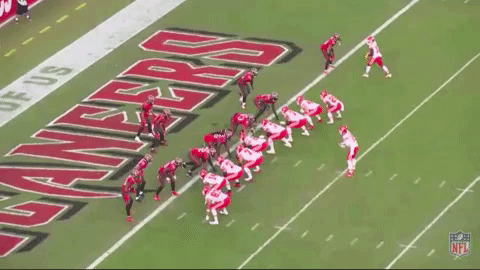 The Bucs clearly blew a coverage – or didn't have the right coverage called – in the third quarter against the Chiefs when Hardman drops what would have been an 89-yard touchdown. The pass was thrown a little behind Hardman, which definitely helped the Bucs, but you can expect offensive coordinator Eric Bieniemy to dial this one up again to see if lightning can actually strike this time.
The next play was successful in that Hill gets behind Davis in zone coverage near the sideline to make the 21-yard catch before Winfield drills him. But the way the Bucs are playing this, shifting from a Cover 1 single-high safety look to Cover 2 just before the snap reveals that Hardman, the slot receiver, races past the dropping linebackers and is wide open down the middle of the field. If Mahomes goes there for the easier throw there is no way Whitehead could catch him in a foot race.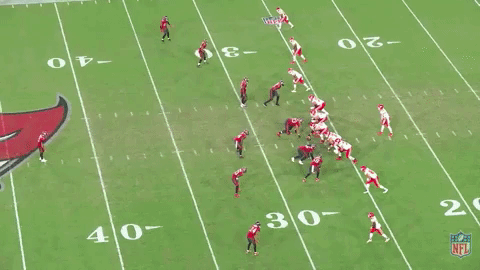 Dean And Vea Must Step Up
And finally, the Bucs might have a pair of not-so-secret weapons on defense available for the Super Bowl that didn't play against the Chiefs in Week 12. Cornerback Jamel Dean, the team's fastest defensive back, and nose tackle Vita Vea, who can not only shut down the run, but aid the pass rush by driving the center into the quarterback's lap. Dean was out with a concussion and Vea was sidelined with a fractured ankle.
We know what Vea will do up front, but it will be interesting to see how Bowles deploys Dean, and which receivers he's matched up with in coverage. Murphy-Bunting has been making most of the big plays in Tampa Bay's Super Bowl run, but it would be nice to see Dean step up and make a big play or two in the Bucs' biggest game of the year.
FAB 3. 4-Match-ups To Watch – Bucs Defense vs. Chiefs Offense
Super Bowl LV is here, and I've got the final 4 Match-ups to Watch sections of the 2020 seasons. This one will feature the Bucs defense versus the Chiefs offense. Here is an advanced look at Tampa Bay's top match-ups for Sunday's game. Kansas City beat Tampa Bay, 27-24, in Week 12 during the regular season.
Bucs OLB Jason Pierre-Paul vs. Chiefs LT Mike Remmers
Remmers moves from right tackle to left tackle to replace Eric Fisher, who tore his Achilles tendon in the AFC Championship Game. The last time Remmers was in Tampa Bay in Week 12 he had his worst game of the year, allowing one QB hit, a season-high four pressures and drawing two penalties. Remmers wasn't even a starter when the season began, but took over at right tackle when Mitchell Schwartz, Kansas City's best lineman, went down with a back injury. Pro Football Focus gave Remmers a 72.3 overall grade and a 75.1 pass protection grade during the season, but he only earned a 69.4 pass pro grade against Tampa Bay in Week 12. The last time Remmers was in the Super Bowl he had a nightmarish performance as Carolina's right tackle in Super Bowl 50, surrendering three sacks and two forced fumbles to Denver's Von Miller, who was the game's MVP.
Pierre-Paul is coming off a game in which he had four QB pressures and two sacks in the NFC Championship Game, which earned him a 70.1 overall grade from PFF and a 71.5 pass rush grade. Pierre-Paul had seven hurries and a sack in the last game against Mahomes and Kansas City and could be primed for a repeat performance, especially against a backup offensive tackle. Having nose tackle Vita Vea back in pass rushing situations will help Pierre-Paul by not allowing Mahomes to step in in the pocket.
ADVANTAGE: Pierre-Paul
Bucs OLB Shaquil Barrett vs. Chiefs RT Andrew Wylie
While Remmers had a bad game against the Chiefs in Week 12, Wylie's game was even worse. He played right guard in the first meeting between these two teams and gave up a season-high seven pressures in the form of five hurries, two QB hits and one penalty. Wylie, who had a woeful 55.5 overall grade and a 53.1 pass protection grade during the season from PFF, had a 34.9 pass pro grade in Week 12. Now Wylie moves from right guard to right tackle to replace Remmers and will have to deal with the speed rushes – both outside and inside – from Barrett.
Barrett had a key sack-fumble against Fisher in Week 12 and is coming off a three-sack game at Green Bay against another backup left tackle in Rick Wagner. He's clearly the better player in this match-up and now has to show it. Barrett earned an 83.7 grade from PFF in the NFC Championship Game, including a 73.8 pass rush grade. He finished the game with three sacks, two hurries and a QB hit. That's the type of game Barrett will have to have on Sunday in order for the Bucs to beat Mahomes and the Chiefs.
ADVANTAGE: Barrett
Bucs ILB Lavont David vs. Chiefs TE Travis Kelce
Kelce had a strong day against the Bucs in Week 12, catching eight of nine targets for 82 yards – mostly down the middle of the field. The Pro Bowl tight end is the highest-graded Chiefs player and the highest-graded tight end by PFF this year with a 93.9 grade. Tampa Bay made a big mistake by giving him a free release off the line of scrimmage, which allowed him to get into his route unencumbered. The Bucs can't afford to let that happen again.
Tampa Bay defensive coordinator Todd Bowles will use several defenders against Kelce in coverage, but David will be the primary draw. Kelce had his way with David in the first match-up, catching four passes for 42 yards and picking up two first downs. David didn't press Kelce at the line of scrimmage and was a step slow in coverage all day as a result. David jamming Kelce at the line of scrimmage is key during the rematch in Super Bowl LV.
ADVANTAGE: Kelce
Bucs ILB Devin White vs. Chiefs RB Clyde Edwards-Helaire
Edwards-Helaire wasn't much of a factor in the Week 12 game, rushing for just 37 yards on 11 carries with a long of 10 yards. Tampa Bay's defense kept Edwards-Helaire contained in the first game, but Todd Bowles' unit can't sleep on him and automatically think they'll have success bottling him up again just because they the Bucs did before. Helaire earned a 75.3 overall grade from PFF during his rookie year, including a 78.1 run grade as he rushed for 803 yards and four touchdowns, while averaging 4.4 yards per carry.
There will be some LSU-on-LSU crime in this game in a battle between former college teammates. Edwards-Helaire, the Chiefs' first-round pick, has been a huge disappointment in the postseason, rushing for just seven yards and a touchdown on six carries. Meanwhile, White has been sensational in the playoffs with 26 tackles, two fumble recoveries and an interception in both of his postseason appearances. White had a fantastic game against Kansas City in Week 12 and was the highest-rated defender with a 70.7 overall grade from PFF. He'll need to be stout against the run again and keep Edwards-Helaire bottled up.
ADVANTAGE: White
FAB 4. 4 Match-ups To Watch – Bucs Offense vs. Chiefs Defense
Super Bowl LV is here, and I've got the final 4 Match-ups to Watch sections of the 2020 seasons. This one will feature the Bucs offense versus the Chiefs defense. Here is an advanced look at Tampa Bay's top match-ups for Sunday's game. Kansas City beat Tampa Bay, 27-24, in Week 12 during the regular season.
Bucs TE Rob Gronkowski vs. Chiefs LB Damien Wilson
Wilson, the Chiefs' weakside linebacker, had an awful showing in Week 12, earning a 29.3 overall grade from Pro Football Focus, including a 29.7 pass coverage grade. Wilson only had two tackles in the game and was terrible in coverage, surrendering a 48-yard catch-and-run to Gronkowski and a 37-yard touchdown catch to Ronald Jones II. Wilson is the weak link on Kansas City's defense and must be exploited by Tampa Bay.
Gronkowksi had a tremendous game against the Chiefs in Week 12, posting his first and only 100-yard receiving game of the year in Tampa Bay. In fact, Gronkowski was the highest-rated Buccaneer in that game, earning an 87.6 grade from PFF. He finished the game with six catches for 106 yards, including a 29-yard grab against Alex Okafor and a 48-yard reception against Wilson. The Bucs should try to match up Gronkowski on Wilson more often in Super Bowl LV.
ADVANTAGE: Gronkowski
Bucs LG Ali Marpet vs. Chiefs DT Chris Jones
The Chiefs will move Jones around the defensive line to give him different match-ups, but he'll go against Marpet most of the time. The Bucs did a pretty decent job neutralizing Jones in the first match-up, holding him to one tackle and two QB hits in Week 12. Yet Jones was PFF's highest-graded defender in that game for Kansas City, with a 89.6 overall grade and a 90.9 pass rush grade. Keeping Jones away from Brady will be paramount to Tampa Bay's success on Sunday.
While Marpet will only face Jones about 25 percent of the time based upon what transpired in the previous match-up, he'll need to be stout and perform much better than he did in Week 12. Marpet had the worst game of his career against Kansas City, according to PFF, posting a 34.2 overall grade and a woeful 3.3 grade in pass protection. Marpet allowed three QB hits and had two penalties against the Chiefs as he squared off against Jones, Derrick Nnadi, as well as blitzing linebackers and defensive backs. Look for a rebound game for Marpet on Sunday.
ADVANTAGE: Push
Bucs WR Mike Evans vs. Chiefs CB Charvarius Ward
The Chiefs rarely flip their cornerbacks, with Bashuad Breeland often playing right cornerback and Ward playing on the left side. Ward was targeted six times and surrendered four receptions for 52 yards in Week 12, including a pair of catches by Evans for 43 yards, with a 31-yard touchdown on fourth down in the fourth quarter. At 6-foot-1, 196 pounds, the third-year cornerback matches up with Evans physically, but not from an overall talent standpoint.
The Bucs like to move Evans around, but he primarily plays on the left side of the formation as the team's "X" receiver – or split end. However, given the success Evans had against Ward in the Week 12 meeting, offensive coordinator Byron Leftwich might want to line up Evans on the right side of the formation to match up with Ward. Evans only had one catch against Breeland in the first meeting against Kansas City, but it went for a 7-yard touchdown in the fourth quarter.
ADVANTAGE: Evans
Bucs QB Tom Brady vs. Chiefs SS Tyrann Mathieu
Mathieu only allowed two catches for 23 yards by tight end Cameron Brate, and made a couple of splash plays in the Week 12 meeting at Raymond James Stadium. Mathieu had five tackles in that game, in addition to an interception he had off a deflected Brady pass. Mathieu was also used as a blitzer and had a key pressure on Brady, beating running back Ronald Jones' pass block to force an errant throw that was picked off by Breeland, who was covering Scotty Miller down the sideline. Mathieu is a big-time playmaker and plays well in big games.
Brady had a solid game against Kansas City, throwing for 345 yards and three touchdowns after a slow start in the first quarter. Brady threw two fourth quarter TDs, but also had two key interceptions in the second half in the red zone, which stymied two potential scoring drives. In order for Brady to help the Bucs win Super Bowl LV, he'll have to throw for at least three touchdowns again, but can't let Mathieu – or any Chiefs defender – create any takeaways.
ADVANTAGE: Push
FAB 5. SR's Buc Shots
• BUCS D-LINE VS. CHIEFS O-LINE WILL DECIDE SUPER BOWL LV: The media will have you believe that Super Bowl LV is a match-up between Chiefs quarterback Patrick Mahomes and Bucs quarterback Tom Brady, but it really isn't. Mahomes and Brady won't go head-to-head on the field in the traditional sense, but I get where there will be a statistical comparison between the two.
But the real match-up that will decide the game will be Tampa Bay's defensive front versus Kansas City's banged up offensive line, which is missing usual starting tackles Eric Fisher and Mitchell Schwartz. In the first meeting in Week 12 with Fisher in the lineup at left tackle, the Chiefs offensive line still struggled – and the Bucs didn't even have star nose tackle Vita Vea available due to a fractured ankle. While Jason Pierre-Paul and Shaquil Barrett only recorded one sack apiece, the Chiefs offensive line was flagged for five penalties (one declined), and allowed 20 pressures, which included 13 hurries, five QB hits and those two sacks.
Just imagine what the Bucs' defensive line, which is coming off a five-sack game in the NFC Championship Game, can do with Vea back against a Chiefs' line that doesn't have Fisher?
• WISE WORDS FROM KING ABOUT BRADY: NBC Sports' Peter King had some great commentary regarding Bucs QB Tom Brady and the quarterback position in general in his latest Football Morning In America column.
"I think I keep hearing wins for quarterbacks is a meaningless stat. Regarding Tom Brady, generally acknowledged as the greatest quarterback of all time, what's the first thing said about him? 'Six-time Super Bowl winner.' When quarterbacks are drafted in the first round, have you ever heard a coach or GM say: 'We're drafting him to lead the league in yards-per-attempt?' The QB wins stat isn't everything. But it definitely isn't nothing."
• WOW, BRADY IS OLD: This is an interesting way to look at Tom Brady and the Tampa Bay Buccaneers.
1976: The @Buccaneers' first ever season
1977: @TomBrady was born pic.twitter.com/0LvxWuZK9I

— FOX Sports: NFL (@NFLonFOX) January 28, 2021
• BUCS VS. CHIEFS SUPER BOWL PREVIEW ON THE PEWTER REPORT PODCAST: The Pewter Report Podcast is energized by CELSIUS and broadcast live four episodes per week –  Monday, Wednesday and Thursday at 7:30 p.m. ET – and a special Super Bowl Preview Podcast LIVE Event at Glory Days Grill in Carrollwood on Saturday, February 6 from noon – 2:00 p.m. ET. Our special guest will be Bucs cornerback Dwight Smith, who had two pick-sixes in Tampa Bay's Super Bowl XXXVII win.
The Pewter Report staff, including yours truly, Mark Cook, Jon Ledyard, Matt Matera and Taylor "Grizz" Jenkins, will be on hand to talk Bucs football, and there will be giveaways and prizes from Pewter Report, Glory Days Grill and CELSIUS giveaways and prizes for those that attend.
Please be sure to wear a mask due to COVID-19 protocols and have lunch with the Pewter Report crew at Glory Days Grill. If you are unable to attend, you can watch the livestream of the Pewter Report Podcast on our PewterReportTV YouTube channel.
Glory Days Grill in Carrollwood is conveniently located at 14457 N. Dale Mabry Highway in Tampa just 20 minutes north of Raymond James Stadium. Are you looking to have your Big Game party catered? Turn to Glory Days Grill for the best takeout menu around so your party will be a huge hit with friends and family.
Can't make it to Glory Days Grill? Watch us live on our PewterReportTV channel on YouTube.com and please subscribe (it's free) and add your comments. All of our Pewter Report Podcasts will be posted there so you can go back and watch the recorded episodes if you missed it live.
The audio versions of the Pewter Report Podcasts will continue to be found on iTunes and Soundcloud. Here is a link to the most recent episode, which is Wednesday's Bucs vs. Chiefs Super Bowl preview podcast.
Pewter Report Podcast Episode 279: Bucs – Chiefs Super Bowl LV Game Preview
There is no better time to listen to a new Pewter Report Podcast – energized by CELSIUS – than right now or early Saturday morning during your workout or while running errands.
The popularity of the Pewter Report Podcast continues to grow. In addition to listening to the Pewter Report Podcasts on PewterReport.com you can also subscribe to the free podcasts at PodBean by clicking here and on SoundCloud by clicking here. And of course the Pewter Report Podcast is also available on iTunes and YouTube. Make sure you subscribe so you don't miss a single episode.
• BRADY GETS A 97 RATING FROM EA SPORTS AS HE CHANCES RING NO. 7: EA Sports, which are the makers of the Madden video game franchise, gave Tampa Bay quarterback Tom Brady a plus-one to his overall rating in the game, boosting him up to a 97 overall grade as he attempts to win his seventh Super Bowl title.
The 🐐 does it again 🙌

📈 @Buccaneers #GoBucs #MaddenRatings pic.twitter.com/TJeAAz5E2P

— Madden NFL 21 (@EAMaddenNFL) January 28, 2021
• GREAT VIDEO ON BOWLES' ADJUSTMENTS: Here is one last thing to get you prepped for Super Bowl LV. I came across this great video that visually explains some of the defensive adjustments that Tampa Bay defensive coordinator Todd Bowles has made down the stretch. One of the more interesting things highlighted in this video is that the Bucs defense is tops in the league in fourth quarter scoring, allowing an average of just 3.8 points in that quarter. However, Tampa Bay ranks 27th in points allowed. We know the Bucs can finish strong against the Chiefs, they just can't fall behind 17-0 in the first quarter again and need to start fast.
Share On Socials