SR's Fab 5 is exclusively sponsored by Edmonson Electric • AC • Security –
the official smart home and security company of PewterReport.com.
For the past 40 years, Edmonson Electric • AC • Security has proudly served central Florida with electric services and now proud to add state-of-the-art "Smart Home" technology, security systems and air conditioning to its roster. Whether it's surveillance cameras, home theaters, or smart lighting, Edmonson Electric • AC • Security is automating your dream home.
Visit EdmonsonElectric.com to find out more about controlling, monitoring and securing your home or call 813.910.3403 for additional information.
Control. Monitor. Secure.
FAB 1. Tampa Bay Won't Be Trading Away Depth
The Patriots made headlines this summer when they traded running back Sony Michel, a former first-round pick, to the Los Angeles Rams before the start of the season.
Now, will New England deal wide receiver N'Keal Harry, a former first-round pick that hasn't lived up to expectations? Or will the Patriots part ways with Pro Bowl cornerback Stephon Gilmore, who wants too much money?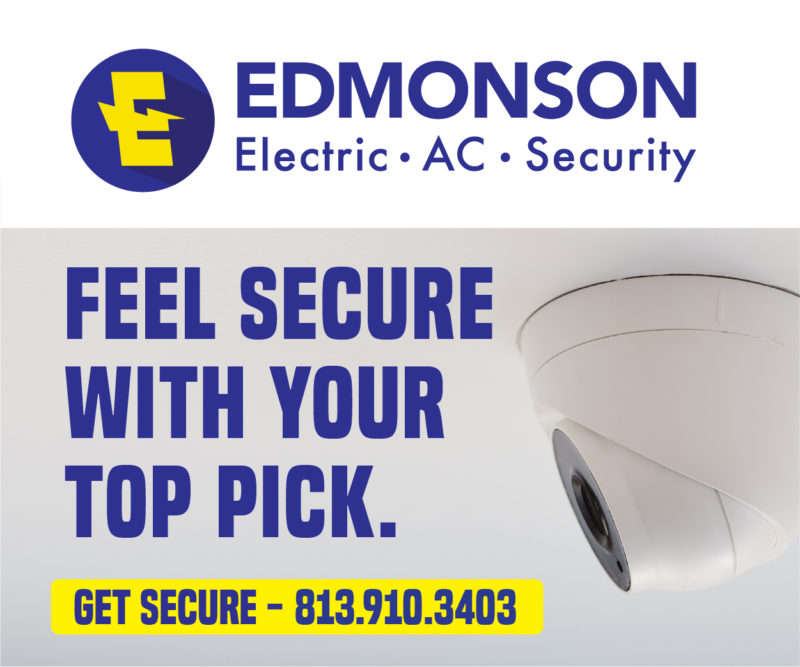 Hey, the Bucs could use a cornerback with Sean Murphy-Bunting out, right?
Will Tampa Bay deal underwhelming tight end O.J. Howard before the trade deadline?
Slow down, Bucs fans. I can see your minds racing and the wheels turning.
In-season trades are not only fun in the Madden football franchise, but also in the NFL. Bucs general manager Jason Licht hasn't shied away from making some big trades before.
His biggest was the offseason acquisition of edge rusher Jason Pierre-Paul in 2018 for a third-round pick. That turned out to be a steal for Tampa Bay as JPP has been a vital cog in the Bucs' pass rush. His trade for tight end Rob Gronkowski last offseason was also a game-changer for the franchise.
When it comes to in-season trades Licht has been more cautious and conservative. Last year he traded for defensive tackle Steve McLendon after Vita Vea's season-ending ankle injury. That was a great, low-cost move that helped bolster Tampa Bay's run defense with Vea out.
If Licht is going to make another in-season trade this year it will be to acquire a player, like he did last year, rather than trade away depth for future draft picks. The reason?
Depth.
This is not just one of the most talented Bucs team of all time across the board, but it's also the deepest. Licht wants to keep it that way.
We can argue whether or not the 2002 Bucs had as much star power – or more – than the current Tampa Bay team that just won Super Bowl LV. But I can tell you having covered both squads that the 2021 Bucs roster is deeper than the 2002 or 2003 rosters in Tampa Bay. In fact, it's the deepest in franchise history, especially with recent additions like running back Giovani Bernard and outside linebacker Joe Tryon-Shoyinka.
"Our depth was huge in carrying us through the playoffs," Licht told Peter King in a recent Football Morning In America column.
And he's right, of course. There was talk in the media about the Bucs possibly dealing Howard or Cameron Brate last offseason due to the acquisition of Gronkowski, but that idea was never on the table at the AdventHealth Training Center. Instead, Licht and head coach Bruce Arians wanted the deepest and most talented tight end room in the NFL.
As it turns out Howard was lost to an Achilles injury after the fourth game of the season. Brate wound up playing an invaluable role backing up Gronkowski in the Bucs' Super Bowl season.
Licht learned the importance of having solid, veteran depth across the board last year. Just look at some of the key contributors in Super Bowl LV.
Leonard Fournette, who was acquired in September, was the starting running back and scored a touchdown against Kansas City and had a TD in every playoff game before that. Aaron Stinnie, a valuable reserve who was claimed off waivers in November 2019, started for Alex Cappa at right guard in the playoffs and in Super Bowl LV.
Licht made a controversial in-season signing when he added Antonio Brown for depth at wide receiver in November. When Mike Evans was injured in the first quarter of the Week 17 game against Atlanta, Brown responded with 11 catches for 138 yards and two touchdowns. Brown also scored touchdowns against Washington in the wild card playoffs and Kansas City in Super Bowl LV.
Just as important, Licht didn't trade away Scotty Miller when the team signed Brown. Miller came up big in games at New Orleans and Green Bay in the playoffs when Brown was sidelined with an injured knee.
Cornerback Ross Cockrell was signed to the practice squad in September. By October he was a mainstay on the active roster, and was invaluable when Jamel Dean was out for a game and a half in November. Cockrell and McLendon helped add veteran reinforcements to the Bucs defense.
Licht learned last year that it's always better to add and improve a talented, Super Bowl-caliber roster than to subtract and deal away depth for future draft picks. The Bucs have several recent draft picks that can't get on the field right now like running back Ke'Shawn Vaughn, wide receivers Tyler Johnson and Jaelon Darden, quarterback Kyle Trask among others.
Why would Licht want any more mid- or late-round future picks for Howard or Miller? Players like Howard and Miller could be this year's Fournette or Stinnie for the Bucs and may be called upon to start later this year if serious injuries up the depth chart occur.
If Licht makes any trades before the Novemeber 2nd trade deadline, it will be similar to last year. He'll add to rather than subtract from this roster as the Bucs try to go for two and win another Super Bowl.
FAB 2. Will Brown Go Off Against The Falcons?
Fresh off a five-catch, 121-yard, one-touchdown effort against Dallas on opening day, Antonio Brown could be in for a repeat performance this Sunday when Atlanta comes to town. In two games last year, Brown went off against the Falcons.
Brown had his first 100-yard game as a Buccaneer last year against the Falcons in Week 17. In that 44-27 beatdown, Brown's role increased throughout the game after Mike Evans was lost to a knee injury in the first quarter. Brown was targeted 14 times and caught 11 passes for 138 yards (12.5 avg.) and two touchdowns, including a 30-yarder.
Brown's first touchdown in red and pewter came against the Falcons in Week 15 last season. That 46-yard score in the fourth quarter sealed Tampa Bay's comeback from a 17-point deficit at Atlanta. The Bucs scored 31 points in the second half for a wild, 31-27 victory. Brown finished with five catches for 93 yards (18.6 avg.) and a TD.
In those two Bucs' triumphs over the Falcons, Brown totaled 16 catches for 231 yards and three touchdowns. Now, Atlanta does have a new defensive scheme and a new coordinator in Dean Pees. The Falcons also have new personnel in the secondary, including two new safeties in Erik Harris and Duron Harmon and a new starting cornerback in Fabian Moreau. Cornerbacks A.J. Terrell and Isaiah Oliver are holdovers from a year ago.
But after a Week 1 32-6 thrashing at home by Philadelphia, Atlanta's new secondary doesn't look much better than the Dan Quinn/Raheem Morris unit from a year ago. The Falcons allowed Eagles quarterback Jalen Hurts to pass for 264 yards and three touchdowns and no interceptions last Sunday.
Rookie receiver DeVonta Smith, Philadelphia's first-round pick, led the way with six catches for 71 yards and his first NFL touchdown. Jalen Reagor, the Eagles' first-rounder in 2020, had six catches for 49 yards and a score against the Falcons.
Atlanta played primarily zone coverage against Philadelphia yet still blitzed a good amount – seventh most in the league last week. The Falcons didn't play much man coverage because the Eagles had a scrambling quarterback in Hurts. It's never good to play man coverage with defenders' backs turned away from the QB. That can create running alleys for scrambles. Yet, Hurts still managed to run and scramble for 62 yards on seven carries (8.9 avg.).
Expect Pees to blitz the less-mobile Tom Brady more this week than he blitzed Hurts last week. If that's the case, Brown will likely be singled up in man coverage while Mike Evans or Chris Godwin draw double coverage. That could lead to another 100-yard showing for Brown against the Falcons.
What's even more encouraging about Brown is that he's healthier this season after having knee surgery. Perhaps that's why he averaged 24.2 yards per catch against the Cowboys. Brown has regained some of the speed he had in Pittsburgh that made him a seven-time Pro Bowler and a four-time All-Pro.
Brown averaged a pedestrian 10.7 yards per catch in his first year in Tampa Bay. That was his lowest average since 10.4 his rookie season in 2010. Brown averaged 13.4 yards per catch in his nine years with the Steelers. The guess here is that he averages 14 yards per reception – or more – this year with the Bucs.
Brown's 2021 season is already off to a great start. Look for it continue with another big game against the Falcons in Week 2.
FAB 3. 4 Match-Ups To Watch: Bucs Offense vs. Falcons Defense
Each week you can find 4 Match-ups to Watch on offense and defense in my SR's Fab 5 column. Here is an advanced look at Tampa Bay's game vs. Atlanta where the 1-0 Bucs will battle the 0-1 Falcons at Raymond James Stadium. Tampa Bay is coming off a a closer-than-expected, 31-29 win over Dallas, and scored 30 points or more in their eighth straight game dating back to last season. Atlanta got thumped at home against Philadelphia in the season opener, 32-6, and gave up three touchdown passes to QB Jalen Hurts.
Bucs LG Ali Marpet vs. Falcons DL Grady Jarrett
Jarrett is the Falcons' top defensive player and one of the best defensive tackles in the game. With 31 sacks entering his seventh NFL season, the 6-foot, 305-pound Jarrett is a formidable force inside. After playing three technique defensive tackle in Atlanta's 4-3 defense, the Falcons have gone to a 3-4 scheme and Jarrett is still finding his way in the new scheme. He had two tackles against the Eagles in the Falcons' 32-6 loss in the season-opener.
Marpet is long overdue for a Pro Bowl berth and another strong showing against Jarrett should help. Jarrett typically plays on the weakside of the formation, which would be against Marpet, but Atlanta could try to find a more favorable matchup by having Jarrett face off against right guard Alex Cappa. Whether it's Jarrett, Marlon Davidson or nose tackle Tyeler Davison, Marpet will be up to the challenge.
ADVANTAGE: Marpet
Tampa Bay WR Mike Evans vs. Atlanta CB A.J. Terrell
Terrell, the Falcons' first-round pick last year, had a trial by fire in Atlanta. He allowed 901 yards passing and five touchdowns, while breaking up seven passes and picking off just one pass as a rookie. At 6-foot-1, 190 pounds, Terrell has the talent and length to try to slow Evans down, but not the experience. Still, he's Atlanta's best cornerback right now and will have to play big to try to slow down the 6-foot-4 Evans.
Evans feasted against the Falcons last year. He caught seven passes for 110 yards (18.8 avg.) in the 31-27 Week 15 win. Then Evans hauled in three passes for 46 yards (15.3 avg.) in the first quarter before injuring his knee in the 2020 regular season finale. The Falcons have a new defensive scheme this year with coordinator Don Pees in charge, but Evans should have his way with Terrell or whichever Falcons cornerback gets matched up against him. Evans had a pedestrian performance against Dallas last week with three catches for 28 yards, but should get more targets on Sunday.
ADVANTAGE: Evans
Bucs WR Antonio Brown vs. Falcons CB Fabian Moreau
Moreau was signed from Washington in free agency and won the starting job over Isaiah Oliver, a second-round pick in 2018. He's got good size at 6-foot, 204 pounds, and has the speed (4.35) to keep up with Brown down the field. Moreau totaled five interceptions over the past two seasons in Washington, but didn't make much of an impact in his Atlanta debut with just three tackles and a pass breakup.
Brown was hot in the Bucs' season-opening win against Dallas, catching five passes for 121 yards, including a 46-yard touchdown. With his knee surgically repaired this offseason, Brown is feeling healthier and faster than ever. Brown and Brady really built a strong rapport at the end of last season and it's apparent that it has continued into the 2021 campaign. With Evans and Chris Godwin likely getting double coverage attention from Atlanta's secondary, Brown should see plenty of single coverage against Moreau – and take advantage of it.
ADVANTAGE: Brown
Tampa Bay TE Rob Gronkowski vs. Atlanta LB Foyesade Oluokun
At 6-foot-2, 215 pounds, Oloukun gives up a lot of size to the 6-foot-6, 255-pound Gronkowski in coverage. Oloukun is fast and that's why he teams with Deion Jones in both base defense and in nickel. He had a career-high two interceptions, including a pick-six at Kansas City, and four pass break-ups a season ago. Still, as improved as he is against the pass, Oloukun, who had eight tackles in the season-opening loss to Philadelphia, may be in for a long afternoon on Sunday.
Gronkowski is the Bucs' hottest red zone threat dating back to the Super Bowl. He had a pair of touchdowns against Kansas City and started the season with two red zone scores against Dallas. Now that he's a full year removed from his one-season hiatus from football, Gronkowski is in great shape and knows Bruce Arians' offense. He has a size and experience mismatch over Oloukun, in addition to the advantage of having Brady's precision-like accuracy in delivering the ball.
ADVANTAGE: Gronkowski
FAB 4. 4 Matchups To Watch: Bucs Defense vs. Falcons Offense
Each week you can find 4 Matchups to Watch on offense and defense in my SR's Fab 5 columns. Here is preview of Tampa Bay's first NFC South clash against Atlanta. The 1-0 Bucs will host the 0-1 Falcons at Raymond James Stadium. The Falcons only scored six points and gained just 260 yards in a 32-6 home loss to the Eagles.
Bucs ILB Devin White vs. Falcons QB Matt Ryan
The 36-year old Ryan is entering his 14th season in the NFL and still has the arm and experience to be a dangerous starting quarterback in the league. Yet he was underwhelming in the Falcons' 32-6 loss to the Eagles, throwing for just 164 yards and no touchdowns. Ryan and the Falcons split their series with the Bucs in 2019, but got swept last year. He's been sacked 16 times in the last four games against Tampa Bay, including three times by the blitzing White.
White only played one game against Ryan last year due to him being out with COVID for the season finale. But in the 31-27 comeback win at Atlanta in Week 15, White was a difference-maker. In addition to his team-high 12 tackles, White also notched 4.5 tackles for loss and three sacks, all of which came in the second half. Entering his third year in the league, White has a full grasp of Todd Bowles defensive scheme and can match wits with Ryan at the line of scrimmage with audibles – in addition to blitzing him.
ADVANTAGE: White
Tampa Bay ILB Lavonte David vs. Atlanta RB Cordarrelle Patterson
With apologies to wide receiver Calvin Ridley, Patterson may be the most dangerous Falcons player on offense. Why? Because in addition to being one of the best kick returners in NFL history, Patterson plays both running back and wide receiver. Patterson out-gained starter Mike Davis with 54 yards rushing on seven carries (7.7 avg.) in Week 1 and caught two passes for 13 yards. He made some plays against the Bucs last year while with the Bears, catching three passes for 38 yards out of the backfield in a 20-19 win. The 6-foot-2, 220-pound Patterson could get more than 10 touches this week at Tampa Bay.
When Patterson releases out of the backfield to catch passes, he usually does it on the weak side of the formation. That's David's territory. At age 31, David still has the speed to cover backs and tight ends with ease in addition to piling up the tackles. He notched 11 stops in the season-opening win against Dallas last week, including seven in the second half. It's safe to say that David and Patterson will be meeting up play-after-play on Sunday.
ADVANTAGE: David
Bucs DT Ndamukong Suh vs. Falcons LG Jalen Mayfield
Mayfield, the Falcons' third-round pick this year, gave up two sacks in the preseason and performed even worse in his NFL regular season debut. Mayfield gave up two sacks, eight pressures and was penalized twice. It was a rough outing last week for the rookie and this week doesn't figure to get any easier with veteran defensive tackles Ndamukong Suh and Vita Vea. It might get worse before it gets better for the Michigan product.
Suh will play on the left and right side of the line, depending on the matchups Bowles wants to create. As good as defensive end Will Gholston is, how could Bowles not to want to pit the powerful Suh against the overmatched rookie? Not only is Suh stout against the run, he's still a formidable pass rusher, evidenced by his six sacks last year and another 1.5 in Super Bowl LV.
ADVANTAGE: Suh
Tampa Bay's Back 7 vs. Atlanta TE Kyle Pitts
The Falcons made Pitts the highest-drafted tight end in NFL history, picking him fourth overall in April. At 6-foot-6, 240 pounds with 4.44 speed, Pitts is a dangerous receiving tight end that can be used in-line, flexed out to the slot or lined up outside. He had a pedestrian rookie debut with four catches for 31 yards, but he did have the Falcons' longest reception, which was 18 yards. He'll likely receive more than the eight targets he got in Week 1.
Without slot cornerback Sean Murphy-Bunting, the Bucs don't have an ideal defender that can line up against Pitts and match his speed and size. So look for a team approach by the Bucs' back seven, and a combination of defenders covering Pitts down the field. One play it might be nickel cornerback Ross Cockrell. The next it could be inside linebacker Devin White. The next it could be one of Tampa Bay's three safeties – Antoine Winfield, Jr., Jordan Whitehead or Mike Edwards. Whoever is assigned to cover Pitts will have to use their experience against the talented rookie. The Bucs might slow Pitts down, but they're not going to stop him.
ADVANTAGE: Push
FAB 5. SR's Bucs Shots
• SHAQ ATTACK TO START 2021: It's no surprise that the Bucs outside linebacker Shaquil Barrett would start off leading the team in sacks. Barrett got Tampa Bay's first and only sack against Dallas, but he also had five other pressures in the game, according to Pro Football Focus. Barrett had four hurries and a QB hit in addition to his sack. And he's done that quite a few times since 2019 apparently.
• WILL BRADY BREAK THE PASSING RECORD AGAINST BELICHICK? After Tom Brady's 379 passing yards against Dallas in Week 1, he now has 79,583 career passing yards. Brady is just 775 yards away from topping Drew Brees' all-time record of 80,358. When will that happen? Ben Volin thinks it could happen at New England in prime time against former head coach Bill Belichick. I think he's right.
Tom Brady now 775 yards away from Drew Brees' all time passing yardage record after throwing for 379 last night.

If Brady throws for 300+ in his next two games, he could conceivably break the record in the second or third quarter against the Patriots.

— Ben Volin (@BenVolin) September 10, 2021
• NEW PEWTER GAMEDAY LIVE STREAM THIS SUNDAY: Pewter Report's Pewter GameDay LIVE streaming show starts kicks off at 4:00 p.n. ET for the Bucs vs. Falcons game. The game itself will not be featured or shown on the LIVE show, but Pewter Report's Jon Ledyard, Paul Atwal and Scott Reynolds will be analyzing the game, offering up expert opinions and will be interacting with Bucs fans in the live chat.
The action begins with an hour-long Pewter Pregame Show beforehand at 3:00 p.m. ET that features Ledyard and Kasey Hudson as hosts with Reynolds, Matt Matera and Josh Allen as guests before kickoff. Both the Pewter Pregame and Pewter GameDay shows are energized by CELSIUS.
If you liked Pewter Report's Live Draft Shows in April it will resemble that format – but be discussing the game in real time. Pewter Report will have Pewter Gameday LIVE streaming shows for every Bucs game this year including a
The Pewter Report Postgame podcast will start approximately 40 minutes after the conclusion of the Bucs vs. Falcons game.
• BUCS-FALCONS PREVIEWS ON THE PEWTER REPORT PODCAST: The Pewter Report Podcast is energized by CELSIUS and broadcasts four live episodes each week. Here is the lineup for next week: Monday, Wednesday and Thursday at 4:00 pm EST with the Pewter Pregame, Pewter GameDay and Pewter Postgame on Sunday starting at 3:o0 pm EST prior to Bucs at Rams.
The Pewter Reporters spent this past week previewing Tampa Bay's Week 2 game against Atlanta on the recent episodes of the Pewter Report Podcast on our YouTube channel. Check out all of this week's shows below.
Scott Reynolds and J.C. Allen watched all of the Week 1 action against the Bucs' upcoming opponents and offer their sneak peak at Tampa Bay's next foes on Monday's show.
Jon Ledyard and Matt Matera reveal how the Bucs can fix their running game – and more – on Tuesday's podcast.
Ledyard and Reynolds offer up their X's and O's-based preview of the Bucs vs. Falcons game on Wednesday.
Ledyard and Kasey Hudson are joined by WDAE's Jay Recher talk talk Bucs vs. Falcons on Thursday night.
Watch the Pewter Report Podcasts live on our PewterReportTV channel on YouTube.com and please subscribe (it's free) and add your comments. All Pewter Report Podcasts are archived so you can watch the recorded episodes if you missed them live.
There is no better time to listen to or watch a new Pewter Report Podcast – energized by CELSIUS – than Friday afternoon on the way home from work, or early Saturday morning during your workout or while running errands.
The popularity of the Pewter Report Podcast continues to grow. In addition to listening to the Pewter Report Podcasts on PewterReport.com you can also subscribe to the free podcasts at PodBean by clicking here and on SoundCloud by clicking here. And of course the Pewter Report Podcast is also available on iTunes and YouTube. Make sure you subscribe so you don't miss a single episode.
• OLD MAN BRADY: This tweet by ESPN's Field Yates speaks for itself.
A crazy stat on Tom Brady's longevity on the day of his 300th career start: there are 3 active Hall of Famers whose careers began *after* Brady's first start: Troy Polamalu, Calvin Johnson and Ed Reed.

— Field Yates (@FieldYates) September 9, 2021
• PFF ISN'T ALWAYS RIGHT … but in this case, they're not wrong.
Share On Socials