SR's Fab 5 is exclusively sponsored by Edmonson Electric • AC • Security – the official smart home and security company of PewterReport.com.
For the past 40 years, Edmonson Electric • AC • Security has proudly served central Florida with electric services and now proud to add state-of-the-art "Smart Home" technology, security systems and air conditioning to its roster.
Whether it's surveillance cameras, home theaters, or smart lighting, Edmonson Electric • AC • Security is automating your dream home. Visit EdmonsonElectric.com to find out more about controlling, monitoring and securing your home or call 813.910.3403 for additional information.
Control. Monitor. Secure.
FAB 1. Shining Licht Leads The Bucs Back To The Playoffs
During my first lengthy sit down with Jason Licht in October of 2014, I came to know very quickly that he was a different breed of general manager. I knew right then he was going to be the general manager that turned the Buccaneers around, and that's why I've supported most of the personnel decisions he's made and the reasoning behind them.
Literally a minute into our first discussion, the initial question I posed to Licht wasn't even phrased as a question. I simply blurted out, "Michael Johnson."
Licht shook his head and smiled a bit nervously and said, "Wow. You're hitting me with a big one right out of the gate. Off the record? Yeah, I made a mistake."
I was floored by Licht's answer.
Johnson, a high-priced defensive end signed from Cincinnati in free agency, had underwhelmed in the preseason and was battling through an ankle injury at the time that caused him to miss two games after the season opener. He had just two sacks in the first four games of the season and Licht was already ready to move on from him.
In October.
It would have been easy for Licht to blame the ankle injury for Johnson's slow start. It would have been easy to blame Johnson's transition to a new team with a new system for his lack of production. It would have been easy to blame the fact that the Bucs just weren't a very good team yet, coming off a 4-12 season under Greg Schiano the year before.
But Licht didn't make any of the excuses that I was used to hearing from previous Bucs general managers about failed personnel moves.
Johnson was soft, and that's what Licht was concerned about. But Licht had just been hired by new head coach Lovie Smith and wanted to dutifully give him the players he wanted in free agency. Smith wanted Johnson, and Licht signed on to the idea of bringing in the 6-foot-7 pass rusher from Cincinnati.
Johnson would go on to record just two more sacks during the rest of the season, which didn't surprise Licht at all, as he was already set to move on from Johnson just a few weeks into the 2014 season. Just one year after signing a five-year, $43.75 million deal with $24 million in guaranteed money, Licht cut Johnson along with quarterback Josh McCown and left tackle Anthony Collins – three prized free agent signings in 2014.
When those three players were cut in the 2015 offseason following a dreadful 2-14 season, Licht's words from October lingered in my head.
"I made a mistake."
It was the most un-general manager-like answer I'd ever heard in my nearly two decades worth of covering the Tampa Bay Buccaneers.
Rich McKay, who was Tampa Bay's general manager when I began covering the Bucs in 1995, was as slick as a politician and rarely admitted a mistake. This was a guy who took the credit for the personnel decisions of Jerry Angelo, Tim Ruskell and head coach Sam Wyche, and also hung on to former first-round pick Eric Curry for five years – five years! – when it was obvious after two seasons that Curry was a bust.
Bruce Allen was a general manager with a slick car salesman vibe that clearly didn't know personnel. He never admitted a mistake. Allen's specialty was salary cap management, and he was fairly good at it, cleaning up the cap mess that he inherited from McKay. But the Bucs drafted just one Pro Bowler in five years under Allen and relied too heavily on aging veteran free agents.
It turns out Mark Dominik wasn't slick enough. While he was better at personnel than Allen was, drafting the likes of Gerald McCoy, Doug Martin and Lavonte David, both he and young head coach Raheem Morris were put in an unenviable position with the Glazers limiting spending from 2009-11. Then Dominik drafted the wrong quarterback in Josh Freeman and hired the wrong head coach in Greg Schiano to seal his fate.
Every general manager I had come in contact with had mastered the art of CYA – cover your ass – when it came to dealing with the media.
Make excuses.
Blame someone else.
Don't admit mistakes.
Yet here was Licht, a salt-of-the-earth Midwesterner with the grinding work ethic of a college scout, going against the grain and admitting a mistake to me right out of the gate back in October of 2014. That left an indelible impression on me, especially considering the fact that he barely knew me outside of reading my SR's Fab 5 columns in his first few months on the job.
You see, the 2020 playoff-bound Buccaneers are the team that Licht built.
He'll hate me for writing that because he always wants his team of personnel men, scouts and coaches to get the credit, too. But when he walked in the door in 2014 he didn't have much to work with outside of McCoy, David, Martin and an aging Vincent Jackson at wide receiver. Four good players and a ton of holes to fill all over the roster.
Since 2014 Licht has had some remarkable success in personnel through the draft, through free agency, through waiver wire claims and through trades – and he deserves credit for picking the right coach in Bruce Arians and for luring him out of retirement. But it is how Licht has dealt with his failures – quickly – that has helped the Buccaneers get to 11-5 and a long-awaited playoff berth in 2020.
Licht doesn't hang on to mistakes because he knows that failing to move on from misses out of ego, or failing to admit a mistake simply negates the personnel hits when it comes to roster development. Hanging on to mistakes is the fatal flaw that eventually dooms general managers around the league, and has done so previously here in Tampa Bay.
Swing.
Miss.
Admit your mistake.
Move on – quickly.
Johnson, McCown and Collins.
Bruce Carter.
Chris Baker.
Roberto Aguayo.
All one-and-done in Tampa Bay.
Licht also parted ways with other failed personnel moves, such as Martin, a player he re-signed to a multi-year deal, Vernon Hargreaves, a former first-round pick, and Noah Spence, a former second-round pick, before their contracts expired because he had seen enough – that those players weren't good enough to win with.
NFL rosters have room for just 53 players. Getting rid of the bad players is just as important as finding good players, and Licht has done that well, especially after his failed 2016 draft class. His drafts since then have been remarkably better and helped this team finally get to the postseason and win 11 games this year.
Yet it wasn't all misses in Licht's first season as general manager. He did have a massive hit with his first-ever draft pick back in 2014 – future Hall of Fame receiver Mike Evans, who has re-written the Bucs receiving record book and made NFL history with his seventh consecutive 1,000-yard season to start a career.
And Licht saw enough after just one 2-14 season with Smith at the helm to realize that he needed to take full control of the franchise, and near the very end of the 2015 season he went to the Glazers to state the case to fire the man who hired him. That took a great deal of courage by Licht – to fire Smith and replace him with offensive coordinator Dirk Koetter in 2016, which seemed like the right move at the time because of the continuity it ensured with new quarterback Jameis Winston, the first overall pick in 2015.
As much as the Glazers have been criticized for being impatient with the team's head coaching hires and creating turnover by firing many of them after two or three years, ownership wisely kept the right man – Licht – each time. And year after year, decision after decision, the Bucs have gotten better as a result because Licht has become a better general manager year after year, too.
Koetter was better head coach than Smith. Arians is better than Koetter.
Mike Smith was better defensive coordinator than Lovie Smith. Todd Bowles is better than Mike Smith.
Winston was a better quarterback than McCown. Tom Brady is better than Winston.
While I have appreciated Licht's honesty and willingness to admit mistakes, the Glazers have appreciated it even more because he is spending their money on players.
The last time I spoke with Bucs co-chair Bryan Glazer was in the spring of 2019 at the NFL Owner's Meeting. Due to COVID-19, there wasn't an NFL Owner's Meeting last year and that's usually the only time the media gets access to Bucs ownership, but Glazer's quotes about Licht then still hold true today.
"One thing we do know in the NFL, too much instability doesn't lead to success," Glazer said in an exclusive with PewterReport.com in the courtyard outside of the Arizona Biltmore in 2019. "And we have had our share of instability over the last several years. And with Jason – obviously Jason is not happy with what our record has been the last few years – but when you look at our team and you look at our drafts, there have been positives. We have had a lot of players we drafted, re-sign, and we have a good nucleus of players. So at the end of the day we felt the consistency in that was important and will ultimately lead to success.
"He has put together a good personnel staff, he is good at articulating to everybody of what we are trying to accomplish," Glazer said of Licht. "He has good perspective when it comes to the team. And I think the key has been working with the head coach. I think he has had excellent ability to work with our coaching staffs – it is partnership ultimately – and if those two people aren't on the same page working well together than it is always flawed. So he is also a good people person."
And over the years Licht has become a great general manager.
So good in fact that, Licht should be named the NFL Executive of the Year this year after the team's 11-5 record.
Hands down.
No doubt.
Just one year after making the pivotal move of firing Koetter and bringing Arians out of retirement to take over as head coach, Licht and Arians were able to lure six-time Super Bowl champion Tom Brady, the top free agent on the market, to Tampa Bay in March and then trade for another future Hall of Famer, tight end Rob Gronkowski, who wanted to reunite with Brady once again.
The powerhouse offense that Licht built through the draft with the likes of wide receivers Evans and Chris Godwin, along with offensive linemen Donovan Smith, Ali Marpet and Alex Cappa, running back Ronald Jones II and tight end O.J. Howard came to life under Arians in 2019. But too many penalties and too many turnovers from Winston, who threw a league-high 30 interceptions, including an NFL-record seven pick-sixes, produced a 7-9 finish in Arians' first year in Tampa Bay.
In a bold move, Licht and the Bucs wisely let Winston go in free agency where he would sign with New Orleans as the team's third-string quarterback, and be replaced in Tampa Bay by Brady, who could still sling the ball at age 42, but do so more carefully. Cutting down the self-inflicted wounds was the mantra of the 2020 season, and that's exactly what happened with Brady in Arians' second year.
But Licht wasn't done. He used the franchise tag on Shaquil Barrett, whom he signed to a one-year, $4 million deal in 2019, which was the catalyst to a 19.5-sack season to lead the NFL. Licht also re-signed Jason Pierre-Paul, who would lead the team with 9.5 sacks in 2020, and wisely let Carl Nassib head to Las Vegas in free agency where he's been a bust.
Licht also brought back defensive tackle Ndamukong Suh, signed the best kicker in franchise history in Ryan Succop, and drafted two immediate starters in right tackle Tristan Wirfs and safety Antoine Winfield, Jr. Adding veterans LeSean McCoy and Leonard Fournette have bolstered the running back position, and signing valuable veteran cornerback Ross Cockrell and wide receiver Antonio Brown during the season were wise, savvy moves that aided the team on its quest for the playoffs.
Since 2017, Licht's personnel mistakes have been few and far between. He's learned from those mistakes and made less as a result. Fewer personnel misses and more hits from Licht have certainly played a huge role in building this playoff-caliber roster and helping the Bucs once again return to the postseason.
FAB 2. These Licht Moves Have Been The Right Moves
In Fab 1 I talked about some of the mistakes that Jason Licht has made since taking over as the Buccaneers general manager in 2014 and how he was able to quickly move on from them. Learning from those mistakes has played an instrumental role in Licht rapidly becoming a top-notch NFL G.M. and fielding a playoff-bound roster.
Now it's time to recognize a dozen of Licht's biggest and most successful personnel moves over his seven-year reign atop the organization in Tampa Bay. Here they are in chronological order.
Going Green
In one of Licht's most underrated moves, he kept Tampa Bay's director of football administration Mike Greenberg on from the Mark Dominik regime in 2014. Greenberg, who serves as Licht's right-hand man, chief contract negotiator and the team's capologist, has done an amazing job of keeping the Bucs out of salary cap purgatory and greatly reduced the team's amount of dead salary cap money with his forward-thinking approach to contracts, which uses guaranteed money rather than signing bonuses. Greenberg is loyal and extremely bright, which is a fantastic combination that has served Licht and the Buccaneers well.
One-Hit Wonder
Licht made the most of his first ever first-round draft pick in 2014, selecting future Hall of Fame wide receiver Mike Evans over future Hall of Fame defensive tackle Aaron Donald. Licht couldn't have gone wrong with either choice, but with defensive tackle Gerald McCoy still in his prime and wide receiver Vincent Jackson aging, drafting the play-making Evans made sense at the time. In seven years he's completely rewritten the franchise record book from a receiving standpoint. The fact that Evans has been as invaluable off the field with his community service as he has been on the field is the reason why he's Tampa Bay's Walter Payton Man of the Year nominee. Licht had a lot of personnel misses during his first year in Tampa Bay that contributed to a 2-14 season, but Evans wasn't just a hit – he was a home run.
Locking Up Lavonte
Licht has done a good job re-signing some key Buccaneers, but none better than linebacker Lavonte David, who has been an elite playmaker on Tampa Bay's defense for years. Licht and Greenberg locked up David to a five-year extension worth $50.25 million in 2015. Now the key will be to do again for Tampa Bay's team captain and eventual Bucs Ring of Honor member, whose contract expires at season's end.
Building The O-Line
Selecting left tackle Donovan Smith and guard Ali Marpet in the second round of 2015 NFL Draft was just the start of building a solid offensive line – one that Tom Brady would want to come to Tampa Bay to play behind in 2020. Licht convinced free agent center Ryan Jensen to become a Buccaneer in 2018, and then drafted guard Alex Cappa that same year. Tristan Wirfs, the Bucs' first-round pick this season, has had a Pro Bowl-caliber rookie campaign at right tackle and was the final piece Licht needed to add.
Stockpiling The Arsenal
Evans was the best offensive weapon that Licht has ever drafted, but Pro Bowl wide receiver Chris Godwin, the third-round pick of 2017, is a close second. Licht also added O.J. Howard in the first-round that year, and he is one of the better tight ends in the league when he's healthy. But Licht didn't stop there. He's also drafted three other young receivers with some promise on Day 3 over the last three years in Justin Watson, Scotty Miller and Tyler Johnson, in addition to using a second-round pick on running back Ronald Jones II in 2018. The NFL has become an offensive-driven league, and Licht made sure Tampa Bay was ahead of the curve with a well-stocked arsenal.
Making A Giant Trade
Licht has made a couple of blockbuster trades during his time in Tampa Bay, but the best one happened three years ago. He pilfered Giants general manager Dave Gettleman, acquiring proven pass rusher Jason Pierre-Paul from New York for a third-round pick in 2018. Pierre-Paul has recorded 30.5 sacks in three years with the Bucs, including 12.5 in his first season in red and pewter. Pierre-Paul's 9.5 sacks this season led the team and helped him earn a Pro Bowl berth.
Bringing Back (Bucco) Bruce
There was a chance that the Glazers could have replaced Licht as general manger in 2018 after back-to-back seasons if he didn't serve up an ace of a replacement for Dirk Koetter in Bruce Arians. Bringing Arians back to the NFL and convincing him to come out of retirement was a fantastic move by Licht. The fact that Arians was able to reassemble his former staff, which includes some potential eventual replacements for Arians in Todd Bowles, Harold Goodwin and Larry Foote to ensure continuity for the Bucs franchise, was quite a bonus.
Switching Out DTs
Gerald McCoy had his fans at One Buccaneer Place and even in the stands. Licht even re-signed him in 2014, which was his first year as the Bucs' general manager. But McCoy was a nice guy and lacked the physicality and nastiness Licht wanted upfront. It was a bold move, but Licht parted ways with the popular McCoy in 2019 and replaced him with Ndamukong Suh, a defensive tackle he had admired for years. Suh's presence along the defensive line has directly led to Tampa Bay's top-rated run defense the last two seasons, and he recorded six sacks in 2020, which was the most he's recorded since 2015. Two years later, switching out McCoy for Suh was the right move.
Shaq Attack
Licht has signed several big free agents in his seven years leading the Bucs organization, but in terms of value from a pure scouting standpoint, landing unheralded edge rusher Shaquil Barrett with a one-year, $4 million deal was brilliant. Barrett, a situational pass rusher in Denver, notched just 12.5 sacks in his first five years, but recorded an NFL-leading 19.5 sacks in 2019 en route to his first Pro Bowl last year in Tampa Bay. Licht placed the franchise tag on Barrett this year and he wound up with eight more sacks and was second in the NFL with 76 pressures in 2020.
Getting The GOAT And Gronk
While finding Barrett in free agency was an absolute gem in 2019, Licht struck gold by luring Brady, the greatest NFL quarterback of all-time, to Tampa Bay in free agency this year. Brady's 43 touchdowns at age 43 played a huge role in the Bucs' 11-5 record and long-awaited playoff berth, and Brady even helped Licht land future Hall of Fame Rob Gronkowski by talking him out of retirement. Licht traded a fourth-round pick to New England for a seventh-rounder, and Gronkowski has caught 45 passes for 623 yards and seven touchdowns from his good friend and former Patriots teammate in a tremendous debut in Tampa Bay.
Solving The Kicker Issue (Finally)
It hasn't been for a lack of effort, but solving the kicker issue in Tampa Bay has been ridiculously difficult for Licht. Over the years he's signed two major free agents in Nick Folk and Chandler Catanzaro and two in-season replacements in Pat Murray and Cairo Santos. Licht also traded for a kicker in Kyle Brinza and even drafted two in Roberto Aguayo and Matt Gay among other moves before finally finding the answer this year in Ryan Succop. The 34-year old Succop has had the best year of any kicker in Bucs history, setting the franchise record for most points (136) and making over 90 percent of his field goals and extra points.
Adding A.B. Among Others
One of Licht's better qualities is finding talent after free agency, sometimes during the season. Aside from Murray and Santos, Licht has also added the likes of center Joe Hawley, running back Jacquizz Rodgers in-season, and picked up defensive ends Jacquies Smith and Carl Nassib as waiver-wire claims at the start of the 2014 and the 2018. This year, adding wide receiver Antonio Brown, cornerback Ross Cockrell and running back Leonard Fournette have proven to be tremendous pick-ups – especially Brown, who will play a big role in the playoffs with Evans ailing with a knee injury.
There have been other recent notable moves, such as drafting the likes of top cornerback Carlton Davis III, nose tackle Vita Vea and inside linebacker Devin White, in addition to hiring the likes of personnel honchos like Jon Robinson, who went on to become Tennessee's general manager, along with John Spytek, Mike Biehl and Rob McCartney over the years. Should the Bucs eventually win a Super Bowl in the coming years, Licht will certainly become the best general manager in franchise history.
That could even happen by the end of the 2020 season if the Bucs have some good fortune in the postseason.
FAB 3. Rewind Week 17 – Fast Forward Wild Card Playoffs

Not having open locker room at One Buccaneer Place and restricted media access to players this year due to COVID-19 has forced me to do less feature segments on players and more analysis on the games. So I'm using the Fab 3 section – called Rewind – Fast Forward – to share some observations from the Bucs' last game as well as my analysis in previewing the next one. Enjoy.
REWIND: Week 17 vs. Atlanta Falcons

• The Bucs finished the season scoring 44 points against the Falcons one week after scoring 47 points against the Lions. It was the second NFL team to have back-to-back games scoring over 40 points (Tennessee was the other), and marks the fourth time this season that Tampa Bay scored 40 points or more. By comparison, Washington has scored 40 points in just one game this year – 41-16 win at Dallas on Thanksgiving. In fact, that is the only game in which Washington has scored more than 27 points.
• It was good to see Bucs kicker Ryan Succop bounce back with a perfect performance in Week 17 after missing two extra points and a field goal in Detroit in Week 16. Succop, who made all three of his field goals and all five of his extra points, was named the NFC Special Teams Player of the Week for his performance against the Falcons. Succop has only missed one field goal on grass this year, which came at home against the Los Angeles Chargers in Week 4, and two extra points on grass, which came at Carolina and at home against Minnesota. The Bucs play on grass at Washington on Saturday night.
• Tampa Bay beat Atlanta, 44-27, in Week 17 to finish the 2020 season 5-3 at Raymond James Stadium. It was the first time the Bucs have had with a winning record at home since finishing 6-2 at home in 2008, the last season in the Jon Gruden tenure. Tampa Bay finished 4-4 at home in 2010 when the team went 10-6, and again in 2016, 2017 and 2018 under Dirk Koetter. The Bucs had a 2-6 record last year in Bruce Arians' first season in Tampa Bay, while posting a 5-3 record on the road. Once again, the Bucs were actually better on the road, going 6-2 away from Ray-Jay, including winning five straight road games. That could bode well for the Bucs, who will likely have to win three road games to make it to Super Bowl LV, which is played in Tampa Bay.
• With the win over the Falcons on Sunday the Bucs finished the season 10-0 against opponents with a losing record. Tampa Bay was 1-4 against teams with winning records in 2020 with a win against Green Bay and losses to New Orleans (twice), Kansas City and the Los Angeles Rams. The Bucs were 0-1 against teams with a .500 record, as the Bears finished the season 8-8. The potential good news for Tampa Bay is that Washington, the team's opponent in the wild card playoffs, finished with a 7-9 record.
FAST FORWARD: Wild Card Playoffs at Washington

• Washington head coach Ron Rivera said that both Alex Smith and Taylor Heinicke might see time at quarterback in Saturday's wild card playoff game. Smith returned to action last week in the season finale win at Philadelphia following a calf injury that forced him to miss the two previous games. Smith's calf has apparently tightened up since the game and it was Heinicke who took first-team reps in practice on Wednesday. Smith is 5-1 as a starter this year for Washington, while Heinicke saw action in one game – a 20-13 loss to Carolina in which he completed 12-of-19 passes for 137 yards with one touchdown. Washington parted ways with former starter and first-round pick Dwayne Haskins, who started six games, and placed Kyle Allen, who started four games, on injured reserve.
• Washington running backs Antonio Gibson, the team's second-round pick, and J.D. McKissic both averaged over 4.3 yards per carry and combined for 1,160 yards and 12 touchdowns on the ground (Gibson led the way with 795 yards and 11 TDs), and 116 catches for 836 yards and two touchdowns. McKissic is Washington's second-leading receiver with 80 catches for 589 yards and two scores. With both running backs having wide receiver experience from their college days look for the Bucs to play more zone coverage to prevent those backs from gaining big yardage in the flat against man coverage. Without speedy inside linebacker Devin White to help defend the flat, the Bucs are almost forced to play more underneath zone.
• Washington has the second-ranked defense in the league, allowing just 304.6 points per game, and the second-best pass defense in the NFL, surrendering 191.8 points per game. Washington hasn't surrendered more than 20 points per game in the last seven games, and is allowing just 20.6 points per game this season. Conversely, Tampa Bay is averaging 30.8 points per game this season, and has been averaging 37 points per game since the bye week, including back-t0-back games scoring over 40 points. Something has to give – Washington's defense or Tampa Bay's offense.
• This game is going to come down to which defensive line plays better, especially rushing the passer. Washington has a stout defensive line featuring great edge rushers in Montez Sweat (nine sacks), first-round pick Chase Young (7.5 sacks) and Ryan Kerrigan (5.5 sacks), along with three capable defensive tackles in Jonathan Allen (two sacks), Daron Payne (three sacks and Tim Settle (five sacks). The Bucs offensive line, which has surrendered 22 sacks, will have its hands full. Tampa Bay's defensive line features the likes of Pro Bowler Jason Pierre-Paul (9.5 sacks) and Shaquil Barrett (eight sacks) on the edge, with Ndamukong Suh (six sacks) and Will Gholston (three sacks) inside. Without White and his nine sacks, defensive coordinator Todd Bowles might have to rely on blitzes from safety Antoine Winfield, Jr. (three sacks) and linebacker Lavonte David (1.5 sacks) to boost the team's pass rush. Washington's offensive line has given up 50 sacks this year.
FAB 4. 4 Match-ups To Watch: Tampa Bay at Washington
Each week you can find 4 Match-ups to Watch in the Fab 4 section of my SR's Fab 5 columns. Here is an advanced look at Tampa Bay's big playoff game at Washington. The 11-5 Bucs travel to Washington to battle the 7-9 Football Team, which won the NFC East in Week 17.
Bucs SS Jordan Whitehead vs. Washington TE Logan Thomas
Washington's quarterbacks Alex Smith and Taylor Heinicke like to get the ball out of their hands quickly and Thomas is a favored target. Thomas, a 6-foot-6, 250-pound tight end, has a 64.4 overall grade from Pro Football Focus, and is Washington's second-leading receiver with 72 catches for 670 yards and six touchdowns. Thomas, who was a Bruce Arians draft pick in Arizona, has had a career year and is a big-time red zone weapon.
Whitehead, who is 5-foot-10, is Todd Bowles' favorite match up against tight ends due to his coverage ability. Yet Whitehead surrenders eight inches to Thomas and has a mediocre 66.3 overall grade from PFF and a 55 coverage grade from PFF. Whitehead won't be on Thomas all the time, as Bowles will likely use nickel cornerback Sean Murphy-Bunting and linebackers Kevin Minter and Lavonte David against Thomas at times in zone and man coverage. But the times when Whitehead is on Thomas he has to stick to him like glue.
ADVANTAGE: Thomas
Bucs CB Carlton Davis III vs. Washington WR Terry McLaurin
McLaurin had a great rookie season with 58 catches for 919 yards (15.8 avg.) and seven touchdowns last year, but topped 1,000 yards (1,118 yards) this year with 87 receptions and four touchdowns this season. On a team that doesn't have many deep threats, McLaurin, a 6-foot, 208-pound speedster stands alone. With a 78 overall grade from PFF, McLaurin is the most dangerous offensive weapon in Washington.
Davis, who is returning from a groin injury after missing two games, has had a very good year, recording a team-high four interceptions and 17 interceptions, emerging as a shutdown cornerback in his third year in Tampa Bay. Davis has a 67.6 overall grade and a 66.4 coverage grade from PFF, and must not allow McLaurin to get behind him. If McLaurin is held under 50 yards and kept out of the end zone, the Bucs have a great chance of winning in the nation's capital.
ADVANTAGE: Davis
Bucs LT Donovan Smith vs. Washington DE Chase Young
This is the marquee match-up of the Washington vs. Tampa Bay playoff game – Young, the stellar rookie pass rusher, versus Smith, the veteran left tackle. Young has been the best defensive rookie in the league and has an 87.2 overall grade from PFF and a 76.5 pass rush grade from PFF. With 44 tackles, 12.5 tackles for loss, 7.5 sacks, four forced fumbles and three fumble recoveries, including one for a touchdown. The 6-foot-5, 264-pound Young is an absolute game-wrecker and he can change the game with one play at any time.
Smith, who has a 72.1 overall PFF grade, including a 69.6 pass-rushing grade this season, needs to be stout in pass protection – even more so than his run blocking. Young is big, fast, athletic and has a great get-off. Smith has had a bad habit of taking a play or two off and relaxing his technique. He can't do that against an elite pass rusher like Young, who can make Smith, who has allowed six sacks this year, pay if he's not playing every snap like it matters the most.
ADVANTAGE: Young
Bucs RT Tristan Wirfs vs. Washington DE Montez Sweat
As good as Young is as a rookie, Sweat, Washington's first-round pick in 2019, was actually more productive in 2020. Sweat, who has an 79.7 overall grade from PFF and a 78.7 pass rush grade from PFF, had a career year with 45 tackles, 14 tackles for loss, a team-high nine sacks, two forced fumbles and one interception for a touchdown. The 6-foot-6, 262-pound Sweat is a long, dynamic pass rusher that can affect the game just like Young with only one big play.
Wirfs has been terrific this year as a rookie, and is the fourth-highest rated Buccaneer on offense with an 82.2 overall grade from PFF and an 81 pass protection grade. Wirfs has long arms, a wide base, quick feet and supreme concentration when pass blocking. Remarkably, Wirfs has only surrendered one sack this entire season, which came in Week 5 against All-Pro pass rusher Khalil Mack. Wirfs will need to pitch a shutout against Sweat to keep Tom Brady upright and his jersey clean.
ADVANTAGE: Wirfs
FAB 5. SR's Buc Shots
• BARRETT STILL GETTING TO THE QB IN 2020: Despite the fact that Bucs outside linebacker Shaquil Barrett hasn't come close to last year's 19.5 sack total this year, notching just eight this year in 15 games, the 2019 Pro Bowl pass rusher is still getting to the quarterback. According to Pro Football Focus, Barrett was second in the league in quarterback pressures this season with 76.
Aaron Donald dominated opposing OLs in 2020 😤💪 pic.twitter.com/5Wj92IGXIf

— PFF (@PFF) January 5, 2021
• CHEAH HIGHLIGHT'S BRADY BRILLIANCE: Our good friend (and rabid Bucs fan) Steven Cheah had an awesome film breakdown of Tampa Bay quarterback Tom Brady's performance against Detroit. Check out his analysis of Brady's near-perfect half, and make sure you tune into Cheah and former NFL offensive lineman Willie Colon on the Going Deep Podcast on Barstool Sports.
.@TomBrady is still getting it done at age 43. Take a look at how he goes through his progressions to manipulate the defense with my latest breakdown. #Bucsfilm2020wk16
pic.twitter.com/OA9q0hDAAS

— Steven Cheah (@StevenCheah) December 28, 2020
• BUCS VS. WASHINGTON PREVIEWED ON THE PEWTER REPORT PODCAST: The Pewter Report Podcast is energized by CELSIUS and broadcast live four episodes per week – post-game on the weekend after the game with additional episodes on Monday, Wednesday and Thursday – with a new time during the playoffs at 7:30 p.m. ET – to recap all of the action from the previous Bucs game and get you ready for the next one.
We'll be live on Saturday evening 30 minutes after Tampa Bay's wild card playoff game at Washington, in addition to Pewter Report Podcasts on Monday, Wednesday and Thursday next week to prep you for the team's next playoff game if the Bucs advance.
Watch us live on our PewterReportTV channel on YouTube.com and please subscribe (it's free) and add your comments. All of our Pewter Report Podcasts will be posted there so you can go back and watch the recorded episodes if you missed it live.
The audio versions of the Pewter Report Podcasts will continue to be found on iTunes and Soundcloud. Here are links to a few of the most recent episodes, including Wednesday's Bucs at Falcons preview podcast and Thursday's podcast, which featured The Athletic's Greg Auman.
Pewter Report Podcast Episode 265: Flirting With The Bucs' Curse With Special Guest Trevor Sikkema
Pewter Report Podcast Episode 264: Bucs Offense Ready For Massive Wild Card Challenge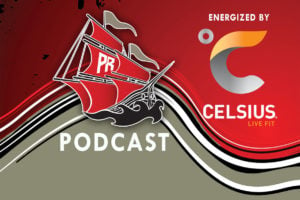 There is no better time to listen to a new Pewter Report Podcast – energized by CELSIUS – than right now or early Saturday morning during your workout or while running errands.
The popularity of the Pewter Report Podcast continues to grow. In addition to listening to the Pewter Report Podcasts on PewterReport.com you can also subscribe to the free podcasts at PodBean by clicking here and on SoundCloud by clicking here. And of course the Pewter Report Podcast is also available on iTunes and YouTube. Make sure you subscribe so you don't miss a single episode.
• WIRFS IS THE BEST ROOKIE TACKLE IN THE NFL THIS YEAR: Tampa Bay right tackle Tristan Wirfs, the team's first-round pick in 2020, gave up the fewest quarterback pressures among the first-round offensive tackles in his first year in the NFL, according to Pro Football Focus. Wirfs only gave up one sack this year, which came in Week 5 against All-Pro pass rusher Khalil Mack.
QB pressure % allowed by 1st RD OTs

1. Tristan Wirfs, Bucs – 3.4%
2. Jedrick Wills Jr, Browns – 3.8%
3. Mekhi Becton, Jets – 5.4%
4. Austin Jackson, Dolphins – 8.1%
5. Andrew Thomas, Giants – 10.6% pic.twitter.com/Z6oHFiSoLk

— PFF College (@PFF_College) December 27, 2020
Share On Socials