SR's Fab 5 is exclusively sponsored by Edmonson Electric • AC • Security –
the official smart home and security company of PewterReport.com.
For the past 40 years, Edmonson Electric • AC • Security has proudly served central Florida and Bucs fans in the area with electric services and now proud to add state-of-the-art "Smart Home" technology, security systems and air conditioning to its roster. Whether it's surveillance cameras, home theaters, or smart lighting, Edmonson Electric • AC • Security is automating your dream home.
Visit EdmonsonElectric.com to find out more about controlling, monitoring and securing your home or call 813.910.3403 for additional information.
Control. Monitor. Secure.
---
FAB 1. Smith Has Become A Dominant LT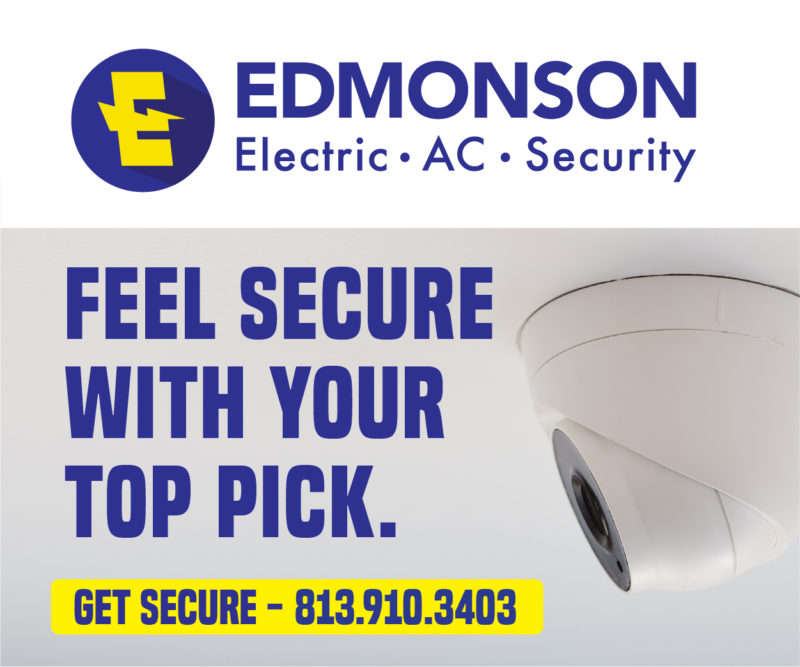 "Donovan Smith gives up the untimely sack."
"Oh, Donovan Smith with another penalty."
"Donovan Smith takes too many plays off."
"Yeah, Donovan Smith is overrated."
Right or wrong, those sentences have been part of the narrative surrounding Donovan Smith during his seven years as Tampa Bay's starting left tackle.
But no one has been saying that this year.
No one in the media is saying that, no one in the Bucs fan base – and certainly no one at the Bucs' AdventHealth Training Center.
Smith is playing the best football of his career in 2021. Actually, his stellar play began last season during the Bucs' eight-game winning streak.
Not that Pro Football Focus is the end-all, be-all, or that its grades are an exact science, but Smith is currently the fourth-highest graded offensive player in Tampa Bay with an 83.3 overall grade. Smith trails three future Hall of Famers in Antonio Brown (87.4), Rob Gronkowski (88.1) and Tom Brady (91.5). So that's some pretty elite company.
And Smith is having an elite season.
He is currently the highest-rated offensive lineman in Tampa Bay ahead of Ali Marpet (80.8) and Tristan Wirfs (80.7).
Smith's 83.3 PFF grade is the highest of his career and the first time he's broken the 80-point barrier. Smith has improved each year according to PFF, from a 62.5 grade as a rookie in 2015 to a 70.4 grade in Bruce Arians' first season as head coach in 2019.
Last year, Smith posted a 72.6 grade with three of his highest grades coming down the stretch against Minnesota (86.5) in Week 14, Atlanta (72.3) in Week 17 and Kansas City (81.6) in Super Bowl LV. His 86.5 grade against the Vikings remains his highest graded PFF game to date, although he scored an 84.6 grade in Indianapolis in Tampa Bay's 38-31 win last Sunday. Smith was throwing key blocks all day in Indy, including on this pulling play near the goal line on one of Leonard Fournette's three touchdown runs.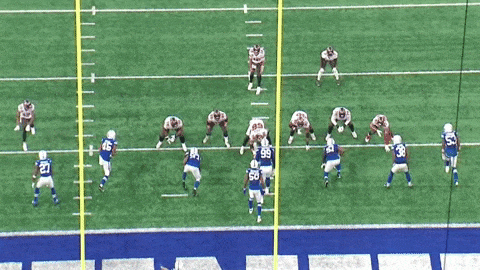 In the 2021 season, Smith has achieved the consistency the Bucs have been waiting for. He's scored no worse than a 63.7 (New England) in any game, and still scored a 70.3 in pass protection against the Patriots.
Smith has only surrendered one sack this season, and that came in Week 2 against Dante Fowler Jr., when Tom Brady held on to the ball too long in the pocket. That earned Smith a 66.3 pass block grade from PFF in that game, but he finished with an overall grade of 78.5 because he had an 89.9 run block grade, which was his highest of the year.
According to PFF, Smith has only surrendered two QB hits and 13 pressures this season and is off to his best start ever. He's earned no worse than a 77.2 pass block grade since the Miami game, and has had five games of posting an 80 or higher since Week 5 against the Dolphins out of the last seven.
Smith didn't allow a single pressure, hit or sack against Indianapolis, which is the third time that's happened this year. And although he's committed five penalties this year, Smith hasn't been flagged in the last three games and just once in the last five.
Part of Smith winning nearly every rep this year is due to his perfection of the snatch-and-trap move, which he's used more in 2021 than ever before. Instead of battling edge rushers for three or four seconds, Smith is ending the battle immediately with the snatch-and-trap. Not only does he use the snatch-and-trap against edge defenders who are rushing the passer, but Smith is using his quickness, strength and improved technique on snatch-and-traps in the run game, too. Watch him execute it for a flawless victory in the clip below.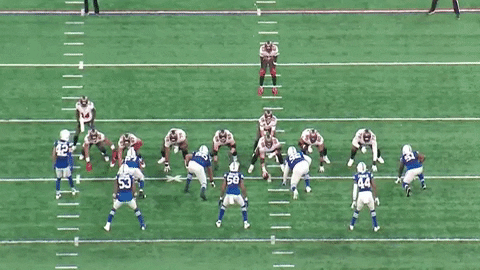 Smith's play has been so good that he's now on his second contract extension. The Penn State product signed a three-year extension in 2019 worth an average of $13.75 million. This past offseason, he signed a two-year extension worth an average of $15.5 million, making him the ninth highest-paid tackle in the league.
"Donovan has been a mainstay on our offensive line for the past six seasons and has helped elevate our offense into one of the NFL's best," said Bucs general manager Jason Licht this offseason. "His durability and leadership have been a critical part of our success. Donovan was outstanding throughout our Super Bowl run and we are very excited to have him as a pillar of our line for years to come."
Smith's biggest attribute early in his career was his availability. He's missed just two starts in seven seasons in Tampa Bay.
Now his biggest attribute is his sheer dominant play.
Smith is being paid like a Top 10 tackle – because he's become one.
FAB 2. Bucs Will Look Much Different In 2022
The Tampa Bay Lightning hockey club beat the Bucs to it. They won the Stanley Cup in a COVID-19-shortened season just a few months before the Bucs won Super Bowl LV. Then the Bolts kept their team mostly intact and won it again this past summer as back-to-back Stanley Cup champions.
The Bucs entered 2021 attempting to do the same thing – win another championship – and entered the season as favorites to win Super Bowl LVI. The Lightning is on a quest for a third straight NHL championship, but it's different this year. The Bolts weren't able to keep their Stanley Cup roster together this year. The salary cap and the Seattle expansion draft just wouldn't allow it.
Some key favorites that had been essential to the team's back-to-back Stanley Cup championships – Yanni Gourde, Tyler Johnson, Blake Coleman and Luke Schenn – along with a couple of others in Mitchell Stephens, David Savard and Barclay Goodrow are now gone. It's affected not only the team's salary cap, but also team chemistry. The Lightning is currently in third place in the Atlantic division and sixth place in the Eastern Conference.
The Bucs will find themselves in a similar situation in the 2022 offseason. No matter the outcome – as reigning Super Bowl LVI champions or a team that fell short of repeating – the 2022 Bucs will feature several new faces because of age and salary.
Bucs general manager Jason Licht and vice president of football administration Mike Greenberg were able to bring back the entire Super Bowl LV team in free agency this past offseason. That won't happen again due to the salary cap.
Here is a look at the Bucs free agents next offseason. The list features 25 unrestricted free agents, including 11 starters (marked with an asterisk*) – six on offense and five on defense.
Bucs 2022 Unrestricted Free Agents
WR Chris Godwin*
CB Carlton Davis III*
C Ryan Jensen*
TE Rob Gronkowski*
WR Antonio Brown*
OLB Jason Pierre-Paul*
DT Ndamukong Suh*
SS Jordan Whitehead*
DE William Gholston*
RB Leonard Fournette*
RG Alex Cappa*
TE O.J. Howard
RB Ronald Jones II
CB Richard Sherman
G Aaron Stinnie
RB Giovani Bernard
DT Steve McLendon
QB Blaine Gabbert
ILB Kevin Minter
OT Josh Wells
S Andrew Adams
DE Pat O'Connor
CB Rashard Robinson
WR Justin Watson
FS Curtis Riley
Bucs 2022 Restricted Free Agents
LS Zach Triner
Bucs 2022 Exclusive Rights Free Agents
CB Dee Delaney
The Bucs have approximately $32.9 million in salary cap room in 2022, according to OverTheCap.com. It's inevitable that Tampa Bay will lose some starters.
Pierre-Paul has played all season with a torn rotator cuff in his shoulder and has been ineffective. He'll turn 33 on January 1, and given his injury history there is no way this team should pay Pierre-Paul anywhere close to $12.8 million. Maybe pay him half of that on a one-year deal – if the Bucs bring him back at all.
The Bucs have three running backs that will be free agents next year in Fournette ($3.25 million), Jones ($2.25 million) and Bernard ($987,500). Their salaries are reasonable, but Fournette will undoubtedly want more money. Licht should've learned from the Doug Martin fiasco that you don't pay running backs – you draft them.
And if he's forgotten that, he can look no further than Carolina and the money that has been wasted on Christian McCaffrey. He has been unable to stay healthy since signing a contract extension last year that pays him an average of over $16 million per season. McCaffrey played in just seven games this year before landing on injured reserve, rushing for 442 yards and one touchdown with 343 yards receiving and an additional score. He ran for 225 yards and five touchdowns in only three games last year with 149 receiving yards and another touchdown.
Jones wants more playing time elsewhere. If Bernard wins a ring in Tampa Bay this year, he'll likely depart to get more playing time as his career winds down at age 30. With Ke'Shawn Vaughn largely unproven, the Bucs will likely let Fournette hit free agency to see what his market value is. He'll turn 27 in January and Tampa Bay is hoping it can re-sign him to a similar one-year deal or a modest two-year deal worth no more than $5 million per year.
McLendon turns 36 on January 3, and Suh turns 35 three days later. This feels like the end of their NFL careers. Suh will leave the Bucs with $6 million of dead cap space if he doesn't return next year, but it's doubtful he would play for that amount after making $9 million this season.
Defensive end Will Gholston is a relative bargain at $5.5 million for the job he does inside, but at age 30 it's still $5.5 million. Gholston would probably return on a short deal worth a similar amount next year.
A big decision looms on the offensive line where center Ryan Jensen is in the last year of a contract that pays him $10 million per year. Jensen will be 31 next year, and his great play may even warrant a bit of a raise. Would the Bucs want to put an inexperienced center like Robert Hainsey in front of Tom Brady in 2022? Doubtful.
Should Jensen return, it would certainly mean Alex Cappa would depart. With Donovan Smith and Ali Marpet each already making north of $10 million, the Bucs couldn't afford to have four high-priced offensive linemen. Aaron Stinnie or Hainsey would be a much cheaper option at right guard.
So not re-signing some of these free agents will help the Bucs' salary cap in 2022, but players like Godwin and Davis will certainly cash in, and likely Jensen, too. Godwin's cap number next year doesn't have to be close to $16 million like it is this year on the franchise tag – even if his contract extension is close to that amount per year. Greenberg can structure it to a much lower figure in 2022 and backload the contract like he did Shaquil Barrett's this year.
Tampa Bay can create some more salary cap room by restructuring some deals, too. Barrett has a cap value of $19.75 million in 2022 and a cap value of $18.75 million in 2023. So some of his 2022 money can be pushed forward into future years in the form of a roster bonus. It's the same with Smith, who has a cap value of $19.24 million next year and $17.9 million in 2023.
Lavonte David has a cap value of $14.785 million next year, which is the last year of his contract, as it features three voidable years. There is another opportunity to create more cap room here.
Rob Gronkowski is already on the books for $1.25 million next year with a $5 million dead cap value due to money that was rolled over from his 2021 contract year if he doesn't play. He'll be 32 next year, and if he returns it might have to be for only the $5 million he's on the books for.
Third-string tight end Cameron Brate is valuable, but he's set to have a $7.285 million cap value and $1.94 million in dead cap if he's released. He might have to agree to take another pay cut to stay as he's scheduled to earn $6.55 million in base salary.
Greenberg, Licht and cap assistant Jacqueline Davidson will have to be creative once again next offseason when it comes to re-signing some of Tampa Bay's star players. But age, injury history and the cap will force some inevitable change on the Bucs' 2022 roster just like the Bolts experienced this year.
FAB 3. 4 Match-ups To Watch: Bucs Offense vs. Falcons Defense
Each week you can find 4 Match-ups to Watch on offense and defense in my SR's Fab 5 column. The Bucs trailed in Atlanta at halftime, 17-0, last year before scoring 31 points in the second half for a 31-27 comeback win. In the last three games, Tampa Bay has averaged 41 points per game against Atlanta, so expect fireworks again versus the Falcons Here is a look at the Bucs' key players on offense vs. the Falcons' top defenders.
Tampa Bay WR Mike Evans vs. Atlanta CB Fabian Moreau
Moreau really struggled in Week 2 at Tampa Bay, especially in his match-up against Evans. He surrendered two catches for 23 yards and a touchdown against the three-time Pro Bowl receiver and didn't make any plays on the ball. Moreau has nine passes defensed this year, but no interceptions. In fact, the Falcons secondary as a whole only has five picks this season, and should be in for a long day against Tampa Bay's weapons.
Evans has a long, storied career against Atlanta and added to that with five catches for 75 yards and two touchdowns in Tampa Bay's 48-25 win in Week 2. Evans used his length and speed to work over Moreau for a touchdown and should win against him again in Atlanta on Sunday. The Falcons will try to match top cornerback A.J. Terrell on Evans as much as possible, but offensive coordinator Byron Leftwich would be wise to try to create as many opportunities for Evans to square off against the less talented Moreau.
ADVANTAGE: Evans
Bucs TE Rob Gronkowski vs. Falcons FS Duron Harmon
Harmon has been a decent safety in the league for a long time, playing alongside Gronkowski in New England from 2013-18. He came to Atlanta with a ballhawking reputation, evidenced by 19 career interceptions, including back-to-back seasons with four in 2017-18. But Harmon has just one pick this year and three passes defensed. He's not making enough plays on the ball and needs to play more aggressively in coverage.
Gronkowski had four catches for 39 yards and a pair of touchdowns in Tampa Bay's win over Atlanta in Week 2. One of those scores came on a 20-yard reception with Harmon in coverage. Gronkowski is coming off a monster game in Indianapolis last week where he led the team with 123 yards receiving on seven catches. It was his second 100-yard game as a Buccaneer. His third 100-yard game might come this week against the Falcons.
ADVANTAGE: Gronkowski
LT Donovan Smith vs. DE Dante Fowler, Jr.
Fowler got one of his 3.5 sacks this year against Smith in Week 2. He also forced a fumble by collapsing the pocket and knocking the ball out of Tom Brady's hand. Fowler has been a big disappointment since signing with Atlanta last year when he recorded just three sacks. In his last season in L.A. with the Rams, Fowler had 11.5 sacks. But that was playing next to Aaron Donald. As good as defensive tackle Grady Jarrett is, he's no Donald.
Smith has only given up one sack this year, and that was against Fowler in Week 2. In fairness to Smith, Brady held the ball too long and didn't step up in the pocket, which allowed Fowler to close in on him for the sack. Yet Smith owned Fowler all day in the running game, achieving a 91.9 run block grade from PFF against the Falcons. That was Smith's highest run-block grade from PFF in his career. Look for him to dominate Fowler again on Sunday in the rematch.
ADVANTAGE: Smith
Bucs QB Tom Brady vs. MLB Foyesade Oluokun
Oluokun is the quarterback of the Falcons defense and has actually been outplaying star linebacker Deion Jones this year. Oluokun has 120 tackles to Jones' 92, while each has two sacks and a forced fumble on the season. But Oluokun has been outshining Jones in coverage and has an interception on the season, whereas Jones has yet to pick off a pass, despite recording 10 in his first five years in the league. Oluokun had nine tackles and a forced fumble against Tampa Bay in Week 2.
Brady torched the Falcons for 276 yards and five touchdowns in the Bucs' Week 2 win. Oluokun is responsible for the checks and audibles for Atlanta's defense, but is no match for Brady in that department. Look for Brady's mastery over the Falcons to continue. He averaged 395 yards passing in both games last year, and threw six touchdowns and just one interception combined in those games against Atlanta last year. Now Brady is up to 11 touchdowns and just one pick in three games versus the Falcons.
ADVANTAGE: Brady
FAB 4. 4 Match-ups To Watch: Bucs Defense vs. Falcons Offense
Each week you can find 4 Match-ups to Watch on offense and defense in my SR's Fab 5 columns. Tampa Bay's defense came through with five takeaways and three sacks in last week's come-from-behind, 38-31 win at Indianapolis. Those takeaways, including four in the second half, helped Tampa Bay's offense score over 30 points on the road for the first time this season. Here are the key match-ups to watch on Sunday when the Falcons have the ball.
Tampa Bay ILB Devin White vs. Atlanta RB Cordarrelle Patterson
Patterson accounted for over half of Atlanta's 25 points in Week 2 against Tampa Bay. Although he was held in check as a runner with just 11 yards on seven carries, he did score a touchdown, and added 58 yards and another TD on seven catches. Patterson has been the Falcons' best offensive weapon this year, rushing for 411 yards and four touchdowns and catching 41 passes for 500 yards and five more scores. He's earned a 90.9 overall grade from Pro Football Focus, including a 93.5 grade in the passing game. Patterson is coming off a 108-yard, two-touchdown rushing performance, in addition to catching two passes for 27 yards in a 21-14 win at Jacksonville.
White, who is nursing a hip injury he suffered last week in Indianapolis, gave up two receptions for 30 yards to Patterson in Week 2. He teamed with Lavonte David, Carlton Davis III, Jordan Whitehead and Ross Cockrell in taking turns defending Patterson in the passing game. The key to preventing Patterson taking over the game offensively is to continue to stymie him in the running game and make him only hurt Tampa Bay's defense as an outlet receiver and on screens. White has struggled in pass coverage this year, so he'll have a challenge on his hands this Sunday in Atlanta.
ADVANTAGE: Patterson
Bucs OLB Shaquil Barrett vs. Falcons RT Kaleb McGary
McGary has underwhelmed since being a first-round pick a few years ago. At 6-foot-8, 320 pounds, McGary has plenty of size and a big wingspan. But he lacks athleticism and good movement skills. McGary struggles to redirect in pass protection and has given up four sacks this season. He surrendered a sack to Ndamukong Suh on a twist in Week 2. McGary had a 61.7 PFF pass block grade in Week 2, but only has a 54.7 pass block grade this season.
Barrett is coming off his best game of the season last week in Indianapolis, recording eight tackles, two sacks, a forced fumble and a fumble recovery. He didn't have a sack against Atlanta in Week 2, but he did have an interception off a deflected pass. After going sack-less in three games, Barrett got to the quarterback last week. With 7.5 sacks on the season so far, he needs to get on a roll in terms of getting after the QB.
ADVANTAGE: Barrett
Tampa Bay NT Vita Vea vs. Atlanta LG Jalen Mayfield
Mayfield has been one of the worst offensive linemen in the NFL this year, and has gone through some terrible growing pains in his rookie season. He has given up seven sacks, 16 hurries and 19 QB hits. How the Bucs didn't get him for a sack is mind-blowing considering how bad he's played. In Week 2, Mayfield registered a 31.8 PFF grade and gave up two QB hits and a hurry. He's not terribly strong and his technique is sloppy and inconsistent. Mayfield will have his hands full against a Bucs defensive front that had three sacks and several pressures last week in Indianapolis.
Ndamukong Suh had the Bucs' lone sack back in Week 2. Now it's Vea's turn to get back in the sack column, which is something he hasn't done since recording back-to-back half sacks against Miami and Philadelphia. Vea has just one combined sack this season, but should be able to have his way against Mayfield, who will need double team help from center Matt Hennessy. Vea was quite productive against the Falcons in Week 2, recording five tackles and a tipped pass, which was intercepted by Barrett.
ADVANTAGE: Vea
Bucs FS Antoine Winfield, Jr. vs. Falcons TE Kyle Pitts
Pitts, who was the Falcons' first-round pick, is living up to his draft status with a fine rookie year. He had five catches for 73 yards in Atlanta's Week 2 loss at Tampa Bay, and has 661 yards and a touchdown on 45 catches (14.7 avg.). At 6-foot-6, 246 pounds he's a mismatch for Tampa Bay's secondary, whose tallest defender is 6-foot-1 cornerback Carlton Davis III. With Mike Edwards out due to a suspension, the Bucs will likely use a combination of coverages against Pitts, and Winfield will have his opportunities to defend the big rookie, too.
Winfield had a great game last week in Indianapolis and came up with a huge, hero play when he out-jumped 6-foot-4 receiver Michael Pittman, Jr. for a jump ball. That interception proved that Winfield could win against much bigger weapons in the passing game. Pitts had a 24-yard catch against Winfield back in Week 2, in addition to another 24-yarder versus Lavonte David in coverage. Winfield will have to have another "A" game on the road to help stifle Pitts' production.
ADVANTAGE: Push
FAB 5. SR's Buc Shots
• EVANS FEASTS ON THE FALCONS: Tampa Bay wide receiver Mike Evans has had more success against the Falcons than any other NFC South opponent. He posted five catches for 75 yards and two touchdowns against Atlanta in Week 2 and has three combined TDs in the last three games versus the Falcons. Here is a look at Evans' monster production against Atlanta compared to that versus New Orleans and Carolina.
Evans vs. Falcons: 74 career catches for 1,137 yards (15.4 avg.) and 10 TDs
Evans vs. Panthers: 67 career catches for 904 yards (13.5 avg.) and 5 TDs
Evans vs. Saints: 47 career catches for 716 yards (15.2 avg.) and 5 TDs
• ONE MORE DOMINANT BLOCK FROM DOMINANT DON: NFL analyst Brett Kollman highlights a great seal block at the second level on Leonard Fournette's 28-yard game-clinching touchdown run at Indianapolis. Smith had one of his best games of his career against the Colts in Tampa Bay's 38-31 victory on the road.
• BUCS-FALCONS PREVIEWS ON THE PEWTER REPORT PODCAST: The Pewter Report Podcast is energized by CELSIUS and broadcasts four live episodes each week. The Pewter Pregame show for the Bucs at Falcons game starts at noon ET prior to the 1:00 p.m. ET kickoff with Pewter GameDay. The Pewter Postgame podcast follows at 7:30 p.m. ET. Then we'll have Pewter Report Podcasts on Tuesday, Wednesday and Thursday at 4:00 pm EST previewing the Bucs vs. Bills game next Sunday.
The Pewter Report crew sounded off in Tampa Bay's comeback win at Indianapolis where RB Leonard Fournette went off for a career-high four touchdowns.
Pewter Report's Scott Reynolds and J.C. Allen discussed the performance of Shaq Barrett and the Bucs defense on Monday.
Reynolds and Jon Ledyard discussed Antonio Brown's injury status and previewed the Bucs vs. Falcons game on Wednesday.
On Thursday, Ledyard and Allen discussed the news of the suspended Bucs and revealed which players they would steal from NFC rivals to put on Tampa Bay's roster if they could.
Watch the Pewter Report Podcasts live on our PewterReportTV channel on YouTube.com and please subscribe (it's free) and add your comments. All Pewter Report Podcasts are archived so you can watch the recorded episodes if you missed them live.
There is no better time to listen to or watch a new Pewter Report Podcast – energized by CELSIUS – than Friday afternoon on the way home from work. Or early Saturday morning during your workout or while running errands.
The popularity of the Pewter Report Podcast continues to grow. In addition to listening to the Pewter Report Podcasts on PewterReport.com you can also subscribe to the free podcasts at PodBean by clicking here and on SoundCloud by clicking here. And of course the Pewter Report Podcast is also available on iTunes and YouTube. Make sure you subscribe so you don't miss a single episode.
• THE GOAT: That's the tweet.
• ONE LAST LOOK AT THE BUCS' WIN AT INDY: Pewter Report's Jon Ledyard broke down some film on how Tampa Bay's running game dominated the Colts in Indianapolis. Watch this 18-minute X's and O's breakdown and get educated on exactly how Leonard Fournette had 100 yards and three TDs on the ground.
Share On Socials