SR's Fab 5 is exclusively sponsored by Edmonson Electric • AC • Security – the official smart home and security company of PewterReport.com.
For the past 40 years, Edmonson Electric • AC • Security has proudly served central Florida with electric services and now proud to add state-of-the-art "Smart Home" technology, security systems and air conditioning to its roster.
Whether it's surveillance cameras, home theaters, or smart lighting, Edmonson Electric • AC • Security is automating your dream home. Visit EdmonsonElectric.com to find out more about controlling, monitoring and securing your home or call 813.910.3403 for additional information.
Control. Monitor. Secure.
FAB 1. The Saints' Last Hurrah
The Saints' last hurrah is approaching – rapidly approaching.
According to OverTheCap.com, New Orleans is $95 million over the 2021 salary cap – even if quarterback Drew Brees decides to retire.
That's assuming that the cap will be near the projected floor of $176 million, but sources have told PewterReport.com that instead of a near $25 million decrease in the 2021 cap due to lost stadium revenue, the league may decide to have a flat cap of $198 million again and keep it flat without any growth for the next couple of years to make up for the losses during the COVID-ridden 2020 season.
Either way, the Saints are toast.
New Orleans is either $95 million over the 2021 cap or it is $73 million over the cap next year. The Saints own the biggest cap mess in the NFL next season – by far.
That's how desperate New Orleans has been to win the Super Bowl over the last couple of years – restructuring, restructuring and restructuring deals and adding new players with high signing bonuses and putting off the cap crunch for another year, and then another year, and another and so on.
A day of reckoning day will come to New Orleans in March of 2021 and the team's stranglehold on the NFC South – a division it has won the last four years with either an 11-5 record (2017), a 13-3 mark (2018-19) or a 12-4 record (2020) – will finally come to an end. The Saints will have to purge their roster of several very good players – perhaps even Pro Bowl players – to become cap compliant in a few months.
And which team will vanquish the Saints?
The Buccaneers, of course.
As long as Tom Brady is healthy for all 16 games in 2021, Tampa Bay will win the NFC South next year.
The Bucs will either speed up the process of dethroning the Saints by prevailing in New Orleans in Sunday's NFC divisional playoffs – finally beating the bully that has beaten Tampa Bay the last five times, including all four meetings with Bruce Arians as head coach – or nature will simply take its course and time finally catches up with the Saints.
According to the odds at SportsBettingDime.com, the Buccaneers are slight 3-point underdogs against the Saints. The odds don't look so bad. There is still a chance that the Bucs can come out with a win this weekend.
New Orleans has 13 players that have a $10 million salary cap hit in 2021. By comparison, the Bucs are approximately $30 million under the salary cap for next year and have just six players scheduled to have a $10 million cap hit in 2021. That's less than half.
Here's a look at the most expensive Saints players on the 2021 roster.
Top Saints' 2021 Cap Hits
QB Drew Brees – $36,150,000
DE Cameron Jordan – $18,900,000
WR Michael Thomas – $18,800,000
LT Terron Armstead – $16,287,000
QB Taysom Hill – $16,159,000
CB Janoris Jenkins – $14,200,000
LB Kwon Alexander – $13,400,000
G Andrus Peat – $11,600,000
RT Ryan Ramczyk – $11,064,000
LB Demario Davis – $10,800,000
CB Marshon Lattimore – $10,244,000
WR Emmanuel Sanders – $10,000,000
DT David Onyemata – $10,000,000
S Malcom Jenkins – $8,450,000
G Nick Easton – $7,000,000
DT Malcolm Brown – $6,500,000
RB Alvin Kamara – $5,000,000
K Will Lutz – $4,700,000
RB Latavius Murray – $4,200,000
P Thomas Morstead – $4,500,000
Now the Saints just can't start cutting players to get out of their salary cap mess, as many of these top players have already restructured their deals and would result in several millions of dollars worth of dead cap hits. For example, if Brees does retire at the end of this season his $25 million salary will be off the books, and his $36.15 cap hit in 2021 will be reduced to $22.65 million in dead cap money unless he's designated as a post June 1 cut, and then Brees will only count for $13.5 million worth of dead money.
That means Brees won't play in New Orleans in 2021, yet will still count $13.5 million on the Saints' salary cap.
There are a couple of players that New Orleans can cut without any salary cap ramifications at all, such as Alexander, who is set to have $12.55 million base salary in 2021 and a $13.4 million cap hit, Lattimore, who is set to make $10.244 million, and Ramczyk, who will have a $11,064,000 base salary. Losing Alexander won't mean much, but having to possibly cut Lattimore and Ramczyk would be huge losses for New Orleans.
And parting ways with Brees, Alexander, Lattimore and Ramczyk would only save the Saints approximately $57.15 million. They'll need another cut another $20 – $40 million from their roster just to get in cap compliance.
And that doesn't include any new free agents the Saints want to sign, or players they want to re-sign, such as starters like linebacker Alex Anzalone, defensive end Trey Hendrickson, tight end Jared Cook, defensive tackle Sheldon Rankins, cornerback P.J. Williams, free safety Marcus Williams and backup quarterback Jameis Winston, in addition to New Orleans' 2021 draft class.
Jenkins is set to have a $14.2 million cap hit in part due to a $10 million base salary. The Saints could part ways with Jenkins and his dead cap hit would only be $7.2 million or $7 million.
Jordan will have an $18.9 million cap hit with an $11.9 million base salary, but cutting him will result in a $16.9 million dead cap hit – unless he's designated as a post-June 1 hit, which would only be $2 million in dead money this year. Can you imagine the Saints without Jordan, who has been the heart and soul of New Orleans defense for years?
Regardless of who is cut in March the Saints will literally have tens of millions of dollars worth of dead cap money for the 2021 season as a result.
I'm a Bucs expert – not a Saints expert, so I don't have a whole lot of insight in to which cap maneuvers New Orleans would have to make or want to make this offseason. But the Saints will have to do something drastic in the offseason in terms of parting ways with several established, proven starters in a few months.
Win or lose on Sunday, the Saints' cap misfortunes next year will likely cause New Orleans to surrender the division to Tampa Bay in 2021. In order for all of the cap maneuvering to be worth it for the Saints this year they have to win against the Bucs on Sunday, and advance to the Super Bowl really. If they don't, it will be all for naught, save for those NFC South division champion hats and t-shirts.
FAB 2. Hill Is Saints' Not-So-Secret Weapon In 2020 – And Beyond
The Bucs know all about New Orleans' 42-year old quarterback Drew Brees, a noted Buc-killer with a 19-10 career record against Tampa Bay.
Todd Bowles knows all about Pro Bowl wide receiver Michael Thomas and Pro Bowl running back Alvin Kamara, who has helped New Orleans win the last five games against Tampa Bay, including the last four contests with him as the Bucs defensive coordinator.
Bowles and his defense even knows about Taysom Hill, Sean Payton's multi-purpose weapon on the Saints offense, as Hill has seen his production grow in each game he's played against Tampa Bay over the past four games. Hill has lined up at quarterback, tight end and wide receiver in the Saints offense this year, doing so against the Bucs all three ways this season.
Taysom Hill's Production vs. Tampa Bay – 2020
Week 9: 2-of-2 passing for 48 yards, 1 catch for 21 yards, 7 carries for 54 yards
Week 1: 1-of-1 passing for 38 yards, 1 catch for 14 yards, 3 carries for 13 yards
Taysom Hill's Production vs. Tampa Bay – 2019
Week 11: 1 catch for 2 yards, 1 carry for 2 yards, 1 kick return for 12 yards
Week 5: 1-of-1 passing for 18 yards, 2 carries for 14 yards
In New Orleans' 38-3 win at Tampa Bay on Sunday Night Football in November, Hill totaled 123 yards of total offense, and that was before he was called on to start four games at quarterback for the Saints this year when Brees was out with rib injuries, going 3-1 during that stretch.
Hill isn't Payton's secret weapon anymore, but how he will be deployed against the Bowles' defense remains a big mystery, and that's what makes the 6-foot-2, 221-pound athlete so hard to defend.
"It's tough, he can do a lot of things," Bowles said. "He's a very good athlete as well as a very good quarterback. He's a very good running back too, and he runs routes. You've got to know where he is at all times and he's just one of the many weapons that they have."
Hill, who signed a two-year, $21 million contract in April that included $17.4 million in guaranteed money, is believed to be Brees' heir apparent and will likely be the Saints' starter under center in 2021.
He's made great strides as a passer this year, and supplanted Jameis Winston as the starting QB after just start from Winston when he filled in for Brees. Hill completed 82-of-114 passes (71.9 percent) for 834 yards with four touchdowns and two interceptions during that stretch, while running for 209 yards and four touchdowns on 39 carries (5.4 avg.).
Hill has rushed for a career-high 457 yards and eight touchdowns this season on several designed QB keepers, while averaging 5.3 yards per carry, in addition to catching eight passes for 98 yards and a touchdown. Last year, Hill saw more time as a wide receiver and tight end, catching 19 passes for 234 yards (12.3 avg.) and six scores.
The 30-year old veteran played a huge role on offense in last year's 26-20 playoff loss to Minnesota, rushing for 50 yards on four carries, completing his only pass attempt for 50 yards and hauling in two receptions for 25 yards and a touchdown.
In last week's 21-9 playoff win against Chicago, Hill caught two passes for five yards, carried the ball four times for 15 yards and was sacked once and fumbled. He hit his head in the season finale win at Carolina, and then injured his knee in Sunday's victory over the Bears. Hill didn't practice on Wednesday or Thursday and his status for Sunday's game is in doubt.
But that doesn't mean that the Bucs haven't been preparing for him. Tampa Bay has used an undrafted free agent wide receiver in practice to simulate Hill.
"That would be Travis Jonsen," Tampa Bay head coach Bruce Arians said. "He's 6-foot-4, [211 pounds] and was a wildcat quarterback in college. He'll give us a really good picture."
Jonsen spent a good amount of time running the ball as a wildcat quarterback in college, in addition to be flanked out wide. Jonsen had 118 carries for 725 yards (6.1 avg.) and 13 touchdowns in two seasons for the Montana State Bobcats, while catching 83 passes for 899 yards (10.8 avg.) and two touchdowns. Last year, Jonsen had 528 yards rushing and scored eight TDs along with 580 yards and one touchdown on 55 catches.
"He's an interesting guy as an Oregon transfer," said Bucs director of college scouting Mike Biehl back in May. "He was a quarterback at Oregon. We liked his versatility and that he can do some things for us. He's kind of raw as a receiver, not having played the position a lot, but we just think he's somebody we can work with. He's got a lot of athletic ability, and when you switch from quarterback to receiver you have a whole different outlook on the game. It's kind of intriguing. I think our coaches will be excited to work with a guy like this and maybe do some different things."
Bowles appreciates what Jonsen has done for the Bucs defense in practice this week in his role on the scout team.
"He's big enough, obviously he's quick enough," Bowles said. "He's not as big as Taysom, but he fared pretty well. He can run the ball very well – he's got some speed on him – and when he lines up at the wide out spots, he can do a lot of things for them. You can imitate him as close as possible, but it's not the real thing."
Whether it's this Sunday if he plays, or next year when he takes over for Brees at quarterback, the multi-dimensional Hill will be a factor that the Bucs need to account for.
"Sean [Payton] does a great job of moving those guys around, personnel and those type of things," Bowles said. "He gets a lot of guys involved, so it takes all 11 guys to be very disciplined and we've just got to make some plays."
FAB 3. Rewind Wild Card – Fast Forward Divisional Playoffs

Not having open locker room at One Buccaneer Place and restricted media access to players this year due to COVID-19 has forced me to do less feature segments on players and more analysis on the games. So I'm using the Fab 3 section – called Rewind – Fast Forward – to share some observations from the Bucs' last game as well as my analysis in previewing the next one. Enjoy.
REWIND: Wild Card at Washington Football Team

• The Bucs lost starting right guard Alex Cappa for the rest of the postseason after he suffered a fractured ankle in the team's 31-23 win at Washington in the wild card playoffs. Cappa had a very good season in his second year as a starter, surrendering only 13 QB hits and 16 pressures in 17 games and not allowing a single sack in 2020. The hard-nosed Cappa, who was replaced in the second half by Ted Larsen, didn't want to come out of the game initially and the Bucs were charged with a timeout because he didn't want to leave the field despite the injury.
"One of the tough guys we've had on our team," Bucs quarterback Tom Brady said of Cappa. "We've had a really great group up front, [including] guys who have filled in at different times. 'Cap' has been there really the whole year [and] had a tremendous year. [He is] a tough, hard-nosed football player. I know when he got knocked down it was hurting him, [but] I didn't know what it was. Then he said, 'No, I'm staying in and playing.' He didn't even make a sound. It was like, 'Cap, what happened?' 'Oh nothing, I'm just going to keep playing.' Then he tried to stand up on it and he was like, 'Ah, I can't.' Nobody really knew the extent of what the injury was until after the game. That's a tough injury for him. He has done an incredible job for us. It's a tough role to take over at this point in the year, but we're going to do the best we can do. It gives some other guys different opportunities to step up, but everyone hates seeing him out and really appreciates what 'Cap' brings to our team."
 • With a 31-23 victory in Washington over the 7-9 Football Team, the Buccaneers finished the 2020 season an unbeaten 11-0 against teams with losing records. Tampa Bay lost to Chicago, which finished the year 8-8.  The Bucs only have one victory against a team with a winning record this year – the top team in the NFC, the 13-3 Packers. Tampa Bay is 1-4 in games against teams with winning records, losing twice to New Orleans, in addition to Kansas City and the Los Angeles Rams.
• Not only did Bucs wide receiver Mike Evans shrug off an ailing hyper-extended knee injury to play in the team's wild card playoff game at Washington on Saturday night, Evans also played well. So well in fact that he set Tampa Bay's franchise record for a playoff game with 119 yards on six catches. Evans became just the second Buccaneer to top the century mark for receiving yards in a postseason, as Keyshawn Johnson became the first in team history to do so with 106 yards at Philadelphia in a wild card game in 2000.
FAST FORWARD: Divisional Playoffs at New Orleans Saints

• The key for the Buccaneers in beating the Saints in the NFC divisional playoffs on Sunday night will be to take the lead at halftime. Tampa Bay, which struggled with scoring in the first quarter during most of the 2020 season, has jumped out to early leads in each of the last three games, including last week's playoff win at Washington. In fact, the Bucs have not trailed in any quarter since the fourth quarter of the team's 31-28 come-back win at Atlanta in Week 15. After jumping out to an early 7-0 lead in New Orleans in Week 1, the Bucs allowed the Saints to score 17 straight points in the second quarter and trailed 17-7 at halftime of a game they would lose, 34-23. In the rematch in Week 9, New Orleans raced out to a 14-0 lead at the end of the first quarter and then held a 31-0 lead at halftime before finishing off Tampa Bay, 38-3, on Sunday Night Football.
• For experienced depth along the offensive line this week and hopefully next week in the NFC championship game, the Bucs brought back Earl Watford, who has experience playing in Bruce Arians' offense dating back to Arizona in 2014. Watford, who has great position versatility, was on the Bucs' roster last year and started four games in Tampa Bay in 2019. Cappa's injury and the fact that Larsen struggled in the second half last week replacing him led to the Bucs' re-signing of Watford.
"He can walk in any play four positions for us," Arians said. "Just get him back in a little bit of football shape – he stayed in pretty good condition. Just like Ted Larsen – guys that have been in this system for a while, veteran players – when you lose a guy, you try to look for veteran players rather than young guys who might not be ready."
• New Orleans has beaten Tampa Bay in five straight games, including all four games in the Arians era, and the common denominator has been turnovers. The Bucs have committed six turnovers against the Saints this year, with New Orleans just turning it over twice, while Tampa Bay lost the turnover battle 5-0 in 2019. That's an 11-2 advantage the Saints have had over the Bucs in the last four meetings. Those turnovers have helped New Orleans score over 30 points in each of its victories over Tampa Bay. In fact, the average score over the last four games has been the Saints winning 34-17. The Bucs' high-scoring offense has failed to score more than 24 points in any of the last four games against the Saints, and turning the ball over is a big reason why.
• Tempers have flared before between heated division rivals New Orleans and Tampa Bay, notably back in 2017 when former Bucs quarterback Jameis Winston and Saints cornerback Marshon Lattimore got into with wide receiver Mike Evans coming to Winston's aid and tackling Lattimore. In Week 1 of the 2020 season, Lattimore and Evans sparred again, getting into a scuffle. But lately it's been Saints defensive back C.J. Gardner-Johnson that has been an instigator, provoking Bears wide receiver Javon Wims into throwing a punch in the regular season and doing the same thing to Bears wideout Anthony Miller in last Sunday's playoff game, which New Orleans won, 21-9. Wims and Miller were both ejected.
Arians has already warned his players about the Saints' antagonizing style of play and to keep their cool on Sunday night.
"Yeah, it's an emotional game, but you can't let your emotions get the best of you," Arians said. "There's going to be a lot of things said [and] a lot of fingers being pointed."
FAB 4. 4 Match-ups To Watch: Bucs at Saints
Each week you can find 4 Match-ups to Watch in the Fab 4 section of my SR's Fab 5 columns. Here is an advanced look at Tampa Bay's divisional playoff game at New Orleans. The 13-4 Saints swept the 12-5 Buccaneers this year and have won the last five games, including all four against Bruce Arians.
Bucs RG Aaron Stinnie vs. Saints DT David Onyemata
Onyemata is the highest-rated defensive player in New Orleans with an overall Pro Football Focus grade of 88.5 – just slightly ahead of Pro Bowl defensive end Cameron Jordan, who has a grade of 85.3. Onyemata's PFF pass rush grade of 82 is also the highest on the Saints defense. The 6-foot-4, 300-pound Onyemata is a powerful inside rusher that has 37 tackles, 30 pressures, 10 QB hits and seven sacks.
Stinnie is actually highest-rated Bucs offensive lineman according to PFF with a 74.7 overall grade and an 84.4 pass rush grade, albeit with a very small sample size. The 6-foot-3, 312-pound Stinnie, who is in his third year and will be making his first career start, has only seen 30 pass rush reps in his career and just 15 pass block reps this year. His most extensive action came in the second half of Tampa Bay's blowout win at Detroit in which he pass protected for Blaine Gabbert for 13 plays.
ADVANTAGE: Onyemata
Bucs LT Donovan Smith vs. Saints DE Trey Hendrickson
Hendrickson is New Orleans' pass rush specialist, splitting time with Marcus Davenport on the right side of the line and earning a 72.1 PFF grade, including a 78 pass rush grade. He's notched a career-high 24 hurries and 14 sacks along with 11 QB hits this year. Hendrickson registered a sack, a QB hit and a hurry against Smith in the first match-up and two sacks, one QB hit and four hurries in the rematch in Tampa Bay in Week 9. He earned a season-high 92.7 overall grade and a 91.7 pass-rush grade in New Orleans' 38-3 win over Tampa Bay on Sunday Night Football.
Smith has really struggled against the Saints this year, allowing one sack, one hit and four pressures in Week 1 and then another sack, one hit and five hurries in Week 9. For the year, Smith has allowed six sacks, nine hits and 21 hurries while earning a 71.9 overall grade from PFF and a 72.3 pass rushing grade. Smith has played really well since the bye week, allowing just one sack and playing brilliantly against Washington's Chase Young last week in the wild card round.
ADVANTAGE: Hendrickson
Bucs ILB Devin White vs. QB Drew Brees
Brees has a 74 overall grade from PFF and has completed 70.6 percent of his passes this year for 3,207 yards with 26 touchdowns and six interceptions. Broken ribs limited Brees to just 12 games during the regular season, but he's played in the last four games, including the wild card win over the Bears last Sunday in which he threw for 265 yards and two TDs. Brees, a 20-year veteran, has a clear edge in experience against White in the pre-snap duel between the quarterback of the Saints offense and the QB of the Bucs defense.
White returns from a two-week absence due to COVID-19 and the Bucs could really use his pass-rushing ability. White finished as the Bucs' second-leading sacker with a career-high nine sacks. White excels when going forward, attacking the line of scrimmage against the run and while blitzing, evidenced by his 85.9 pass rush grade from PFF. White had 11 tackles against the Saints in the first game and 14 tackles in the rematch. The Bucs will need White, who has a 43.4 overall PFF grade, to pressure Brees up the middle on blitzes, and not get exposed in pass coverage, as he has just a 39.8 coverage grade from PFF. White has surrendered 86 catches for 761 yards, allowing four touchdowns on the year.
ADVANTAGE: Brees
Bucs CB Carlton Davis III vs. WR Michael Thomas
Thomas, who has an 84.5 PFF grade, has only played in eight games this year after spraining an ankle at the end of New Orleans' 34-23 win over Tampa Bay in Week 1. Thomas was also suspended for a game and suffered a quadriceps injury before he injured his ankle once again at the end of the regular season. After catching just 40 passes for 438 yards during the regular season, Thomas caught five passes for 73 yards and his first touchdown of the year in last week's 21-9 playoff win over Chicago.
Davis did a tremendous job of shutting Thomas down in Week 1, holding him to just a pair of catches. Davis allowed just three catches for 14 yards and a touchdown against the Saints, including a score by Emmanuel Sanders in the season opener, and only surrendered four receptions for 43 yards in the rematch in Week 9. Davis has earned a 70.2 overall grade from PFF this year, including a 69.1 coverage grade, allowing five touchdown passes with 16 pass breakups and four interceptions. Davis will need to erase Thomas in the wild card the way he did in the regular season.
ADVANTAGE: Davis
FAB 5. SR's Buc Shots
• BRADY MIC'D UP FOR BUCS' BIG PLAYOFF WIN: Tampa Bay quarterback Tom Brady was mic'd up by the Buccaneers for the team's 31-23 wild card playoff win at Washington. Watch the video below for an exclusive look at Brady in the huddle and what he had to say during Tampa Bay's postseason victory.
• BRADY MUST BE BETTER: Bucs quarterback Tom Brady has to play better on Sunday night in order to beat the Saints in the NFC divisional playoffs, as Pro Football Focus points out. Brady has had a PFF grade of 93.9 against all other opponents this year, but has struggled against New Orleans with a 69.5 grade in those two losses. Brady has thrown five interceptions and just two touchdowns in both games against the Saints this year, and he's been sacked a total of six times. Meanwhile, New Orleans quarterback Drew Brees has thrown a total of six touchdowns and no interceptions in both of the Saints' wins against the Bucs in 2020.
Tom Brady PFF Grade in 2020:
🔺 vs. Saints – 69.5
🔺 vs. all other opponents – 93.9 pic.twitter.com/Se00op7mi1

— PFF (@PFF) January 12, 2021
• BUCS VS. SAINTS PLAYOFF PREVIEW ON THE PEWTER REPORT PODCAST: The Pewter Report Podcast is energized by CELSIUS and broadcast live four episodes per week – post-game on the weekend after the game with additional episodes on Monday, Wednesday and Thursday – with a new time during the playoffs at 7:30 p.m. ET – to recap all of the action from the previous Bucs game and get you ready for the next one.
We'll be live on Sunday evening 30 minutes after Tampa Bay's divisional playoff game at New Orleans, in addition to Pewter Report Podcasts on Monday, Wednesday and Thursday next week to prep you for the team's next playoff game if the Bucs advance.
Watch us live on our PewterReportTV channel on YouTube.com and please subscribe (it's free) and add your comments. All of our Pewter Report Podcasts will be posted there so you can go back and watch the recorded episodes if you missed it live.
The audio versions of the Pewter Report Podcasts will continue to be found on iTunes and Soundcloud. Here are links to a few of the most recent episodes, including Wednesday's Bucs at Saints preview podcast and Thursday's podcast, which featured offensive line expert Brandon Thorn.
Pewter Report Podcast Episode 269: Bucs – Saints Trench Warfare With Brandon Thorn
Pewter Report Podcast Episode 268: Division Playoffs Preview – Bucs vs. Saints Round 3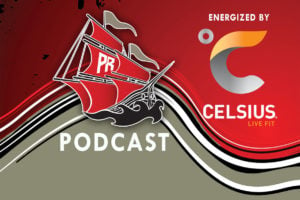 There is no better time to listen to a new Pewter Report Podcast – energized by CELSIUS – than right now or early Saturday morning during your workout or while running errands.
The popularity of the Pewter Report Podcast continues to grow. In addition to listening to the Pewter Report Podcasts on PewterReport.com you can also subscribe to the free podcasts at PodBean by clicking here and on SoundCloud by clicking here. And of course the Pewter Report Podcast is also available on iTunes and YouTube. Make sure you subscribe so you don't miss a single episode.
• BRADY SAYS BUCS OFFENSE HAS COME A LONG WAY: Tampa Bay's offense finished the season averaging 30.8 points per game, which is the highest in franchise history. Yet the Bucs, which have won five straight games since the bye week, have averaged 35.8 points per game during that span, and have scored at least 31 points in the last four games, including last Saturday's wild card win at Washington.
"I think we've certainly come a long way," Bucs quarterback Tom Brady said about the offense since Tampa Bay's 38-3 loss to New Orleans. "I think we're just going to keep improving. The more we're together, the more we're talking about football, the more we're trying to be on the same page, the better it is. It's a complex game – there's a lot of moving parts [and] there's a lot of coordination involved between a lot of different positions. I think the quarterback-receiver relationship is really important. The more that I've been around Mike [Evans], Chris [Godwin], Antonio [Brown], 'Scooter' (Scotty Miller), Tyler [Johnson], 'Mick' (Jaydon Mickens) – the better it gets.
"The tight end position, I've been around Gronk (Rob Gronkowski) for a long time – I know exactly what he's thinking [and] how he looks. Cam [Brate] is a pretty easy guy to get up to speed with, too. We're just going to keep trying to make improvements. We've got a big test this weekend [against] one of the great teams in the NFL [who has] consistently been one of the great teams for a long time. We're going to have to go play a great football game."
Share On Socials